Is MBA Necessary to be Successful in Business? || Highlights

S.No.
Facts
Status
1.
Introduction
Click
2.
Yes – MBA is necessary
Click
3.
Arguments in Favor
Click
4.
No – MBA is not necessary
Click
5.
Wrapping up
Click
Introduction
Education is not fundamental to success all the time but great ideas are. Having great concepts can separate people from the rest of the world.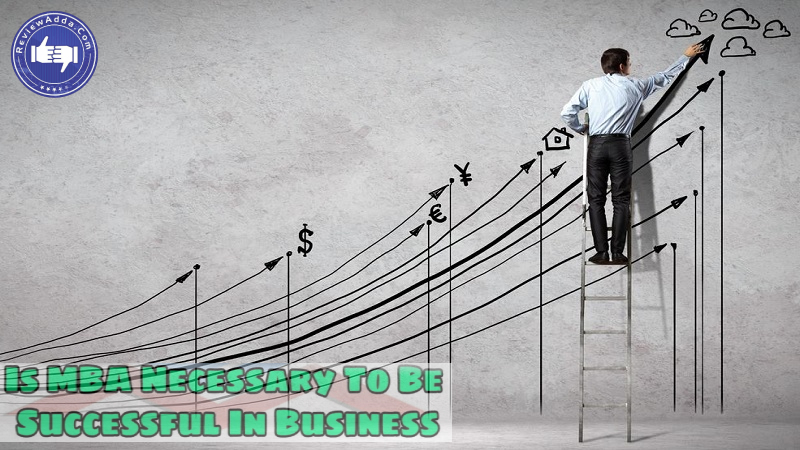 According to the Oxford Dictionary, a manager is a person who is responsible for controlling or administering an organization or group of staff. Master of Business Administration (MBA) is an academic discipline which taught students and professional, over the duration of one or two years, for a Career in Management or Business Administration. However, it is highly contested that management cannot be taught in classrooms as it is an art rather than science.
In the present scenario, with every student planning to get into an MBA, people have started believing that an MBA is necessary to succeed in business. The adored route, MBA sounds like the pill you require to consume to decipher answers to all your uncertain issues. But is it necessary to have an MBA Background to be a success in business?
There is no doubt that an MBA Degree plays a major role in shaping you as an entrepreneur but this is not the only thing the ideas and concepts of an individual also matter for a successful business. Here are several points that explain both 'yes' or 'no' of the question i.e. Is MBA necessary to be successful in business?
Yes – MBA is necessary.
1. Raising Capital
You cannot prosper merely with an initial investment, even if you are financially strong and wealthy in the first place. In order to progress, it is essential to understand the gravity of the requirement of an external investor. This is crucial for the development of your firm, along with the fact that your actions require to be in line with wealth creation, thus attracting investors.
A B-School makes you familiar with the art of handling finances and dealing with competencies on these grounds. An MBA Grad is used to playing with money with a expeditious hand in measuring financial capabilities. They understand how and when to raise capital.
2. Management of two P's – MBA is essential because every successful business man in the country should handle both the product and people in an adept manner. People those who do not acquires any managerial skills, should take up MBA Course to enhance the knowledge of management.
3. Networking and Credibility
Pursuing an MBA from a Top B-School puts you in the club of elites. You get premium access to a number of resources. Even though the realities might differ in a few instances, you do bring along a lot of credibilities if and when you graduate from a premier B-School. You witness a major change in your world-view. Apart from this, you become reliable in the eyes of the world for taking the right decisions. An MBA Degree makes you trustworthy and customers would like to rely on your product. Even investors would be more open to hearing you out.
In addition to this, your college helps you network with people, find friends, mentors, and business partners. You become a part of an exclusive community, helping you bag resources which would have otherwise been distant and unreachable.
4. Necessary ingredient – Education of management is essential because management is treated to be the backbone of a business. To develop a creative idea, managerial skills are crucial. These skills can be made known only while Doing an MBA Course. At present, people with an MBA background hired by most of the companies.
5. Becoming a leader
A crucial role in the journey of an entrepreneur is to ensure that the team he is working with stays together and motivated. How are you supposed to bring out the rigor and zeal in your team if they don't have the drive to pitch in their best efforts? The mere fact that the founders of numerous startups run after easy money, hampers their long term growth and thus, brings a downfall of the firm altogether.
During your B-School journey, you come across several instances that give you an idea of the primary skills required to deal with chaotic situations, helping you get trained in a simulated environment. Pursuing an MBA helps you dive deep into the criticalities of starting and running a business effectively, bringing out the best in the employees, helping you focus on the bigger picture. And in this approach, you acquire the skills of a leader even before you comprehend it.
Get Updated Review ( Voice Based Alumni Feeback)
6. Inculcates professionalism – Management Edu. or MBA is important as it inculcates professionalism within an employee. Having an MBA degree helps an employee to not only gain experience but also to finish the work efficiently, without making many mistakes. With theoretical and practical knowledge, they learn to manage the business. It taught you to come through in business without much loss.
7. Good job opportunity – You have to be more educated, to meet Better Career Opportunities.
Having an MBA Degree provides several Good Job Opportunities for an employee. Most of the large business firms, hire people who have a powerful background in MBA. Having a post-graduation degree in business administration leads to favorable career paths.
8. Decision process – MBA Course trains a person to take a decision after taking all the factors in mind. Having an MBA Degree is an added benefit to the professionals as they can make the decision quickly.
9. Learning the art of building rock-solid business plans
Everybody has a business plan in mind, you, your neighbors, your best friends, even school students. But how many of them actually put them in practice and succeed? Not many, that's what the stats say. As per the Small Business Association reports, around 30% of new businesses fail in the first 2 years which goes up to 50% in the first 5 years of initiating an enterprise.
Pursuing an MBA helps in getting a better picture of what's essentially required to make your dream come true. It gives you an in-depth knowledge of the how's and what's to build a strong enterprise that has the potential of scaling through the years. Pursuing an education in business not only helps you develop great business plans but also helps you understand the complexities involved in starting one and making it a success.
10. Being the acclaimed General Manager
To get successful in your business plan, you must be aware of the various aspects of an organization. You should have a basic insight into how, from finance to marketing and operations are inter-related. You must also understand which domain each of these cover. Major capital investments in operations and human resources require you to understand how to make effective decisions in finance as well as marketing which does not hamper the operations and vice-versa. For instance, if an e-commerce firm decides to remove the levied delivery charges, they must fathom the effect it'll have on their finances.
Pursuing an MBA helps you build a frame of thought. It trains you to think in accordance with the pros and cons of the change imposed. Playing around the various divisions of your firm and tying them in one loop is what MBA grads understand better.
Arguments in Favor:
As per a survey handled by Harvard Business Review, in analysis and ranking of the performance of 2,000 CEOs around the globe, the CEOs who had an MBA degree on avg. ranked 40 places top than CEOs who didn't have an MBA degree.
To transit from a mid-level position to a managerial position an MBA Degree becomes critical as Business schools work extremely hard at getting their students into the job market. They employ squads of recruiters. Harvard, for instance, has 17 full-time staff and 24 part-time counselors to help 900 students find suitable jobs.
The rigorous curriculum of an MBA Program which includes case discussions, group exercises, internships, quizzes, and various other competitions prepare students to become effective managers.
In the course of the programme a slew of real business cases is discussed in an MBA curriculum which imparts students the prudence to deal with such situations in their career.
The main purpose of an MBA education is not only definite to accelerate the career development of enrolled individuals but also to grow adequate professional managers who could prove their superiority in any sector while contributing to the welfare of the larger society. In 2015 a survey by Bain & Company of 1,500 MBA students found 66% of women and 59% of men planned to put positive social impact ahead of financial benefitsx`.
Tim Cook (CEO of Apple), Mary T. Barra (CEO of General Motors Company), and C. Douglas McMillon (CEO of Walmart) are some of top global managers of fortune 500 companies who hold an MBA degree.
Mrs. Chanda Kochhar (CEO of ICICI Bank), Indra Nooyi (Chairperson and CEO of PepsiCo), Sanjeev Bhikchandani (founder of naukri.com) and Shikha Sharma (MD, CEO, Axis Bank) are some of the successful Indian business leaders who are MBA graduates from Leading B-Schools.
No – MBA is not necessary.
Skills required, not degree – To become a successful and outstanding businessman, a person requires skills rather than a degree. He should acquire qualities such as sincerity, good communication skills, and good leadership. He/she should have clear goals, inner ability, strong confidence level, and concurrent thoughts. The best way to succeed in this field is by Instilling these skills within oneself.
Proven in history – History shows that education of management or an MBA is not necessary to be successful in business. Time and again across the globe or even in India we have seen that the Most Successful Entrepreneurs are either MBA college dropouts or the one who never entered the gates of B – school. People like Ratan Tata, Dhirubhai Ambani, etc became business tycoons without going through any specific management education.
Practical Knowledge – Several times the debate amongst the educationists and the industrialists, is about the difference that exists between the knowledge from textbooks and the real-time experiential learning required to run the business. Right from the self-management to the management of many other living and non-living things around you, only an MBA degree will never be able to get all the real-time experience required for business administration.
Indifferent to the way that MBA enlightening modules give closer to reality examination of the business world yet nothing taught better than anything an actual experience. An unquestionable person who finds a new place credit their success to experience, sensibility, and business sharpness rather than a specific degree.
Business universities right now end up getting scolded from a couple of things:
for giving too much focus on the return on investment and yet not delivering it
for being too academic and not be able to remember to teach the fundamentals of the practical business scenarios
Henry Mintzberg, an educator at Canada's McGill University, in his new book "Bosses Not MBAs", battles that standard MBA courses offer "specific getting ready in the components of the business, not general training in the demonstration of the officials". The candidates are normally too much energetic and fresh to learn aptitudes that, in any case, are every now and then less complex to obtain in the workplace than sitting in an examination hall.
Numerous detectable overall business pioneers explicitly Warren Buffett, Herb Kelleher, Michael Dell, Bill Gates, Oprah Winfrey, and some more, who are seen as the paragons of power don't have an MBA degree.
In the investigation corridor, students consistently contribute a lot of vitality working out exercises to the most humble detail. In any case, in all actuality, the condition is particular as it requires a smart decision to stay ahead in the race of enraged test.
MBA is transforming into a pattern among masses with a prod in the amount of B-schools. The idea of guidance gave is inconsistent rot as the huge focus is towards the fat check, in view of which B-schools goad hopefuls.
Wrapping up
Go for an MBA degree or not is up to the decision of a person. Having an additional qualification is always a better alternative.
Having an MBA Degree can be advantageous at some time in your career if you are eager to be a successful businessman. It is not just a piece of paper but it carries a lot of significance and value.
Today, most of the would-be business people, opt for MBA as Strong Career Support.
MBA degree holders do add important value to the world of entrepreneurs, making you rewarding in business. It is surprising to see how a B-School Clarifies your personality as a whole. If you're somebody who looks forward to initiating a business of your own, pursuing an education in business will have a constitutive effect on your overall growth and development.
This is your time to take the dive. Good luck!