Topic We Cover: Top 9 Emerging Careers in India
1. Artificial Intelligence
2. Data Analysts
3. IT Architects
4. Digital Marketing
5. Product Designer
6. Network analyst
7. Cloud Engineer
8. Database Administrator
9. Python Developer
Hey you Indian job goers! It's just for you!
Millions of you are trying to catch up to the opportunity to upgrade yourselves in your field so as to let your career gain a momentum. However, if you are not cognizant of the Emerging careers in India, then all such efforts will certainly go kaput.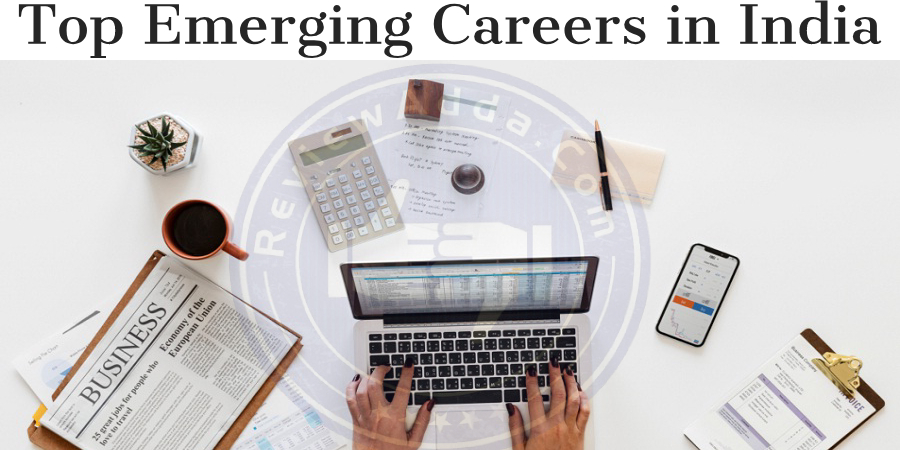 Having said that, a genuine research is needed to figure out the fastest Emerging careers in India that suits you the most.
A career that shines like a rainbow in all times to come. A career that can provide you everything- right from heavy pay checks to intellectual stimulation & can drive you ahead in your field.
You might be wondering as to what jobs will be in demand in 2020 in India and are confused over the question!
Here we bring a list of some emerging careers in India that will surely entice you because of their future growth.
Let's take a look at the top emerging careers in India that are as follows: -
1) Artificial Intelligence tops the list of emerging careers in India
Unarguably, artificial intelligence is going to be one of the Emerging careers in India in 2020 by dint of its endless benefits to the society as a whole. AI, better known as a simulation process of human intelligence practiced by machines is ready to boom in the years to come.
AI technology, one of the New career options in India in 2020, is designed deftly to take place of human thinking by identifying patterns as well as with the help of past experiences. Today's AI technology can easily identify objects, translate languages, identify faces & analyse sentiments.
Poised to be amongst the emerging careers in India, AI provides innumerable technological roles in machine learning development & data science. It brings forth multitude positions such as a user or an analyst with artificial intelligence software or in marketing & sales.
Skills Required for Artificial Intelligence Jobs?
One needs to have some required skills to enter into AI field which is, to many, is one of the Emerging careers in India and is the highly preferred by a large number of individuals.
Whoever craves to get artificial intelligence job must be from maths & computer technology background as they are considered to be the must have requirements for artificial intelligence jobs. One has to be a graduate for the supervision or leadership roles while administrative roles demand a master or doctoral degree to get in. AI courseware consists of: -
Understanding of maths, statistics, calculus, algorithms, logic, algebra etc.
Engineering, robotics & physics
Graphical modelling or Bayesian networking
Computer science, coding & programming languages
Cognitive science theory
Candidates who are desperately looking for picking up one of the best emerging careers in India can easily go for AI programs. They can go for degree programs that offer majors in artificial intelligence or an AI specialization in majors such as health informatics, information technology, computer science or engineering.
Future Scope of AI technology-
There is much scope of artificial intelligence job in India as companies, today are in the practice of creating products at a rapid rate. So, it can be estimated that in the future, AI is going to be super strong and can overshadow human performance in a great manner. Also being enlisted in one of the emerging careers in India, this one is a winner when it comes to choose the best jobs with great scope in future.
2) Data Analysts as one of the emerging careers in India
Data analytics is undoubtedly one of the emerging careers in India to go for! Data security has become a major concern for today's companies and a lot of issues concerning with data security can be easily resolved via Data analytics.
A good number of companies are leveraging Big Data in order to pull out the most vital and beneficial data. This practice has paved the way for an augmented productivity not only for the companies but also for their employees.
So, what do Data analysts do? Well, they translate trajectories, trends and numbers into digestible chunks of information. Businesses gather data such as inventories, profit margins, transportation costs, logistics and sales figures etc.
Data analysts collect that data and help the companies to go with workable business decisions. Primary job of a data analyst is to resolve the issues that increase company's costs and to make better decisions for the expansion of the business.
Skills Required for Data Analytics Field
Picking a data analytics job can be considered a good decision on the behalf of the candidate owing to its status as the emerging careers in India and the kind of job security it provides.
The ones who are looking for a career in data analytics field must have the following requirements: -
Data analysts should be good communicators as their jobs involves communicating complex ideas into digestible information.
A data analyst needs to equip with a number of computer languages such as Python, Hadoop, SAS, SQL, JavaScript, XML & machine learning programs.
Data analysts should be equipped with good analytical skills as it is required to analyse the data such as facts, number analysis and figures to search for conclusions.
Data analysts also need to formulate conclusions on the basis of numbers, data & trends.
Data analysts also need good mathematics skills that can help them in processing the numerical data.
Future Scope of Data Analytics
A Data analytics career is estimated to be one of the emerging careers in India by the year 2020. Reason being is that there is an endless demand for analytics professionals & huge job opportunities. Also, companies, today, are giving priority to the data analyst professionals that have paved the way for a brilliant career for data analysts in the future.
Get Updated Review ( Voice Based Alumni Feeback)
3) IT Architects
This position lures every IT individual due to its high position. Being enlisted in the top emerging careers in India, this field is really catching up to be one of the hot jobs by 2020.
IT architects are the ones behind the improved communication networks & information management. They have a lot of work to do- right from an initial brainstorming to the complete testing of the systems.
IT architect field is estimated to be in the list of top emerging careers in India by dint of its continued growth. IT architects work in tandem with project managers or they themselves work in the position of project managers.
Who can become IT Architects?
Whoever wants to become an IT architect must possess a bachelor's degree. Although a degree in IT architecture is not must, yet a degree in computers is required by a number of recruiters. Some employers prefer those individuals who hold an information architecture degree along with 5 years of experience in this field.
One who has gained an advanced degree in this field can get an in-depth knowledge of this field. Professionals must also hold security clearances from government & other certifications as they have to deal with the sensitive data. A number of institutions also provide online degree for this course to the learners.
4) Digital Marketing
Digital marketing is also going to be one of the fast-emerging careers in India in future. It has grown into a set of the best marketing efforts to reign on internet. Whether you are running a small or big business, you always need a digital marketing specialist to strengthen your online presence. To grow in this competitive world, businesses need to be visible on the internet and a digital marketer services are selling like hot cakes to beat this competition.
Digital marketers are yet to achieve the exalted position as this job is estimated to become popular in the industry due to the valuable growth it offers to a business.
Requirements of a Digital Marketing field
Although there is no set route to foray into digital marketing, yet a lot of employers look for a few sets of skills or a digital marketing course done from a recognized institute.
Once you pursue digital marketing skills, you will get to know the basic skills, knowledge and the required confidence to get a great career in this field. However, you also need to gain a rich understanding of the key areas or principles related to digital marketing field.
Some of the skills every employer needs you to get acquainted with are as follows: -
Social marketing
Email marketing
Content and inbound marketing
Digital strategy and planning
Social media marketing
The above-mentioned requirements will help you to enter and work in digital marketing field. However, if you are yearning for making a mark in this field and looking for better positions in this field, then you should consider going for a qualification that puts emphasis on a specific area of this field. Once you gain a deeper understanding of advanced digital marketing strategies, your chances of getting place at best positions will increase.
Scope of Digital Marketing
It is speculated that by the year 2020, most of the companies will be online. This rapid rate of online presence of the companies has paved the way for a non-stoppable growth of digital marketing in India. With digital marketing gaining prominence in the coming years, there will be a lot of opportunities in this field.
5) Product Designer
Product designing is yet another popular career and is in the list of emerging careers in India that promise a great career ahead.
This is one of the trending careers in India and is chosen by many individuals.
So, who exactly are product designers?
Every little thing used by us in our daily life is designed by product designers. These people not only work on trivial things such as chairs, cutlery, computers, clocks etc, but also on special products such as telecommunications, electronics and medical equipment.
All the efforts of product designers are focused on improving the functionality and look of existing products and to lessen their production costs. They also work towards designing new products.
A product designer is responsible for managing the complete process of product creation right from defining the issues of real people and searching for their feasible solutions.
A product designer should not love his created product as he might be creating that particular product again and again as per the needs, users & the market of the business.
Skills required for a Product Designer?
Whoever wants to be a product designer must possess a (BDes) Bachelor's degree or a (MDes) Master's degree in product design. A bachelor's programme is of 4 year & Master's programme is of 2 year duration.
Apart from the above-mentioned educational requirements, one should have great skills for visualization and an innate creative mind for providing best product design solutions. Also, he should possess the capability of researching as well as judging the needs of the customers as well as the manufacturers.
A product designer should arm himself with the most creative techniques & design principles to churn out the most novel ideas for a number of products on the basis of their usability, functionality & aesthetics.
The designer is capable of sketching his unique ideas as well as designs on the paper and can easily create attractive marker- based renderings.
Scope of a Product Designer
There will be much scope of product designers in India by the year 2020. A product designer can be easily absorbed in a number of MNC companies as more and more companies are making new products day by day.
A product designer can also launch his own business and can go for selling his own products.
6) Network analyst
With the company's data increasing at a rapid rate, the networks inside the companies have become much complex. This is indeed a rising problem that has paved the way for the importance of network analysts.
Due to the current load of data, a proper knowledge of installation process and management of network components is much desired. A network analyst should not only have a good understanding of technological processes, but also the main processes.
Network analysts' job is one of the swiftest emerging careers in India that let many individuals enter into this field. Network analysts need is much felt in banking sectors, IT companies & retail sector.
They also work with top managers & programmers and establish a beneficial scheme for a good teamwork. As they are multitaskers, they get a handsome salary that makes this job hot to grab even in the year 2020.
Who can become a Network Analyst?
Network analyst field requires a few skills from an individual. He should be a graduate in telecommunications, computer science or in an associated field to make an entry in this field. However, some employers can agree on accepting some valuable experience in place of education. Apart from these skills, an individual going for a network analyst job must possess best interpersonal skills.
Job Profile of a Network Analyst
A network analyst's work revolves around co-ordinating the company's cable installation, data communications network, testing, monitoring, servicing & network system planning. Plus, he has to plan as well as manage the load configuration of communication processor along with troubleshooting issues related to network. He is also required to examine the products of the vendor as well as to make any recommendation for any purchases done.
7) Cloud Engineer
Cloud engineers are going to be in the list of the most emerging careers in India by 2020 due to the cloud computing becoming one of the emerging business standards.
A cloud engineer, basically is an IT professional, executes all the technological duties allied with cloud computing that consists of planning, design, management & support.
A cloud engineer job is further split into a number of roles such as cloud software engineer, cloud architect, cloud systems engineer, cloud network engineer & cloud security engineer.
As maximum new applications revolve around cloud computing, the future of a cloud engineer is really promising in the year 2020. This industry is set to grow dramatically and will hopefully one of the emerging careers in India due to amazing services provided by it such as letting users avail the file backup facility & the easy retrieval facility of such files.
Skills required for becoming a cloud engineer
Candidates who are hell bent on becoming a cloud engineer due to its standing in emerging careers in India need extraordinary IT as well as programming skills to enter into this field. He must have a knack of programming languages, HTML & visualization technologies.
Professionals who are looking for managerial positions must possess a great understanding of the problems related with policy, risk analytics, agreements & online marketing strategies. He should also be capable of dealing with the clients.
Cloud Engineer
Today, nearly all the companies are moving their most important systems to a cloud. Some companies are also going for a hybrid approach. So, in this current situation, we can say that cloud engineers will have a better position in the coming years and this career field will be in the fastest emerging careers in India list.
Cloud engineers will be responsible for developing a mixture of house technology as well as outside systems.
8) Database Administrator
Database administration is one of the fastest growing careers in India and it will maintain its position in the coming years. To be precise, this field is on the rise and is considered as one of the emerging careers in India in future.
A database administrator is accountable for managing a database environment by carrying out all the associated activities to secure the data. One of the main responsibilities of a data administrator is to upkeep the data integrity. He has to secure the data from any kind of unauthorized access while making them available to the users.
Skills Required for a Database Administrator
A database administrator requires a good grasp of varied database management products like SAP, SQL, oracle-based software etc.
Scope of a Database Administrator
It is true that database administrators have a strong foothold in the industry by 2020 and that this career option is going to be under the most emerging careers in India by 2020.
Reason why it can be listed in the emerging careers in India is that more and more companies are going for the software offerings that incorporate AI & the capability to make AI-powered models.
9) Python Developer
Python developers are likely to be widely in demand in the year 2020. It is undoubtedly a dominant field & is enlisted in the top emerging careers in India in the coming years.
The reason why Python is among the emerging careers in India is that it is one of the widely used programming languages for the purposes of game development, numeric & scientific computing, system administration, game development, game development & application development etc.
Requirements for a Python Developer
Individuals should better know the prominence of Python and its standing which shows that it will be among the topmost emerging careers in India in the near future.
As Python developer field is one of the most emerging careers in India by 2020, many individuals are likely to foray in it. However, they must possess a computer science bachelor's degree or they should have a relevant experience in the language itself to enter into this industry.
Python developers also need to possess first-rate interpersonal skills so that they can commune with their team members seamlessly. In addition, they also require sound communication skills to write project reports.
Scope of a Python Developer
A Python developer career is undeniably one of the most emerging careers in India at present.
Python developers have a marvellous career ahead as python language has now overshadowed Java, C & C++ in the popularity. As it is an open source language, it can be easily used for creating any kind of application. Its wide usability, robustness & versatility has made it one of the top emerging careers in India in the future.