Topic We Cover: Why an MBA after Engineering
1. Why an MBA after Engineering?
2. Here are 5 reasons Why an MBA after engineering Degree
Climb the Corporate Ladder
Develop Managerial Skills
Understand Business as a Whole
Fast-Track Your Career
Experience Personality Development
3. Reasons why engineers choose to pursue MBA
4. Learn the art of management
5. Build bridges
6. Combine learning and experience
7. Career and Scope of MBA after Engineering
If you are also one of them who are looking for the answer of the question Why an MBA after Engineering then we let you know that MBA after engineering is the gateway to Corporate Success. Mostly students are in the dilemma whether to go through MBA after completing engineering, everybody has the question in mind why an MBA after engineering?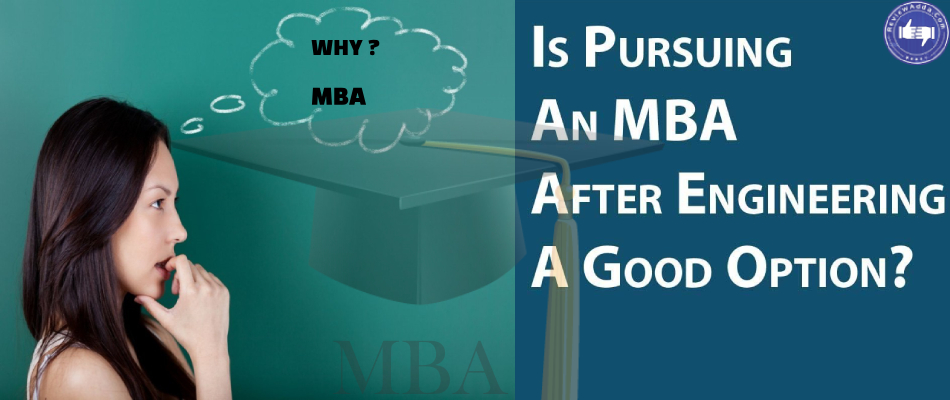 Students opt various engineering branches as per their interest like few students select for information technology and computer engineering are go through different aspects of technology, computers, and software development. Tech and ITES jobs prefer candidates with a technical background. That's why the one who have chosen computer engineering seem like the perfect fit for such technology based roles.
Industries related to power, energy, and infrastructure select the students who belong to the mechanical, civil, chemical, and electrical engineering background. Companies that have huge distribution, manufacturing, and factory units prefer engineering students with the relevant subject specializations.
Why an MBA after Engineering?
To get the perfect answer of the question Why an MBA after Engineering, you'll at the right place. A job in technical specialization with a sound technical background seems like the perfect fit for the technical students. For instance, a computer engineer would most probably be happy to work in top IT companies such as Facebook, Google, or Infosys.
However, in the middle of the career, when the software professional has influenced his or her skills to inflate career growth as well as learning, there can come a time when the career graph plateaus. This is due to, for any professional to move further up, the professional would require management skills.
To get rid off from the technical mould, and amalgam seamlessly into prevailing management roles, it makes good sense for engineers to up skill by studying in an MBA program to explain Why an MBA after Engineering in more detail just go through this.
Here are 5 reasons Why an MBA after engineering Degree:
Climb the Corporate Ladder.
The allied world also resounds this concept that an engineering education with an MBA for masters is the best amalgamation of knowledge and skill needs to gain friction for your career. With an administrative background, engineers can belief to a pace their career to higher managerial and even visionary roles. This would be achingly gradual growth for an engineer without management knowledge.
Develop Managerial Skills.
As an engineer, you have matured a profound knowledge of the technical side of work. Your course syllabus make more forceful to your scientific bend of mind. May be number crunching easily come to you, since you have had enough practice with mathematical subjects. However, while doing MBA you will get the real world problems. You comprehend the role of human elements in business. You grasp concepts on human resource management, communication, time management, enterprise management, and other such. These skills are detracting for anyone who aims to take on managerial roles in their career.
Understand Business as a Whole.
Develop a comprehensive outlook to work and work related problems. Business needs observing the large in scale level problems. Problem solving is far more complicated and aggressive in a business environment. Learn how to solve problems holistically.
Fast-Track Your Career.
The average initial salary of an engineer with an MBA is significantly higher instead of Engineering Without an MBA. This clearly points to the fact that the corporate world also favours engineers with a management specialization. You can directive a higher pay, and speedy career growth with a combination of engineering and MBA.
Get Updated Review ( Voice Based Alumni Feeback)
Experience Personality Development.
The answer of why an MBA after engineering, many students who opt for an MBA After Engineering enhance their personality as well. The MBA curriculum focuses a lot on projects, group discussions, presentations, and industry visits. As a result, students sharpen their confidence, personality, and learn to communicate well. These skills are important for any future manager.
In addition to personal development, students who opt to Study MBA Abroad, gain a new perspective about businesses, and experience living abroad. This exposure helps to expanse your intellectual and cultural boundaries.
Reasons why engineers choose to pursue MBA
Apart from above mentioned reasons of why an MBA after engineering, here we mentioned few more reasons which has their own existence for 'why an MBA after engineering'.
Deplorable quality of education in engineering being imparted in most engineering colleges in India – this is one of the major reasons of why students be deprived their interest in the engineering subjects and the reason of why an MBA after engineering.
Students who are not focused about their higher studies are also the reason of why an MBA after engineering, they are like "All my friends were planning to go for an MBA, so I'm also go for the CAT Entrance exam."
In the mid of their engineering course, they lack their interest in the subject and field & decide to go for an MBA instead.
In India people has a realization that, MBA graduates receive more salary than their engineering counterparts.
Lack of enough engineering jobs in India is also a reason of why an MBA after engineering. India produces more engineers than both China and USA!
According to the engineers to crack CAT, SNAP, XAT, and other MBA Entrance Exams are quite easy, since a major factor of these entrance exams are the Logical Reasoning and Quantitative Aptitude sections which are a cakewalk for engineering students.
B.Tech graduates who don't want to pursue M.Tech often end up opting for an MBA.
According to the students, engineering is deliberated as a "safe bet" and following it up with an MBA is the "safest bet."
So, after reading above-mentioned reasons of Why an MBA After Engineering, hope you'll very much clear your confusion on why an MBA after engineering. Now-a-days, an MBA has become the highly valued higher education goal for the one who looking to accelerate their careers and prosper the managerial skills required to lead their industries.
The meaning of versatility in MBA is that graduates from all disciplines whether from technology, science, humanities, and engineering - can supplement their bachelor's degree and studies to upgrade their careers to the next level.
Engineering graduates in particular have been attracted to MBA Programmes in recent years, both online and on-campus. This is only to take their B.Tech degree to higher level.
Learn the art of management
Students get help from the Engineering Degrees to enhance the technical skills which are required to deal with practical problems in the physical world, building on science and technology. As most of the good engineers would testify, things are often very white or black in engineering.
But when these things comes to managing the business or leading teams however, people expeditiously find out that there are more nuanced grey areas to guide along route. MBA is the professional program which helps Engineering Students in how to tackle larger and more abstract strategic problems, instead of the problem which they faced before like structured engineering-focused problems.
This means learning how to manage people and how to systematise business structures effectively. Well-organising a skilled workforce is a prime factor to making sure that they can help the business succeed, and is an ability that an MBA develops in students.
Build bridges
Dwelling the bridges between engineering, science, technology, and everyday life is a key factor of helping brilliant technical experts to make use of their skills.
Being able to develop, invent, and find ingenious solutions to technical problems is not useful unless we can find ways to efficiently apply them to real world problems and get them into the right markets.
Abled leaders with the engineering knowledge and business leadership skills are the important and essential connection between these realms, and help realise the ideas that shape our world. An MBA adorns students with these very leadership qualities, and helps them utilise their talent and skills of those working in the field of engineering.
Combine learning and experience
Another reason of Why an MBA after engineering is a well-trodden route towards favourable and successful leaders in the field of engineering has been to complete their MBAs after acquiring a little work experience. There are some MBA programmes those are keen on applicants having at least a year of work experience before joining the programmes and many stimulate studying alongside work via an online MBA programme.
Getting work experience during or before enrolling for an MBA programme can be a enormous way to supplement your learning, and appreciate how the theories learned on the course apply to solving real day problems. It is convince to make your skills and knowledge in engineering even more beneficial to employers.
Career and Scope of MBA after Engineering
One more reason of why an MBA after engineering is an MBA post engineering will not only appeal to a high-salary job but will also open up a lot of new career paths for the deserving students.
Below mentioned are some of the available career options for the deserving candidates:
Jobs in both public and private sector
Sr. Management posts are offered to the deserving candidates like in Sales, HR, and Marketing
If you are good in financial planning and accounting then you have a chances to become a financial analyst
In the banking sector
Self-employment opportunities
As we look above, there is completely no harm in pursuing a different career avenues and learning additional skills. However, since it will be a move from engineering to MBA, you require to be really sure if that's what you want and if that shift is really needed.