Topic We Cover: Top engineering colleges in South India
1. The Aspirational Class and the idea of India
2. Andhra Pradesh's IIT coaching factory
3. The Top Engineering Colleges in South India
4. The States
5. Why are government colleges not in the rankings?
6. The Factors
College perception
Alumni reviews
Academics
Placements
The Rankings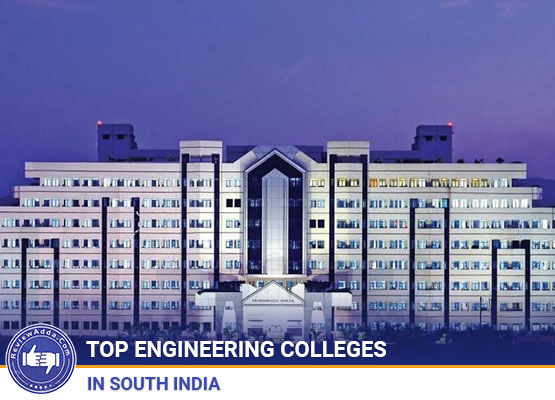 VIT Vellore is one India's Best colleges for engineering
After analyzing the top engineering colleges in North India, we move down South to rank Colleges in South India. The bulk of India's technical colleges come from South India.
With all its cultural and social differences from North India, South India shares the same fixation of engineering education with its northern counterpart. This fixation drives many North Indian students to travel South and vice-versa if they get admission in a top engineering college.
In a country divided by caste, culture, religion and customs, the common aspiration for IIT admission is unique in its own right. Though many things of changed in India post independence, one common theme hasn't changed.
The Aspirational Class and the idea of India
Aspiration is the death of reason and the birth of hope
The aspirational class of India is the greatest demographic of the country. Unlike other demographics which are divided on the basis of trivial inclinations, there is no division which hampers the aspirational class. The aspirational class has only one goal: stability.
In a country like the one we live, it is often easy to wallow in one's own problems. If we look at India and the aspirational class analytically, we'll discover the painstaking efforts they make to bring a certain level of stability to their lives. The need for stability is derived from their own sense of insecurity and sobriety.
The fetish for a Career in Engineering is a product of this psychological desire to gain a certain level of permanence in their lives. With all the changes we have seen over the years through cultural evolution and social reforms, the tendencies of the aspirational class have always been the same. A safe degree, a safe job and a secure life have become the manta for the dream life of an aspirational Indian.
While looking at examples set by other countries, this mindset is somewhat alien to other developed countries. In the United States, the rigors of everyday life sustained and endured for a better future do not necessarily imply stability and security. In fact, the founding fathers of the United States of America called the struggles of everyday life as the 'Pursuit of Happiness.
In India, we arguably live for 'The Pursuit of Stability'. Happiness is often termed as a concept too abstract and subjective to pursue.
The abandoning of the pursuit of happiness has ultimately weakened certain areas of the country. Fields like humanities and fine arts have been shunned for more technical fields which are thought to be more rewarding in the end. Even students who have a brilliant mind and aptitude for non-technical fields end up working as engineers.
Students such as these get stuck in the cycle of never being lifted from the aspirational class. Even stability has its own forms, and a permanence borne out of compromise and regret is almost like a levee about to let the impending wave wash over due to growing cracks formed over time.
The idea of India, keeping aside the cultural exuberance, is non-existent. Besides having a vivid past filled with cultural and sociological instances, there is nothing remotely unifying about the country. No common theme behind which people can identify. No idea except the pursuit of stability and engineering.
Andhra Pradesh's IIT coaching factory
Since the piece focuses on the engineering colleges of South India, it is wise to talk about Andhra Pradesh. Now divided into Telangana and Andhra Pradesh, the two regions together send the most number of students to the IITs every year.
For the academic year 2016-17, the state-wise breakdown of the number of students selected for IITs in the table below
| | |
| --- | --- |
| State | Number of students selected for IITs, NITs and IIITs |
| Andhra Pradesh (Telangana + Seemandhra) | 6744 |
| Karnataka | 670 |
| Kerala | 908 |
| Tamil Nadu | 792 |
By looking at the numbers above, one might venture to say the population of Andhra Pradesh has to atleast five to ten times more than the other three states. The evidence suggests otherwise. While AP's population is more than the other states, the difference simply isn't large enough to mandate such a humongous difference.
So why does AP have such a large proportion of students going to top engineering colleges in India? Similarly, why is Rajasthan the largest exporter of students to the IITs at the turn of every result declaration?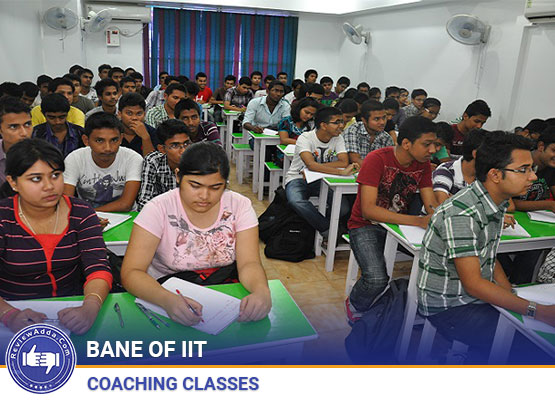 IIT Coaching classes have become a double edged sword for engineering asporamts
The answer lies in rising ubiquity of coaching institutes in these states and their growing presence all over the country. Andhra Pradesh is home to IIT coaching conglomerates like Narayana and Sri Chaitanya. Each of these institutions cover every expanse of Andhra Pradesh, not to mention there sizable footprint across various cities and towns in India.
The genius of these coaching centres and their strategy in Andhra Pradesh lies in complete integration and affiliation with the state board. Instead of attending schools and learning subjects such as social science and English, students are hand Class 11 science textbooks in class 8th itself, in some cases even earlier. This is made possible by the state board having an illegal agreement with these coaching centres. Left field subjects from like history, political science, geography and English are considered as mere formalities while the primary focus is shifted to the impending arrival of Engineering Entrance Exams.
Unlike students from other states who study all the subjects, coaching centres use their affiliation with the state board to eliminate these 'alleged' distractions and set the primary objective to getting a seat in the IITs.
But are coaching centres the problem or the cavalier attitude we have toward deciding a child's career when he/she is in 8th standard. Meena Dhulia, a Career Counselor, lays the bodies on the floor of societal tendencies and pressure.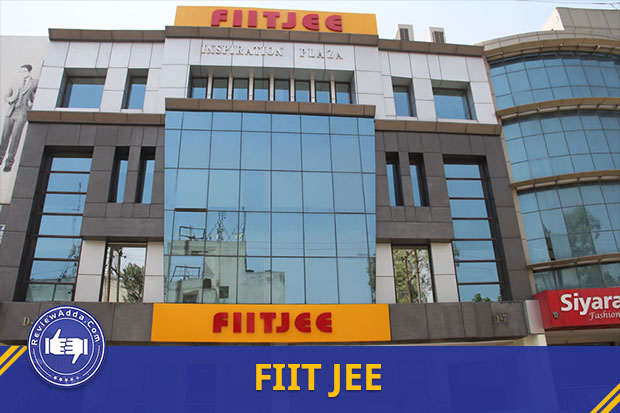 FIITJEE is one of the country's biggest coaching centres with a pan-India presence
In my mind, coaching centres are not the problem. Parents, who are well versed with tribulations of the world, send their kids to these coaching factories knowing partially or completely the psychological burden they are placing on their shoulders. As Indians, we are selective for a number of trivial things. Adults or in this case parents, are generally willing to spend an hour at a grocery shop to sift through the best possible vegetable on offer. How often are these same parents willing to spend time over contemplating which career suits their son or daughter best? My father wanted to push me into engineering and he didn't devote a minute's time to ask what I want'
People who say coaching centres are to blame should understand the way free market works. There is a demand for IIT Coaching, and thus there are coaching centres. It is as simple as that. Blaming coaching centres is useless because they are simply doing what is necessary to achieve what the parents want. A seat at the IITs'
Meena's point isn't off the mark. If parents are willingly throwing their children into the abyss, why blame coaching centres for facilitating the fall?
The Top Engineering Colleges in South India
As evident from everything written before, the fixation with engineering is all too common across length and breadth of India. This craze bolsters many Engineering Colleges in India to be amongst the wish-list of engineering aspirants.
An even greater cause of concern amongst students pursuing Engineering Education has become finding the right engineering college. The IITs and NITs have only so many seats, but the number of engineering aspirants clamoring for these very institutions has been very high over the years.
Understanding which Engineering Colleges in India are worth all the effort is pivotal. Many engineering colleges use guerilla marketing tactics to lure students into taking admission. These advertisements often claim to have cent percent placements; state-of-the-art infrastructure and top-draw faculties, which upon verification are found out to be false claims in the first place.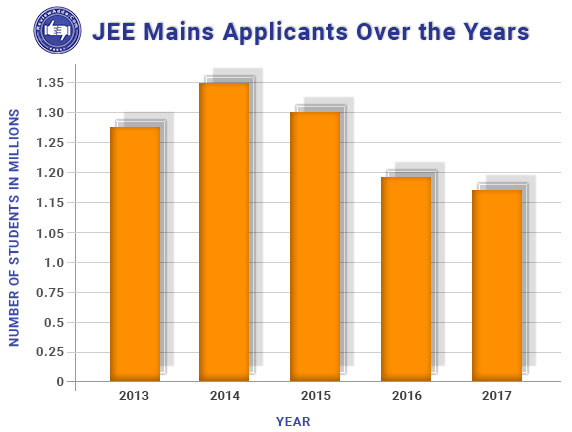 JEE Mains applicants over the past four years
Analyzing which engineering colleges are most suited according to one's choice of branch and location is a uniquely exhausting task. Though recent trends take into account only placements as the defining factor, there are a number of other factors which come into play while choosing a college.
Before delving into which factors decide the quality and sustenance of an engineering college, it is necessary to establish which states of South India we will be considering for ranking.
The States
Karnataka
Kerala
Tamil Nadu
Telangana
Seemandhra
Why are government colleges not in the rankings?
The first thing which pops into someone's mind when one mentions engineering colleges are the IITs and NITs. The ubiquity of these institutions often overshadows some other good colleges who have been performing well by all quantifiable metrics.
Thus we will only be concentrating on private colleges for these rankings since their attributes, qualities and drawbacks are relatively obscure compared to Government Engineering Colleges.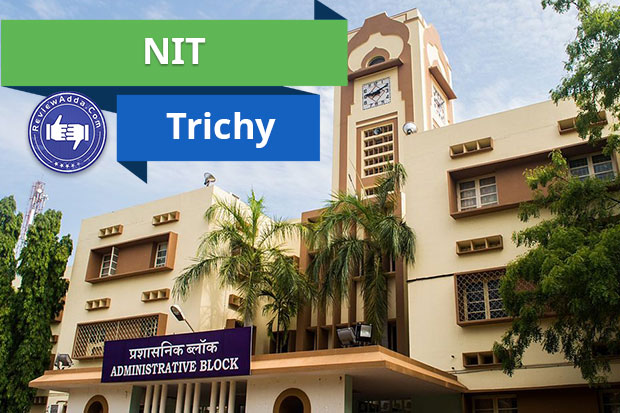 Nit Trichy is one of the Best NIT's in India
The Factors
The factors which differentiate the best engineering colleges from the rest have to be considered based upon their holistic impact on the aim of any normal engineering college: educating dormant scientific minds into industry-ready seasoned professionals.
An engineering college should ideally be a vestige technological innovation and freedom. Though more result-oriented factors such as placements have become a mainstay for students, other holistic factors have a major influence over placements. Below are four factors which will be considered for the rankings of the Best Engineering Colleges in South India
1. College perception
College perception is a defining factor while choosing an institution for higher education. But how is a perception built and maintained?
The perception of a college is a product of its track record across various determinative factors. It can't be built overnight, but can recede into smithereens in a matter of seconds. The general consensus over the quality of an institution can be termed as its college perception.
2. Alumni reviews
While the general public has only superficial knowledge of a given institution, the alumni of the same college have complete understanding of how the engineering college functions. Whenever a student is uncertain over the credibility of an engineering college, the opinion and advice of an alumnus is almost gold dust for the confused student.
Alumni reviews, unlike other factors, are a product of the wholesome experience an aspirant can expect at the engineering college. Often, students are saved from joining a shady college upon the advice of an already suffering alumnus. At a time when students can trust no-one for unbiased opinions, alumni feedback is essential to form a clear opinion about a given engineering college.
3. Academics
Engineering may seem like a course which any person can do, but the beef of the matter lies elsewhere.
Doing engineering and studying engineering as a skill are two different aspects altogether. The former is simple and can be done by most students. The latter requires the theorization and application of scientific principles to increase the efficiency of existing processes.
Like certain students are suitable for engineering, a similar analogy can be used to analyze colleges. Not every engineering college in India is capable of providing engineering education. Knowing which engineering college is capable of providing quality technical education is necessary for an aspirant who truly finds his/her calling in engineering.
4. Placements
How can we name the factors of college rankings without discussing placements?
Analyzing what has become the single-most influential factor in determining student admissions, placements of an engineering college is a measure of its respectability in the industry and the employability of its students.
Considering the long-four-year journey of completing a B.Tech, one has to understand the importance of campus placements to any given student. Getting placed in a good company from a good college can kick-start one's career with vigor, whereas a graduate without a job is made to realize and endure the hurly-burly of the cut-throat jobs industry of India.
Get Updated Review ( Voice Based Alumni Feeback)
5. The Rankings
Top private engineering colleges in South India have been ranked below. The score given for each factor is relative to the standard of colleges on the list. These scores are not absolute in any sense of the word.
Ranking

College/University

Perception (out of ten)

Alumni reviews (out of ten)

Academics

(out of 10)

Placements (out of 10)

1

9.1

8.9

9.5

9.4

Well received across India as a trusted institution for engineering

Alumni have generally been very positive

Known for being very focused on academics and equally encouraging to pursue extra-curricular activities

Almost all students get placed, which is incredible as its intake is very high

2

8.5

8.7

9.2

9.1

Though its repute is flawless, SRM's chancellor got caught in a scandal involving medical college admissions

Favorable alumni feedback on a regular basis

Are known for being extremely methodical and systematic in their academic approach

Most students get placed every year

3

Birla Institute of Technology and Sciences (BITS) Pilani – Hyderabad campus

9.4

9.2

8.8

9.1

Carries the impeccable reputation of Pilani campus in its stride

Alumni are always quick to shower praise

Not as coherent as Pilani campus, but easily meets the requisite standards

Quality of placements is excellent, but companies often choose to draw parallels with Pilani campus students

4

8.9

9.2

8.9

9.0

Not as known as the likes of VIT and SRM, but well respected in the industry

Alumni reviews generally portray PSG as a well-run college

Affiliated to Anna University. Maintains a threshold of expected academic performances from students

Well respected in industrial circles for training top quality engineers

5

8.5

8.9

9.1

9.0

Well respected in Bangalore, but not as famous amongst other parts of India

Alumni reviews draw positive feedback

Very strict and vigilant in terms of maintaining academic decorum

Placements are great due to close proximity to India's biggest IT hub

6

8.5

8.8

9.2

9.0

Like RV, known well in Tamil Nadu but not as much further North

Positive feedback from most alumni

Known for being extremely strict on matter of academic importance

Stellar placement record with most core branch students getting placed

7

8.4

8.7

9.0

8.9

Known primarily in Tamil Nadu

Most alumni feedback is favorable

Affiliated to Anna University and known for being highly diligent in academic matters

Placements are decent but too skewed towards the IT sector

8

Manipal Institute of Technology (MIT)

8.8

8.5

9.0

8.9

Well known across India. More popular for the medical programme provided by its sister institution

Alumni feedback is usually favorable

Follows syllabus and curriculum of foreign universities

Placements are good, but reliant on the IT sector

9

8.4

9.1

8.9

9.0

College perception is great amongst those who know about the institution. Relatively unknown in North India

Alumni feedback is very positive due to great impression of college in

Low intake and good quality faculty help in forming a good core in a strong academic programme

Strong alumni network aids immensely during placements

10

8.4

8.1

8.9

8.7

Not known very well outside Karnataka

Alumni perception is mixed

Very strict and inhibitive with regards to academics

Placements rely on IT companies

11

8.2

8.8

8.7

8.8

Is well known in South India, but not as much up North

Alumni perception is very good owing to the college's supportive approach to academics

Encourages innovative thinking and research initiatives. Outcome based teaching and training incorporated

Placements are generally very good across all branches

12

8.3

7.9

8.2

8.5

Was caught in a controversy when rumors emerged over its UGC approval status, which was granted in 2013 while it incongruously started taking admissions in 2011

Isn't ardently positive due to the controversy mentioned before

Academically sound as it follows the same template as VIT Vellore

Largely dependent on VIT Vellore for placements

13

8.1

8.3

8.1

8.3

College is well received and known in Karnataka

Alumni perception is generally positive

Due to high intake, student to faculty ratio is very high

Due to vicinity to Bangalore's IT hub, lion share of placement is held by IT sector

14

8.0

8.4

8.0

8.4

Perception is good but known amongst Telangana students only

Alumni review generally laud the college for its effort and attitude towards education

Well rounded academic structure, but more equipped for CS and IT than core branches like mechanical and civil

Strong alumni network contributes to consistent track record placements

15

7.9

7.9

8.0

7.8

Perception is marred by mixed placement track record

Mixed reviews from alumni

Reasonably decent academic programme with focus on skill-based learning

Weak alumni network contributes to inconsistency in placements

16

GITAM University, Visakhapatnam

7.8

7.7

7.9

7.9

Relatively unknown outside Andhra Pradesh

Alumni perception isn't vociferously positive due to high intake relative to the available facilities

Due to high intake, student focus can sometimes go awry

Major recruiters are IT giants such as Infosys, TCS ,Cognizant and other local IT-based companies

17

7.8

7.5

7.9

7.7

Good perception is restricted within state lines

Alumni perception is mixed with both positive and negative reviews

Academically capable with affiliation to Anna University

IT sector counts amongst major campus placement recruiter

18

7.5

7.9

7.7

7.6

Perception as a decent engineering college is restricted to South India only

Relatively respected amongst students and industry hirers

Reasonable standard of education with affiliation to Visvesvaraya Technological University

Most recruiters are from IT sector

19

KL University, Guntur

7.3

7.5

7.6

7.4

High intake acts as bane for reputation

Alumni perception is positive with one common hindrance that the fees is considered high

Academic focus is systemically strong, but high intake causes loss in student focus

Only a handful get placed in core companies

20

7.2

7.6

7.6

7.2

Unknown in most parts of North India and some parts of South India

Alumni perception is positive

Academic capabilities are suitable for some branches and inadequate for others

Heavily reliant on mass recruitment from IT companies

21

Kumaraguru College of Technology, Coimbatore

7.1

7.3

7.5

7.1

Well known in Tamil Nadu, but that is not the case in North India

Mixed opinion about various academic and qualitative factors

Affiliated to Anna University

Core company placement ratio is very low

22

Karunya University, Coimbatore

7.0

7.1

7.2

7.2

Perception is average compared to other top colleges on the list

Alumni reviews are mixed with most pointing out the rules framed to restrict students

Industry oriented teaching isn't up to the scale

Placements aren't a cent percent surety. IT companies are the major recruiters

23

Kalasalingam University, Virudhunagar

6.9

6.7

6.9

6.8

College perception isn't top draw due to poor response of industry and alumni

Alumni reception is comparatively negative

Strict in terms of academics with low focus on skill based learning

IT sector are the major recruiters, though there is no guarantee of placements unlike other top colleges

24

Acharya Institute of Technology, Bangalore

6.6

6.7

7.0

7.0

More famous for its management courses

Considered too expensive for the return on investment

Reasonable standard of education with affiliation to Visvesvaraya Technological University

Core company recruiters only take a handful of students with most going to IT companies

25

Christ University, Bangalore

6.8

6.5

6.6

6.8

More popular for MBA, BBA and other humanities programmes

Alumni consider college ill-equipped for proper engineering

Education

Isn't well equipped to successfully produce high-grade engineers

Placement in IT is average. Core company hiring almost negligible

26

TKM College of Engineering, Kollam

7.0

7.0

6.4

6.3

Perception is favorable in Kerala, but non-existent outside

Alumni consider the college well-run and suitable for engineering

Too focused on theoretical aspects rather than practical learning

Placements are heavily distorted towards the IT sector

27

Jyothi Engineering College, Thrissur

6.5

7.0

6.8

6.1

Lack of placements have caused college perception to dip

Alumni perception is mixed with anequal mix of positive and negative points

Academically stable with affiliation to University of Calicut

Placement record isn't ideal which is down to lack of alumni network

28

Hindustan University, Kelambakkam

6.2

6.4

6.7

6.6

Placement and academic inconsistency causes perception to fluctuate

Alumni perception is mixed with the most common complaint being the superfluous number of trivial rules

Focus on industry-oriented learning is low

Lack of alumni network and industry outreach drives perception down

29

Sri Venkateshwara College of Engineering, Bangalore

6.0

6.1

6.6

6.2

Perception isn't ideal due to lackluster placement record

Alumni reviews signal lack of effort made to reach out to companies for placements

Able to maintain a certain standard due to affiliation with Visvesvaraya Technological University

Lack of drive to bring companies to the campus

30

Rajeev Gandhi Memorial College of Engineering and Technology, Kurnool

6.0

6.2

6.3

6.1

Isn't known outside South India

Alumni reviews pint out lack of facilities which are otherwise quotidian at engineering colleges

Very low focus on innovative learning and skill-based teaching

Placements in IT have also been hit due to jobs slowdown