Topic We Cover: BITS vs NIT
1. Birla Institute of Technology and Sciences (BITS), Pilani
BITS Pilani courses and fees
BITSAT
BITSAT Admission
BITS Pilani placements
BITS Goa and BITS Hyderabad
2. National Institute of Technology (NIT)
31 NITs, are all of them equally good?
NIT Trichy
NIT Warangal
3. BITS Pilani vs NIT Trichy vs NIT Warangal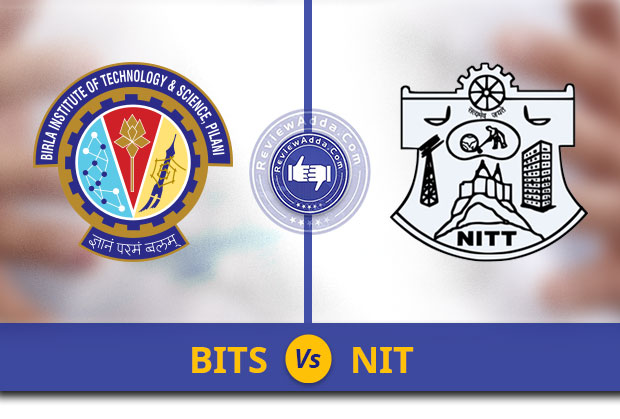 BITS and NIT represent two of India's biggest names in engineering education
Some questions are easy, some are difficult and some are downright improbable.
BITS vs NIT has been a debate too enamored with histrionics and mismanaged assumptions. Both lie in the vacuum left by the unrivalled popularity of the IITs. Many colleges have tried to break into this category and command the same demand, but all have failed.
There is a strange romanticism attached with engineering colleges in India, especially the top tier colleges. From taking the unenviable decision to pursue the top engineering colleges to chasing major entrance exams, the two year journey is paved with blood, sweat and a lot of hope.
Any student who has the choice between NIT and BITS can generally be categorized as a very good student, as seldom do students in India suffer such an embarrassment of riches. However, the dilemma still persists and never seems to abate. Which institute really beats the other eventually? Is there really an answer or are they both on level pegging?
Prakash Arora, a BITS alumnus and faculty at a popular coaching center Delhi tries to highlight student perception about these two institutions. 'BITS is often considered as good as IITs by many students. Though JEE Advanced is no doubt tougher and far more competitive, admission to BITS is no walk in the park either. NITs on the other hand are considered a rung below IITs. This perception is subjective. I can only speak for what I feel the mode is amongst students. Nonetheless, both are considered very good colleges for B.Tech'
As Prakash points out, the perception is subjective and not entirely based on comparative factors such as teaching methodology, industry integration and student welfare. Any decision between these two elite colleges cannot be taken on a whim. Hard analysis of quantitative and qualitative factors is necessary to arrive to a conclusion.
Birla Institute of Technology and Sciences (BITS), Pilani
BITS is a very old and renowned name in Indian technical education. Established in 1964 to meet the growing demand for quality technical education, BITS started off in a sleepy village in Rajasthan 200 km away from New Delhi called Pilani.
Pilani now has become a name synonymous as being the center of one of India's biggest technical institutions, BITS.
BITS Pilani is ranked amongst India's best institutions for engineering. While other private colleges have been caught with increasing intake to boost revenues, BITS has maintained an impeccable reputation. Being on par with IITs for over 3-4 decades is no easy job, and BITS has managed to achieve the same be maintaining high standards of education.
Though it has three campuses in the country, the BITS Pilani campus is easily the most well established and famous.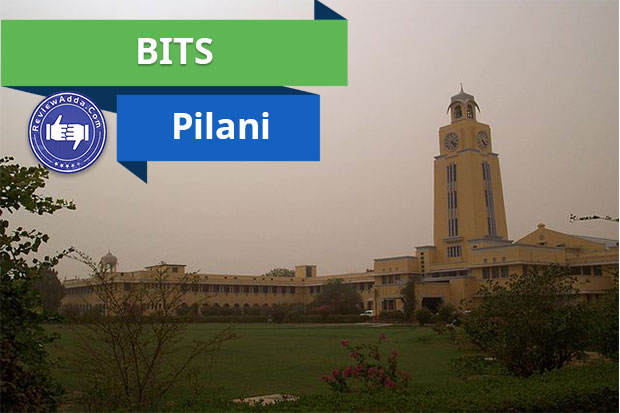 BITS Pilani is one of India most reputed and oldest engineering colleges
BITS Pilani courses and fees
BITS Pilani offers a number of courses in engineering and pure sciences. Some of the BITS Pilani courses mentioned in the table below
| | | |
| --- | --- | --- |
| Courses | Duration | Fees per annum |
| Bachelor of Engineering (B.E) | 4 years | Rs. 3,29,100/- |
| Bachelor of Pharmacy (B.Pharm) | 4 years | Rs. 3,29,100/- |
| Master of Business Administration (MBA) | 2 years | Rs. 3,37,925/- |
| Masters of Engineering (M.E) | 2 years | Rs. 3,37,925/- |
| Masters of Science (M.S) | 4 years | Rs. 3,29,100/- |
The B.E courses offered at BITS Pilani are listed below:
Mechanical Engineering
Computer Science Engineering
Electrical and Electronics Engineering
Electronics and Instrumentation Engineering
Chemical Engineering
Manufacturing Engineering
Civil Engineering
Among these courses offered, the main braches of engineering such as mechanical, computer science and electrical are ranked amongst the best in India on par with the like of IITs.
BITSAT
BITS Pilani conducts admissions to its B.E programme through an online admission exam known as the Birla Institute of Technology and Science Admission Test (BITSAT). Though BITS earlier considered board exam results as the sole parameter for admissions, it changed its approach in 2005 and introduced its own entrance exam.
BITSAT has become a very popular engineering entrance examination since its inception in 2005. Setting the trend as far as online exams are concerned, BITSAT is known for its efficiency as it declares the marks obtained right after the exam is over. This practice has been lauded by many students, who otherwise have to wait for all exam results before making a decision on the college they will be choosing.
The online exam comprises of standard subjects such as Physics, Mathematics and Chemistry followed with subjects unique to engineering entrance exams such as English and Logical Reasoning. Although the latter's weightage is less, it acts a brilliant rank derivative which other exams are often found lacking in.
The detailed BITSAT syllabus is given below:
Subject

Syllabus

Physics

· Mechanics

· Solids and Fluids

· Heat and Thermodynamics

· Waves and Oscillations

· Electrostatics and Electrodynamics

· Magnetic effects of current

· Electromagnetic Induction

· Optics

· Modern Physics

Chemistry

· Physical Chemistry

· Inorganic Chemistry

· Organic Chemistry

Mathematics

· Algebra

· Coordinate Geometry

· Calculus

· Vector & 3-D

· Statistics

English

· Grammar

· Reading Comprehension

· Composition

· Vocabulary

Logical Reasoning

· Verbal reasoning

· Non-verbal reasoning
The BITSAT exam pattern is tabulated below.
| | |
| --- | --- |
| Subject | Number of questions |
| Physics | 40 |
| Chemistry | 40 |
| English | 15 |
| Logical Reasoning | 10 |
| Mathematics | 45 |
| Total | 150 |
If a student manages to attempt all 150 questions, 12 additional questions are also provided. Each question carries 3 marks and a wrong answer is subject to a penalty of -1 mark. The duration of the exam is 3 hours.
BITSAT Admission
As mentioned before, BITS Pilani admissions are predicated upon performance in BITSAT and a few other eligibility criteria. Some of them are given below:
12th pass from recognized board
Aggregate of 75% in PCM subjects with minimum of 60% in each
Toppers from all recognized boards in India are granted direct admission to BITS Pilani irrespective of BITSAT score.
The BITSAT cutoff determines admissions for other students. While the cutoff fluctuates every year, it does represent a good idea of where the threshold lies for admission to BITS Pilani. The branchwise cutoff for BITSAT 2016 has been tabulated below for engineering courses only.
| | |
| --- | --- |
| Branch | BITSAT Cutoff |
| Chemical Engineering | 319 |
| Civil Engineering | 314 |
| Electrical and Electronics Engineering | 362 |
| Mechanical Engineering | 346 |
| Manufacturing Engineering | 311 |
| Computer Science and Engineering | 384 |
| Electronics and Instrumentation Engineering | 345 |
The counseling for these courses is conducted in the month of June and July. The entire process is conducted on an online platform. Students have to enter their board marks during the process and should have a scanned copy of the passing certificate as well.
BITS Pilani placements
BITS Pilani placements are considered one of the best in the country. Almost all students applying for placements are placed every year due to the stellar reputation of BITS in the industry and its well-knit alumni network. With a brand name as old as the premier IITs, BITS represents the very pinnacle of campus placements for engineering colleges in the country with impressive placement statistics showing a very high average package. The graphic below signifies the relative ease of placements at BITS Pilani.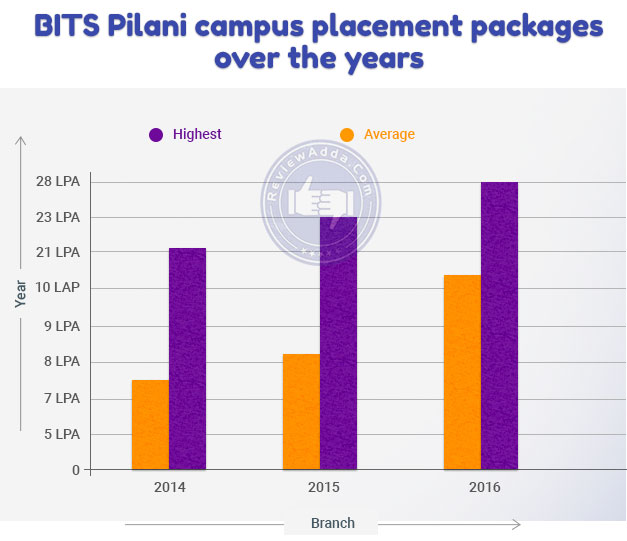 Placements AT BITS Pilani since 2014
BITS Goa and BITS Hyderabad
The Goa and Hyderabad campuses are essentially extension centres of BITS Pilani itself. Part of the BITS Pilani University, Goa and Hyderabad were established in 2004 and 2008 respectively. Being associated with the BITS name, both campuses have earned the same praise as some other decent engineering colleges in the country.
Though Pilani remains the most popular campus, Goa and Hyderabad are slowly creating their own identity as engineering colleges. With the seemingly evergreen BITS name backing them to the hilt, there is no saying where the two campuses could reach in 5-10 years time.
BITS Goa and Hyderabad also conduct admissions based upon performance in BITSAT. Their counseling process is conducted along with Pilani.
BITS Dubai, the first foreign campus of an Indian university was established in 2000. The campus was instituted to promote Indian education amongst forign students and NRIs and leave an Indian footprint on the global education scene. Approved by the UGC in India and the Knowledge and Human Development Authority (KHDA) in Dubai, BITS Dubai is completely different from its Indian counterparts in terms of regulations and lifestyle. However, with a majority of faculties having doctorates from IITs, NITs and foreign universities, there is little doubt over the quality of education imparted at the foreign campus.
National Institute of Technology (NIT)
Known as Regional Engineering Colleges (RECs) until the turn of the century, the NITs were established to provide cutting edge technical education in every state of the country. With over 31 NITs over the country at the moment, there is one NIT for every state and union territory in India as off 2017.
With an acceptance rate as low as 2%, the NITs conduct admissions based upon performance a standard nationwide exam known as JEE-Mains.
31 NITs, are all of them equally good?
An important point to consider with the NITs is that these institutions have been established over a period of over 56 years. Due to this disparity, some NITs came into existence as early as 1961 while some came into being two years back in 2015. Consequently the reputation and demand of the old NITs is much more than the new NITs.
While the new NITs will surely go on to become reputed and renowned, they don't gather as much clamor as the old NITs do as off now. The elite NITs include NIT Trichy, NIT Warangal, NIT Suratkal, MNIT Allahabad, NIT Surat, NIT Rourkela and NIT Durgapur.
To pit against BITS Pilani, we shall consider NIT Trichy and NIT Warangal.
NIT Trichy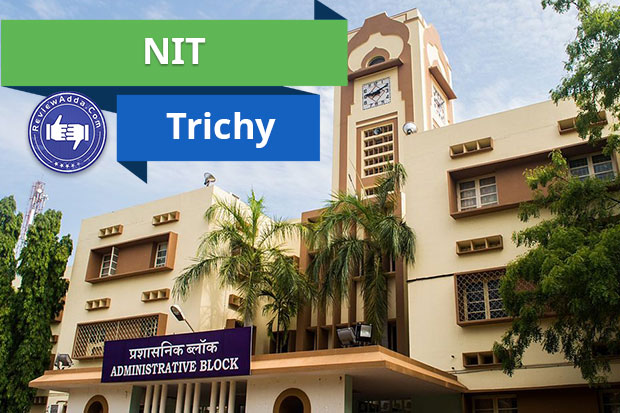 NIT Trichy is regarded as one of the best NITs in India
Located in Tamil Nadu, NIT Trichy has been hailed as the best NIT in India over the recent years. Even considered on par with some of the IITs, NIT Trichy has grown in stature due to record placements and collaboration programmes with foreign universities and organizations. It is also a recipient of a funding programme co-opted by the Technical Education Quality Improvement Programme (TEQIP) which is backed by the World Bank.
Besides the premier engineering courses, NIT also offers postgraduate and doctoral degress in engineering and pure sciences.
Some of the institute's alumni are CEOs at Fortune 500 companies, showing the high ceiling students can reach after studying at NIT Trichy.
NIT Trichy course and fees
Besides the routine engineering courses, NIT Trichy also provides graduate and post graduate programmes in the following courses.
| | | |
| --- | --- | --- |
| Course | Duration | Fees per annum |
| Bachelor of Technology (B.Tech ) | 4 | Rs. 1,44,200/- |
| Bachelor of Architecture (B.Arch) | 5 | Rs. 1,44,200/- |
| Master of Technology (M.Tech) | 2 | Rs. 89,200/- |
| Master of Science (M.Sc) | 2 | Rs. 34, 200/- |
| Master of Business Administration (MBA) | 2 | Rs. 1,19,200/- |
| Master of Computer Application (MCA) | 3 | Rs. 89,200/- |
| Master of Architecture (M.Arch) | 2 | Rs. 89,200/- |
The NIT Trichy B.Tech courses offered at include
Chemical Engineering
Civil Engineering
Computer Science & Engineering
Electrical and Electronics Engineering
Electronics and Communications Engineering
Instrumentation and Control Engineering
Mechanical Engineering
Production Engineering
Metallurgical and Material Engineering
Get Updated Review ( Voice Based Alumni Feeback)
NIT Trichy Cutoff
In NITs, a certain percentage of seats are reserved for home state students. Thus, cutoff varies for Tamil Nadu students are other students at NIT Trichy. The NIT Trichy JEE Mains cutoff is tabulated below.
Branch

Quota

JEE Mains Cutoff

(Home State- HS

Outside State OS)

Opening rank

Closing rank

Chemical

HS

5114

13529

Chemical

OS

3526

6791

Civil

HS

10904

17687

Civil

OS

2006

7389

Electrical and Electronics

HS

1078

7459

Electrical and Electronics

OS

1546

3479

Instrumentation and Control

HS

8672

11828

Instrumentation and Control

OS

5386

8922

Mechanical

HS

1159

8639

Mechanical

OS

1304

3715

Computer Science

HS

499

4173

Computer Science

OS

324

1158
NIT Trichy Placements
NIT Trichy placements are the driving force behind its emergence as one of India's best NITs. Impeccable placement record over the past few years shows most students from each branch getting placed. This kind of a record works a lot in convincing students to consider NIT Trichy for B.Tech instead of other colleges. The placement record for the year 2016 has been displayed through the graphic below.
NIT Warangal
One of the older NITs, NIT Warangal for long has been the most trusted engineering college after the IITs in India. Established in 1959, NIT Warangal is one of the oldest engineering institutions in India, as old if not more as the IITs.
Instituted along with other eight other college in 1959, NIT Warangal was earlier known as REC Warangal. After being upgraded in 2002 by the HRD Ministry, all RECs became NITs with a singular aim of establishing their importance and independence from the Central government in general.
The sprawling 256 acre campus in built across the NH 202 highway separating the main campus from the staff quarters and the Centre for Continuing Education (CCE).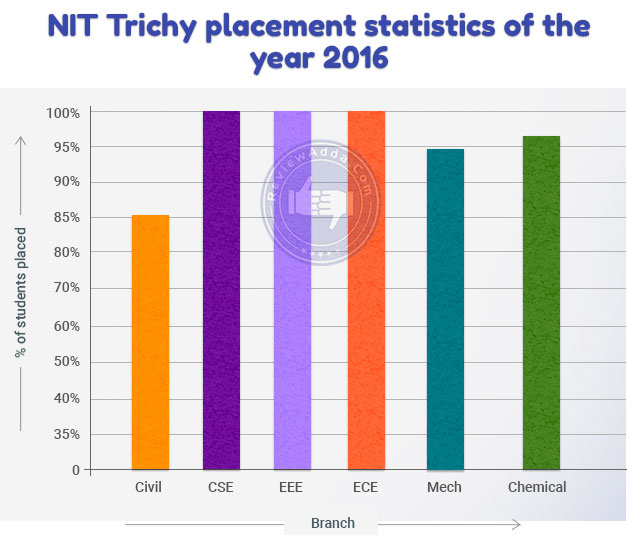 Percentage of students placed in each branch in 2016
NIT Warangal courses and fees
Being a government college, the NITs are more coveted than some other private colleges due to their low fee structure. The NIT Warangal courses and fees are tabled below.
| | | |
| --- | --- | --- |
| Course | Duration | Fees per annum |
| Bachelor of Technology (B.Tech) | 4 | Rs. 78,475/- |
| Master of Technology (M.Tech) | 2 | Rs, 1,00,000/- |
| Master of Business Administration (MBA) | 2 | Rs. 83,250/- |
| Master of Science (M.Sc) | 2 | Rs. 27,250/- |
| Master of Computer Applications (MCA) | 3 | Rs. 81,100/- |
| Doctor of Philosophy (Ph.D) | 3+ | Rs. 24,033/- |
The B.Tech courses offered at NIT Warangal include
Chemical Engineering
Civil Engineering
Biotech Engineering
Computer Science & Engineering
Electrical & Electronics Engineering
Electrical Engineering
Electronics & Communications Engineering
Mechanical Engineering
Metallurgical & Materials Engineering
NIT Warangal JEE Mains cutoff
NIT Warangal is generally known for very high JEE Mains cutoffs due to its obvious demand amongst engineering aspirants. The JEE Mains cutoff for home state, outside state and Andhra Pradesh quota has been elucidated below.
Branch

JEE Mains cutoff closing rank

Home

Outside

AP

Biotechnology Engineering

21298

14833

19407

Chemical Engineering

14442

9341

11036

Civil Engineering

11492

9687

9976

Computer Science & Engineering

2950

1763

1914

Electrical & Electronics Engineering

7151

4627

5309

Electronics & Communications Engineering

4950

3778

3982

Mechanical Engineering

8521

5031

5891

Metallurgical & Material Engineering

16179

14022

14790
NIT Warangal Placements
With a reputation as old as the IITs and incessant demand for admissions paving its way, NIT Warangal is one of the highly rated engineering colleges in India for placements across all branches. Placements have become the bottomline for every college during admissions and NIT Warangal shines brightly in this area. The NIT Warangal placement statistics for the year 2016 have been shown in the graphic below.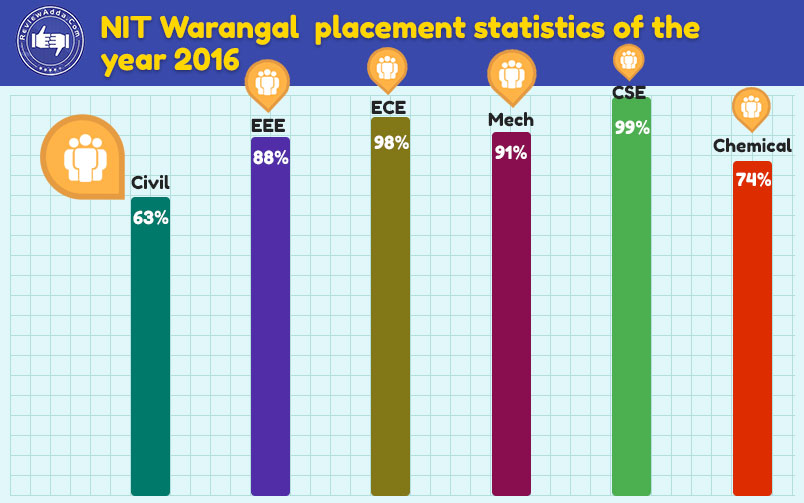 NIT Warangal placement percentage branchwise in 2016
BITS Pilani vs NIT Trichy vs NIT Warangal
Comparing three of India's best institutions is no mean task, especially when these colleges are equally revered amongst many student communities and aspirants. However, each college differs from the other in some areas and this is what we'll try to dissect with the comparison below. Five factors of differentiation are chosen and they are explained as follows.
Affordability
When three colleges of almost equal standing are chosen, the derivative often boils down to the fees of the college. India's isn't an equalitarian society in terms of economic ability or stability. Thus, many students choose colleges based on the economic status of their family.
Placements in core sector
The complaint with most mainstream private colleges in India is the lack of variety in the visiting companies during campus placements. Colleges such as VIT and SRM have impeccable placement records but nor variety as they're completely dependent on IT and tech companies. However, top colleges with a good record in core placements are much more popular.
Infrastructure
The best colleges in India have to be patrons of the best infrastructure for engineering as well. Infrastructure doesn't just imply tall buildings, but state-of-the-art labs, libraries and suitable student environment.
College perception
Perception is everything, especially when it comes to the education sector. Most students differentiate between similar colleges based upon their relative perception amongst educational experts and students.
Teaching, learning and resources
An important deviation factor is teaching, learning and resources. This factor takes into account the number of doctoral students in the college, faculty-student ratio and total budget of the college or university
Factor

BITS Pilani

NIT Trichy

NIT Warangal

Affordability (out of 5)

2.7

Being a private

college, BITS is

relatively

expensive

compared to the

like of other

government

colleges.

3.5

NIT Trichy is less

costly compared to the

likes of BITS, VIT and

SRM since it is a

government college. It

is still more expensive

than NIT Warangal

4.5

The cheapest of the

three colleges

mentioned here, NIT

Warangal is the most

affordable college

amongst the

aforementioned

colleges

Placement in Core Sector

(out of 5)

4.1

Being one of the

most reputed

colleges in the

country, BITS has

a strong record

with core

placements

4.0

Currently the best NIT

in India, NIT like BITS

has developed a

strong alumni network

for core placements in

fields like civil and

mechanical

3.7

Though its core

placement record is

much better than most

colleges in the country,

it still lags a bit behind

the aforementioned

colleges.

Infrastructure (out of 5)

4.4

BITS is known to

have one of the

best

infrastructure

for technical

education in India

4.1

Though government

colleges were earlier

criticized for lack of

proper infrastructure

, there have been

Improvements over the

recent years.

4.2

NIT Warangal has a

huge campus spread

out over 250 acres

which is on par with

most top private

colleges and the IITs

College Perception (based

On MHRD-NIRF score out of

100)

49.96

92

82

Teaching, learning and

Resources (based on MHRD

-NIRF score out of

100)

54.83

56.99

58.2
If you need an idea for a Christmas present then think about the Rubik's Cube which is the best selling puzzle toy in the World.