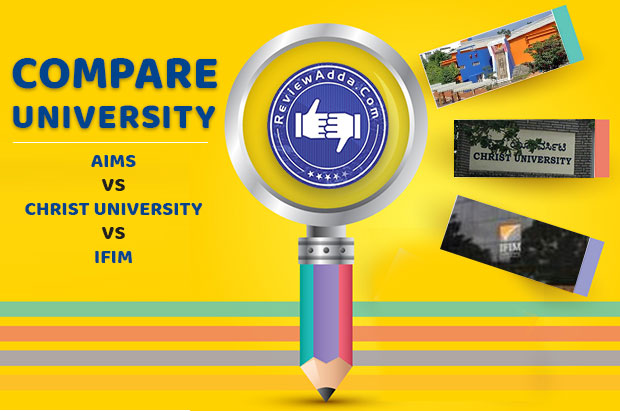 Christ University, AIMS and IFIM are some of the leading colleges for MBA in Karnataka
The never ending hoopla to find the best B-schools in India is the struggle of many management aspirants. While only a few can make it to the IIMs, the rest are left to guess which B-school will make them land safely after two years.
Pawan, an IT engineer at a major tech firm in Bangalore recently scored a respectable 88 percentile score in MAT. To him, however, the problems have just begun. 'It's IIM or bust. There may be other colleges which may be good, but MBA is an expensive course. I want to make sure I get a healthy return on investment after two years
The perennial fascination of Indians with IITs and IIMs often alienates some other colleges which are doing good work. Due to lack of exposure given to these colleges, students often tend to miss out on them.
Some colleges in India besides the regular numero uno have maintained a steady reputation for providing quality post-graduate education in management. These colleges don't necessarily enjoy the same attention as some other colleges do, but they are known to meet industry standards every year.
Nidhi, an admission counselor in Delhi explains why these colleges fall behind. 'In India, the case with most aspirants in engineering and management is borne of mismatched expectations. While some students understand the sheer difficulty of making it to the top colleges, a majority of students tend to reside in dreamland over which college they should choose'
This is the major difference between students in developed countries like US and the ones still developing like India. In the US, there isn't an organized hoopla surrounding college admissions. The average selection rate of top Ivy League schools is 9.5%. The selection rate for the top IIMs is 4% and the top IITs is 0.7%. In essence it is easier to get into MIT or Harvard than IIM Ahemdabad or IIT Delhi. This is the status quo of our current education system'
When Pawan was later asked about other B-schools besides IIMs who had a good reputation for churning out quality management professionals, he ignored the notion. 'I'm working at a nice place. I won't leave my job for doing an MBA as a half measure. If spend 6-8 lakhs on a degree, I want to make sure there will be a serious boost to my career after two years and not just an incremental change.
Nidhi, when told about the point Pawan made taking an unnecessary risk, disagreed with his argument. 'Isn't risk a part of business? If he takes that risk, his career isn't going to falter. He won't earn as much as he could have if he made it to the IIMs, but he won't lose anything either. Many students and even professionals in India walk tiptoed as far as career and jobs are concerned. This is a major reason why most educated Indians prefer to be in the service class rather than the entrepreneurial class. No pain, no gain'
Nidhi makes an interesting point here. The one thing common with the old and the new generation is the lack of apparent risks they are willing to take. While the old generation was obsessed with government jobs, the new generation is enamored by corporate and MNC culture. Both generations were reactive to change, but not active enough to cause the change in the first place.
Some colleges, like mentioned before, have maintained a steady reputation amongst industry officials for diligently developing management graduates over the years. Some of these colleges in Bangalore have been discussed in detail below.
Top MBA colleges in Bangalore
1. Christ University
Christ University is one of Bangalore's most well known institutions with a stellar reputation backing its stride over the past few decades. Established in 1969, it was originally conceived as an autonomous college and called Christ College.
In 2008, it was granted the 'deemed to-be university' status by the HRD ministry and has since been known as Christ University. To add further backing to its name, NAAC awarded Christ University with an 'A' grade, the highest grade it has to offer.
Christ University courses and fees
Offering a range of courses across disciplines such as Science, Business administration, Law, Engineering, Humanities, Commerce and Social sciences, Christ University is home to several students pursuing different specializations. Some Christ University courses with their respective annual fees have been mentioned below.
| | | |
| --- | --- | --- |
| Courses | Duration (years) | Fees per annum |
| Bachelor in Technology (B.Tech) | 4 | Rs. 1,76,250/- |
| Bachelor of Arts (B.A) | 3 | Rs. 66,667/- |
| Bachelor of Science (B.Sc) | 3 | Rs. 29,667/- |
| Bachelor of Commerce (B.Com) | 3 | Rs. 2,11,667/- |
| Bachelor of Business Administration (BBA) | 3 | Rs. 56,667/- |
| Bachelor of Computer Applications (BCA) | 3 | Rs. 91,667/- |
| Master of Business Administration (MBA | 3 | Rs. 1,52,500/- |
Though Christ University offers many courses, it is most well known for its MBA programme. Many MBA aspirants in Bangalore choose Christ University due to its s sustained record as a top draw university in recent years. This is also partly down to the fact that Christ prefers granting admissions to candidates with atleast one year of experience, thereby making sure the pedigree of students taking up MBA courses is optimal.
Christ University MBA cutoff
Being a top ranking institution in Karnataka, the Christ University MBA cutoff is always a source of great interest amongst students. Since it accepts scores from CAT, MAT, XAT, CMAT and ATMA for MBA admissions, the cutoff list for the various exams is given below.
| | |
| --- | --- |
| Exam | Cutoff |
| Management Aptitude Test (MAT) | 550 (MAT score) |
| Common Admission Test (CAT) | 60 percentile |
| Xavier Aptitude Test (XAT) | 70 percentile |
| Common Management Admission Test (CMAT) | 60 percentile |
| Graduate Management Admission Test (GMAT) | 450 |
| Graduate Record Exam (GRE) | 300 |
Christ University placements
Christ University placements are generally very good and exceed expectations every year when compared to other MBA colleges in Bangalore. With an average placement package of over 6.5 LPA, Christ University is very dependable when it comes to its MBA programme.
While marketing and finance are most popular amongst companies, branches such as HR and GM also find takers. The trend keeps on changing though, as branches like operations also dominate sometimes.
---
2. Acharya Institute of Management and Sciences (AIMS)
Acharya Institute of Management and Sciences is an affiliate of Bangalore University known primarily for its MBA programme. It is a private institution offering undergraduate and postgraduate courses in fields such as management, social sciences, computer applications, hospitality and culinary arts.
Instituted in 1994, AIMS was founded to meet the eventual demand for management education. It is often considered by MBA aspirants for admissions due to the presence of a decent teaching methodology and good alumni networks for placements.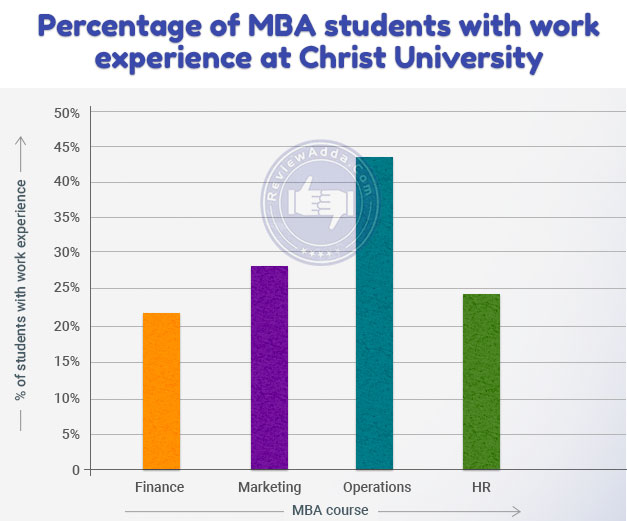 Christ University has a sizable proportion of MBA students with work experience
AIMS courses and fees
AIMS offers courses in both undergraduate and postgraduate fields. While MBA remains its most popular course, it is also well known for other courses in hotel management and hospitality. The AIMS fees of different courses have been tabled below.
| | | |
| --- | --- | --- |
| Courses | Duration (years) | Fees |
| Master of Business Administration (MBA) | 2 | Rs. 4,55,600/- |
| Bachelor of Arts (BA) | 3 | Rs. 65,000/- |
| Bachelor of Hotel Management (BHM) | 4 | Rs. 1,17,500/- |
| Master in Computer Applications (MCA) | 3 | Rs. 1,33,000/- |
| Bachelor of Business Administration (BBA) | 3 | Rs. 1,39,667/- |
| Bachelor of Computer Applications (BCA) | 3 | Rs. 91,667/- |
| Bachelor of Commerce (B.Com) | 3 | Rs. 63,000/- |
AIMS MBA cutoff
Since its inception in 1994, AIMS has primarily been known for its MBA programme. Due to its affiliation with Bangalore University, AIMS can offer degree programmes in management. AIMS cutoff for various MBA entrance exams has been given below.
| | |
| --- | --- |
| Exam | Cutoff |
| Management Aptitude Test (MAT) | 600 (MAT score) |
| Common Admission Test (CAT) | 60 percentile |
| Xavier Aptitude Test (XAT) | 60 percentile |
| Common Management Admission Test (CMAT) | 250 (CMAT score) |
AIMS Placements
AIMS placements are considered to be the primary reason why aspirants join the institution. While they don't claim to match the likes of IIM and XLRI, AIMS has a stable relationship with several industry bigwigs due to their strong alumni network.
As is the case with most B-schools, sales and marketing graduates were the most in-demand students at AIMS. Finance was next ahead of business operations and HR.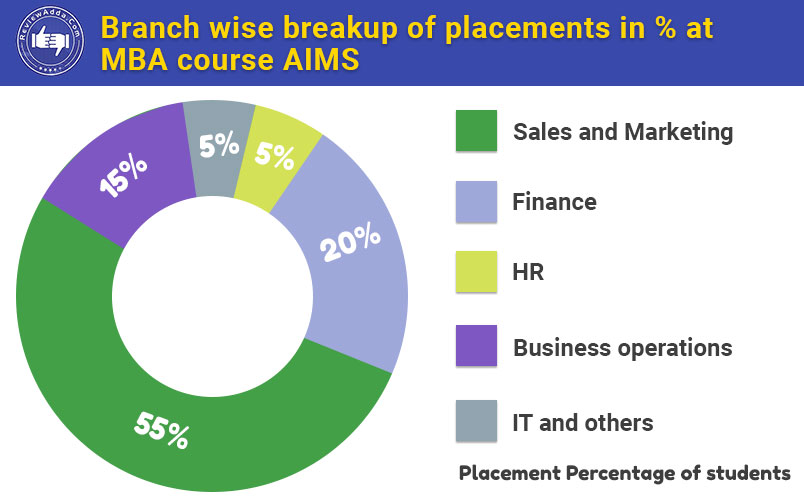 Branch wise analysis of placements at AIMS
3. Institute of Finance and International Management (IFIM)
IFIM is a business school located in the heart of Bangalore's IT hub, Electronic City.
IFIM was instituted by the Centre for Developmental Education (CDE), a body complying under the Karnataka Society Registration Act. The aim behind establishing IFIM was too meet the demand for high quality business professionals in a post-liberalization Indian economy. The college was recognized by AICTE on the very day of its inception.
Since IFIM is not affiliated to any university, it cannot provide degree programmes in post graduate management such as MBA. Instead, it offers PGDM courses across all the different branches of management.
IFIM Courses and fees
The only course IFIM provides is Post Graduate Diploma in Management (PGDM). However, the PGDM course is offered across many specializations. They are as follows
PGDM in General Management
PGDM in Finance
PGDM in International Business
The fees of the PGDM course per annum is Rs. 5,50,000/-
IFIM PGDM Cutoff
IFIM cutoff is always up for speculation during times of MBA admissions. The IFIM cutoff in 2016 was as follows:
| | |
| --- | --- |
| Exam | Cutoff |
| Management Aptitude Test (MAT) | 600 (MAT score) |
| Common Admission Test (CAT) | 80 percentile |
| Xavier Aptitude Test (XAT) | 75 percentile |
| Common Management Admission Test (CMAT) | 200 (CMAT score) |
IFIM Placements
Most alumni are usually satisfied with the level of placements at IFIM. With excellent pedagogy, IFIM is able to anticipate the demand of the industry and subsequently able to amend its curriculum in time. The branch wise break up of placements at IFIM is illustrated below.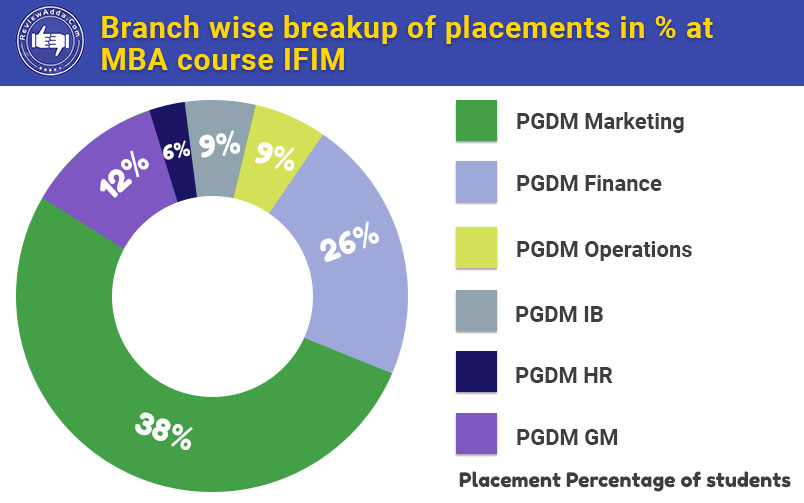 Branch wise analysis of placement at IFIM
4. Alliance University
Alliance University is a trusted name in management education in Karnataka since its inception in 2010. Formed after the success of its affiliate Alliance School of Business, Alliance University ran into controversy after a bitter public battle over the administration of the institution.
Nevertheless, Alliance School of Business remains recognized enough to be in demand during MBA admissions.
Alliance Courses and fees
Alliance University may be more popular for its MBA course, but it does offer many other courses from fields such as engineering, commerce and law. Alliance University courses and their respective fees per annum have been tabled below.
| | | |
| --- | --- | --- |
| Courses | Duration | Fees per annum |
| Bachelor of Technology (B.Tech) | 4 | Rs. 1,80,000/- |
| Master of Business Administration (MBA) | 2 | Rs. 6,75,000/- |
| Bachelor of Business Administration (BBA) | 3 | Rs. 2,00,000/- |
| Bachelor of Commerce (B.Com) | 3 | Rs. 1,00,000/- |
| BBA +LLB | 5 | Rs. 2,00,000/- |
| BA + LLB | 5 | Rs. 2,00,000/- |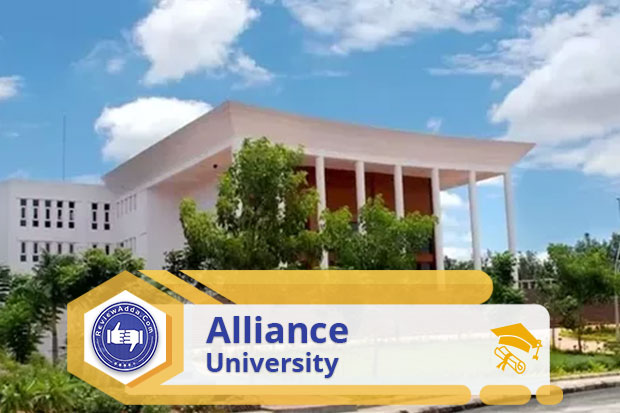 Alliance University is known primarily for its MBA programme
Alliance University MBA cutoff
MBA at Alliance University has always been considered a good option by management aspirants in Karnataka. The Alliance University cutoff for MBA across various exams is given below.
| | |
| --- | --- |
| Exam | Cutoff |
| Management Aptitude Test (MAT) | 500 (MAT score) |
| Common Admission Test (CAT) | 70 percentile |
| Xavier Aptitude Test (XAT) | 80 percentile |
| Common Management Admission Test (CMAT) | 100+ (CMAT score) |
Alliance University Placements
Due to its reliability as an MBA college in Karnataka, Alliance is generally does well with regards to placements. Some of the highlights of Alliance University placements have been given below.
| | |
| --- | --- |
| Average salary | 8.2 LPA |
| Maximum salary | 17.2 LPA |
| Number of visiting companies | 102 |
| Alumni satisfaction (out of 5) | 3 |
5. L.N Welingkar Institute of Management Development and Research
Known popularly as the WE School, Welingkar Institute was formerly more renowned in Mumbai. In 2008, it opened another college in Bangalore focusing primarily on management studies.
Due to its lack of affiliation to a university and absence of university status, WE Bangalore can only offer PGDM courses. Besides PGDM courses, WE also has a number of other courses in disciplines such as Media & Entertainment, Entrepreneurial management, Business Design & Innovation, E- Business, Healthcare, Retail and special PGDM for family-run businesses.
The USP attached with Welingkar primarily rests on its level of industry interaction and integration. In 2015, it was awarded the 'AICTE-CII Best Industry-linked management Institute' award. Due to its non-affiliation with any university, Welingkar tries to gauge the pulse of the industry at all times.
WE Bangalore Courses and fees
The only fulltime courses Welingkar Bangalore offers are:
Post Graduate Diploma in Management (PGDM)
Post Graduate Diploma in Management (PGDM) in E-Business
Post Graduate Diploma in Management (PGDM) in Business Design and Innovation
The Welingkar fees for PGDM course is Rs. 4,34,000/- per annum.
WE Bangalore Cutoff
Prin. L.N Welingkar Institute of Management Development and Research, Bangalore, accepts CAT, XAT, CMAT and MH-CET for admission to its MBA programme. The cutoff for various MBA entrance exams has been tabulated below.
| | |
| --- | --- |
| Exam | Cutoff |
| Management Aptitude Test (MAT) | 600 (MAT score) |
| Common Admission Test (CAT) | 85 percentile |
| Xavier Aptitude Test (XAT) | 85 percentile |
| Common Management Admission Test (CMAT) | 85 percentile |
| Maharashtra Common Entrance Test (MH-CET) | 99.5 percentile |
WE Bangalore Placements
As mentioned before, Welingkar has a closely-knit curriculum which ingratiates industry demands into its course structures. Due to this factor, many companies prefer Welingkar students over candidates from other colleges. The general perception regarding Welingkar is one of close working relations with hiring officials in the industry.
This pattern of reaching out to industries to understand the dynamics of the transient management industry helps Welingkar students get placed with decent packages. Despite being much older than some of the new institutions, Welingkar manages to maintain its name amongst MBA aspirants.
6. Xavier Institute of Management and Entrepreneurship (XIME)
XIME Bangalore is renowned college for management located in Bangalore. It has two other campuses in Kochi and Chennai as well. Many students often confuse XIME as an affiliate of XLRI Jamshedpur. The only things common between the two institutions is that they are administered by the Jesuit Society and they both accept XAT scores.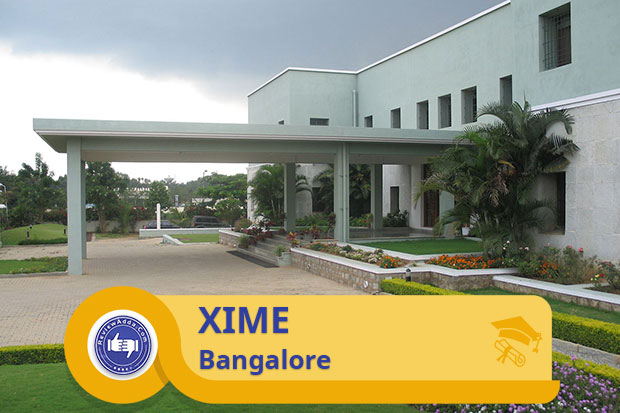 XIME Bangalore has enjoyed a stellar reputation as a management institute over the recent years
Considered a well-run institution in South India, XIME has maintained a consistent track record in placements, education and infrastructure. XIME alumni generally consider their college as a well-established institution.
Though the college has no practical relations with XLRI, the perception amongst aspirants and companies is generally that both the colleges are related. This further boosts XIME's profile and makes it one of the most popular colleges during MBA admissions.
XIME Courses and fees
XIME only offers courses in post graduate management. There are four separate PGDM branches at XIME. They are listed as follows
Human Resource Management
Marketing Management
International Business
Finance Production and Operation
The XIME fees is Rs. 5,00,000/- per annum. While marketing is generally the most sought after branch, HR and IB also find takers at XIME.
XIME cutoff
XIME cutoff is always a statistic management aspirants in Karnataka look forward to knowing. With a prime reputation in the industry, admissions to XIME are often considered a sound proposition amongst MBA aspirants. The XIME cutoffs for various MBA entrance exams have been tabulated below.
| | |
| --- | --- |
| Exam | Cutoff |
| Management Aptitude Test (MAT) | 700 (MAT score) |
| Common Admission Test (CAT) | 82 percentile |
| Xavier Aptitude Test (XAT) | 81 percentile |
| Common Management Admission Test (CMAT) | 70 percentile |
XIME Placements
A great factor which edges XIME ahead of other colleges in Bangalore is placements. XIME placements have always been very good, considering the college is relatively younger compared to the like of Christ University and AIMS.
Some of the placement statistics of XIME have been tabulated below.
| | |
| --- | --- |
| Highest Package | 10.5 LPA |
| Average Package | 6.35 LPA |
| Minimum Package | 4.0 LPA |
| Percentage placed | 97% |
7. S Ramaiah Institute of Management (MSRIM)
MS Ramaiah Institute of Management is an affiliate body of Ramaiah Group of Institutions which is a collection of a number of educational institutions across a plethora of disciplines.
Instituted in 1995, MSRIM was founded at a time when management expertise was need in a post liberalized India after 1991. Though MS Ramaiah is more widely known for its reputation as a medical college, its PGDM programme does receive some amount of traction amongst MBA applicants in Karnataka.
Like most private colleges in India these days, the rules at MSRIM are extremely strict and meticulous. This growing trend amongst colleges in India is alarming, considering we are entering an age where free speech and free though are becoming a norm. Nevertheless, MS Ramaiah manages to maintain a stable ship when it comes to college affairs and administration.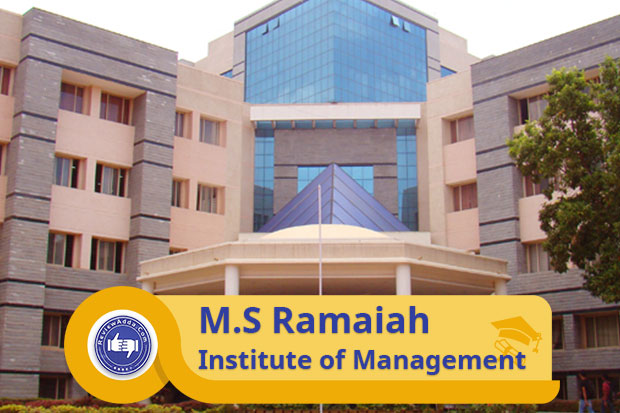 MS Ramaiah is a well known name in the educational setup of Bangalore
MSRIM courses and fees
MSRIM offers only PGDM courses due to its non-affiliation with any parent university. The PGDM courses it offers are listed below.
Human Resource Management
International Business
Marketing Management
Banking and Financial services
Finance
Operations
MSRIM fees is Rs. 3,00,000/- per annum.
MSRIM PGDM placements
Placements at MSRIM lie midway between all the top and bottom B-schools of Bangalore. While good companies like Deloitte and KPMG do visit the campus, a majority of placements are done in low end IT jobs.
Based on reviews given by students and alumni of MSRIM, placements are generally average when scaled with the situation of most B-schools in the country. This is the reason why MSRIM is ranked amongst some of the top private B-schools in Karnataka.
Christ University vs AIMS vs IFIM: Which is the best?
The only thing left after discussing each top B-school in Karnataka is finding which one is the best. In times when a college can springboard a student's career, knowing which college holds the best hand is imperative for students.
However, distinguishing between these MBA colleges is no mean job. To make this task a bit easier, it is necessary to establish some factors upon which these institutions will be compared. These factors are:
1. College Perception
In matters of education in India, perception is everything. If students find a college suitable, the selection process during admissions will be more selective. This will lead to the admission of only the best possible students, which in turn will drive placements. This is how the cycle of college perception works.
Perception is also necessary as it has the power to drive a college up or down a curve. The college in question can maintain its perception by having a cogent teaching methodology, a flexible curriculum and a suitable college environment.
College perception is majorly shaped by alumni experience as well. This adds another incentive for the college to maintain a good rapport with its students as they could make a huge contribution to the perception of the college down the line.
2. Placements
In India, the bottomline is everything. As for the universities and colleges, the bottomline boils down to placements.
Students in India are often criticized for analyzing colleges purely on the basis of placements and not having a holistic viewpoint. To counter, their argument is that before spending a pile of money for a two year degree, all they want is to be sure of landing on two feet after graduation
It is hard to argue with their point. Private B-school usually charge high fees for every course they offer. In return, students looking to take admission simply want to be assured of safety before spending a huge chunk of money.
3. Relative fees
Taking a sample of these aforementioned seven colleges, the relative fees will be calculated as follows.
Relative Fees (Rf) = Annual fees of college (MBA)/Annual fees of college with highest fees (MBA)
Rf essentially signifies the relative fees of each college compared to the fees of the highest. Many people tend to give up on MBA due to the relative expenditure involved in the course. Thus, a factor such as relative fees plays a huge part in distinguishing between colleges of a similar ilk.
4. Infrastructure
MBA is a postgraduate course in management with a great focus on developing the leaders of the financial world of the future. To inculcate a environment which resonates innovative thinking is extremely important.
A great problem plaguing B-schools in India is the systemic problem of rote learning and half-knowledge. Instead of embracing new ideas and tactics, many B-schools in India tend to adopt a straitjacket approach to innovation. Management isn't simply about wearing dark suits and memorizing concepts, but finding unique ways of managing resources within constraints.
Infrastructure doesn't just imply having a huge campus and tall buildings, but creating an atmosphere for future managers and entrepreneurs to flourish.
5. Industrial exposure
The pressure to integrate and listen to industry demands has become a huge factor for many B-schools. Known to be notoriously rigid with regards to issues such as curriculum changes and outside counsel integration, many MBA colleges too rigid to change are being hit hard by companies during placements.
This reaction of the industry has forced colleges to adopt a much more flexible approach coming to management studies and business analytics. For any student looking for a MBA college, the level of industry integration at a college plays a vital role during college selection.
Institution

College perception (out of 5)

Relative fees (Highest fees is Rs. 6,75,000)

Placements (out of 10)

Infrastructure (out of 5)

Industry integration (out of 5)

Christ University

4.1

Impeccable reputation in Bangalore and Karnataka. Often regarded as best college for MBA in the South besides IIMS

0.23

8.5

Has always had a healthy placement record across all of its courses, most of all MBA

3.1

College rules are relatively strict compared to other government colleges.

3.3

Lags behind a few other colleges in terms of constant integration with the industry

AIMS

3.6

Generally considered a decent college in Karnataka compared to other colleges

0.67

7.3

While placements are better than most other colleges, the quality of placements is coherent overall

3.2

While the campus is apt for management education, it can do better in terms of encouraging students to innovate

3.6

Has a reasonably absorbing industry interaction profile

IFIM

3.8

Generally does well in terms of maintaining a healthy reputation amongst students

0.81

8.1

Usually does very well in placements season

4.0

Tries to embed a sense of drive amongst students to constantly innovate

4.3

Is known for being extremely sensitive to the changes in the industry

Alliance University

2.9

Its reputation was hurt by the controversy which happened last year

1

7.1

Better than average. Was once very well received during placements season

3.3

Isn't known for encouraging out of the box innovative thinking

3.2

Industry integration is lower as university curriculum is much more rigid

WE Bangalore

3.7

Carries the good reputation it has in Maharashtra to Bangalore as well

0.64

7.7

Decent placements compared to other average colleges

3.9

Known to be much more open to new methods and ideas than other colleges

4.1

Welingkar has always been well known for linking up with companies to improve its curriculum

XIME Bangalore

4.0

Besides maintaining a steady reputation as a B-school, the added 'Xavier' tag adds to its brand value

0.74

8.8

Placements are generally very good at XIME due to a stellar perception and strong alumni network

3.9

Relatively better than other colleges when it comes to encouraging new ways of thinking

3.9

Maintains cordial relations with many industry bigwigs

MSRIM

3.1

Much more well known for medical and engineering than management

0.45

6.5

Placements are average compared to most other companies

2.7

Very strict and inhibitive when compared to other colleges.

2.9

Needs to up its game in this category.