Topic We Cover: Top MBA colleges in South India
1. Branches of MBA
2. Top MBA colleges in South India
3. The States
4. The Factors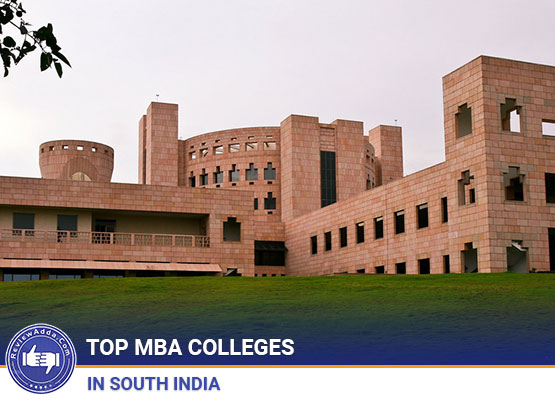 ISB Hyderabad is one of India's best B-schools challenging the like of IIMs and XLRI
South India is a melting pot of a vivid cultural identities and customs. From the stormy Western Ghats and the bustling sincerity of Chennai to the serenity of the Kerala backwaters, South India is an embarrassment of riches in terms of pure diversity and values.
Amidst the cultural manifestation of the region, another major industrial complex has seen a meteoric rise in the past decade. The unstoppable gauntlet of MBA colleges has hit South India as well. Besides being a bastion of engineering education in India, South India is also home to a voluminous number of management institutions
This gauntlet doesn't sweep South India alone. The past few decades have been witness to a remarkable rise in the demand for business-oriented management education. A great part of this obsession has been fed by engineers, perpetrators of an established obsession.
Neel Mehta, a MBA graduate from a top MBA colleges in South India and a B.Tech graduate from a private university in Noida explains why engineers find the need to pursue management courses. 'Anything a person ever does is based upon a motive. I did my B.Tech in IT from a relatively average university in Noida.
After the completion of my course, I got placed in a regular IT company where I burned my heels for two years. At one point of time, you consider a move which could springboard your career or keep changing jobs hoping for a steady rise every year. I choose the former.
Like Neel, many engineering graduates choose MBA as a career building exercise. Even IIT graduates who arguably get the best deal in terms of placements after graduation tend to go for MBA entrance exams. Most start preparing in their final year of engineering itself while some choose to work for a while before delving into MBA preparation.
Career counselor Nina Bhatia explains the appeal of an MBA degree to an engineering student. 'Most students in India choose engineering since they consider it a safe bet for the future. An MBA degree attached to a B.Tech is very attractive to most employers. Besides indicating proficiency in both technical and management aspects, an MBA and a B.Tech degree put together has a glamour of its own
When asked whether the skewed percentage of engineers getting admission to IIMs is a cause of concern, Nina agreed. 'Compared to commerce and arts graduates, engineering graduates are much more adept at establishing a key strategy to clear MBA entrance exams.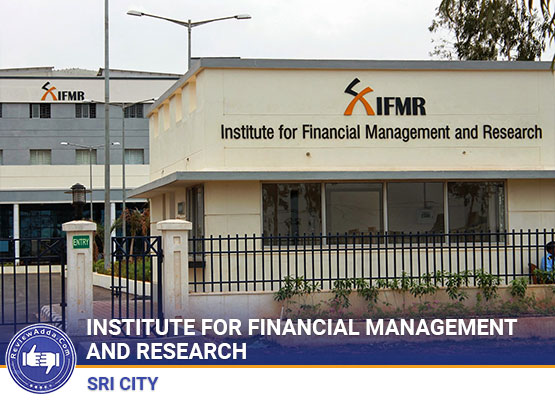 IFMR has emerged as one of South India's top MBA colleges
Most commerce and humanities students are found lacking when it comes to building a coherent long term plan for an entrance exam. Engineers on the other hand have fried bigger fish before such as JEE Mains, JEE Advanced and other major entrance exams.
This is a worrying trend. An MBA entrance exam such as CAT, XAT, CMAT or MAT may not favor an engineering graduate topic wise, but gives him/her a key psychological edge. Preparing six to eight months continuously for an exam is no mean task. This is the reason why engineering graduates are more successful in MBA entrance exams than their counterparts from commerce and humanities backgrounds.
Branches of MBA
When asked about the different branches of MBA, many management aspirants draw a blank. Pursuing a course without even knowing the courses on offer and the different aspects of each course suggests blind obsession of the first order.
Like most other major fields of study, MBA has a few core branches of its own. Some of the MBA specializations have been discussed below.
1. MBA in Finance
In the current market climate, an MBA in finance is almost equivalent to a B.Tech in Computer Science. The most popular stream in management studies, a MBA in finance essentially teaches efficient methods for effective use of a company's funds.
Aspirants with a keen eye for analytics and numbers are most suited for this course. The reason behind the immense popularity of the course is the lucrative job prospects it brings along. With prospects in professions such as investment banking, asset management, financial analysis and auditing up for grabs,
it is no surprise that finance gathers the most clamor amongst other branches of MBA.
Besides the lucrative fields mentioned before, the banking sector is a major recruiter of Finance MBA graduates. The scope of the banking sector in India is obvious, considering the room for development in many areas of banking.
Other fields which requisite a keen sense of analysis such as insurance companies, risk management companies, mutual funds industry, stock exchanges and consulting hire graduates from the finance stream.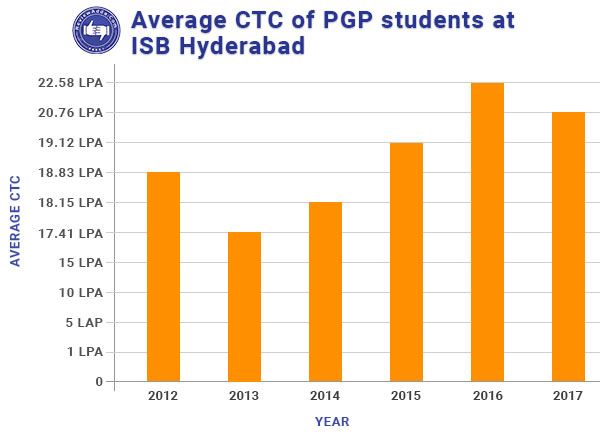 Average CTC of PGP Finance graduates from ISB Hyderabad
2. MBA in Marketing
Marketing is one of the most difficult jobs in the management industry, as it requires skills which represent certain flair in creative and eccentric thinking. Unlike finance which is premised upon data-driven analysis, marketing is based upon understanding consumer behavior to enhance the company's profits and brand value.
Unlike finance which can become a bit officious, marketing is a field predicated upon understanding the most basic patterns exhibited by potential customers of a given company. Marketing is a very competitive field as it is very objective-oriented in nature.
Managing customer acquisition strategies and brand awareness programmes are a key part of marketing. While earlier marketing was often sublimated in conjunction with the sales department, the current scenario has changed dramatically from years past. Marketing has evolved further into digital marketing and brand management.
Besides having a pulse for the customers on the ground, marketing professionals are further expected to formulate strategies to strengthen the brand name of a company. While single brands dominated the market until a few years ago, increased competition across all products has made marketing professionals indispensable in the industry.
3. MBA in Human Resource Management
As the name suggests, HRM is essentially the management of the work force of an organization. A general job description of an HR manager is to handle portfolios such as recruitment, talent acquisition and retention, reward programmes and talent management.
Like finance graduates handle monetary aspects of a company, HR managers are entrusted to handle employees as assets. Some key attributes of a solid HR manager are good communication skills, favorable personality and exuberant confidence.
In any organization operating in the modern industrial complex, having an HR is an absolute necessity. There is no dearth of job prospects or potential employers, making this branch extremely attractive to many MBA aspirants.
4. MBA in International Business
As the red tape surrounding businesses in India is slowly being lifted, international business has become a very lucrative option for many MBA aspirants. An MBA in IB focuses on the operations of a few global conglomerates as these very companies end up being recruiters eventually.
An MBA in International Business is more than simple brass tacks about business operations overseas. It offers professionals the chance to get acquainted with different cultures and traditions while travelling abroad.
Some key aspects of IB include export and import management, international logistics, international finance, foreign exchange management and international marketing. Many major businesses employ IB graduates for positions such as International foreign policy manager, business development director, international trade and customs manger, and multinational manager.
5. MBA in Operations Management
Operation Management (OM) MBA graduates are usually employed in a manufacturing unit setup. Graduates from this field are expected to constantly improve the operational aspect of production as the emphasis lies purely on efficient use of every resource.
For MBA aspirants with engineering background, operations management is a great option. Besides being adept and understanding and designing products, engineers with OM on their CV are well versed with methods to improve process optimization, product development and design integration.
Manufacturing companies are major recruiters for MBAs in OM.
6. MBA in Supply Chain Management
Supply chain management is a very unique field of business administration. While operations management deals with the production aspect of products, supply chain management deals with the maintenance and transportation aspects of these products.
A country like India where every facet of running a business is met with complications, supply chain managers draw their knowhow to deal with issues regarding warehousing, inventory management and transportation costs.
Key aspects of supply chain management include logistics, transportation, supply chain models, international logistics, global supply chain management and supply chain strategy.
Major recruiters for supply chain are from the manufacturing industry, as was the case with operations management.
7. MBA in Health Care Management
The functioning of hospitals and medical centres has become a very tenuous task due to improvements in the medical industrial complex over the years. MBA executives in heath care management are essentially tasked with bringing together all the different blocks to form a cogent and functional medical establishment.
Besides being execs at hospitals, opportunities in this field are also present in sectors like health and life insurance. The primary recruiters however remain hospital chains.
While choosing an MBA stream, students should always consider their field of graduation. For instance, economics and commerce majors are more suited for finance as they are more proficient at handling statistics and raw data. Engineers on the other hand are more suited for operations management and supply chain management. Humanities and arts students should naturally consider HRM as it requisites a good set of soft skills.
Top MBA colleges in South India
After discussing the various specializations in MBA, we move on to ranking the top B-schools in South India. A key factor to note before checking the rankings is that government institutions such as IIMs and FMS haven't been included. This has been done because most MBA aspirants are well aware of the popularity of the IIMs. Populating another B-school rankings list with their name on the top is nothing but a redundancy. This way, students can also get more information about some good B-schools they otherwise hadn't heard of.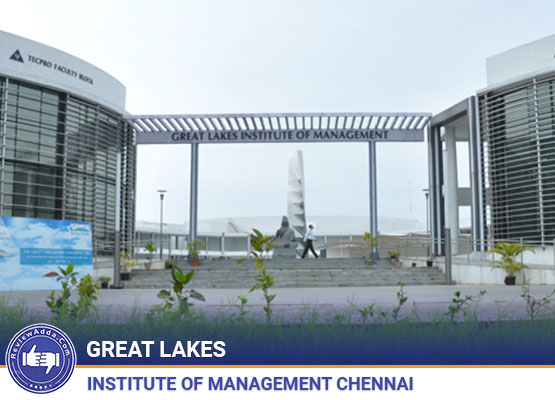 Great Lakes has slowly garnered a place for itself amongst India's top management colleges
The States
The states being considered for the rankings are listed below
Karnataka
Kerala
Telangana
Tamil Nadu
Andhra Pradesh
Get Updated Review ( Voice Based Alumni Feeback)
The Factors
The factors to be considered while ranking the top private B-schools in India are:
College perception
Alumni reviews
Academics
Placements
Ranking

College/University

MBA or PGDM

Perception (out of ten)

Alumni reviews (out of ten)

Academics

(out of 10)

Placements (out of 10)

1

PGPM (special course at ISB)

9.6

9.6

9.7

9.6

Counted amongst the best MBA colleges in the country

Feedback is overwhelmingly favorable

Offers a one of a kind academic structure catered to students looking for industry oriented

Placement cell is very active as companies from all around the world visit the campus

2

PGDM

9.5

9.4

9.6

9.4

Amongst the top B-schools in South India

College reviews are very positive

Encourages new techniques of learning and ingratiates industry advice into its fold

Placements are excellent with many companies visiting campus across the board

3

PGDM

9.5

9.3

9.5

9.2

Considered the best B-school in India which accepts MAT scores

Feedback is largely positive

Balanced approach with focus equated between practical learning and theoretical concepts.

Placements are very good and diverse owing to the B-school's impeccable brand name

4

PGDM

9.3

9.3

9.4

9.2

Very old and renowned in South India

Reviews from ex-students highlight are highly praiseworthy of the college

Academic structure is well balanced industry-oriented training and traditional management techniques

Placement reports of the college has been very consistent over the years

`5

PGDM

9.2

9.2

9.1

9.1

Considered amongst the nest B-schools in Tamil Nadu and India in general

Feedback is fundamentally favorable

Rigorous academic structure is eased by relaxed approach of faculties

Placements are extremely consistent in keeping with the college name

6

Institute of Finance and International Management, Bangalore

PGDM

9.0

9.1

9.0

9.0

A well-respected brand for MBA in South India, especially Bangalore

Feedback is positive citing the college's industry ingrained approach

Has close ties to may recruiters and constantly changer curriculum according to changing trends

Placements are very good due to strong ties with recruiters

7

MBA

8.9

9.0

9.0

8.9

Known across India for its management courses

Feedback from alumni speaks volumes of praise for the B-school

Well attenuated with new trends of management studies and market dynamics

Placements are generally decent, but the quality of recruitment isn't as illustrious as other top MBA colleges

8

Both

8.8

8.9

9.1

8.8

Known mostly in South India

Alumni perception of the college is generally positive

Healthy level of industry exposure is a strong point in academic programme

Placements are decent, but not as lucrative as the like of ISB or XLRI

9

Xavier Institute of Management and Entrepreneurship, Bangalore

PGDM

8.8

8.8

8.9

8.9

'Xavier' brand name helps build good perception besides string showings in placements

Feedback is dominated by positive reviews

Not as coherent as XLRI but a good level of management education

Placements are again not as path breaking as XLRI

10

MBA

8.7

8.8

8.8

8.8

Known and respected in South India for MBA and BBA

Alumni perception is excellent

Academically more focuses on theoretical side of management

Placements are good but quality of placement isn't ideal

11

Both

8.7

8.8

8.7

8.7

Not as popular for MBA than it is for B.Tech

Alumni reviews suggest MBA programme offered is excellent

Academic focus adopts same attitude as it did with B.Tech

Placements are decent, but most recruiters come from the IT sector

12

Shri Dharmasthala Manjunatheshwara Institute for Management Development, Mysore

PGDM

8.5

8.6

8.5

8.5

Largely known in South India

Alumni reviews are relatively positive. Some reviews suggested college had average faculties and placements

Focus largely remains on theoretical aspects of management

Lacks a strong alumni network for high quality placements, but overall record is decent

13

MBA

8.5

8.5

8.5

8.5

Reputation banked upon popularity of parent university in Pine

Alumni reviews are very positive

Focus is balanced between industry-oriented concepts and old school learning

Placements are decent due to popularity of Symbiosis tag

14

Both

8.3

8.5

8.3

8.3

Known primarily in Kerala

Alumni reviews are relatively positive

Academic programme built upon key focus on curriculum based learning only

Placements are above average considering the situation of other B-schools

15

MBA

8.2

8.2

8.2

8.1

Reputation built purely on Manipal brand name

Alumni perception is divided between positive and negative reviews

Academic standards aren't ideal for core management education

Placements are about average relative to most B-schools

16

Sri Sathya Sai Institute of Higher Learning, Prasanthi Nilayam

MBA

8.1

8.3

8.2

8.0

Well known and respected college in Andhra Pradesh

Alumni reviews are relatively positive. Some sight lack of proper infrastructure as key drawback

Curriculum is relatively balanced between pure theoretical concepts and industry-oriented methods

Placements are average when compared to other B-schools in India

17

MBA

8.0

8.0

8.0

8.0

Known primarily for its popular B.Tech course. MBA course was offered only recently

Response is mixed. Reviews suggest infrastructure is good, but largely focused on engineering students

Academic programme is largely focused on old school style of management

Placements are average even with the VIT tag

18

MBA

8.0

7.9

8.0

7.9

More known for its B.Tech programme

Alumni perception is mixed

Academic approach is stringent upon conventional management studies

Placements are middling relative to other B-school placement reports

19

MBA

7.9

7.7

7.8

8.0

Perception is generally average in Karnataka

Reviews suggest lack of infrastructural capabilities

Lack of industry exposure hurts the academic structure

Placements are just average

20

PGDM

7.9

7.6

7.9

7.6

College perception is largely average

Alumni perception is relatively negative

Academic structure is based upon conventional methods of management studies

Placements are underwhelming compared to other MBA colleges in Bangalore

21

MBA

7.7

7.7

7.7

7.5

Not famous particularly for its MBA course

Perception is relatively average

Academics are reasonably average considering the college is more famous for engineering

Placement programme is more focused on getting engineering students placed

22

MBA

7.4

7.6

7.7

7.5

Perception was hurt by the controversy which erupted 2016 over the administrative control of the college

Alumni review have been disparaging over the administrative muddle at the college

Academics programme is a well-oiled machine focused on old-school management

Placements have been hurt by lack of stability in administration

23

PGDM

7.5

7.7

7.6

7.5

Known mostly by the NMIMS brand name

Feedback is relatively mixed

Curriculum is well balanced

Placements programme is reliant on performance of Mumbai campus

24

PGDM

7.3

7.5

7.5

7.3

Known only in Karnataka region. I

Overall ratio of good and bad review cancel each other out

Academics is more focused on traditional style of MBA studies

Placements are about average considering performance of other B-schools

25

MBA

7.2

7.4

7.5

7.2

Known primarily for B.Tech course

Reviews are relatively negative

Approach to MBA studies is too narrow

MBA placements aren't as good due to lack of industry integration

26

MBA

7.0

7.1

7.2

7.0

General perception in Kerala is positive. Unknown elsewhere

Alumni reviews are relatively negative

Infrastructure isn't up the mark for proper MBA studies

Placements are below average

27

PGDM

7.0

7.2

7.1

6.9

College perception of any sort is present in the state only. Not known for MBA outside Kerala

Alumni perception is relatively average

Market dynamics are not ingratiated in curriculum

Placements aren't up the mark

28

MBA

6.9

7.1

6.9

7.0

Known primarily for engineering across India

Alumni criticize college for high intake

High intake causes dip in academic standards

Placements are average compared to other South Indian MBA colleges

29

Woxsen School of Business, Hyderbad

PGDM

6.5

6.6

6.7

6.4

Known only in Hyderabad and adjoining areas

Alumni reviews are relatively negative

Academic programme isn't up to the mark

Placements are low due to lack of alumni network

30

PGDM

6.4

6.6

6.6

6.3

Not the first choice amongst MBA aspirants

Alumni review are relatively negative

Academics isn't ideal for proper management studies

Placements are lacking due to lack of industry exposure