Topic We Cover: FIITJEE vs Allen vs Aakash
1. The rise of the coaching industry in India
2. Kota: The headquarters of IIT coaching
3. JEE Coaching Institutes
Aakash Institute
FIITJEE
Vidyamandir Classes
Allen Institute
Resonance
Bansal Classes
4. Comparison between the coaching institutes
5. BYJU'S: The future of education?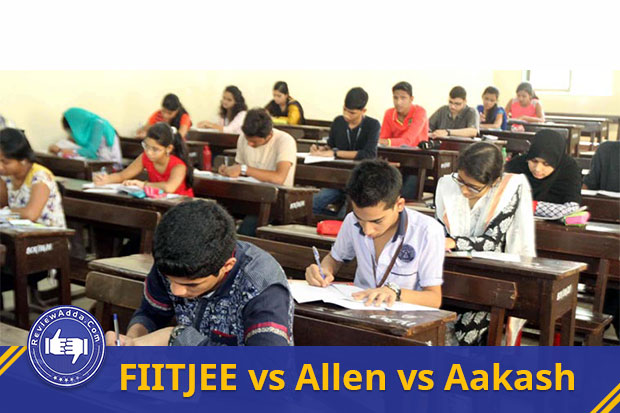 Coaching institutes such as FIITJEE, Allen and Aakash have become synonymous with JEE Preparation
Indians for all their divisions clamor for one common theme: exclusivity. Whether it's being one of the select few, who work at a Fortune 500 company or the one who makes it to an IIT, exclusivity is always celebrated and rewarded.
The exclusivity which comes with the latter is celebrated more vociferously than others.
IIT is a dream which flickers across every engineering aspirants mind. Many people like to create legends and lore about the greatness of IIT. To young minds, the IITs almost seem like a quest. IIT Preparation almost seems a journey to find the ultimate treasure.
22 year old content writer Sheetal Mishra, an engineering dropout, explains this fascination. 'I was always fond of writing. When I heard about IIT-JEE, something strange reverberated inside me. Though I had always believed writing to be my true calling, the sheer magnanimity of IITs drew me towards engineering'
Many students often claim their parents being the driving force behind their career choices. Sheetal's case is different. 'My parents were shocked when I told them I wanted to be an engineer. I was always an average student, so they were skeptical if I'd be able to handle the stress associated with engineering'
When asked what the true driving force behind this sudden change of direction, Sheetal explained from the beginning.
'I was always fond of reading. The Lord of the Rings was my favorite book at the time. The idea of going on an improbable quests being guided by nothing but my own skills and merits seemed very appealing. Yes, IIT-JEE did present a huge challenge. But I was convinced that with enough hard work I would be successful'
Sheetal did make it to an IIT. IIT Madras to be specific. She chose Computer Science Engineering as her major. This is where her struggles began. 'Most great movies have an underwhelming sequel. My time at IIT Madras is kind of similar. When I finally made it, I thought it was finally the end. That is where I was wrong'
The rigor of studying for four long years requires either a lot of dedication, or a lot of endurance. Sheetal had neither. 'Once I cleared the exam, I had achieved everything I had dreamed of. I simply had no more enthusiasm left for engineering. I stayed in IIT for two years. I simply couldn't spend a day longer without counting the minutes on the clock. I simply had to leave'
Not many students have the courage Sheetal had. Two years after leaving, she is working as a content writer. 'It's not the same kind of money I'd be earning after IIT, but atleast I'm not counting minutes anymore. I'm happy because I can see myself working in this line of work for the next five, even ten years'
The rise of the coaching industry in India
Sheetal is not the only student who was left spellbound at first by the lure of IITs. Admission to IIT is effectively considered a ticket to a comfortable life. Coaching institutes use this very mindset of students by offering them a springboard to get to IITs.
A survey done by the Associated Chamber of Commerce and Industry of India (ASSOCHAM) in 2013 valued the coaching institutes industry as a multi-billion-rupee business. Some of the more shocking revelations in the survey said that about 87% students in primary school and 95% in secondary school attend private coaching classes.
In every field of study riddled with competition and entrance exams, coaching centres have managed to create a niche space for themselves. Whether the rise of the coaching industry is the consequence or cause of increase in competition is still left to be analyzed. What one can discern is that both these factor have fanned the flame leading to the demise of conventional school education.
Former faculty at a prominent coaching centre, Brijesh Kumar explains the problems which have led to the inevitable rise of coaching. 'The demand has always been there. The IITs always set extremely difficult question papers which left most school students out of their depth. In the old days, average students didn't even think of IITs. The bright students studied hard and got admission. It was merely for the elite few'
'The trend we are seeing now is many average students trying to be a part of the competition. This is where big coaching centres come in. Most average students knew school education was too subjective and topical to be of any use in competitive exams. This led to the rise of coaching institutes'
So was it the failure of schools to misread student aspirations? Most schools now are more focused on board results. For engineering students though, boards are nothing but a sideshow.
'I always ignored school studies', says Sheetal. 'The school was simply too far behind and too rigid in terms of curriculum and teaching methods. Coaching institutes on the other hand encouraged students to go further and learn more. If I hadn't joined a coaching centre and focused more on school, I'd most likely have gotten admission to a far flung college instead if IIT. If college is the endgame, school education simply doesn't matter for engineering aspirants'
This damning verdict on school education is only natural, considering the level of the current curriculum has remained the same for the past few decades. Whether schools will wake up to confront this challenge remains to be seen.
Kota: The headquarters of IIT coaching
Kota two decades back was a sleepy industrial town 250 km from the capital of Rajasthan, Jaipur. The developments of the past twenty years have landed Kota on the map of India as being the coaching capital of India.
Over 1,25,000 students have been getting down to Kota for the past 14 years. Some come with a parent, but most come alone.
'If you needed to understand the true meaning of an obsession, Kota is the ideal place to start', says Veer Kashyap, a psychiatrist who works in Kota. 'This is the one city where even a thousand psychiatrists won't be enough. Each student is reeling under pressure. After the recent spate of suicides, coaching institutes have promptly setup counseling cells in their centres itself. Whether these cells will have a positive impact still remains to be seen'
In April this year, 17-year old student Kriti Tripathi took her own life by jumping off a five-storey building. As a parting message, she urged the government to shut down coaching institutes such as the ones which operated in Kota.
'Coaching centres often tell students to take it easy when cases such as these arise. However, when the dust settles, they go back to their tried-and-tested regime of coaxing students into submission. Common people will call it logic, but as a psychology professional, I have to call this psychological domination'
Veer Kashyap claims coaching institutions in Kota are using psychological domination to train students. When probed further about this concept, he explained, 'Consider you're a student coming to Kota brimming with confidence. You arrive and see thousands of other students streets ahead of you. You're placed in a lower batch, you're performance is scrutinized and you constantly feel out of your depth. This kind of treatment doesn't even exist in the cut-throat corporate world, and coaching institutes do this without batting an eye. Most students are simply too young and fragile to face the intensity at which most institutes here operate'
Is there any solution to this mess? We asked Veer if he had any suggestions. 'Do what Kriti said. Shut down coaching institutes. Shut down the ridiculous plethora of standardized tests which is plaguing our country. You look at Scandinavian countries which became number one in education in the entire world a few years back. What was the first thing they did to reach there? They shut down all types of standardized tests. It isn't rocket science'
The solution Veer provides is adequate, but India isn't a country where things happen in a jiffy. Changing things takes time. The immediate solution for students would be to avoid engineering altogether if it doesn't suit them.
JEE Coaching Institutes
The one synonymous factor associated with JEE preparation is coaching classes. More often than not, students who make it to IIT are from coaching classes. This trend in not merely associated with the IITs. Most students who make it to BITS, NITs, VIT and other prominent colleges originally attended coaching classes.
In other words, for any student to make it to a good college, going to coaching classes seems to be a necessity. The ubiquity of coaching centres across large and small cities and towns have made coaching available to students from all corners of India. Amongst the array of coaching institutes, we look at some of the most prominent coaching classes spread across the country.
Aakash Institute
Earlier regarded as a bastion for medical coaching, Aakash has steadily made a name for itself in the engineering coaching industry. With unmatched resources and pan-India reach, Aakash has solidified its name in the coaching industry of India.
Instituted in 1988, Aakash started out as a pre-medical coaching institute. After enormous success over the past few years, Aakash changed its modus operandi and began expanding into the engineering coaching sector.
With enormous resources and wide appeal across India, Aakash has gained significant foothold in the JEE preparation industry. Some of the key features of the courses it offers are listed below.
E-learning
Responding to the call of tech integration in the education sector, Aakash has introduced a number of e-learning tools such as Aakash Live.
Aakash Live is web-based interface with online tutorials comprising of explanations, problem solving and online tests. Other tools such as Aakash iTutor have also generated positive feedback from students and teachers alike.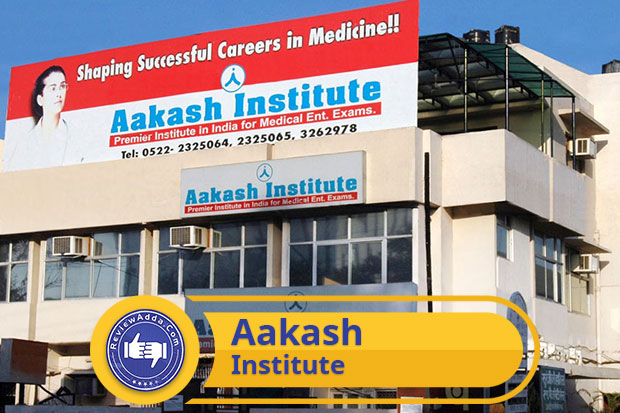 Aakash has created a strong foothold for itself in the JEE preparation industry
Quality distance learning programme
Aakash has a widely acclaimed distance learning programme which entails printed material, CDs, revision and mock test packages. Many students take up Aakash's distance learning programme along with attending coaching at another institute.
Admission to Aakash is conducted through the Aakash National Talent Hunt Exam (ANTHE). The course details and fee structures are tabled below.
| | | | |
| --- | --- | --- | --- |
| Course | Duration | Class | Fees |
| One year pass out programme | 1 year | XII pass | Rs. 1, 18,000/- |
| Two years JEE Mains + Advanced combined | 2 years | XI | Rs. 2,78,000/- |
| One year programme | 1 year | XII | Rs. 1,12,000/- |
| Crash course | 2 months | XII and XII pass | Rs. 27,000/- |
| Correspondence course | 2 years | XI | Rs. 22,251/- |
| Correspondence course | 1 year | XII and XII pass | Rs. 17,750/- |
FIITJEE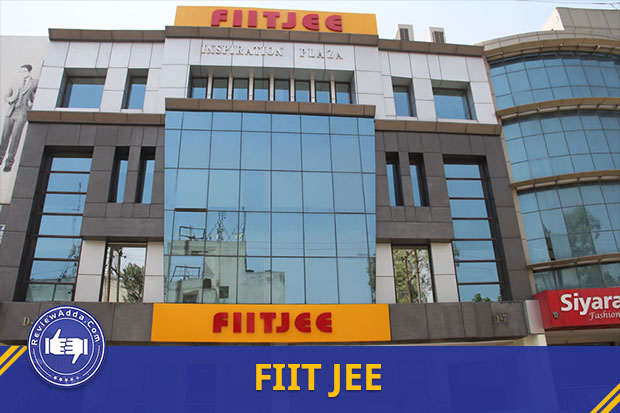 FIITJEE is the most popular and trusted names for JEE coaching
The most famous name in the Indian coaching factory, FIITJEE has long been the face of the industry. With presence seeped across practically every city and town in India, FIITJEE is a major stakeholder in the coaching industry of India.
Started back in 1992 by IIT Delhi mechanical graduate DK Goel, FIITJEE primarily focuses on training engineering aspirants for engineering entrance exams such as JEE Mains, JEE Advanced, BITSAT and other talent exams such as KVPY and NTSE. Despite many changes taking place in exam formats and syllabi, FIITJEE has always managed to hold off competition and be the leader amongst coaching institutes in the country.
The aim of FIITJEE is to become the global leader in education in the coming years. They have already begun working on this project by tying up with established schools to create a synchronized school and coaching environment. Details of this programme will be discussed later.
Some of the unique highlights of the services FIITJEE provides are
Intensive approach
FIITJEE isn't for the weak willed. With a number of students at every centre segregated into different batches according to performance in exams, the air of competitiveness is ominous. FIITJEE is known for creating an intensive environment in classrooms to match the intensity needed to crack competitive exams.
Study Material
FIITJEE encourages students to avoid buying reference books and concentrate on the study material provided. They do this because they know their study material good enough for any student.
FIITJEE study material doesn't end at topic wise books provided weekly. Other dedicated materials such as Chapter Practice Problem (CPP), Grand Master Package (GMP), Rankers Test Papers File (RTPF) and All India Test Series (AITS) act as supplements if students ever run out of problems to solve.
Success Potential Index
Many students remain in the dark while JEE preparation with regards to where they truly stand on the national scale. The Success Potential Index (SPI) is essentially a prediction tool which forecasts what a student's rank will be in a competitive exam after the completion of a weekly test or exercise. This helps in keeping the students vigilant with regards to their JEE preparation.
To take admission in FIITJEE, it is compulsory to take the FIITJEE Talent Reward Exam (FTRE). Based on performance in the exam, many students are offered discount of up to 75%. The FIITJEE fees for the different courses offered are tabled below.
| | | | |
| --- | --- | --- | --- |
| Course offered | Duration | Classes | Fees |
| Two year classroom programme for JEE advanced and JEE Mains | 2 years | XI | Rs.2,33,128 |
| One year extended classroom programme for JEE Advanced | 1 year | XII pass | Rs. 1,24,000 |
| PINNACLE integrated school programme for JEE Advanced | 2 years | XI | Rs. 4,73,000 |
| Special one year programme for JEE Advanced and JEE Mains | 1 year | XII | Rs. 1,57,800 |
Besides the integrated school programme, discounts are offered on all above courses based on performance in FTRE. Batches can be chosen as per convenience with both weekdays and weekend timing available.
Vidyamandir Classes
At one point of time, Vidyamandir Classes represented the very epitome of IIT coaching. With a limited number of seats and only one centre in the country, the conversion ratio of students studying their went through the roof every year. In fact, getting admission to Vidyamandir was often deemed a guarantee for eventual admission to IIT.
With expansion across all forums in the past few years, VMC may have become less efficient, but it hasn't compromised with its core teaching methodology and philosophy.
A major attraction at VMC is the chance of being taught by the founders themselves. The Founders batch is a group of highly skilled students grouped in a single cluster and taught by the founders of VMC, Brij Mohan Gupta, Shyam Mohan Gupta and Manmohan Gupta.
Some of the highlights of the environment at VMC is explained below.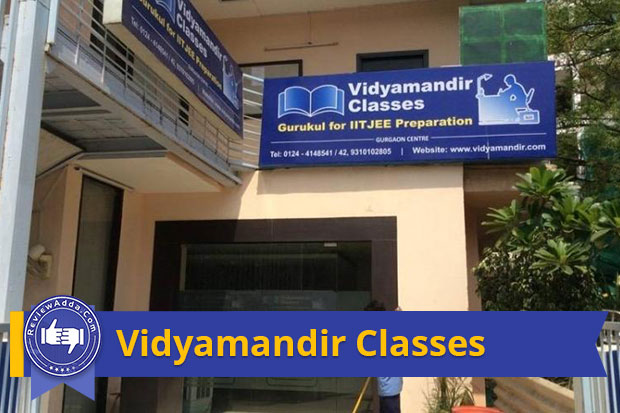 Vidyamandir Classes or VMC represents a niche amongst other institutes as being extremely selective during selection
Cohesive approach
Differing from FIITJEE in this factor, VMC tries to carry all types of students forward with personal attention given to every student. It is a fool's errand to believe every student will make it to IIT. However, VMC trains a student well enough to clear other competitive exams and make it to decent engineering colleges. In essence, VMC doesn't believe in leaving someone behind.
Study Material
VMC is known to be very strict about students following other material as they consider their own material sufficient. This clearly highlights their own self belief in the material they curate.
Vidyamandir Classes study material lays more focus on building conceptual knowledge before delving into problem solving. This reflects the adoption of a more patient approach with students rather than shoving down topics down a student's gullet.
Get Updated Review ( Voice Based Alumni Feeback)
Exhaustive selection process
Instead of hiring every student who applies for admission, VMC has a relatively tougher criterion for student admissions compared to other coaching institutes. This is done to ensure they have enough resources to meet student demands. Besides this factor, it also gives an air of exclusivity to VMC when compared with other institutes.
Classes after board exams
While most coaching institutes end their training three or four months prior to board examinations, VMC continues its classes even after the board exams without charging any additional fees. This highlights their unyielding commitment to aid and assist students until the very end.
Admission to VMC is conducted through a nationwide admission test. Vidyamandir Classes fees of various programmes offered are in the table below.
| | | | |
| --- | --- | --- | --- |
| Programme | Duration | Class | Fees |
| Regular Classroom Course for JEE 2018 (passed out students) | 1 year | XII pass | Rs. 1,20,000/- |
| Regular Classroom Course for JEE 2019 | 1 year | XII | Rs. 1,30,000/- |
| Founders or Regular or Target or VSAT Classroom Course for JEE 2020 | 2 years | XI | Rs. 2,50,000/- |
| Regular or VSAT Classroom Course for JEE 2021 | 3 years | X | Rs. 3,10,000/- |
| Regular or VSAT Classroom Course for JEE 2022 | 4 years | IX | Rs. 3,60,000/- |
The Founder's programme is only available for the two year programme. Discounts on the fees mentioned above are given based on the performance in the admission test.
Allen Institute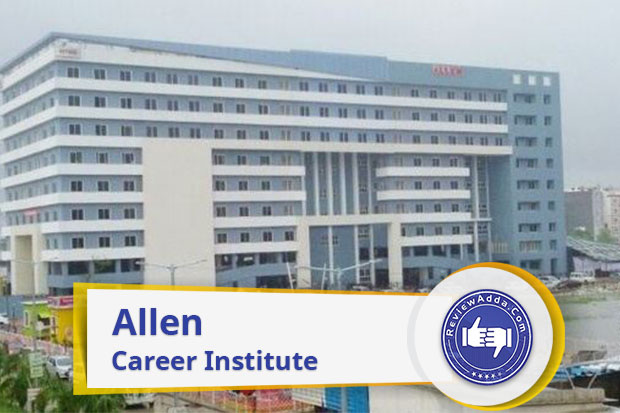 Earlier a big name for medical exams, Allen has shot into the limelight for JEE coaching as well
One of the bastions of Kota's coaching factory, Allen Institute has recently shot into limelight with excellent results over the past two years. While it was always undisputedly regarded as the king for medical examinations, Allen has left a mark on engineering exams as well.
Established back in 1988, Allen earlier focused primarily on pre-medical examinations only. With constant efforts and endeavors, Allen has become the premier institute in Kota.
Some of the highlights of the services provided by Allen are listed below.
Personalized approach
The issue most students have about Kota is getting lost in the droves of aspirants. Allen has tried to address this problem by introducing doubt clearing counters. The faculties at these counters are different from the ones teaching in classrooms. Students can avail their services anytime.
Focused study environment
If there is one thing Kota promises, it's a completely holistic environment for IIT preparation. Students are encouraged to forego distractions and draw their attention to studies at all times. While recent cases of student depression and disorders have made the people question the 'always-focus' approach of institutes, there is little chance of this stance changing.
Temperament building
To crack the very top exams, one needs to have great amount of patience and grit to deal with the surmounting pressure. Allen encourages students to use this pressure to elevate their standard of preparation and create a simulated exam-like environment. This helps in building a strong temperament amongst students so that they don't crumble on the day of the exam.
Allen conducts an admission exam called ALLEN admission and scholarship test (ASAT) for admission to its preparation courses. It is necessary to qualify through this exam to gain admission to Allen. Details of ALLEN fees and courses are given below.
| | | | |
| --- | --- | --- | --- |
| Course | Duration | Class | Fees |
| NURTURE (JEE Advanced + Mains) | 2 years | XI | Rs. 2,39,600/- |
| ENTHUSIAST (JEE Advanced + Mains) | 1 year | XII | Rs. 1,21,800/- |
| LEADER (JEE Advanced + Mains) | 1 year | XII pass | Rs. 1,24,900/- |
Resonance
Resonance IIT coaching is another name from Kota which has been a trusted brand for IIT preparation. Though it has centres all over India, Resonance is most popular for its standing in Kota. One of the only few institutes to bring about complete transparency in result declaration by releasing its data in the public domain, Resonance maintains a dependable reputation amongst teachers and students alike.
Resonance was established in 2001 by IIT Madras graduate Ram Kishan Verma. Besides JEE Advanced, Resonance also provides preparatory classroom programmes for NEET, CBSE/ICSE/State Boards, KVPY, NTSE, BITSAT and other science Olympiads.
Some of the highlights of the programmes offered at Resonance are as follows:
Flexibility in course
At Resonance, there are a number of courses based on when the student starts preparation and which exam the student is targeting. This demonstrates a lot of flexibility from the institute.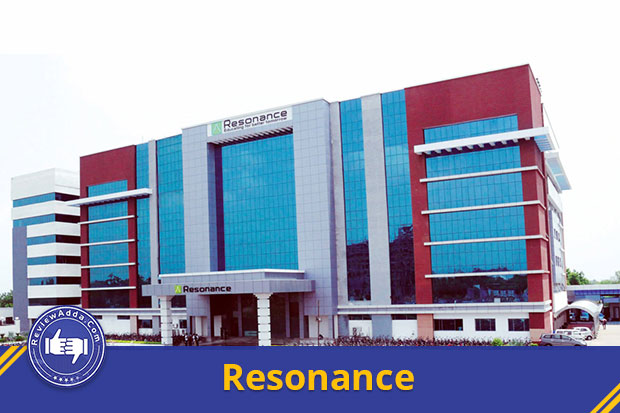 Relatively new compared to the other institutes, Resonance is a well established name in Kota and around India
Top notch correspondence course
Resonance is known for its well-endowed correspondence course. Every year, a number of toppers from JEE Advanced from Resonance are from the Distance Learning Programme (DLP).
Daily Practice Problems (DPPs)
Students are given daily practice problems sheets after every class to inculcate self-study amongst students. These problems are designed systematically to bring the students to a certain level of questions. This also breeds discipline amongst students and sets a goal which they have to reach from time to time.
Resonance admissions are conducted to its programmes through Resonance National Entrance Test (ResoNET). The fee structures for some of its courses are listed below.
| | | | |
| --- | --- | --- | --- |
| Course | Class | Duration | Fees |
| VIJETA | XII (for old Resonance students) | 1 year | Rs. 1,30,215/- |
| VISHWAAS | XII (for new students) | 1 year | Rs. 1,33,057/- |
| VIKAS/VIPUL | XI | 1 year | Rs. 1,25,210/- |
| VISHESH/VIJAY | XII passout | 1 year | Rs. 1,33,057/- |
| Correspondence course | XI | 2 years | Rs. 21,940/- |
| Correspondence course | XII/XII passout | 1 year | Rs. 20,000/- |
Bansal Classes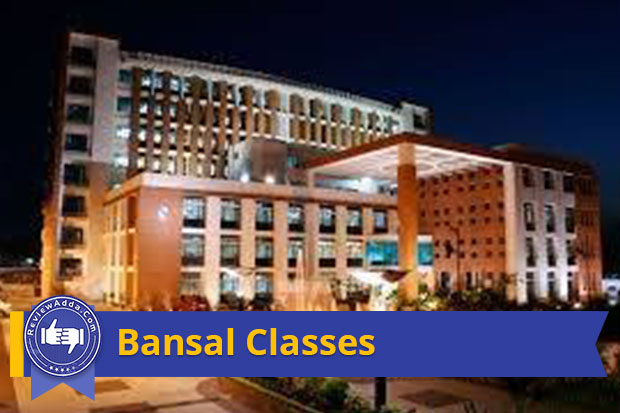 Bansal Classes are one of the oldest name in the coaching industry of India
Bansal Classes are one of the oldest engineering admissions preparation institutes in Kota and India. Even more interesting is the history behind Bansal Classes and how the coaching industry in Kota began.
Back in 1974, IIT Banaras (then BHU) graduate Vinod Kumar Bansal, an engineer at JK Synthetics in Kota was diagnosed with muscular dystrophy. In 1983 when JK Synthetics closed down, many engineers there were left unemployed. Most of them left Kota for other opportunities, but some stayed back and helped students clear IIT-JEE. One of those engineers was Mr. Bansal who used to teach students in his dining room. The rest as they say is history.
Bansal along with other coaching institutes made Kota the unanimous coaching capital of India. This rise was made possible by the consistency and dedication of Bansal Classes and the founder VK Bansal himself. In 2017, more than 48 students out of the top 100 in JEE Advanced came from Bansal Classes.
The details of Bansal Classes courses and fee structures are given below. Admission in the various courses is done through performance in Bansal Open Opportunity and Scholarship Test (BOOST).
| | | | |
| --- | --- | --- | --- |
| Courses | Duration | Classes | Fees |
| Bull's Eye/Acme | 2 years | XI | Rs. 2,50,700/- |
| Nucleus | 1 year | XII | Rs. 1,44,000/- |
| Sterling | 1 year | XII passout | Rs. 1,33,250/- |
| Azusa | 3 months | XII passout | Rs. 55,280/- |
Comparison between the coaching institutes
We have already discussed the qualities of each coaching institute one at a time. However, students can only choose one when the decision making time comes. Given below is a comparative study of the five aforementioned institutes based on the following factors.
Uniform quality of teaching across all centres
Performance in JEE Advanced and Mains
Study Material
Presence across the country
Adaption to new technologies
Institute

Uniform Quality across all centres (out of 5)

Performance in JEE Advanced and Mains 2017

Study Material (out of 5)

Presence across India

Adaption to new technologies (out of 5)

Aakash Institute

3.9

Equitable distribution of good faculties and resources across all branches

Advanced

Mains

3.8

Well renowned study package and distance learning courses

169 classroom centres in India

4.0

With an emphasis on e-learning, Aakash has responded to the call for tech integration in education

5 in top 100, 29 in top 500

16 in top 500, 24 in top 1000

FIITJEE

4.1

Every year new FIITJEE centres tend to surprise experts with their performance

Advanced

Mains

3.1

Study material is comprehensive, but AITS is too tough and overloaded

Over 100 study centres in India

2.7

Has been late to integrate video based learning

5 in top 10, 24 in top 50 and 35 in top 100

4 in top 10; 7 in top 20;17 in top 50; 38 in top 100

Vidyamandir Classes

3.5

Though faculties at VMC are generally decent, Pitampura centre usually stays ahead of others in this regard

Advanced

Mains

4.0

Vidyamandir is known to be very strict about students following only the prescribed study material. Highlighting its quality

Over 100 centres in India

4.1

Amongst the first to ingratiate video learning and electronic tablets for self-study

4 in top 100, 36 in top 1000

2 in top 10. 1762 students qualified for JEE Advanced

Allen Institute

2.2

While it is famous in Kota, Allen isn't as popular in other mainstream cities

Advanced

Mains

3.7

Has a decent study package and a challenging test series

Only 20 study centres in India

3.5

Has been quick to integrate e-learning into its teaching methodology

3 in top 10, 10 in top 25, 54 in top 200

10 in top 25, 23 in top 100, 116, in top 500

Resonance

2.5

Like Allen, Resonance doesn't have the same pull as it does in Kota

Advanced

Mains

4.3

Best known for its distance learning programme (DLP) which accounted for 2146 selections in JEE Advanced 2017

Over 32 study centres in India

2.8

Depends more on conventional material and teaching

18 in top 100, 4095 selections from classroom programmes

20 in top 100, 79 in top 500

Bansal Classes

2.1

Only popular in Kota

Advanced (JEE 2016)

Mains (2017)

3.6

Well researched and collated study material

35 study centres in the country

3.8

Has embraces e-learning well compared to other institutes with mobile app

3 in top 100, 11 in top 500 and 27 in top 1000

57% qualified for JEE Advanced
BYJU'S: The future of education?
While most coaching centres have always focused more on classroom programmes and conventional methods of teaching, new startups like BYJU'S are threatening to disrupt the chain of command altogether.
Backed by millions of dollars in funding, BYJU'S JEE courses is offering students the luxury of studying everything they need to know within the confines of their home. To the Kota coaching factory this will be a fight for survival.
Kaustav Sharma, former faculty at a prominent coaching institute in Kota explains, 'If companies such as BYJU'S and others in the fray come up with as good results as some of the Kota coaching institutes, the game could well be over'
The assertion does seem a bit far-fetched, but Kaustav holds his ground. 'Some institutes in Kota are already coming up with new ways to ingratiate e-learning into their systems. This shows a sign of visible nervousness. The only problem BYJU has to solve is results. Once students from top 10 start coming from BYJU'S, you could witness mass exodus from Kota. This industry prides on meeting the bottomline. If BYJU succeeds, they will go down'
Kaustav is surely right about one thing. The bottomline is all that matters in India. If they can convince students and parents of their performance and longevity, the coaching industry will face its first real challenge.
Use the Cube solver program to calculate the solution for your unsolved Rubik's Cube.