Topic We Cover: Engineering Admissions 2018
1. Engineering Admissions: Changes in examination from next year
2. Engineering Admissions: Entrance Exams
3. Engineering Admissions: The Institutes, colleges and universities
4. Engineering Admissions - Brain Drain or reverse brain drain?
5. Engineering Admissions- Is it worth it?
6. Engineering Admissions - Postgraduate programmes
7. Engineering Admissions: Conclusion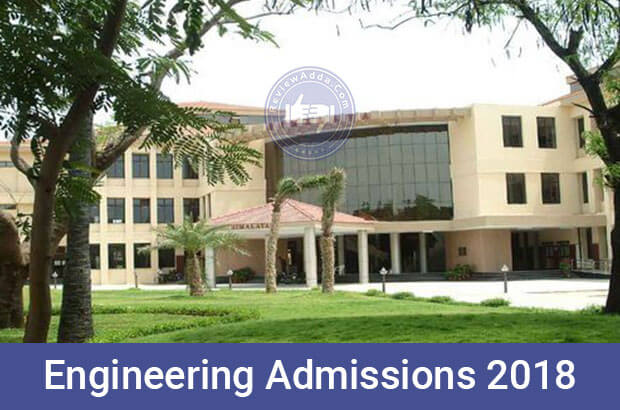 Engineering admissions have become one of India's biggest obsessions.
In India, if career choice is a question, Engineering Admissions 2018 is the answer. This advent has been ever present. India's love affair with engineering admissions has been a long standing tradition. The pursuit of a lofty goal of gaining engineering admissions in the Best Colleges in India by pure hard work is a story too romanticized to be ignored and buried.
The reality of engineering admissions though, has changed dramatically.
While seats in the coveted IITs have increased only slightly, the numbers of aspirants pursuing engineering admissions have been increasing exponentially every year.
This has caused many aspirants to turn to Private Colleges and universities for engineering admissions. And this is where engineering admissions has changed the most. While in the early days one could trust select colleges such as IITs and NITs for churning out industry grade engineers, the situation now has a majority of graduating engineers coming from private universities. Even though some colleges are found lacking both in quality faculty and infrastructure, many aspirants today are ready to compromise for the sake of getting engineering admissions.
This is the reason the waters of engineering admissions have been muddied. Due to a lack of oversight of the engineering admissions procedure of these 'shell' colleges, many below par engineers are being produced every year in India. The number of students making this compromise of pursuing substandard B.Tech Admissions every year is increasing exponentially. The only way this can stop is if regulatory bodies are set up to levee the flow of sub-par engineers graduating every fall.
Engineering Admissions: Changes in examination from next year
The announcement of a common joint Entrance Exam for Engineering Admissions from next year has caught aspirants and colleges off guard. Introduced to create a common ground for aspirants and bring transparency to the engineering admissions process, the move has been welcomed amongst many quarters. Many private colleges conduct their own engineering admissions entrance exams and charge exorbitant capitation fee for Admission in B.Tech programmes based on the private admission test
These practices will end if the common engineering admissions entrance exam is implemented correctly. While deemed universities are still allowed to conduct their separate entrance examination, other private colleges will have to accept JEE Mains Scores as the criteria for engineering admissions.
Engineering admissions to the illustrious IITs though will be based purely on the momentous 'Mordor' expedition called JEE Advanced. The IITs have always been belligerent when it comes to engineering admissions and have rejected all advances by the government to accept JEE Mains as a parameter. Only the students finishing amongst the top 20% of JEE Mains would be given the privilege of sitting for JEE Advanced.
Engineering Admissions: Entrance Exams
Engineering admissions to most top colleges in India is based upon a candidate's performance in a given standardized engineering admissions entrance exam. While most colleges in India will have to accept JEE Mains scores for engineering admissions, there are a number of other deemed universities who will be conducting their own entrance exams. Amidst the confusion of which exams to consider, here is a list of engineering admissions entrance exams every student should keep an eye out for. Not all of the below have made engineering college forms available.

1. Joint Entrance Examination (JEE) Mains
Known earlier as AIEEE, JEE Mains is conducted every year by CBSE for engineering admissions to National Institutes of Technology (NITs) and other government funded institutes.
JEE Mains was deemed earlier this year by the HRD ministry as a common engineering admissions entrance exam for all colleges in India. This has only lent more weight to the already 'make-or-break' exam for many aspirants in India. While board exam scores have also been a factor for engineering admissions to NITs, the government has lifted all such guidelines this year. Only JEE Mains scores will be considered for engineering admissions to nearly all colleges in India from next year.
Official date for JEE Mains registration process hasn't been declared, but going by past years the important dates for Admission to Engineering Colleges are given below.
JEE Mains examination fee has been set at different points for different formats and categories. The details are given below.
| | |
| --- | --- |
| Event | Probable Dates |
| JEE Mains press release | Third week of November |
| Commencement of online registration | First week of December |
| Correction facility | Second week of December |
| Last date for registration | First week of January |
| Last date for registration fee payment | First week of January |
| Admit Card | Second week of March |
| Offline exam | First week of April |
| Online exam | Second week of April |
| Results | First week of May |
| Counselling for engineering admissions | Second week of June onwards |
Papers

Offline

Online

JEE Mains (Paper 1 or paper 2)

General/OBC

SC/ST/DA

Rs. 1000 (boys)

Rs. 500 (girls)

Rs. 500(boys)

Rs. 500

(girls)

General/OBC

SC/ST/DA

Rs. 500 (boys)

Rs. 250 (girls)

Rs. 250 (boys)

Rs. 250 (girls)

JEE Mains (Paper 1 and paper 2)

Rs. 1800(boys)

Rs. 900 (girls)

Rs. 900 (boys)

Rs. 900

(girls)

Rs. 1300 (boys)

Rs. 650 (girls)

Rs. 650 (boys)

Rs. 650 (girls)
2. Joint Entrance Examination (JEE) Advanced

The IITs earlier conducted IIT-JEE as the entrance exam conducted for engineering admissions. Changes back in 2013 however changed the course of B.Tech Admissions in India with AIEEE becoming JEE Mains and IIT-JEE becoming JEE Advanced.
Even with JEE Mains becoming the common entrance exam from next year, the IITs will continue to conduct JEE Advanced for engineering admissions to the IITs. Although the IITs eccentric and borderline cavalier attitude towards advice from the government has long been criticized, one cannot help but conclude that this very belligerence has made them nearly untouchable in a country full of mismanaged government setups.
Coming to the engineering admissions process, the registration process for JEE Advanced begins after the JEE Mains results are declared. JEE Advanced 2018 will be conducted during the last week of May tentatively. Follow suit with many B-school exams, JAB, the body dictating policy regarding engineering admissions in IITs, has decided to conduct the exam only in online mode.
3. Birla Institute of Technology and Sciences Admission Test (BITSAT)
BITSAT is conducted every year by BITS for engineering admissions to undergraduate courses. Unlike many other engineering colleges in India, BITS offers B.E admission courses instead of the nationally known B.Tech courses at its campuses in Pilani, Goa and Hyderabad.
BITSAT has for long been conducted only in a computer based format. The efficiency of instant result generation has also been hailed by students as a step in the right direction. The registration for BITSAT usually begins during the turn of the year. Details are given below.
The registration fee for BITSAT is Rs. 1700 for female candidates and Rs. 2200 for male candidates
| | |
| --- | --- |
| Event | Probable Date |
| Commencement of registration | Second week of January |
| Last Date for registration | First week of March |
| Allotment of exam centre | Second week of March |
| Exam slot booking | Third week of March to second week of April |
| Admit Card | Third week of April |
| Exam Date | Third week of May to month end |
| Counselling for engineering admissions | Till last week of June |
4. Vellore Institute of Technology Engineering Entrance Exam (VITEEE)
A deemed university, VIT is free to conduct its own entrance exam despite changes being made for next year's cycle of engineering admissions. Counted amongst the best private universities for engineering in India, VITEEE is high in the list for engineering aspirants in India
The registration fee for VITEEE is Rs. 970 for online payment and Rs. 970 for offline payment through DD or Challan in the name of 'VIT University' payable at Vellore.
| | |
| --- | --- |
| Events | Probable Date |
| Commencement of registration | Second week of November |
| Last Date for registration | Third week of March |
| Exam slot booking | Third week to last week of March |
| Admit Card | Third week to last week of March |
| Exam Date | First week to third week of April |
| Results declaration | Last week of April |
| Counselling for engineering admissions | Second and third week of May |
5. SRM Joint Engineering Entrance Examination (SRMJEEE)

Like VIT University, SRM also has the privilege of conducting its own entrance exam for engineering admissions every year. SRMJEEE is conducted in the same period as many other entrance exams in the country. Regarded amongst the top engineering colleges in the country, engineering admissions to SRM's undergraduate courses is purely based on performance in SRMJEEE.
Some important dates for SRMJEEE are given below.
The registration fee for SRMJEEE is Rs, 1050/- and has to be paid online
| | |
| --- | --- |
| Event | Probable Date |
| Release of registration form | Third week of October |
| Last date of registration | Third week of March |
| Exam slot allotment | Last week of March |
| Admit Card | Last week of March |
| Exam Date | First to last week of April |
| Results | First week of May |
| Counselling for engineering admissions | Second week of May |
6. Manipal University Online Entrance Test (MUOET)
As the name suggests, Manipal conducts its MUOET only in online mode. The gateway for engineering admissions as well as undergraduate courses for medical and sciences programmes. Though it is more famous for its medical programme, Manipal has garnered praise for its engineering programme in the past few years. It was ranked sixth amongst private universities in India.
Get Updated Review ( Voice Based Alumni Feeback)
The total examination fee is Rs. 2000/-, which comprises of Rs. 600/- for the application fee and Rs. 1400/- as the engineering admissions examination fee.
| | |
| --- | --- |
| Event | Probable Date |
| Release of online registration | First week of November |
| Last date of form submission | Second week of March |
| Exam date | Second week of April |
| Result | Third week of May |
| Counselling for engineering admissions | First to last week of June |
7. Kalinga Institute of Industrial Technology Entrance Examination (KIITEE)

KIITEE is conducted every year for engineering admissions to four year B.tech programme. Based in Bhubaneshwar, KIIT is another college student consider while opting for a college. The details of the exam are given below.
Unlike many colleges and universities, KIIT has no application fee. KIITEE is conducted only in online mode.
| | |
| --- | --- |
| Event | Probable Date |
| Commencement of registration | First week of December |
| Last date for submission | Last week of March |
| Admit Card | First week of April |
| Examination Date | Second to last week of April |
| Result declaration | First week of May |
| Counselling for engineering admissions | Last week of May |
Engineering Admissions: The Institutes, colleges and universities
As mentioned above, some colleges aren't necessarily worth pursuing engineering admissions in. Some however, are top class institutions known for their fabulous alumni record, placements and research output.
1. Indian Institutes of Technology (IITs)
Pioneered back in the 1950s, the IITs were setup to sow the seeds of a subsequent industrialization in India. Back in the day, engineering aspirants had to move abroad to pursue engineering admissions as there weren't enough worthwhile colleges in the country. The IITs were established to change this tradition.
Over the decades, the IITs have been a shining light of how competent institutions must evolve to meet the demands of the industry. While the focus in during the 1970s was on EE and mechanical, the IITs showed their ability to evolve when they responded to the dot com boom with a complete overhaul in their curriculum.
While the old IITs such as the ones in Delhi, Kanpur, Kharagpur, Chennai, Mumbai and Roorkee still remain on top of the aspirants lists for engineering admissions, many new IITs have been setup across other cities to meet the overwhelming demand for top draw education in India. IIT Guwahati, a new addition to the pack, has now garnered immense feedback from alumni and industry experts alike and become another entrant for aspirants pursuing engineering admissions.
IT-BHU was also converted into IIT Banaras back in 2013, adding the 98 year old institute to the list of IITs.
Placements and research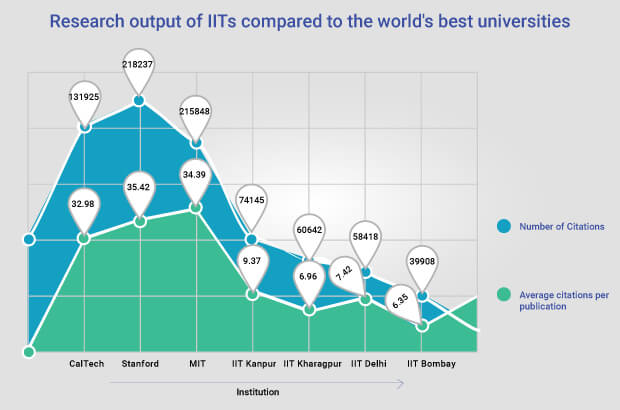 Amongst top colleges for engineering admissions, IIT's research output is low compared to foreign colleges
The placement record of IITs is beyond reproach. Every year the biggest companies in the work bend over backwards to nab the best engineering talent available in IITs around India. Breaking records for salary packages offered and students placed every year, placements is one area no one can doubt IIT on. This is the biggest reason candidates pursue engineering admissions in IITs.
The underwhelming research output of one of India's best institution though casts a shadow upon its indomitable reputation. While the research output of IITs is still greater than most science-based colleges in India, it pales in comparison to the world's best universities.
Surely if IITians are capable enough of earning and working alongside MIT and Stanford graduates, they must be matching these universities research output. Although most of the government's research budget is used to fund projects at IIT, the lack of output suggests the need of additional allotment of funds for better research outputs.
2. National Institutes of Technology (NITs)
Originally known as Regional Engineering Colleges (RECs), the NITs have long been termed as the 'next best thing' after the IITs. Established with the principle of having one institute in each state, the RECs were established to meet the growing demand of engineers during the 1960s.
True to its initial principle, each state in India now has an NIT. The older NITs such as the one in Warangal, Allahabad, Suratkal and Trichy are renowned for their top draw B.Tech programme. Engineering admissions in these top NITs is almost as difficult as getting engineering admissions in IITs as only the top five percentile are able to make it.
With JEE Mains opening doors to nearly all colleges for engineering admissions in India, admission for engineering colleges will get even tougher with the added competition. With more than one million students writing JEE Mains every year, the room for error is only marginal for engineering admissions.
Placements
The top NITs give competition to the IITs every year when it comes to placements. Top tech companies such as Facebook, Microsoft and Google have been offering record packages to students every passing year. In the scramble to gain top engineering talents in India, companies make it a point to visit NITs every year.
Besides the top companies, most of the students in NITs are placed every year with an average placement record of nearly 75% across all institutes in India, making JEE Mains an essential exam for engineering admissions.
3. BITS Pilani
One of the only engineering colleges in India to stand at par with the top IITs, BITS Pilani is older even than the IITs. Modelled around the framework and functioning of top American colleges, BITS Pilani was one of India's first deemed universities.
Due to the towering success of its first campus, BITS opened campuses in Goa, Hyderabad and later Dubai. The Goa campus was opened directly under the tutelage of the Pilani campus and has already started gained traction during engineering admissions. While earlier BITS conducted engineering admissions on the basis of secondary examination performance, it later switched to using a standardized test now known as BITSAT for engineering admissionsin all three of its campuses.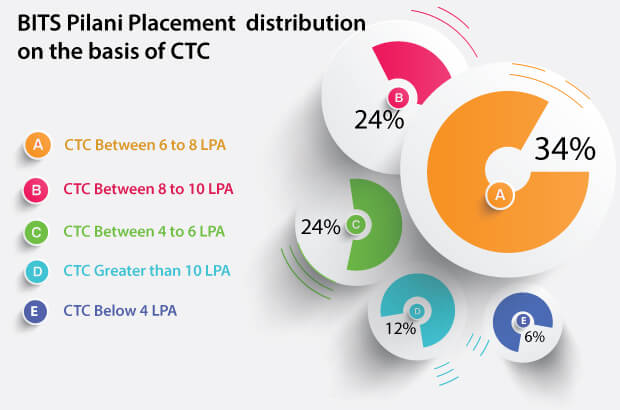 Engineering Admissions 2018: Breakdown of BITS Pilani placement stats
Placements
BITS Pilani is another college assuring above average placement packages to nearly all its engineering graduates. While the highest packages don't skyrocket like the IITs, the average package doled out is much more than that of NITs and other colleges in India.
4. Delhi Technological University (DTU)
There is generally a misconception about DTU being the same as NIT Delhi. DTU is a state university of Delhi earlier known as Delhi College of Engineering.
Often underestimated amongst other private university, DTU is amongst the top colleges on many engineering admissions aspirants wish-list every year. Engineering admissions to DTU is subject to JEE Mains scores and only the top 3 percentile are usually accepted for engineering admissions. Some of DTU's B.Tech programmes such as mathematics and computing are sometimes ranked higher than their counterparts at IIT Delhi, demonstrating DTU's true status.
Placements
The highest packages here equal those of IIT Delhi and Mumbai at nearly Rs. 1.27 crores per annum. In terms of overall placements percentage, DTU stands at par with NITs at nearly 75-80%.
5. Jadavpur University
One of the most underrated colleges in India, Jadavpur University is a state run technical institution in West Bengal. The best engineering college in West Bengal (after IIT Kharagpur), Jadavpur University has overcome general lack of funds and facilities to become one of the most coveted colleges in India. Engineering Admissions to JU is conducted through WBJEE.
The fee for four years at Jadavpur University is around the Rs. 10,000/- mark, which is only a fraction of what big private colleges are charging these days. Due to the low fee structure, the facilities offered at JU aren't as wholesome as many IITs or NITs are able to offer.
Placements
Most students from JU get placed in core companies at an average package of Rs. 5,5 LPA. Unlike other top colleges with functional placement cells, JU has no such facility. Placements are coordinated by students every year. Despite this, JU breaks placement records nearly every year.
6. Vellore Institute of Technology (VIT), Vellore
The youngest entrant amongst the aforementioned bunch, VIT Vellore was recently ranked the best private college for engineering in India by the HRD Ministry. Riding on wave of public praise and clamour for engineering admissions, VIT has now become one of best colleges for students to consider in the country for engineering admissions.
With a sprawling campus amounting to nearly 350 acres, VIT almost seems like a metropolitan itself in the sleepy town of Vellore. The rising success of VIT prompted its administration to spread its wings. VIT now has campuses in Chennai, Amravati and Bhopal. Engineering admissions in VIT is done through VITEEE.
Placements
VIT broke the LIMCA Book of World Records back in 2015 for most getting the most students placed in a single slot. Although most students do get placements, 90% of these jobs are in the IT sector. Average packages range between 2.5-3.5 LPA. Assured placement despite a high rate of engineering admissions makes VIT a huge prospect for students.
Engineering Admissions - Brain Drain or reverse brain drain?

Back in the 1970s nearly 70% of the students gaining engineering admissions at IITs settled abroad. This trend of mass export of some of India's most brilliant minds was then termed as brain drain. Pre -liberalized India bore a very different look to what it has become today. A lack of opportunities in the country due to absence of big private sector companies forced student into two options: a government job at a PSU or a job abroad.
At the time, most chose the latter.
For this reason, many considered subsidization of IIT education to be a farce as the tax payers were essentially funding the progress of foreign countries. For the outgoing IITians, there were simply no opportunities for growth in India. The West was heading into the tech revolution and Indian engineers were considered essential to funnel this movement through.
Both sides had valid points. After gaining top-class education at a subsidized fee, the least one can expect from an IITian is to stay and work in the country. On the other hand, the one single law of engineering is that every branch's destiny is decided by its core industry. If the industry in India simply didn't have enough vacancies or capital to higher IIT graduates, what was the point of staying in the country?
The problem was solved in 1992 after liberalization happened in India. With private companies and previously dormant countries swarming into India, engineers finally did not feel the compulsion to leave the country for work. From 70% students leaving the country in the 1970s, the ratio dropped down to 30% in the late 90s. Many Indians who had gone away many years ago started returning as well, a trend known as reverse brain drain.
Many such returning Indians started numerous start ups in India based upon the experience the gained while working for the biggest companies in the world, fuelling growth and commencing the largest period of economic growth in independent India's history.
Engineering Admissions- Is it worth it?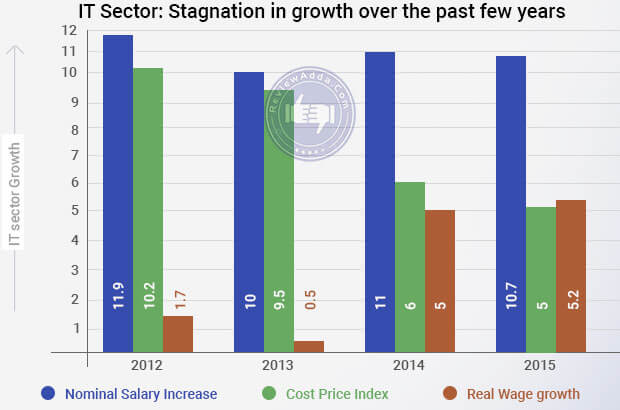 Lack of increase in nominal salary over the past years might change the trends of engineering admissions
The only ones who ask this question are the ones who don't make it to the best colleges. In the current climate of our education sector, private colleges are charging nearly 8-10 lakhs over four years of B.Tech. Spending such an amount warrants the natural question, is engineeringadmissions from a college outside Tier 1 worth it?
There isn't a standard answer to this question.
If engineering is truly one's passion and a sub-par college is all that is available, pursuing engineering admissions is worth it. Many students who find it hard competing during engineering admissions entrance exams excel during college. Simply put, engineering admissions exams are a different kettle of fish compared to college. In a more relaxed and subdued environment, students sometimes sprinkle and realize their true talents.
In this case, pursuing engineering admissions even from a small college is worth the risk and effort. In hindsight, this is often not the case.
Most of the time students pursue engineering admissions out of the fear of being left out. This is sadly becoming a growing trend in India. For the past 10-12 years, many students pursuing engineering admissions have been saved by the boom of the IT sector. Even below par engineer from sub-standard colleges have been getting placements in IT companies due to massive demand for manpower in the sector.
With the IT bubble burst now, there is no telling whether the thousands upon thousands of students in such colleges will land on two feet after graduation. Engineering is slowly changing gears and moving towards automation and robotics. Two fields so specialized in their respective areas require top draw technical engineers and not a crowd of engineers hovering across office campuses.
Engineering Admissions - Postgraduate programmes

One of the reasons attributed before for a lack of research output in India was below par funding from the government. Another reason why India falls behind is the lack of quality PG programmes in the country.
While IITs barely manage to compete in UG education with the like of MIT and CalTech, PG programmes abroad simply blow India away in all fields. The trend abroad is to concentrate more on PG education rather than UG to meet the demand of expertise in specific areas of tech and science.
Many students in India don't even consider M.Tech from IIT as a worthwhile course due to lack facilities for research and development. In a system predicated on rote learning and memorization, asking students to innovate and publish research papers out of the blue is futile. GATE is another engineering admissions exam many engineers strive to clear after graduation. However, a majority of aspirants pursue M.Tech for the pride of getting into IITs.The stamp of being an IITian is very tempting, even though it may only be an M.Tech course.
Students today are focused on competing for Engineering Admissions and working right out of college. The notion of doing a M.Tech comes only as a resume building exercise. Like many other problems, this goes back to the way our education system is designed. If the value of innovation and free thought is not encouraged from the moment a child steps into a school, he/she will never learn how to tackle different challenges.
Engineering Admissions: Conclusion
Engineering admissions have long been considered a field of instant gratification. The fact that a student could be earning bug bucks right after completing graduation is luring enough to push many students into the shark tank of engineering admissions.
The reality often turns out to be opposite. Engineering is an extremely technical course which has the ability to sap all the energy out of a student who doesn't have an aptitude for science. Many third and fourth year students are sometimes found regretting wasting good years of their youth pursuing engineering admissions.
Regret may be a part of life, but a decision which essentially decides the course of someone's professional career should dictate more importance than it does now. The employability stats of engineers graduating every year are stunning to say the least. Out of 97% graduates who are willing to work after college, only 17.43% are employable in the IT sector, and 8.23% in the core sector.
The unabated marketing campaigns of 100% placements and assured job after graduation is killing young engineers. Many even take education loans for engineering admissions believing they'll be rolling in the Benjamins after college. The lackadaisical attitude of our government towards this situation is shocking as well. Nobody stops or holds colleges accountable for luring students in with false promises of placement during engineering admissions.
To put it boldly, there is a new mafia in our country. They don't deal drugs or liquor. It is colleges they are selling.