As we near the upcoming Engineering Entrance Exams, a simmering sense of tension is spontaneously crossing every engineering aspirants mind. Apart from the usual academic challenges, the confusion created by the sheer number of entrance exams is a headache in its own way.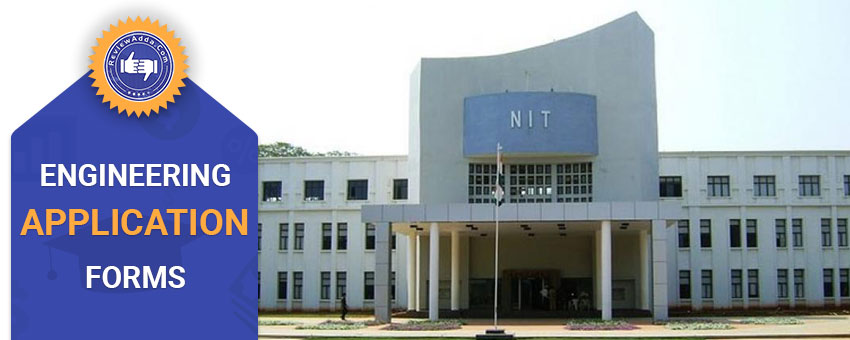 Engineering Applications will be a topic of major discussion in the coming few days.
Unlike other countries where all colleges accept standardized scores of one exam, the scene is much more complicated in India. While we cannot solve the academic problems faced by students, we can however alleviate some of the difficulties they face regarding the mess created by the application procedure for various colleges.
Entrance Exams: How many do you need to give?
A question which is often left unanswered for unknown reasons is the number of exams a student should give. Some of you may ask what the need of the question is in the first place. Why can't students give all the exams since the syllabus for most exams is the same?
On an average, the cost of applying to one college entrance exam is Rs. 1000. If you apply for even the top 10 college entrance exams, you'll end up shelling out 10k. While 10k may seem a menial amount to some, it is a rather large amount for a majority of families in India, especially considering the fact that there is no guarantee whether the student will be selected after shelling out the money.
Aman Sahni, a student counsellor elaborates. 'Admissions in India, especially for engineering aspirants can become a muddy affair as every college has a different exam to clear. In the US, students give one exam, and there score in that exam is accepted all over the country. In India, BITS does accept JEE scores. NITs don't accept BITSAT Scores. VIT doesn't accept SRM scores and the list goes on and on'
Is a common entrance exam the solution? 'Yes' Sahni says, 'but we should take cue from the US and hold the common exam at least twice or thrice a year. This will bring some relief to students who have to wait for a whole year. Secondly, we have to bring all the private and state colleges and universities to the table and get all opinions before creating something on the lines of the SAT exam in the US'
Sahni offers some good solutions, but the question still remains. How many exams are sufficient?
Another template followed these days is to give two exams. JEE Mains and the respective state engineering exam. For instance, many aspirants from UP give only two exams, JEE Mains and UPSEE as the state has many decent engineering colleges, not to mention candidates can also use the home state quota.
We went and asked some engineering students who have gone through the exercise before and get their feedback. 'Four according to me' says Tanya Ahuja. 'Mains, BITSAT, VITEEE and WBJEE are enough according to me. Until a few years ago, I would have not even given VITEEE, but there showing in the various ranking surveys have made a favourable impression. Besides these, I find no need to give any other exam'
Vaibhav Singh, another engineering student feels it is all about confidence. 'In my first attempt, I registered for seven entrance exams as I was not confident about putting all my eggs in the JEE Mains basket. After failing to make a mark in any of the exams, I dropped out for a year to give the entrance exams another shot. In my second attempt, I only applied for JEE Mains and BITSAT because I was confident of doing well. And I did. I scored very well in JEE Mains, but even better in BITSAT. I took up CS at Pilani without a second thought. In my opinion, it's not about the number of exams you give, it's all about confidence'
Vaibhav makes an interesting point, but filling multiple application forms also has an added problem, the financial question.
A major reason many private colleges and universities insist on holding their separate entrance exams for admissions is because of the incumbent financial benefits. Each exam exams at least 500 rupees and if you have over one lakh students giving the exam, the returns are no doubt very fruitful.
A common engineering entrance exam will render all other exams obsolete. However, is this idea realistic considering the logistical issues which will come into play?
Rather than logistical problems, a key problem here is organisational in nature. Bringing all private universities and colleges under one umbrella would require great organisational support. Would the illustrious engineering colleges and universities of our country be willing to change their ways?
A key part of any such effort would have to require the government to arm-twist colleges into submission. This would mean upsetting a few people and disrupting the proverbial 'apple cart', but India has reached a stage where it can implement certain things on a national scale.
Get Updated Review ( Voice Based Alumni Feeback)
S. No

Exam

Description

Number of appearing students

Date of exam (Year 2018)

Cost of application form

1

JEE Mains is conducted by CBSE in the month of May every year.

13 Lakhs

1. April 8 (Online)

2. April 15 & 16 (Offline)

1. Rs. 1000/- (Offline)

2. Rs. 500/- (Online)

2

Conducted for state affiliated engineering colleges and universities in Maharashtra. Many private colleges also accept MHCET score

4 Lakhs

May 10,

Rs. 800/-

3

Andhra Pradesh Engineering, Agriculture & Medical Common Entrance Test - AP EAMCET

It is a state-wide entrance exam conducted by APSCHE for admission to engineering, agricultural and medical courses

2.8 Lakhs

22 April to 25 May

Rs. 350/-

4

Birla Institute of Technology and Sciences Admission Test (BITSAT)

Conducted by BITS for admission to B.E and B.Sc programs offered at Pilani, Goa, Hyderabad and Dubai campuses

2.3 Lakhs

16-31 May

Rs. 2950/- (Male)

Rs. 2450/- (Female)

5

Vellore Institute of Technology Engineering Entrance Exam (VITEEE)

A engineering entrance exam conducted for admission to VIT campuses in Vellore, Chennai, Amravati and Bhopal

2.2 Lakhs

4-15 April

Rs. 1150/- (Online)

Rs. 1200/-

(Offline)

6

Kalinga Institite of Information Technology Entrance Exam (KIITEE)

Conducted free of cost by KIIT so that max. students are motivated to five exam

2.1 Lakhs

15-24 April

No fees

7

Telengana State Engineering, Agriculture & Medical Common Entrance Exam (TS-EAMCET)

Exam conducted by Telangana State Government for admission to state affiliated engineering, agricultural and medical colleges.

2.1 Lakhs

2-7 May

Rs. 500/-

8

SRMJEEE is conducted by SRM in the months of April every year for admission to engineering programs offered at the various

1.75 Lakhs

16-20 April

Rs. 1100/-

9

Conducted by State Govt for admission to government and government-funded colleges and universities in Karnataka

1.7 Lakhs

April 18

Rs. 650/-

10

Entrance exam for state colleges and universities in West Bengal. Admission to the famous Jadavpur University is done through WBJEE

1.5 Lakhs

April 22

Rs. 500/-

11

Exam conducted for admission to UP colleges affiliated to AKTU (APJ Abdul Kalam Technical University)

1.42 Lakhs

April 29

Rs. 1300/-

(Male)

Rs. 650/-

(Female)

12

University of Petroleum and Energy Studies Engineering Aptitude Test (UPESEAT)

Conducted by UPES for admission to its engineering courses at Dehradun and Delhi campuses

≈80k

May 5 (Offline)

May 11-13 (Online)

Rs. 1850/-

13

Consortium of Medical, Engineering and Dental Institutes – Karnataka Undergraduate Entrance Test (COMED-K UGET)

Conducted for most of the private engineering colleges in Karnataka. Unigauge-E is also included in COMED-K exam itself, as students at the end of the exam are given a choice to apply for either the two or both

≈70k

May 13

Rs. 1300/-

14

Conducted by Amrita University for admission to engineering courses at Kollam, Coimbatore, Bangalore, Kochi and Mysore campuses

≈70k

April 28 (Offline)

April 19-22 (Online)

Rs. 1000/-

15

GAT is an exam conducted by GITAM University

≈70k

11-26 April

Rs. 1000/- (Male)

Rs. 600/-

(Female)

16

OJEE is conducted by the state govt of Orissa for admission to all state affiliated and funded colleges and universities.

≈52k

May 13

Rs. 1500/-

17

IPU is a private university based around Delhi-NCR. Many colleges in the region are affiliated to IPU. IPU-CET is an entrance exam held for admission to courses offered by IPU affiliated colleges

≈50k

13-24 May

Rs. 1000/-

18

Manipal University conducts its OET every year in the month of May on the basis of which it offers admissions to students across a wide range of courses

≈50k

April 19 – May 9 (1ST and 2nd attempt) and May 11 (3rd attempt)

Rs. 2000/-

19

Lovely Professional University National Eligibility and Scholarship Test (LPU-NEST)

Lovely Professional University conducts its very own entrance exam, LPU-NEST. Performance in the exam not only determines the candidates acceptability in LPU, but also if he/she is eligible to apply for a scholarship depending upon the score

≈40k

April 10- April 30

Rs. 700/-

20

ICFAI conducts an entrance exam for the B.Tech program it offers at its campus in Hyderabad

≈30k

April 23- April 30 (Online)

April 28 (Offline)

Rs. 500/-
As is evident from the table above, JEE Mains is far ahead of another exam because it represents a large cluster of colleges. MHTCET is a distant second at 4 lakh applicants. Incidentally, Maharashtra is also the state where engineering outweighs almost every other field of study by a mile.
The switch to online mode: What will be the impact?
In 2013, CBSE conducted JEE Mains (previously known as AIEEE) in online mode for the first time. Before JEE drummed up online examinations, many other private institutes such as BITS and VIT had been conducting online exams as well. In fact, BITS removed the pen-and-paper based format from its examination a long time ago.
Since 2013, many other exams have transitioned to online exams as well.
For 2018, 2.25 lakh out of 11.5 have opted for online exam. While the number has increased from last year's statistic, the question still remains, why not online?
Aruna Kapoor, a long time data science expert claims young Indians are becoming tech friendly, but they do not trust the internet for matters such as exam taking. 'Living in a city can often constitute to living in a virtual bubble. We feel very safe using smartphones and computers to make payments and stay connected to friends, but matters of exam-taking are on another level entirely'
We validated Aruna's claim when we asked students who choose offline mode as to why they didn't choose online mode of examination. Kamal Rajan, a candidate who has chosen offline mode explains his choice. 'For the most important exam of my life, I don't want to depend on a machine. What if the power goes out? I know it sounds silly, but I don't want to take that risk. I'm familiar with the PBT format and I will give JEE Mains in the same way'
Sooner or later, the tide will come towards online mode, believes IT expert Rakshit Soni. 'It is a much more efficient way of conducting exams as compared to PBT. There is a lesser chance of cheating. Time management is much more straightforward, and the cost of all the stationary required is eliminated. Of course there are risks, but they are far less compared to the risk of involving humans in the examination process which we have been doing for a long time '
Rakshit makes some good points, but one thing is certain. People won't accept and acclimatize to online mode of examination as quickly as imagined. Rome wasn't built in a day and similarly, the people of India will not accept something new so quickly.
Give it time...