When it comes to 'Top 10s' and 'Engineering Colleges', we have been accustomed to finding many articles ranking colleges and universities listed on the basis of many factors; ownership, academic quality, placements, perception and other factors.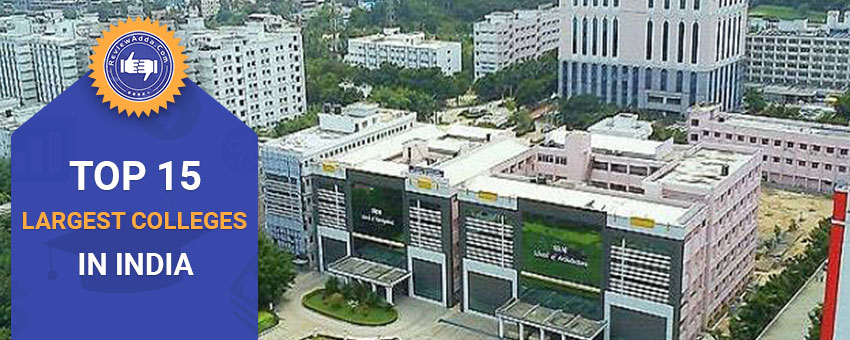 SRM is the Largest Engineering Institution in the country by sheer student intake volume
Bringing a top 15 list this time for you, we will be ranking colleges on the basis of their student intake volume.
Though government colleges remain the best institutions for fields such as engineering and management, they form a small chunk of the vast majority of students pursuing these courses. Private universities and colleges together produce more engineering graduates every year than government colleges, signifying the importance of these institutions in forming a major portion of India's skilled workforce.
Before delving into the topic, there is also a need to understand as to why student intake is an important factor to account for?
Student Intake: Need for regulation or a free market approach?
Student intake in engineering colleges has become a topic of ripe discussion in many circles of educationists, professors and students.
In the old days, institutions such as the IITs and BITS had a very low intake to make sure the quality of students didn't dwindle and the quality of teaching was not compromised at any point of time. With the advent of mega colleges such as VIT, SRM and many others, the scenario has changed significantly.
Student intake of over a thousand has become a usual occurrence, which ten years ago would've seemed pure hubris. Universities such as VIT & SRM and many others have a extremely high intake, so much so their entire student population stands at par with the population of many sample towns and villages in India.
Is this trend a sign of worry? Aman Singh, a tenured professor at a top B-school in Delhi gives his two cents. 'It is a sign of worry, definitely', says Singh.
'Colleges and universities have a direct incentive to increasing student intake: they make more money. It is as simple as that. How they manage to educate these many students while maintaining uniform quality of education is beyond my intellectual prowess. If college administrators at these colleges are indeed so successful at managing this proportion of students, they should take my job and come at teach at B-schools. To me, it is a managerial miracle too good to be true'
While Singh may seem too scathing in his assessment, he is not far off the mark. Some college intakes have gone through the roof in recent years.
College Rankings based on student intake
We have compiled a list of colleges below ranked on the basis of their intake. This list is in no way a commentary on the quality of engineering courses offered at the university.
Intake: 5750
SRM University has the highest intake numbers in India for engineering courses. Established back in 1985, SRM has become a name synonymous with technical education.
SRM has four campuses in India out of which three are in Chennai and the newest one in Modinagar (near Delhi-NCR). Admission to engineering courses offered at SRM is done on the basis of performance in SRMJEEE (SRM Joint Engineering Entrance Exam). More than one lakh students apply for the exam every year, highlighting the popularity of the institution amongst engineering aspirants.
Graded 'A' by NAAC, SRM is one of the few technical institutions in India to be accredited by ABET (Accreditation Board of Engineering and Technology), an organization which accredits colleges and universities in the US.
In 2017, SRM was forced to drop University from its name after a directive given by the UGC. This was done as the Supreme Court of India ordered all 'deemed-to-be' institutes to drop university from their name. SRM was one of them and thus, it followed suit.
Intake: 2430
Amity University is one of the most popular institutions in the region. Besides engineering, it offers courses in many other fields such as commerce, MBA, Law and humanities. With its engineering intake standing well clear of other institutes in the region, Amity is one of the biggest brands of higher education in the Delhi-NCR region.
Approved by UGC and accredited with 'A' grade by NAAC, Amity has over 1,25,000 students studying across its various campuses in India and around the world, making it the biggest educational body of India in sheer size.
Amity offers direct admissions on the basis of board marks and also conducts its own entrance exam, Amity Joint Entrance Exam (Amity JEE).
Intake: 6220
Vellore Institute of Technology (VIT) is the rising star on the Indian education scene, moving higher in college rankings with every passing year. Even with its high intake, VIT is one of the few colleges to have maintained a steady quality in academics and placements.
Offering admissions to students only on the basis of performance in VITEEE (Vellore Institute of Technology Engineering Entrance Exam), a three hour long entrance exam held annually during the month of April.
Besides the Vellore campus, VIT also has campuses in Chennai, Bhopal and Amravati. With a stellar reputation paving its way, VIT aims to become one of the most trusted names in Indian education. It is accredited by NAAC with an 'A' grade and was approved for ABET accreditation for over 10 B.Tech courses offered at the institution.
Engineering is only one of the courses offered at VIT with other mainstream courses such as MBA, Law and Architecture also being part of the curriculum for undergraduate.
Intake: 2000
Institute of Technical Education and Research in Bhubaneswar is a technical institution part of Siksha 'O' Anusandhan University. The oldest institution of the university, ITER was established in 1997 in an endeavour to increase the presence of quality engineering colleges in the region.
Over 21 years later, ITER has become one of the most acclaimed engineering colleges in Orissa. Although the intake is on the higher side, the college finds many takers amongst engineering aspirants.
Placements at ITER are decent, but not as good as the NITs and their Tier I and II colleges. Consider other factors such as fees affordability and academic curriculum before joining.
ITER conducts its own entrance exam for admissions, but a majority of its students apply though JEE Mains which is a provision made available by the institution.
Intake: 1900
Shanmugha Arts Science Technology & Research Academy (SASTRA) is amongst the most acclaimed colleges for engineering in Tamil Nadu. With a heavy intake of nearly 2000 students, SASTRA is an institution offering courses ranging from engineering and management to science and business studies. SASTRA has state-of-the-art facilities to offer the best possible infrastructural qualities to students at its institution.
Established in the same year as VIT in 1984, SASTRA has witnessed a similar growth trajectory as its Vellore counterpart. The placement program at SASTRA is also very impressive with almost 80-85% of candidates getting recruited every year at a median package of 3.35 LPA. Besides campus recruitment nearly 100-120 student from every batch each year highlighting the interest generated amongst a sizable number of students to further pursue academics.
SASTRA is recognized and accredited by NCTE and DEB respectively.
Apart from the regular courses, SASTRA also offers distance learning education for courses such as B.Ed and BA. The course is conducted through an online portal designed by the university administration.
Intake: 2760
Manipal University is amongst the most well known universities in India for engineering and medical sciences. One of the oldest institutions on this list, Manipal is very popular amongst Indian engineering and medical aspirants.
Accredited by NAAC with an 'A' grade and recognized by UGC, Manipal is not an institution in wont of certifications and accreditations. It conducts admissions every year through MU-OET (Manipal University Online Entrance Test). Though the intake is on the higher side, there is little doubt over the quality of academics and placements at Manipal University.
Kasturba Medical College, one of the most respected private medical colleges of India is also a part of Manipal University highlighting the popularity of the institution.
Get Updated Review ( Voice Based Alumni Feeback)
Intake: 1739
Kalinga Institute of Industrial Technology is one of the most popular technical institutions in Orissa. Often counted amongst the best private institution for engineering in East India, KIIT attracts a majority of its students from outside the state highlighting the popularity of the college outside Orissa.
Established in 1992, KIIT came into being as an Industrial Training Institute for the purpose of promoting technical education in Orissa which was languishing at the time. After 26 years, KIIT has become a leading name for engineering education in India.
Consistently ranked amongst the top 100 engineering colleges of India, KIIT conducts admissions through its very entrance exam known as KIITEEE (KIIT Engineering Entrance Exam).
It is also accredited by NAAC with an 'A' grade and a member of the Association of Commonwealth Universities (ACU). It is also recognized by UGC as an official university.
Intake: 1722
Located in Faridabad, Manav Rachna International University (MRIU) is one of the biggest engineering institutions in terms of student intake in the region. It started back in 1997 when India was in dire need of qualified technically-adept engineering graduates.
After being on the education trail for over 21 years, MRIU is an extremely recognizable name in the Delhi-NCR region for the teaching of a number of courses amongst which engineering is the most popular.
MRIU also offers other popular courses such as MBA, BBA, B.Sc and LLB. Though it does have its own engineering entrance exam, most MRIU aspirants apply through their respective JEE Mains rank. Counselling for engineering courses is done in the month of July.
Approved by UGC as a recognized university and graded 'A' by NAAC, MRIU has no shortage of accreditations. Being present in Faridabad, MRIU has also been able to establish several noteworthy alumni networks and industry connections to improve and strengthen the placement program at MRIU.
Intake: 2320
Situated in the periphery of Dehradun and and the heart of North India, University od Petroleum Studies has recently come into the limelight after being named in the top 100 engineering institutions in the country by the National Institute Ranking Framework (NIRF).
Karunya is also accredited by NAAC and approced by UGC. Placements at UPES are decent with the median salary package around 3.5 LPA.
For admissions, UPES organises an entrance exam by the name UPES-EAT (UPES Entrance Aptitude Test). Usually conducted in the first week of April, performance in UPES-EAT determines whether a student is eligible for admission to UPES or not.
UPES began as a college back with a key focus on petroleum and mechnical engineering and it has maintained a similar reputation. It also has other courses for students from different fields of study to seek admission to.
Intake: 1490
The oldest engineering college on this list, Thapar University is a name synonymous with higher education in Punjab and North India. Established in 1956 at a time when India faced a dearth of technically qualified professionals, Thapar came into existence to produce engineers for the industrial revolution of India.
62 years on, Thapar retains the same charm in a different time when engineering has changed from a field of necessity to field fuelled by obsession. Nevertheless, the B.Tech program offered at Thapar stands amongst the best engineering courses in the state.
Approved by UGC and NBA and graded 'A' by NAAC, Thapar is a reputable name trusted by a number of engineering aspirants for B.Tech education every year. Besides engineering, Thapar also offers other courses such as MBA, BE and ME.
It has recently earned some flak from many aspiring students because of the increase in fees. The current figure which stands somewhere around 16 lakh is an amount too exorbitant for middle class and lower income groups.
Placements at Thapar are not an issue with its stellar reputation. Many industry-leading companies visit the campus every placement season for recruitments. .
Intake: 1320
The youngest entrant on this list, Vignan started 10 years back as an institution focusing on promoting technical education in Tamil Nadu.
Its popularity in the state and the nation became apparent when it was named amongst the top 100 engineering colleges of India in last year's edition of NIRF rankings. Approved and recognized by UGC and AICTE respectively, Vignan also has the distinction to be awarded an 'A' grade by NAAC.
Admissions at Vignan are conducted through student performance in JEE Mains. With a high intake, JEE Mains cutoff for Vignan is generally very low. However, getting a good branch isn't easy as most students applying fill up the mainstream branches such as CS and IT first.
Intake: 4291
Lovely Professional University was established in 2005 as an all-round institution covering practically every field of study. Almost 13 years later, they have managed to do that exactly that by becoming one of Punjab's biggest universities for science and technology.
Recognized by the UGC, NCTE and COA, LPU is also a member of the Association of Indian Universities (AIU). Spread across 600 acres, LPU houses over 10,000 students from all fields of study at its campus in Jalandhar. Unlike other universities, it has only one campus.
Admissions to LPU are conducted through two channels; LPU-NEST (LPU National Eligibility and Scholarship Test) and JEE Mains. The advantage with giving LPU NEST is obvious, as the students can get a better scholarship through a much easier exam than JEE Mains.
Though its engineering course remains the most popular, LPU was ranked 18th for law studies by the India Today Magazine. Placements at LPU are generally decent, but not as good as some other top government colleges.
Intake: 1260
Jaypee Institute of Information Technology is the best engineering college present in the Delhi-NCR region. Its popularity is not restricted to Noida itself as many students from other states vie for seats at JIIT.
Approved by UGC and AICTE and accredited with 'A' grade by NAAC, JIIT offers four courses in B.Tech, ECE, CSE, IT and Biotech. Since it has 'deemed-to-be' university status, JIIT was forced to drop the 'university' tag a couple of years back on the directives of the Supreme Court.
JIIT admissions are based purely on the JEE Mains score of the respective candidates. Cutoff for CSE at Noida campus is usually from 50-60k. The cutoff has fallen significantly in the past few years due to the increase in intake which has made admission easier.
Jaypee also has other campuses offering B.Tech courses in Noida, Solan, Guna and Aligarh. Admission to the other campuses is also done through JEE Mains and their respective cutoff is even lower than the Noida campus. .
JIIT placements are a major reason behind the popularity of the institution. Mostly all students sitting for placements get recruited every year at the Noida campus.
Intake: 1080
MS Ramaiah Institute of Technology is one of the most famous engineering colleges in Bangalore. Often regarded amongst the top private universities in India, MS Ramaiah is known widely in South India for providing a solid B.Tech program.
Its B.Tech course is approved by the NBA and graded 'A' by NAAC. Having been in the education sector since 1962, MSRIT is the oldest engineering college on this list.
A great part of its appeal is its excellent placement program. Most of the students eligible for placements are recruited during campus placements with a median package of 5 LPA. A large portion of B.Tech graduates from MSRIT also pursue higher studies in India and abroad which is another positive indicator.
Like most colleges in Karnataka, B.Tech admissions at MSRIT are done through both KCET and COMED-K. Based on the release of the common merit list, students are invited for counselling.
Intake: 2209
One of the upcoming institutes for engineering in Chandigarh, Chandigarh University is also on the list for colleges with largest student intake. CU has become very popular amongst engineering aspirants in Chandigarh and Punjab for B.Tech admissions.
Established in 2012, CU has seen a rapid rise in fortunes with its impeccable infrastructural capabilities and stellar performance in campus placement.
Approved and accredited by UGC and AICTE respectively, CU also offers courses other than the ones from the technical domain like many other institutions on this list which offer management courses such as MBA.
CU offers admissions to its BE program based on performance in JEE Mains. The other courses it offers such as MBA are also covered under standard exams such as CAT, MAT and other standard MBA entrance exams.
Placements at CU are excellent with almost 3 quarters of the students getting placed. Furthermore, a good portion of students also pursues higher studies straight out of college, which is a good indicator of the quality of teaching and resources at the college.
Note: This intake only for an engineering program.
Source: NIRF, UGC & NAAC