Topic We Cover: Top engineering colleges in North India
1. The quality of engineering in India
2. Top Engineering Colleges in North India
3. The States
4. The factors of comparison
Placements
College perception in industry and educational circles
Infrastructure
Quality of education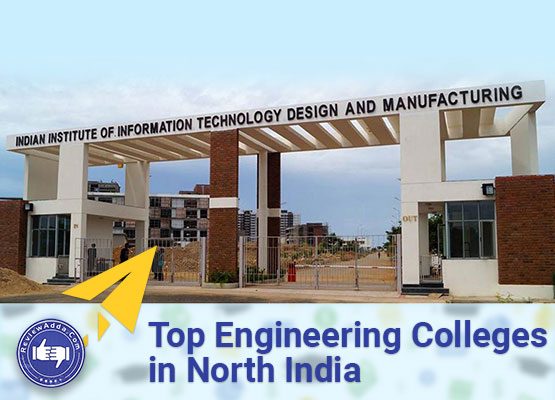 IIITDM Jabalpur is amongst the Top private engineering colleges in the North India
The title begs a question.
Why do we need to look specifically at North India? It's strange how we tend to separate regions for specific identification at times. USA, the world's third largest country has only seldom been divided and categorized as North US or South US since the Civil War in the 19th century. Why do we as Indians feel the urge for specificity? The answer lies in India and its history.
Unlike many other countries, India is an assimilation of a voluminous number of cultures. Being Indian doesn't merely imply belongingness to one particular nation, but roots seeping through the very vestiges of diversity, pluralism and liberalism.
This is the reason why one simply can't view India through one pair of glasses. The same holds true for a field like education, where nuances and tendencies separate colleges and universities in North and South India.
North India is home to some of the country's most prestigious colleges and universities. Leaving aside the prominent government colleges, there are many privately run colleges and universities which gather a lot of clamor during engineering admissions every year.
Recent surveys commissioned by the Queen Elizabeth Prize for Engineering suggest that India produces the world's largest number of engineers. These numbers surpass developed nations such as US and UK and developing nations such as China and Brazil as well. While lot of people often speculate why engineering is turning into such an obsession in India, one thing is increasingly becoming clear: the will to create a quality engineer is increasingly decreasing compared to the obsession of simply becoming an engineer.
The quality of engineering in India
The tale of engineering in India resembles the tale of great protagonists. The initiation began from the very bottom of the barrel, the rise meteoric in every sense of the word and the eventual downfall due to a number of reasons.
There a number of reasons behind this collapse in quality and demand for engineers. To understand why we are at the position we find ourselves in, we have to go down to the very root of the problem. What was the principal reason behind the downfall of the quality and value of engineering?
1. Gap in the level of CBSE exams and engineering entrance exams
Toppers from premier engineering entrance exams such as JEE Advanced and BITSAT have always attributed separate training for competitive exams as a key reason behind their success. The question remains, why is there a disparity in the level of board exams and entrance exams?
The answer lies in the hoopla surrounding engineering in India.
In 2013, 1.4 million or 14 lakh students appeared for JEE Mains. This statistic created a new record, making JEE Mains one of the biggest exams to be conducted on the same day in human history.
If the demand for top engineering colleges in India will be as high as it has been in the past few years, engineering colleges will have no choice but to increase the difficulty of the paper. As the IITs and JEE-Mains board has slowly increased the level of the exam, the CBSE board exams have been swarming around the same plateau.
Since the CBSE hasn't changed much, the schools haven't found the need to change their methodology or focus either. This ignorance from the CBSE has propagated into schools and led to the unforeseen rise of coaching centres.
2. The rise and rise of private tuitions and coaching centres
Since the schools failed to help students prepare for Engineering Entrance Exams, students turned to private tuitions and coaching centres.
Raman Sharma, an IIT Delhi graduate helps us understand the dilemma students face during their final years in school. 'Until Class 11, I never attended any tuition classes while most of my friends thronged to tutors during exams. I choose science for the final two years of my schooling with the aim of joining an engineering college after school. However, my teachers were more interested in concentrating on the CBSE board exams. What is the point of scoring 100% in Physics or Chemistry if the score will have bearing in helping you make it to some of the Best Engineering Colleges?
Many faculties at these coaching centres disregard CBSE boards as a mere hogwash.
If engineering at IIT, NIT or other top engineering college is a student's aim, what is the point of CBSE?', says Manish, a faculty at a top coaching centre in South Delhi. 'Yes, you have to pass your subjects, but what is the value of board performance? If you really want students to take school and board exams seriously, you should raise the level of CBSE as well. Blaming coaching centres is easy, but true introspection is difficult. This is where CBSE and its affiliate schools are jointly misguided'
Responding to the cynicism surrounding school education, Dr Rashmi Arora, the physics HOD at a renowned school in Delhi says, 'You cannot put a value to school education. Coaching centres teach and operate at an intensity which is simply too strenuous for most students. Schools however move the cart at a pace which in inclusive for all students. Besides, most students should focus on clearing entrance exams after Class 12. The IITs allow 12th pass students to sit for exams every year. Where is the madness behind clearing JEE in Class 12 itself coming from?
Dr. Arora isn't wrong. Students can drop for a year and focus whole-heartedly on entrance exams. However, most students don't have one extra year to spare. More importantly, being a year behind can affect the standing of your resume as well.
3. The overdrive of private colleges in India
Two decades back when India was still trying to tap the available human resource in the economy into the IT sector, the only colleges of significant repute were the IITs and RECs (later renamed as the NITs)
To blossom into one of India biggest sectors, the IT industry needed the influx of a large number of technically-enabled engineers every year. While the IITs had quality engineers, they simply didn't have the necessary manpower to match the demands of burgeoning IT companies.
This is where private colleges came in.
To meet the manpower needs of the IT sector, private colleges sprang up almost overnight offering engineering degrees with a key focus on IT education. This setup worked like clockwork as the IT sector got the fuel it needed to turn an upcoming field into one of modern India's greatest jobs revolutions.
Like all revolutions reach an impasse, the IT sector faces a similar prospect. New technologies such as automation and AI are being adopted and encourage in place of regular human engineers. The mass layoffs in the IT sector are no coincidence. At the end of the day, IT companies are corporations looking for ways to maximize revenues and cut margins. The easiest way to accomplish this is adopting faster and efficient technologies.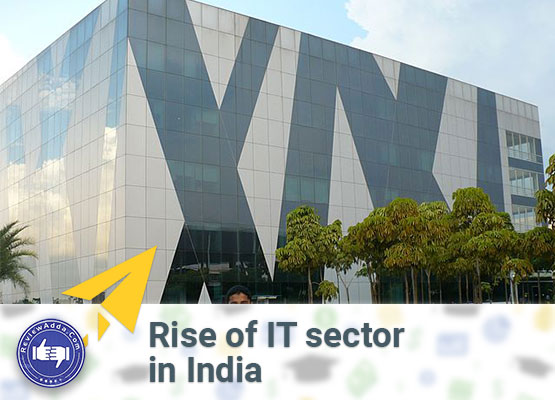 Infosys has played a major role in ushering the IT Revolution in India
Unfortunately, many private colleges and higher education bodies such as UGC and AICTE couldn't see this change coming. The unabated rise of private engineering colleges has led to severe fall in the quality of technical education in India. As of 2016, India had nearly 4000 engineering colleges with more than 1.7 million seats on offer. The number of jobs available for these many engineering seats scarcely scratches the surface.
These factors, not exclusively, but together have resonated into the collapse of the Quality of Engineering Education in the country. In a scenario such as the one engineering aspirants are facing as of now, it is of great importance to know the Best Engineering Colleges in the Country.
---
Top Engineering Colleges in North India
Top engineering colleges analysis requires wholesome analysis of a variety of factors. While most people consider placements as the only true factor of an institution's worth, placements are essentially only product of a number of other factors. These factors are faculty, student-to-faculty ratio, intake, infrastructural facilities, industry integration and alumni networks. These factors put together play a crucial role in driving placements.
While discussing the Best Engineering colleges in North India, it is wise to leave the IITs, NITs and other government colleges out of the equation. The popularity and renown of these colleges is already established. Seldom do students need to be told of the excellence of these engineering colleges. Thus, to narrow our search down, we will only look at the top private engineering colleges.
The States
North India is an amalgamation of many states. The vastness of India can sometimes blur the lines over which states should be included in the rankings. To establish clarity below is the list of states being considered for Ranking the top engineering colleges.
Uttarakhand
Himachal Pradesh
The factors of comparison
Comparing colleges or any two or more entities without placing any discernable factors is nothing more than spouting opinions with prejudice. Establishing clear factors while comparing colleges presents coherent results and allows students to analyze each factor independently.
Out of the many scales upon which Engineering Colleges can be measured, we chose four factors which matter the most to students. Each college or university has been given a numeric score out of five corresponding to each factor. The college scoring the highest total across the four factors has been ranked at the top and so on.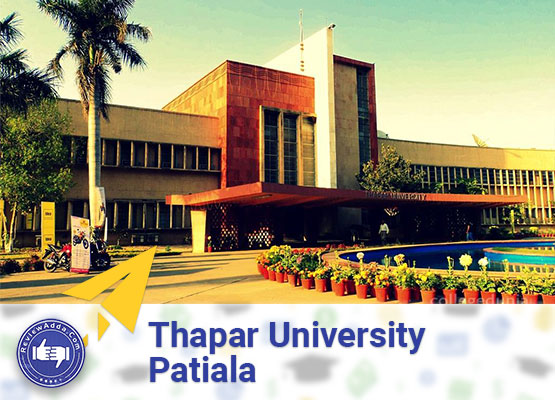 Thapar is trusted name for engineering education in North India
The factors chosen are:
1. Placements
One might assume we have fallen prey to petty populism, but placements are a defining metric to measure a college. As mentioned before, placements are a product of a multitude of factors. Subsequently, an institution's placement record is a concise measure of its relative standing relative to other Top Engineering Colleges in the country.
A crucial factor while determining the true image of an engineering college's placement record lies in understanding its dependence on IT companies for placements. For the last 15 years, IT companies have acted as mass recruiters during campus placements across various colleges and universities in India.
Seeing the slow decay of jobs in the IT sector, the full brunt of this fall will be felt across many campus placements in the coming years. Thus, it is necessary to analyze the dependency of these institutions on the IT sector.
2. College perception in industry and educational circles
In the case of India, perception is everything. One could argue perception is a factor applicable to all walks of life. As humans, we take actions and decisions based upon our own idea what general perception would be.
The same is the case for choosing an engineering college in India. For instance, most people in India are fascinated by the idea of the IITs. How many of them know the kind of courses IIT offers? Not many from the general public. However, most of them have made a favorable assumption about them based upon public perception.
To nab the best prospective talent for technical education in India, engineering colleges in India have to maintain a stellar perception amongst students, teachers and the industry in general.
3. Infrastructure
Often students tend to equate infrastructure simply with building and structure. When discussing a college, infrastructure implies to a holistic view of the college taking into account factors such as college environment, extra-curricular facilities, labs, library and new age teaching resources.
The first impression of a college is made by its infrastructural capabilities. Furthermore, technical education mandates the presence of a certain level of infrastructural amenities which Indian engineering colleges have to provide.
Get Updated Review ( Voice Based Alumni Feeback)
4. Quality of education
A major factor which many students consider before taking admission is the academic quality of the engineering college. Private engineering colleges in India often tend to be lethargic in terms of curriculum improvements and industrial integration. While there is no certain way of ascertaining the quality of teaching, we can measure the extent of faculty quality of checking how many of them have PhDs.
Before delving into the rankings, the scores awarded to each college are relative to the colleges and universities on the list and not absolute scores. As mentioned before, the rankings are only for private engineering colleges in North India.
Ranking

College/University

Placements- dependence on IT sector (out of five)

Perception (out of five)

Infrastructure (out of five)

Faculty to student ratio (out of five)

1

Birla Institute of Technology and Sciences (BITS) Pilani

4.9

4.8

4.6

4.7

Not solely dependent on IT sector with many students getting placed in core companies

BITS has always been a trusted name in education since its inception

BITS incorporates US university-style infrastructure with Indian customs and tendencies

Nearly 75% of the faculty at BITS hold PhDs. This is a very high percentage, more than most top IITs as well

2

Indian Institute of Information Technology, Design & Management (IITDM), Jabalpur

4.6

4.3

4.2

4.7

Being an IT based college, most placements are in IT. Average package is very high

IIIT brand name lends a generous perception to the institution

Have an inherent focus on research-based learning and practical teaching

Out of 57, 55 faculties have PhDs

3

Jaypee Institute of Information Technology (JIIT) Noida

3.9

4.0

4.1

4.1

Nearly all students from the main branches get placed every year. However, dependency on IT sector is high

The perception in and around the region is very good.

Noida campus offers only CSE, IT, ECE and Biotech. Infrastructure for these branches is readily available

54% faculties are PhD holders

4

Thapar University, Patiala

4.2

3.2

4.0

4.6

Placement record for undergraduate engineering is very good with a good mix of companies visiting the campus

Well known and respected in Punjab. However, recent news of student accidents and drug abuse haven't helped

Ranks amongst India's best infrastructure for engineering

73% faculties have PhDs at Thapar University

5

Maharaja Agrasen Institute of Technology (MAIT) Delhi

3.7

4.4

3.4

4.0

Placement numbers are very good, but dependence in IT sector is high

Regarded as the best engineering college under IPU

Lacks the financial muscle to match other universities

Known for top draw faculties

6

Jamia Millia Islamia (JMI), Delhi

3.9

3.8

3.1

4.1

Placements are generally decent with a good mix of industries visiting

Very famous in Delhi

Lack the financial clout of some other private university

Almost all faculties are PhDs, but number of faculties is less compared to other colleges

7

Ajay Kumar Garg Engineering College (AKGEC), Ghaziabad

3.8

3.8

3.6

3.6

Placements at AKGEC have a reasonable mix of core companies and IT sector visiting for campus hiring

While it isn't as widely known as other colleges, AKGEC has a niche reputation amongst UP engineering aspirants

Overall focus skewed towards placements rather than research and subject focus

38% faculties have PhDs at AKGEC

8

Amity University, Noida

3.6

3.2

4.0

3.7

Amity Placements are heavily reliant on IT companies

Due to immensely high intake, perception isn't as positive as other top colleges

Amity lays down the marker for world class infrastructure with state-of-the-art labs and e-learning resources

With almost 850 faculties, nearly half have PhDs in their respective dissertations

9

ITM University, Gwalior

3.5

3.4

3.9

3.6

Reliance on IT sector is very high

Since it is still relatively new, perception is less favorable compared to other engineering colleges

Due to low intake, general facilities are more easily accessible and environment is favorable for learning

Only 38 faculties have PhDs amongst 87

10

Jaypee University of Information Technology (JUIT), Solan

3.5

3.5

3.8

3.8

As the name suggests, JUIT is focused primarily on the IT sector

General reputation is good, but isn't as famous as its Noida counterpart

Reasonably well-maintained infrastructure with key focus on IT

67% faculties have Ph.Ds

11

SRM University, Sonepat

3.3

3.5

3.7

3.5

Since it was only established recently, placements cannot be judged

Banks on the SRM name for perception of its NCR campus

Infrastructure is a template from its South Indian counterparts

Healthy mix of PhDs and M.Tech faculties

12

Manipal University, Jaipur

3.4

3.3

3.6

3.4

Most students get placed, but majority hiring industry is again IT

Overshadowed by its sister institution in the South

Like all Manipal institutions, infrastructure is world-class

Faculty-to-student ratio is skewed

13

JSS Academy of Technical Education (JSSATE), Noida

3.3

3.4

3.5

3.4

IT industry are the major hirers at JSS

Famous primarily in Delhi-NCR region

Infrastructure is lacking for all branches of engineering such as civil, ECE and mechanical

Faculty-to-student ratio is optimal, but PhD faculties are less in proportion

14

Galgotia College of Engineering and Technology (GCET), Greater Noida

3.3

3.4

3.4

3.3

IT giants such as HCL, TCS and Infosys amongst primary hirers

A relatively decent reputation compares to most UPTU colleges

With increase in intake every year, infrastructure is slowly becoming inadequate for students

Rising intake is causing faculty-student ratio to decline.

15

Krishna Institute of Technology (KIET) Ghaziabad

3.4

3.2

3.5

3.3

Major recruiter are IT companies such as HCL and other local IT-based companies

Relatively unknown outside NCR region

College environment healthy due to low intake

Lack of PhD qualified students

16

ABES Engineering College (ABESEC) Ghaziabad

3.3

3.5

3.3

3.3

IT sector counts amongst major campus placement recruiter

Renowned amongst UPTU-affiliated institutions

Infrastructure is found lacking relative to Amity and Manipal

Lack of PhD qualified faculties at the helm

17

YMCA University of Science and Technology (YMCA-UST), Faridabad

3.6

3.5

3.1

3.2

Most recruiters are from IT sector, but presence of manufacturing hub nearby bolsters core company hiring

Relatively respected amongst students and industry hirers

Infrastructure is wide off the mark considering the level of other private institutions

Lack of PhD qualified faculties

18

Lovely Professional University (LPU), Jalandhar

3.2

3.1

3.5

3.3

Only a handful get placed in core companies

Extremely high intake acts as bane for reputation

Resembles the 'Cosmopolitan college' model. Adequate facilities and strict environment

Ratio of PhD qualified faculties is less

19

Chitkara University, Chandigarh

3.2

3.3

3.5

2.9

Core company placement ratio is almost negligible

Chitkara is well known in Punjab

Like Amity and LPU, adopts a cosmopolitan campus-like approach

Skewed faculty-student ratio and lack of PhD holding faculties

20

Chandigarh University, Chandigarh

3.1

3.1

3.3

3.0

Dependent on mass recruitment from IT companies

Recently established. Has garnered positive feedback from alumni

Infrastructural capabilities are suitable for some branches and inadequate for others

High intake and low number of PhD holders

21

Shiv Nadar University (SNU), Dadri

3.0

3.0

3.3

3.1

Like most private universities in UP, SNU is heavily conditional on IT sector for placements

Recently established. Perception is positive as the founder, Shiv Nadar, is a well known industry big-wig

Adequate infrastructure for technical education

Low intake insures faculty-to-student ratio is optimal, but PhD faculties are low in number

22

G.L Bajaj Institute of Technology and Management, Greater Noida

3.0

2.9

3.0

3.1

IT sector mass recruitment a key source of placement

Largely unknown outside NCR region

Very strict in terms of academics with relatively low focus on research

Faculty-student ratio is workable but number of PhD faculties is very low

23

IMS Engineering College, Ghaziabad

3.0

2.8

2.9

3.0

Core company recruiters only take a handful of students

Usually placed amongst mid range UPTU colleges

College environment isn't ideal relative to other colleges on the list

Intake is high in mainstream branches which have a lack of PhD qualified faculties

24

Raj Kumar Goel Institute of Technology (RKGIT), Ghaziabad

2.9

3.0

2.8

2.9

Placement in IT is also average. Core company hiring almost negligible

Perception is relatively good compared to other colleges in UP

Isn't well equipped to successfully produce high-grade engineers

Lack of PhD faculties is a major concern

25

Manav Rachna International University (MRIU), Faridabad

2.9

3.0

3.0

2.8

Placements are heavily distorted towards the IT sector

Perception is favorable in Delhi-NCR region

Infrastructure is adequate for some courses, but inadequate for others

Intake is too high for the level of infrastructure and the relative faculty strength

26

Maharishi Markandeshwar International University (MRIU), Ambala

2.7

2.8

3.2

2.9

Placement programme isn't up to speed due to lack of alumni network

Since it is relatively new, college perception is still on a slippery slope

Very stable in terms of infrastructure

Lack of PhD scholars and high intake work against MMU

27

GLA University, Mathura

2.6

2.7

3.0

2.8

Lack of proper recruitment drive to absence of strong alumni network and industry integration

Lack of placements drive perception down

Infrastructure for core branch labs and research facilities is minimal

Faulty strength is low compared to the intake of the university

28

Institute of Engineering and Rural Technology (IERT), Allahabad

2.5

2.9

2.5

2.9

Poor placements due to lack of industry integration

Perception is relatively sound due to better academic qualities than most UPTU colleges

Infrastructure isn't adequate for a rounded engineering education

Faculty strength is optimal due to low intake

29

IEC College of Engineering and Technology, Greater Noida

2.7

2.5

2.8

2.5

Placements in IT have also been hit due to jobs slowdown

Isn't widely known outside NCR region

Infrastructure is an issue as many labs are not equipped enough

Faculty strength is optimal, but quality of teaching isn't up to scale

30

Bharati Vidyapeeth's College of Engineering, Delhi

2.5

2.4

2.5

2.5

Placements are found lacking in IT and core sector

Perception isn't great based on various alumni feedback

Infrastructure based on requirements for technical education is inadequate

Faculty strength is low compared to intake