Topic We Cover: Mission BBA Admissions 2018
1. BBA Admissions: A stand alone degree or a prelude to MBA?
2. BBA Admissions- Eligibility
3. BBA Admissions- Procedure
4. BBA Admissions: Top colleges to consider
5. BBA Admissions: Placements
The gateway too many Top B-schools for MBA, BBA admissions will commence next year in 2018. While there are several other courses commerce students have preferred over the years such as B.Com or B.Eco, the recent clamour for MBA admissions has invigorated the demand for BBA Admissions as a specialized course for business oversight.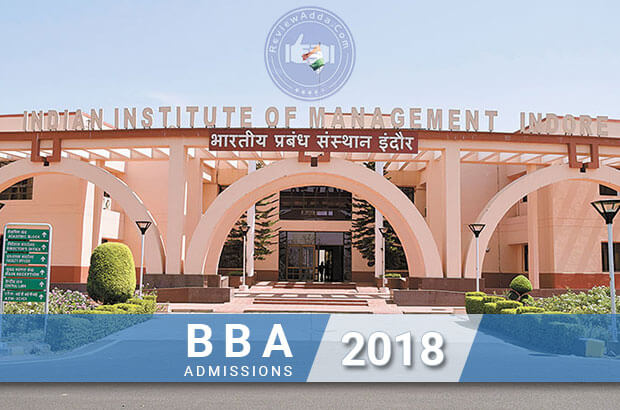 IIM Indore has begun an integrated programme covering BBA and MBA over the course of five years.
An industry demanding students specialized in professional courses rather than traditional globetrotting courses has forced many colleges to introduce Bachelor of Business Administration (BBA) and Bachelor of Business Management (BBM) courses to allay market needs. While B.Com and B.Eco are traditionally diverse degrees with an all-encompassing nature, the lack of industry readiness amongst graduates from these traditional courses has been the primary reason behind the meteoric demand for MBA Graduates.
This demand for MBA Professionals has led to the rise of professional undergraduate courses such as BBA and BBM. Students now are conscious of statistics such as employability and scope in certain industries.
In any company in the world, healthy generation of profits is equivalent to the importance of blood in a human body. To make the most out of a company's operation, business professionals are indispensable. The scope of such a field is endless. From being employees to even successful entrepreneurs, business professionals can meet a wide spectrum of possibilities.
BBA Admissions: A stand alone degree or a prelude to MBA?
Amongst the many queries amongst BBA Admissions aspirants have, this one merits the greatest importance. BBA is in itself a degree and many students consider taking up a job right after graduation. But how high is the ceiling if an employee is only a BBA graduate? Apparently, not as high as many may think.
The purpose of BBA's inception was to act as a beginner's course to the rigours and nuances of an MBA degree. Thus, to consider BBA Admissions inherently means MBA will follow in time. Even though it is a highly specialized course, many industries prefer MBA professionals to handle business affairs over BBA graduates.
Thus, it is essential for BBA admissions aspirants to have MBA in their tunnel vision. It isn't necessary to dive into the rat race for MBA Admissions right after college, but having an eventual plan to go in that direction is pivotal.
This is not to say BBA graduates can't get jobs. The question here is of having a higher growth ceiling rather than employability. A well-honed BBA student will get a job regardless of having an MBA Degree or not, but he/she will still have less scope than even an average student MBA student simply because of industry and market demands.
BBA Admissions- Eligibility
Minimum eligibility of BBA is kept at a very low and basic pedestral.BBA admissions can be pursued by students from all streams, irrespective if they are from a commerce background or not. This draws a stark contrast to eligibility criteria of other commerce courses where streams studied during 10+2 dictate courses in graduation. The only criterion for BBA admissions is having English as one of the subjects during secondary education.
The wide net thrown for BBA admissions allows many students from science and humanities backgrounds to pursue business-oriented courses. Many students choose their streams incorrectly at times and BBA admissions give these students a second chance to rectify ill-made choices.
BBA Admissions- Procedure
BBA admissions procedure is independent of any central authority as deemed universities are free to conduct their own entrance exams. While some universities offer admissions purely on the basis of secondary qualifying examinations, most colleges offer admissions based on performance in BBA admissions entrance exams. Some of the premier BBA admissions entrance exams are listed below along with details.
1. Bachelor of Management Studies Delhi University – Joint Admission Test (BMS-DU JAT)
Delhi University provides BBA admissions in its colleges on the basis of JAT. BBA admissions are considered not only the basis of performance in entrance exams but board exam results and personal interview as well. In perspective, 50% weightage is given to entrance exam, 30% to board exams and 20% to personal interviews.
The exam is conducted for two hours and has a total of 100 questions. Each correct answer is awarded 3 marks and each wrong answer carries -1 marks. The syllabus for the exam includes Quantitative Ability, Reasoning and Analytical Ability, General English, Business and General Awareness.
Students with an aggregate percentage of 60% in board exams in four subjects which should include English and any three other subjects are eligible to appear for DU-CET. BBA admissions forms for this exam are available for Rs. 500 for general candidates and Rs. 250 for SC/ST/OBC candidates.
2. Guru Gobind Singh Indraprastha University Common Entrance Test (GGSIP-CET)
More popularly known as IP University, GGSIPU conducts entrance exams for every different course on offer amongst its affiliate college. Amongst the courses, BBA admissions entrance exam is also conducted. Unlike DU, only performance in entrance exams determines the fate of BBA Admissions aspirants in IP University.
GGSIP-BBA CET is two hours thirty minutes long containing 150 questions. Correct answers carry 4 marks and negative marking is set at -1 for wrong answers. The syllabus for BBA admissions exam is drawn from English Language & Comprehension, General Awareness), Logical and Analytical Ability, Aptitude relating to the field of Management and for Communication Skills.
An aggregate percentage of 50% in board exams and clearing of English exam allows students to sit for BBA Admissions in IP University.
3. Narsee Monjee Management Aptitude Test (NMAT) for UG
Narsee Monjee Institute of Management Studies is ranked amongst the top colleges for MBA in India. It is no surprise thus, that many aspirants aim to pursue BBA admissions from NMIMS. NMAT entrance exam score is the only criteria considered for BBA admissions to NMIMS. To sit for NMAT-UG, candidates should have cleared board exams in their first attempt with an aggregate score of 50% and at least 60% in Maths or Statistics.
NMAT UG is two hours long containing 150 questions from General English, Quantitative, General Awareness, Analytical and Logical Reasoning. Negative marking carries a 1/4th negative penalty.
4. Symbiosis Entrance Test for Bachelors in Business Administration (SET BBA)
Another university known for a strong MBA Programme, Symbiosis conducts BBA admissions through an entrance exam termed as SET. Apart from the entrance exam, BBA admissions are also subject to performance in GD/PI rounds.
SET BBA is 2.5 hours long containing 150 questions from topics such as General English, Quantitative, General Awareness and Analytical and Logical Reasoning. Unlike most exams, SET BBA does not have negative marking. 150 marks are set for the written exam and 25 marks for GD/PI rounds.
Candidates should have cleared their board exams with an aggregate percentage of 50% to be eligible for BBA Admissions.
5. Aptitude Test for 5-year Integrated Programme in Management (IPMAT) at IIM Indore
IIM Indore began one of IIM's first programmes for undergrads as a five-year integrated programme consisting of BBA and MBA. Admission to this programme is based on performance in IPMAT conducted by IIM Indore followed by PI by a panel consisting of professors from IIM Indore and other reputed colleges.
The IPMAT is two hours long consisting of 100 questions from English and Quantitative Aptitude. Four marks are awarded for correct answers and -1 has been set as negative marks for wrong answers. 60% weightage is given to written exam and 40% to PI rounds.
Candidates should have cleared board examinations with an aggregate of 60% to be eligible for BBA admissions to the five-year programme.
6. Christ University BBA Exam
Amongst the top universities for BBA in India, Christ University conducts its BBA admissions entrance exam annually for admission to its affiliated colleges in Bengaluru. Besides the entrance exam, applicants will have to clear the Presentation and PI rounds for BBA Admissions to Christ University.
The exam will be two hours long with 120 questions from General English, Current Affairs, Quantitative Aptitude and Logical and Analytical Reasoning. All candidates who have cleared their 10+2 examinations are eligible for BBA Admissions Exam.
7. St. Xavier's College, Mumbai
St. Xavier's College in Mumbai is an autonomous institution accredited with an A grade by NAAC. BBA admissions are conducted in two stages Stage one has an entrance exam. The examination is conducted for a length of 1 hour 45 minutes comprising of questions from General Knowledge, Current Affairs, Data Interpretation, Mathematics, English Language & Comprehension Skills, Logical & Visual Reasoning, Critical Analysis. A list for Stage 2 is made by combining performance in the entrance exam and board exam performance in a ratio of 60:40.
Stage 2 is a written cum interview round. The final list of selected students will be based on performance in Stage 1 and Stage 2 in the ratio of 70:30.
BBA Admissions: Top colleges to consider
Even though BBA admissions are in essence a stepping stone to an MBA degree, it is always beneficial to look at the best colleges for building a strong foundation in business administration. There are many colleges in India offering top draw undergrad BBA admissions. The Top Ten BBA Colleges amongst them are listed below.
1. Indian Institute of Management (IIM) Indore
The IIMs again find themselves in familiar territory. IIM Indore started the five-year Integrated Programme of Management (IPM) back in 2011. The course set out to rake in top business management talents at the undergrad level and provide a five-year course equivalent of a BBA and MBA degree put together. Only 120 seats are allotted for this specific course at IIM Indore.
The Holy Grail amongst BBA admission aspirants, induction to this programme is predicated upon the entrance exam score and performance in GD/PI rounds. Many students now prefer IPM course over the long drag of pursuing MBA later due to the cohesive nature of the course and guaranteed PGDM from IIM Indore along with other MBA students.
With the added benefit of being taught in an IIM environment which immediately elevates a student's profile, the BBA+MBA programme at IIM Indore has become the most coveted programme for BBA Admissions aspirants.
2. Christ University, Bangalore
One of the oldest colleges in India, Christ University offers BBA Admissions in different fields such as Finance, International Business, Travel and Tourism Management and the traditional Honors. Located in Bangalore, Christ University provides the perfect business exposure for students in the IT and startup hub of India. It also has a long history of turning bright BBA graduates into future MBA executives from Top B-Schools such as IIMs, XLRI etc.
Ranked amongst the top universities for commerce in South India, many BBA graduates pursue MBA from Christ University itself. With a strong placement record and renowned alumni, Christ University has etched its name amongst India's best universities. Besides BBA, Christ University also has an array of courses in Science, Arts, Humanities, Engineering and Commerce.
3. Narsee Monjee Institute of Management Studies, Mumbai
NMIMS has always been regarded as a top draw B-school for MBA. Along with MBA, NMIMS has also opened its doors for BBA Admissions. Induction to NMIMS BBA programme is predicated upon performance in NMAT UG, the entrance exam for BBA admissions. With over six campuses now, NMIMS is spreading its wings and is slated to become the biggest management school in India in the coming years.
Ranked second amongst deemed universities in Maharashtra, NMIMS has become a force in the academic community with over 12000 students and 513 permanent faculties across six campuses.
Get Updated Review ( Voice Based Alumni Feeback)
4. Delhi University
The most popular university in India, Delhi University has started conducting BBA admissions after years of demand from incoming students. Besides its more illustrious B.Com and B. Eco courses, BBA admissions require clearing of the Joint Admission Exam (JAT) conducted by DU after the declaration of CBSE Board results. Shaheed Sukhdev College of Business Studies is one of the best colleges in DU for the fields of management, finance and information technology. It had been accredited by NAAC with an A grade.
Along with clearing the entrance exam, BBA admissions aspirants first have to clear board exam cutoff to sit for JAT. Clearing the entrance exam is followed by a PI round after which BBA admissions are granted.
5. Symbiosis University
Regarded amongst the top private B-schools in India, Symbiosis is one of India's most reputed universities. For many MBA aspirants, Symbiosis University is a dream college to pursue post graduation from. Along with a top draw MBA programme, Symbiosis also offers BBA admissions to freshers through SET UG. Accredited by NAAC with an A grade, Symbiosis University needs no selling as most MBA and BBA admissions aspirants are synonymous with its elite status and repute.
SET UG opens doors for BBA admissions in both Noida and Pune campuses. While the Noida campus is still coming up, SCMS Pune is amongst India's best colleges.
6. Amity University, Noida
Amity University has slowly become one of India's biggest universities in terms of sheer size and expansiveness. A total of over 125,000 students across ten campuses in India and eight abroad make Amity one of India's largest resources of graduates. BBA admissions at Amity are done directly if a candidate has above 80% aggregate in board examination.
Amity University has NAAC accreditation and has been graded A.
7. Madras Christian College (MCC), Chennai
Affiliated to the University of Madras, MCC is another top draw management school for BBA admissions in India. Accredited by NAAC with an A grade, MCC is a government-funded college offering admission only on the basis of board exam results. MCC was ranked 6 amongst other top B-schools for BBA admissions in India, clearly illustrating its solid status amongst management aspirants in India.
Due to its illustrious status, MCC only has 125 seats for its BBA programme. The Cutoff for BBA Admissions is thus very high every year.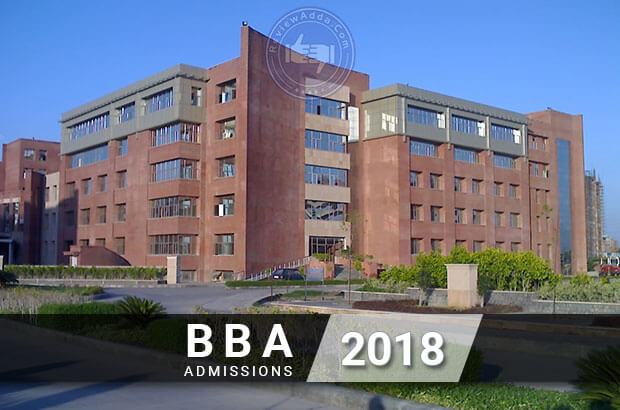 Besides many other courses, Amity University also offers BBA admissions for many commerce field aspirants
8. St. Xavier's College, Mumbai.
One of the oldest autonomous universities in the country, St. Xavier's has long been regarded as one of India's best colleges for management and humanities. Located in the economic capital of the country, Xavier's has a long-standing reputation of churning out top draw alumni in the field of arts, humanities and management. Like other colleges on this list, Xavier's is accredited with an A grade by NAAC.
BBA admissions at Xavier's are conducted on the basis of a multi-stage selection process.
9. Guru Gobind Singh Indraprastha University (GGSIPU)
Amongst the biggest universities in Delhi-NCR region, IP University has long been a credible name for engineering, humanities and BBA admissions aspirants. IPU is graded A by NAAC and has over 84 colleges under its purview.
Besides management, engineering is also a prized course in IP university. BBA admissions in IPU are conducted through the Common Entrance Test (CET) conducted for all different courses offered. In 2017, it was ranked 35 by NIRF amongst management colleges in India. In terms of locality, IPU is spread across various colleges in Delhi, Noida and Ghaziabad.
10. JD Birla Institute, Kolkata
Affiliated to Jadavpur University, JD Birla Institute is a non-funded private college in Kolkata. Like its parent university, Jadavpur University is run parsimoniously due to low college fee and no private funding. BBA admissions to JDBI are conducted in two stages. Stage 1 is applying online by filling up the BBA online registration form which involves uploading necessary documents and providing other personal details. Stage 2 is a PI round and overview of extracurricular activities. All these factors together decide whether a candidate is offered BBA admissions or not.
BBA Admissions: Is it worth it?
It is a question often pondered by candidates after getting their board results. BBA admissions in government colleges are still worthwhile, but spending over 4-5 lakhs over three years for a degree which is essentially a prelude to MBA does seem exhaustively wasteful. Considering MBA is also an expensive course, BBA + MBA turns out to be dangerously high priced after five years.
The lure of BBA is understandable. Because English is the only field amongst BBA eligibility subjects, many students consider taking up this course.
The question then does arise: Are BBA admissions worth pursuing?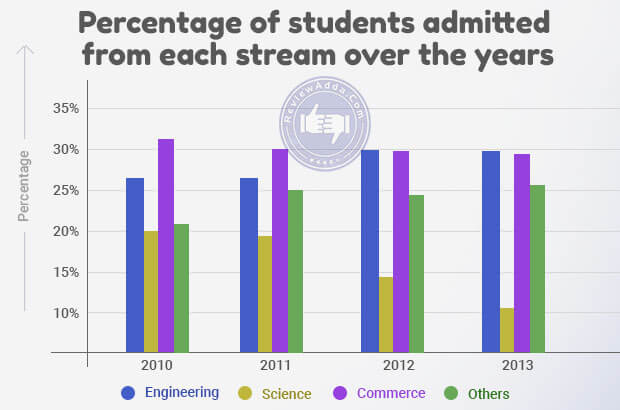 Engineering and Commerce have maintained the lion share of students as pure sciences have fell behind
The answer like all courses is yes. If the college is decent with a reasonable fee structure, pursuing BBA admissions is not a bad idea. The problem in India though, is that most colleges don't fit this criterion. By law, BBA cannot be offered by colleges without affiliation to a certain university. Thus BBA admissions can only be offered by a college affiliated to a university.
This leaves only a select few universities where BBA is offered, because of which students are forced to pick expensive options at private universities. In essence, a BBA is only worth it if the college is worth it. An IPM from IIM Indore is worth paying over the odds. The same goes for Symbiosis. However paying an exorbitant amount for a private university with an expensive BBA programme and dubious reputation is borderline stupidity. In such a case, it is better to go for a more traditional commerce course rather than sticking with BBA.
BBA Admissions: Placements
It is advised not to think too much about placements after BBA. If a job offer comes one's way, brilliant. But to go out on a limb for placements can lead to needless disappointment. Most industries prefer MBA over BBA due to a greater depth in MBA Courses over their BBA counterparts. However, BBA from a decent college can lead to placements.
This offers a wonderful proposition as most B-schools prefer MBA students to have 2-3 years of work experience. Gaining key industrial experience sets a candidate apart during MBA Admissions, especially during GD and PI rounds. This again reinforces the point made earlier about choosing the right college for BBA.