Career Trends Post COVID-19 || Highlights

S.No.
Facts
Status
1.
Data
Click
2.
Research
Click
3.
Journalism
Click
4.
Digital Marketing
Click
5.
Digital Payment
Click
6.
Cloud Computing
Click
7.
Business Analysts
Click
8.
Content Creation
Click
9.
Healthcare
Click
10.
Education Technology
Click
11.
Cyber Security
Click
12.
Ecommerce
Click
13.
Online Education
Click
14.
Insurance
Click
15.
Logistics
Click
16.
Robotics
Click
17.
Conclusion
Click
With lockdowns and forced social distancing, the COVID-19 Pandemic has thrown a curveball that has brought entire world to their knees. We've seen industries come to a stop as people are forced to stay indoors. Among other things, it has allowed people to shop from the comfort of their homes, people to work from home. It has enabled governments to monitor and take targeted action to curb the spread of the virus.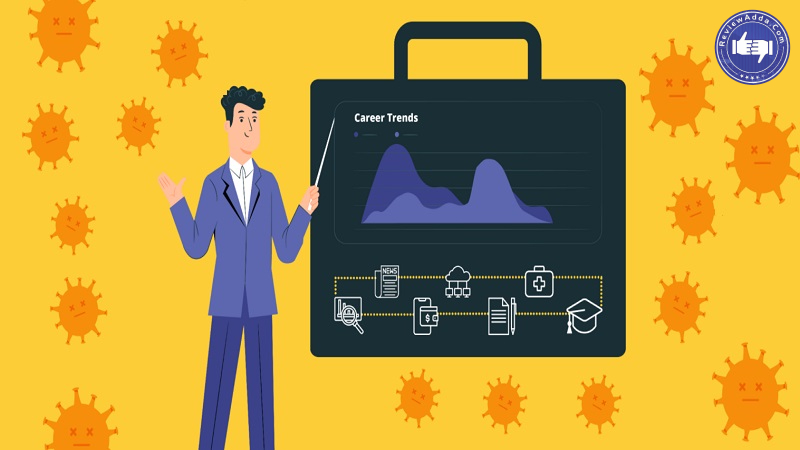 As we anticipate that the lockdown will be lifted soon, we are also anxious about the situation that may persist in a post COVID-19 world. The time is all the more difficult for students who had their career plans in place, and were all set to begin their respective journeys at some of the Best Universities in India or abroad. The world all of a sudden came to a standstill when the coronavirus pandemic broke out. Students who were graduating from college and planning for higher education or were starting out their careers were affected by this adversity as well. We need to know that the Post COVID-19 World will be a complete new era to say the least. This implies that the career and education trends are bound to change.
The past decade saw an improvement in bizarre career domains, stereotypes being shattered, and escalation in the Variety of Career Choices. Now, we are facing a challenge to survive, the time has come to understand the cluster of 'Future-proof' careers. In the last couple of months, unfortunately we got to witness industries being shut, corporations filing for bankruptcy, unemployment on an all-time high, and if we take the word of the Economic Analysts the worst is yet to come. This is the time for students to think in retrospect, and understand the gravity of the situation, vouching for a backup was never as imperative.
Every Recession has presented numerous challenges for every country, making it difficult for industries to survive and strive, but they have also ushered an Era of Opportunities for New-Age Industries to sprout and shape consumer behaviour for decades.
The worldwide reduction of business activity, induced by COVID-19, will basially change the way humanity works, and socialises, for years to come. The COVID-19 crisis will be a catalyst to exceptional changes in every industry. Every industry will be forced to restructure and reform in order to transform into the new realities that will emerge.
In several ways, this pandemic has helped displays the power of technologies such as exposed Cyber Security Risks, cloud and big data, and has helped businesses visualize advanced ways to use data effectively.
While the pandemic will absolutely spur a digital transformation, the Career Trends in a Post COVID-19 era are bound to change, it would be wise to comprehend the reality and prepare ourselves for the same.
To help you understand the kind of career trends to look out for, a list is compiled below:
Data
With the COVID-19 pandemic forcing a mass of people to work from home, we've witnessed a huge spike in data usage across the globe. Statistics demonstrates that global data usage has raise as much as 38 % year-on-year in the wake of the COVID-19 Pandemic. Already, job opportunities for data engineers, data analysts, data scientists, and ML/AI engineers were growing steadily. With the rush in data usage, we can expect this demand to go high even more quickly.
Research
Right from the advent of COVID-19 in China, when the health authorities around the world were contemplating the extent of this virus, research has taken the centre stage. Be it doctors, scientists, pharmacists, analysts, economists, policy professionals, or journalists, each of them along with several other professionals had to rely on research. Considering the scenario, it can be anticipated that the importance of a research based career will see a significant rise in a Post COVID-19 World.
Journalism
If it weren't for News Anchors/Reporters, Journalists, Mass Media Professionals, Magazines, Newspapers, can you imagine getting any relevant information at all about the COVID-19 updates from around the world. This is the new dawn of Journalism that we are witnessing at present, these diligent professionals have been at the front line, risking their lives for the news coverage, just to keep us all informed. The Career Opportunities in this domain are expected to rise, as some of the major Broadcasting and Media Houses, are already hiring professionals globally in order to expand their virtual reach.
Digital Marketing
With large number of people consuming information online, for CMOs Digital Marketing has become a lifeline as they look to reduce marketing spends, drive greater ROI from their marketing dollars, and follow their customers online. In turn, this will end in greater demand for digital brand managers, PPC practitioners, CRM, content & SEO experts, and Email Marketing Specialists.
Digital Payment
As we all continue to stay at home through the lockdown, we still need to pay for the necessities, such as groceries, food, electricity, etc., the last couple of months have witnessed a significant increase in Digital Payments. People are more careful and exchanging currency for a transaction does not comply with the norms of social distancing. The Government as well is encouraging people to use digital methods of payment, and is also supporting the retailers to transition to digital payment mechanisms. Thus, Employment Opportunities will see a significant increase in the mobile payment technology domain.
Increased use of smartphones and higher internet penetration will propel this market to growth percentage in strong double-digits. Governments across the globe will continue to take initiatives to promote digital payments. Through 'Digital India' initiatives India is set to Create Many Employment Opportunities. Every merchant will move towards digital payment adoption, growing the POS (Point of Sale) and mobile payment technology platforms.
Cloud Computing
Who would have imagined that Cloud Computing will be the foundation for each and every corporation in the future?
As cloud computing is affordable and convenient a Post COVID-19-ERA can witness a considerable growth when it comes to scaling a business. Working from home has been successful only because of successful cloud computing technology. With organisations like Google and Microsoft working religiously to further improvise their respective Cloud Computing Network, it can be ascertained that cloud will move beyond the foundational infrastructure and also cover other areas of the organizations like operations, marketing and sales.
Cloud will become the bedrock for every organization in the future. It will witness exponential growth in cloud computing as it is easy to use and highly customized to requirements of scalability. Every industry is likely to move a larger workload of their enterprise applications to cloud. Cloud will intelligible the control of resource consumption, and every service delivery will capitalize on this opportunity.
The Public Cloud has emerged as the backbone of all IT Infrastructure. Even if we go back in November 2019, Gartner had predicted that the global public cloud services market would grow 17% in 2020. This pandemic is likely to increase cloud migration even more. We can foresee a greater demand for cloud architects and cloud IT admins.
Business Analysts
As businesses increase the shift to digital, digital channels will become extent mainstream across sectors such as education, retail, healthcare, and others. As the demand for digital goes up, it will end in greater demand for Business Analysts. Estimates from the U.S. Bureau of Labor Statistics, Demand for Management Analysts, including business analysts, is likely to grow 14 %, between 2018 to 2028.
Get Updated Review ( Voice Based Alumni Feeback)
Content Creation
From Marketing to Movies, content is what has prevailed even during these times of uncertainty. With various businesses surviving because of Posting Relevant Content on Social Media and other platforms, to production houses, releasing their movies on streaming platforms, we can safely assume that the industry will welcome creative and diligent minds in the future. The most intriguing aspect is the diverse nature of content creation. You can start your blog tomorrow if you have the right ideation and agenda, and a touch of creative aspect, as all of us have transitioned to a virtual network, the chances of your blog or work gaining the due appreciation is highly likely. A creative mind can never be at rest, and it certainly can never be contained!
All major networks and studios will launch their 'direct-to-consumer' streaming services, and content libraries, to attract customers who will grow hungry for consumption. Content will cover the entire scope of video, music and gaming, and, with 5G support, this industry will witness stratospheric growth. Subscription services will become more promising with the possibilities of having customized and targeted advertising options, and Ad-free content.
Healthcare
Healthcare comprising of medical equipment, hospitals, medical tourism, diagnostics, pharmaceuticals, and telemedicine is poised for tremendous progress. This sector will certainly advantage a lot from schemes like PMJAY, and other health care expenditures, by the government. Digital health will impact the entire value chain – from testing, medicines, and health cards, to telemedicine. Many disruptions being marred by medico-legal concerns, doctors' accessibility, data base and licensing concerns, will be resolved to create a "24-Hour medical assistance available" country.
Doctors, Nurses, Pharmacists, Pharmacologists, and other related Professions in the Medicine Field will thrive. Not only have they been working day in day out, to help the affected patients, but also a number of them have sacrificed their lives to serve the community.
Allied medicine, and associated industries that manufacture medical equipment, and machinery will see a progressive growth as well. A huge influx of capital is expected to be invested on a global level, for the advancement in Medicine. Careers like Immunology, Virology, and Genomics, will see a positive growth as well.
Education Technology
The schools and Universities Around the World closed their gates for students in consideration of the COVID-19 pandemic. But the show must go on, a student's education should never be compromised, a belief shared by each and every Educator in the world. Online platforms and virtual classrooms, have never been so relevant.
The Universities and schools around the globe have comfortably adapted to the new normal. With Platforms like Coursera, edX, class Central and many others Providing Online Courses for credits to University students has been really convenient, and viable. Similarly, schools have been using Zoom, google Meet and other platforms to conduct the regular classes with students. It would be right to acknowledge that the educational institutions have come of age, and traditional teaching standards will become a thing of the past. This transition is pervasive and will be observed right from pre-school to Universities. Teachers, administrators, and other education providers, will lead this wave of change in a Post COVID-19 World.
Cyber Security
Cyber Security will be at the centre of the new age as every industry will choose digital transformation. The development of safe, and secure payment gateways, and security walls will drive this market growth. It will involve the use of blockchain, application program interface (API), and other advancements to arrest the occurrence of cybercrimes and financial fraud.
A recent study reveals that 86% of CIOs consider security to be their #1 priority. Post-COVID 'remote working' becoming the norm, company data is even more at risk. With people have confidence in more on personal or less secure wi-fi networks, the threat levels have raise. As cybersecurity becomes more crucial, we will see a much greater demand for Security Ethical Hackers and architects.
Ecommerce
The future of e-commerce will be exciting: a lot of new categories will join the basket of ecommerce, or service, making every product, available online. The development will be Higher in Emerging Economies with the increase of internet penetration and data speeds. It is certain that post-COVID-19, the growth rate of ecommerce will outpace earlier levels. Ecommerce will extend from B2C, to B2B, for companies to buy services and products for their workforce.
Online Education
Post COVID-19 education one influential part which will dramatically be affected as it will embrace the digital world in the fastest, and largest scale. Educational Institutions will come of age, and traditional teaching standards will become a thing of the past. The impact will be seen from pre-school to higher education, offering flexibility of learning to students, and flexibility of teaching to teachers. The cost of education will become cheaper and accessible to a larger section of the society.
Insurance
This industry will become relevant and important as the society will become more conscious about health, natural calamities, epidemics, and need for social security. Insurance companies will be seen as service providers, as opposed to entities that issue insurance policies. Individuals will realize the societal value, and importance, of insurance against unexpected events for heath, bankruptcy, retirement, and overall protection for their homes and families. Post COVID-19, it will have utility value.
Logistics
Most companies and Industries are built around delivery models, and post COIVD-19 ambiguity will bring a larger demand for this industry as the dimensions of distribution will expand. Increased efforts to promote self-sufficiency will lead to expansion between regions and territories. Hyper-Local expansion with a stronger emergence of e-commerce players across multiple categories will play a pivotal role. The future of logistics will be paved with High Technology Adoption and transportation additions would reduce cost, time and waste.
Robotics
Robotics will move at a very fast pace, and industries will advantage from its Application in Fields which are presently considered non-practical. Progressive organizations and industries will test and validate the implementation of robotics for personal and public uses. This will result in the expansion at a large-scale level – from security with the usage of drones, to manufacturing plants for precision activities, and in medical science for risk aversion.
Conclusion
Change is inevitable, in the foreseeable future, but the learning must go on. The Covid-19 Pandemic is accelerating change towards a new normal, and it is best for all of us to adapt fast. The COVID-19 pandemic has encouraged us to acknowledge the sensitive nature of our career decisions, and how unprecedented events may lead to a complete turnaround. It is time for us to be pragmatic in our career choices, and our decisions should run in tandem with the career trends to follow in a Post COVID-19 World.
Some of the changes to our lives are becoming clear - significantly higher importance to aspects of health and hygiene which many of us used to take for granted, a complete re-think on what we do for leisure, major changes to social habits, and entertainment are just some of the adjustments all of us are grappling with.
On the basis of the work the shake up is equally disruptive. As our lifestyles change in the Post-Covid era, the shift towards digital is going to be immediate and complete. And while a huge range of jobs are at significant risk from the economic downturn we are entering, digital and Tech Jobs will continue to see the development they have seen in the last 20 years - in fact this growth will accelerate. Getting skilled in these digital skills is one way to ensure that while you acclimate to the other changes in your life, at least your Career is on a progressive track and Future proof.