Among various disciplines of engineering, Civil Engineering is a skilled engineering discipline that manages with the construction, design, and maintenance of the naturally and physical built environment, including works such as bridges, roads, airports, canals, dams, pipelines, sewerage systems, and railways. We have made an endeavour to accumulate the list of the Top 50 Civil Engineering Companies for campus placement in India.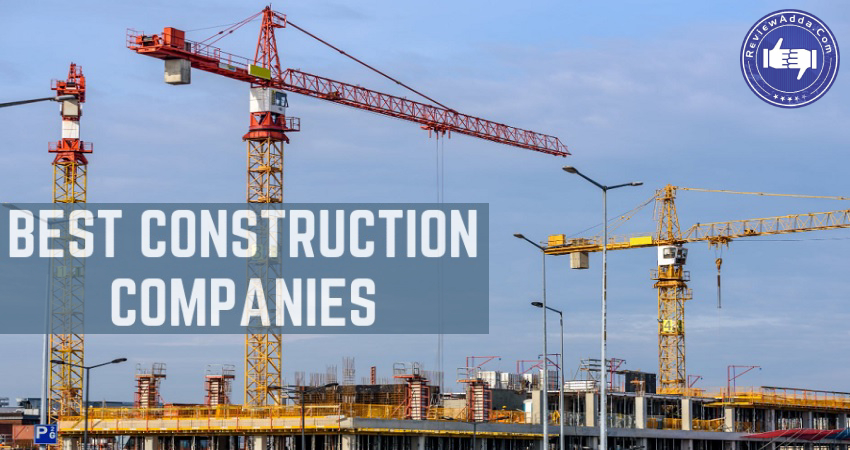 We have accumulated the list of the Best civil engineering companies in India, we have found great possibility in these companies in the coming future for the civil engineering freshers and professionals. Among the listed companies, few are recorded on Indian stock markets and are the dominant players in the construction sector in India. In the list of companies, some are public sector government companies. Some of the companies are dealing with the project management, infrastructure, urban infrastructures, design and construct, and real estate businesses.
In current times, India has constructed astounding projects including dames and industrial projects, Urban development projects, bridges, etc. India has a huge possibility to become larger in the coming years. The below statistics suggest that there will be a gargantuan scope to evolve for the construction companies which we have assembled here.
Top Civil Engineering companies in India
Mentioned down is the list of the Top Civil Engineering Companies for campus placement in India. As there is a boom in construction and Infrastructure sector in India. The chances of job opportunities growing for civil engineering graduates in Civil Engineering Companies. In the listed below companies few are also involved in the power transmission business. All these are the quickly expanding top construction companies in India. In a construction company in India, job vacancies is available for the qualified civil engineers for no experience.
As per the most recent data the construction sector has a lot of potentials to grow. Here, you can also go through the top construction companies in India, Top 10 construction companies in India, you can also acknowledge the list of top 10 infrastructure companies in India. Top 20 construction companies in India, top 30 construction companies in India, top 50 construction companies in India, top 60 construction companies in India.
Afcons Infrastructure Limited
In 1959, AFCONS Infrastructure Ltd. was started, when two other construction companies Hazarat & Co and Rodio Foundation Engineering Limited, Switzerland came together to form Rodio Hazarat & Co for undertaking construction works.
At present, AFCONS Infrastructure Limited is part of the third-largest construction group in India i.e. Shapoorji Pallonji Group. AFCONS stand strongly as one of the Top Infrastructure Development Companies in India with its presence in various parts of the world.
The company has important experience and strong track record in various infrastructure segments:
180+ marine works
140+ bridges/flyovers
4,500+ lane kilometers of roads
100+ Kilometers of Elevated Metro Rail
6 LNG Tanks
9+ Tunnels and Hydro Works
40 General Civil Engineering & Industrial Structure
45+ Overseas Projects
The company is divided into five verticals in multiple geographies:
Marine and Industrial – Jetties, Wet Basins, Dry Docks, Breakwater, Slipways, Wharves, Intake/Outfalls
Surface Transport – Flyovers, Highways, Bridges, Elevated Corridors, Viaducts
Rail & Metro - Rail, Metro and Light Rail
Oil & Gas – Offshore and Onshore
Hydro & Underground – Hydro works and Tunnelling
Punj Lloyd
Punj Lloyd is an international engineering procurement and construction contractor providing services for energy, infrastructure and defence sectors. Punj Lloyd operations are spread across the Middle East and Africa, the Asia Pacific, South Asia and Europe. The group includes over 50 subsidiaries and has executed a diverse range of projects in over 60 countries. Its main offices are in Gurgaon, Haryana, India , and its stock is listed on the Bombay Stock Exchange and also on the National Stock Exchange of India .
Newton Engineering & Chemicals Ltd
In the year 1982, the operations of Newton Enggineering & Chemicals Ltd. Has been started under the leadership of its MD, Mr. N.Gopinath.
Since then the company grew firmly and it enjoys a outstanding position as one of the leading medium scale companies having multifaceted operations and divisions.
Newton Engineering & Chemicals Ltd. has three divisions : Project Division, Manufacturing Division, Chemical Division.
The company is the manufacturer of wind mill towers, reactors, heat exchanger, columns, pressure vessels.
Product List
Plant structure
Reactors
Heat exchanger
Columns
Pressure vessels
Raw Material List
Stainless steel
Mild steel
Carbon steel
Consolidated Construction Consortium Ltd (CCCL)
Being an ISO-certified company, Consolidated Construction Consortium Limited (CCCL) has a turnover of around Rs. 18.41 billion. It has a significant presence in India, with offices in Chennai, Bangalore, Hyderabad, Delhi, Kolkata, Pune and Trivandrum. Recently, company opened their office in Middle East marks the beginning of its international visibility.
CCCL's services encompass Construction, Engineering, Procurement, and Project Management. CCCL's credit stand Biotech Parks, IT Parks, Resorts and Hotels, Industrial & Institutional structures, Commercial, and Infrastructure facilities, Mechanical and Electrical Division (M&E), Information Technology Department (Yugasoft), Consolidated Interiors Limited (CIL), Building Products Division, Software Design Division (Yuga Design), Noble Consolidated Glazing Limited (Glazing Solutions). Further, CCCL's Specialty projects involving Precast Pre-stressed Structures, Pre-engineered structures and Shell Structures are remarkable for their innovative and revolutionary application of technology and expertise.
Akme Projects Ltd
Incorporated in 2003, Akme Projects Limited is classified as Non-govt company and is registered at Registrar of Companies, Delhi. Its authorized share capital is Rs. 20,000,000 and its paid up capital is Rs. 6,746,350. It is involved in Building of complete constructions or parts thereof; Civil Engineering
Anant Raj Industries Limited
In North India, Anant Raj Group is renowned as one of the outstanding Construction and Infrastructure Developers.
The company has an experience of almost a century in construction and more than 30 years in Construction and Infrastructure development in the National Capital Region. Some of the iconic landmarks of the capital city of India has been constructed by this group, and is now strongly on the way to transforming the very cityscape and skyline of NCR.
Specialties
Commecial & IT, Residential, Hospitality, Malls, and Infrastructure
B Seenaiah & Company (Projects) Ltd (BSCPL)
Formerly, BSCPL Infrastructure Ltd. Is known as B.Seenaiah & Company (Projects) Limited was promoted by Sri Bollineni Krishnaiah and his family. He hooked his vision with a mission to construct quality roads. He has drawn his energy from the hard-working team of Human Capital. His team consists of skilled and experts from Finance, Engineering, and Management skills.
In the past 40 years the company grew from strength to strength leaving the stamp of quality in works executed by them in India and abroad.
The company has diversified in to realty sector and launched their ventures in Dubai as well as in India.
BGR Energy Systems Ltd
BGR Energy is one of the most diversified Indian company in the Utility Industry offering end to end solutions ranging from product manufacturing to turnkey project execution.
BGR Energy undertakes Turnkey EPC Contract for complete power plant or as per customer needs comprising of complete Mechanical, Electrical, C&I, and Civil works of the project.
Bridge & Roof Co (India) Limited
Established in 1920, BRIDGE & ROOF CO. (INDIA) LTD. (B&R) has grown into a premier multi-disciplinary Engineering and Construction organisation in the country. The Company has been a major force in the field of construction for past eighty-eight years during which it has competently served almost all the major Project Implementation Authorities in the country both in Public and Private Sectors.
With the present Total Revenue of ` 1321.32 Crores (2012-13) and an average annual growth rate of around 15% since last five years, BRIDGE & ROOF is one of the dominant and most accomplished construction organisations in the country with immense degree of expertise and consequential in-house resources comprising of dedicated man-power, modern equipment and machineries for project work as well as sophisticated work shop facilities at its Howrah Works (W.B)
Coastal Projects Pvt Ltd (CPPL)
Coastal Projects Ltd. Is a speedy developing company in the field of infrastructure development. Incorporated in 1995, the company has made theur own identity in the infrastructure development sector over a short span of time. CPPL is having competence in the construction of dams, hydropower projects, roads / highways, water supply schemes, etc.
DSC Limited (formerly DS Constructions Ltd)
Realizing the detracting significance of BOT projects in development of infrastructure, DSC Limited India has come out as an active participant in this growth model, which assist the progress of direct investment in private sector Large scale infrastructure Projects.
Within the structure of BOT projects, the Company has selected Transportation as its focus sector given that an effective and well-unified transport system not only maintains and drives economic development but more essentially helps and strengthens national integration, axiomatic for a geographically large country like India.
With an impeccable track record of successful execution and operation of unique mega BOT projects, the Company's project portfolio in this sector extends across Roads, Expressways and Railways.
CQRA
CQRA is an authorised construction quality organization, committed to improving quality and safety at construction projects, fluctuating from Real Estate to Commercial and then to Infrastructure projects.
CQRA provides Technology entrenched services along with skilled and experienced manpower and expertise to enhance honor and effectiveness of construction processes. CQRA has grown high end software solutions which are provided along with manpower to enhance the productivity and quality of output delivered by site teams.
The services include following:
Quality Assurance & Quality Control Services
Third party quality & safety Inspections
Pre-Handover Inspections
Project Closure Audits
Bill & Quantity Checking
CQRA is accredited by type 'C' NABCB compliance assessment body
CQRA will be happy to be correlated with your project as quality partner to enhance construction quality of your project.
East Coast Constructions and Industries Ltd
Incorporated in 1995, East Coast Constructions And Industries Limited is a non-govt company and is registered at Registrar of Companies, Chennai. It is engaged in Wholesale on a fee or contract basis.
East Coast Constructions And Industries Limited's Annual General Meeting (AGM) was last held on 30 September 2017 and as per records from Ministry of Corporate Affairs (MCA), its balance sheet was last filed on 31 March 2017.
Gammon India Ltd
Gammon India is not only one of the Largest Civil Engineering Construction Companies in India, but can also lay claim to having built the maximum number of bridges in the whole of the commonwealth. Almost a century Gammon has been endeavor and executing the sturdy engineering and construction projects. It has an commendable track record, a substantial experience and a proven durability on delivery norms across its full spectrum of services.
Around the world, Gammon's projects boost growth in economies and improve the quality of life of millions of people. Its knowledge helps businesses generate values from the most challenging circumstances. All this has allow Gammon to become a name that is inevitable woven into the fabric of India.
Gammon Infrastructure Projects Limited (GIPL)
GIPL is involved the business of managing, developing, operating and investing in Infrastructure Projects like Power, Roads, Ports, Mass Transit systems, Airports, and other Urban Infra projects like water, waste management projects etc.
Ground Engineering Ltd
Since 1973, Ground Engineering has provided Geotechnical & Foundation Engineering Expertise. The complete services in foundation engineering including Geotechnical Investigations, Land Surveys, and Pile Foundations all over India. Our project locations have ranged from interiors of Assam and Arunachal Pradesh to the Godavari Basin, Gandhar region in the West, colder terrains of Himalayas in Jammu Kashmir, Nepal, Southern shores of Tuticorin, Andaman - Nicobar & Lakshadweep Islands and all major cities across India.
RNS Infrastructure Ltd
Rns Infrastructure Limited is a Public incorporated on 06 August 2003. It is categorized as Non-govt company and is registered at Registrar of Companies, Bangalore. Its authorized share capital is Rs. 960,000,000 and its paid up capital is Rs. 630,000,000. It is engaged in engineering, architectural, and other technical activities.
Rns Infrastructure Limited's Annual General Meeting (AGM) was last held on 27 September 2018 and as per records from Ministry of Corporate Affairs (MCA), its balance sheet was last filed on 31 March 2018.
Roman Tarmat Ltd
Roman Tarmat Ltd specialities in construction of Aprons, Runways, Parking Bays, and Other Airside Construction including Instrumental Landing Systems.
Stewarts & Lloyds of India Ltd
Stewarts and Lloyds of India Ltd is a well-known oil & energy company established abroad.
Stewards and Lloyds of India Ltd. (in Liquidation), a subsidiary company of Indian Oil Tanking Ltd having seven decades of extensive experience in the area of piping engineering and one of the leaders in piping and fluid handling, backed by expertise in welding. The company has stood the test of time in the field of pipe work engineering. From a pipe work engineering, the company diversified to a multi-discipline construction company for Fluid handling and Allied systems serving a host of core industries. The engineering capabilities of company acquire strength from its own ISO certified Design & Engineering Wing and a Manufacturing Unit having authorization from Regulatory Bodies.
SVEC Constructions Ltd
SVEC Constructions Limited is firmly committed to enhance customer satisfaction by abiding to its motto of Excellence through Quality, Safe working environment, Health and Environmental care through
S.v.e.c. Constructions Limited is a Public incorporated on 10 April 1985. It is divided as Non-govt company of Hyderabad. Its authorized share capital is Rs. 180,000,000 and its paid up capital is Rs. 169,156,000.
Tantia Construction Ltd
Tantia accomplish results from activities that deliver the largest good to the ample number.
The company has specialised in bridges, railway infrastructure, Roads - Highways, pipelines, power transmission, aviation, urban development, marine, buildings hospital which is expected to receive a big boost with the authorizing of passenger and freight corridor middle from the four metro cities of India and associated Civil Construction.
Tecnimont ICB Private Limited
The headquarter of Tecnimont ICB Private Limited is established in Mumbai, the business capital of India. The necessary part of the company, is a leading Procurement, Engineering, and Construction (EPC) company having varied competence and ample experience to execute large and complicated projects globally on Lump-sum turnkey (LSTK) basis.
The company provide to a huge spectrum of business sectors that mainly includes Petrochemicals, Oil & Gas, and Fertilizers and appropriateness in Power Generation and Infrastructure, from approach to authorizing with over five decades of experience in various discipline engineering services. We offer world class engineering solutions, cost optimized, impeccable planning and exquisite execution of complex projects.
The company has support offices in New Delhi in India and Abu Dhabi, Qatar and Jeddah in Middle East, Tecnimont combines optimum quality and planning standards with consistent commitment for timely implementation of the projects.
Tecon Projects Pvt. Ltd
Tecon Projects Private Limited is a Private incorporated on 07 August 1985 classified as Non-govt Company of Delhi. Its authorized share capital is Rs. 3,000,000 and its paid up capital is Rs. 2,802,030.
Ahluwalia Contracts (India) Ltd
With specialized knowledge in the Industry of construction for over 45 years, at Ahluwalia Contracts, has carved a niche for themselves in the industry as one of the dominant Civil Contractors of the country. The turnover of company is over Rs. 1364 Crores for the financial year 2011-2012 is indicative of high ranking in the industry. Ahluwalia Contracts (India) Ltd. have earned the three recognition i.e. ISO 14001:2004, OHSAS 18001:2007 and ISO 9001:2008.
Arun Excello Group of Companies
Arun Excello Group: Started in 1987 by four young engineering entrepreneurs as a partnership firm, Arun Fabricators, was primarily engaged in the business of engineering contracts for both Oil & Chemical industries specializing in execution of mechanical jobs on contract basis. Later the company varied into execution of civil works of industries for different types of industries and come out as one of the credible names in the field of execution of engineering contracts both in India & abroad on the basis of turnkey.
B L Kashyap & Sons Ltd (BLK)
B.L Kashyap is a recorded Building & Civil Engineering Construction company, with a Pan India presence.
The company build- Hotels, Hospitals, Offices , Industries, IT parks, Metros, Institutional Buildings, Commercial Spaces, Residential Buildings, and Airports. Some of our more recent projects you may recognise: Embassy Golf Links, Shangri-La Bangalore, New Flipkart Office, Manyata Tech Park, VR Bengaluru, Prestige Golfshire, Phoenix Market-city Mall, BhartiyaCity, One Horizon Centre, Four Season Residences, JW Marriott Aero-city, Select City & DLF Promenade Mall New Delhi, Wildflower Hall Shimla, Park Hyatt Goa, Taj Jodhpur, Hilton, Hero Honda Factory, , IIT Delhi extension, Toyota Factory , Domestic Airport New DelhiAIIMS (Raipur & Patna). etc.
The company has a capacity, and are currently delivering 25 Million Sq. ft. every year across India.
With a company of over 1500 Engineers and over 10,000 Employees across India.
Braithwaite, Burn & Jessop Construction Company
Around the mid-thirties BBJ started in expanding traffic movement between the twin cities of Calcutta (now Kolkata) & Howrah demanded a wider and stronger bridge in replacement of the then existing pontoon bridge. The power appropriately decided on building a beam bridge across the river Hooghly. The job certainly called for greater knowledge. So the three engineering giants – Burn, Braithwaite, & Jessop - came together with their vast experiences and floated a new company. Thus on 26th January 1935 was born BBJ, The Braithwaite Burn & Jessop Construction Company Limited.
CCAP Ltd
Shelter infra Projects Limited (formerly Central Concrete & Allied Products) is a acknowledged name in the construction field adequate in directing mega-dimensional projects associating design and construction related to Mechanical, Civil, and Electrical Engineering.
We are a successful, skilled and disciplined managerial group having perfect amount of proficiency intelligence and insight in adopting contemporary as well as time-tested building techniques into Project Planning and Execution. We have a great number of esteemed and technically challenging projects to our credit in various parts of India and abroad.
We have all the indispensible and vital pre-requisites for winning any project valued around 200 Crores . The courage of the company lies in having accomplished technical and executive team, extensive amount of heavy plants and machinery and large financial resources.
Shelter infra Projects Limited is fully-equipped of handling every branch of Geo-technical, Foundation, Civil, Public Health and Structural Engineering Design & Construction Work, including Highway and Railway structures like multi-span Bridges across rivers, Flyovers, Underpasses, Tunnels, Suspension Bridges, Pipe-line Crossings across wide rivers and swamps, Sub-surface and Elevated Railways, large Underground Storage Reservoirs, Material Handling Plants, Thermal Power Plants, Industrial & Irrigation Structures, Industrial Cooling Towers, Chimneys, Silos etc.
Above all, the company aim is to satisfy the clients regarding all the projects that come the way.
Conart Engineers Ltd
Conart Engineers Limited is a procurement and construction company, quality-driven engineering, that has incorporated a fame of dynamic perfection.
Conart has an impeccable track record of successfully engineered Industrial, Commercial, Residential and Infrastructure Projects.
Conart's strength is a strong foundation of leading edge expertise built over three decades of experience that is benchmarked by accolades, awards and recognition for achieving the best in industry standards.
Conart's chase of superiority is driven by a motivated team of qualified engineers, visionary management, experienced managers and supervisors, state-of-the-art equipment, skilled technicians and labour, dedicated administrative and support staff, and a growing family of satisfied clients.
This company is certified with ISO 9000 certified Quality Management System ensures that dependable systems, winning strategies and best practices are built into a culture, which encourages the art and craft of elegance and excellence.
Continental Construction Ltd
Continental Construction Limited is incorporated in 1962. It is involved in Site preparation.
Coromandel Engineering Co. Ltd.
Coromandel Engineering Company Limited is incorporated in 1947. It is involved in Business activities.
DLF Limited
Get Updated Review ( Voice Based Alumni Feeback)
Dlf Limited is incorporated in 1963. It is engaged in Real estate activities with own or leased property. The speciality of company includes selling, renting, buying, and operating of self-owned or leased real estate such as non-residential buildings, apartment building and dwellings, developing and subdividing real estate into lots etc. Also engaged in development and sale of land and cemetery lots, operating of apartment hotels and residential mobile home sites.
Dlf Limited's Annual General Meeting (AGM) was last held on 24 September 2018 and as per records from Ministry of Corporate Affairs (MCA), its balance sheet was last filed on 31 March 2018.
With more than 70 years of real estate investment, development, and management experience, DLF has an unparalleled scale of delivery and an unmatched track record of customer-centric service excellence in India.
Essar Group
The Essar group accomplishes a number of world-class assets various across the core sectors of metals & mining, energy, infrastructure and services (primarily comprising shipping, telecom retail, technology and outsourcing businesses).
From more than last four decades, Essar has grown through strategic global acquisitions and partnerships, or through greenfield and brownfield development projects, capturing new markets and discovering new raw material sources. Today, the company has expanded its global footprint, focusing on markets in Asia, Africa, North America and Europe.
Essar devote essentially in the advanced technology to drive forward and backward assimilation in its businesses, and to influence synergies between these businesses. It also centre of attraction on in-house research and modernization to be a low-cost manufacturer with optimum quality products and modernized customer offerings.
In its commitment towards social responsibility, Essar's initiatives across plant locations, focuses on education, healthcare, environmental and agricultural development, and self-employment. Essar is committed to sustainable business practices.
Essar is broadly regarded as a accountable and thorough global employer.
Specialties
Steel, Oil & Gas, Power, Shipping & Logistics, Communications, Projects, Ports, BPO, and Telecom
Gayatri Projects Ltd
Gayatri Projects Ltd. is the flagship company of the think highly for and well diversified Gayatri Group that has interests in infrastructure, power, hospitality, real estate and industry.
GMR
GMR Group is an infrastructure provider with a wide presence, impact and scope that extends from:
National to the global.
Plugging infrastructure gaps to create benchmark assets.
Supporting livelihoods to enhancing the quality of life.
The Group supports infrastructure that helps mankind accomplish their quest in creating a better tomorrow, today.
Since its establishment in 1978, the GMR Group has been constantly developing its capabilities in the creation of mega infrastructure projects. They connect the domains of operating, developing, managing and owning international airports as well as setting up and operating major energy utilities.
While quality and operational efficiencies guide all the strategic business areas, the Group accords equal, if not more, emphasis on its work in the area of Social Entrepreneurship and Corporate Social Responsibility. Through the Group promotes and manages projects across the spectrum of Education, GMR Varalakshmi Foundation, Hygiene & Sanitation, Health, Empowerment and Livelihood and Community Development.
GVK
GVK is a well-known Indian composite with various interests across various sectors including transportation, energy, hospitality airports, and life sciences. It has taken pioneering eagerness to do something across many sectors that it operates in and has overcome every challenge to provide trustworthy infrastructure to provide to the country's growth. GVK's greatest power is its highly experienced and proficient in-house talent pool. GVK's association with global infrastructure leaders has brought international knowledge to India reflecting excellence and advancement in all its endeavours.
HDIL
HDIL is an ability Real estate development company in India, with significant operations in the Mumbai Metropolitan Region. HDIL's business focuses on including Real Estate Development, construction, and development of residential projects and, more recently, Slum Rehabilitation and Development, commercial and retail projects, including clearing slum land and rehousing slum dwellers, and Land Development, including improvisation of infrastructure on land which the company then sells to other property developers.
Hindustan Construction Company (HCC)
In India's infrastructure industry HCC is a pioneer, having executed landmark projects that have defined the country's progress since 1926. Maintaining our inheritance of modernization in engineering and construction, we continue to add new milestones with every passing year, building world-class infrastructure and creating new opportunities for everyone.
Proficiencies:
Transportation: Roads, Highways, Expressways, Bridges, Elevated Corridors, Railways, MRTS (Metro Rails), Ports and Marine Structures
Hydroelectric Power Projects: Tunnels, Dams, Shafts, Barrages, Powerhouses, all types of underground works
Nuclear Power Projects: Auxiliary Buildings, Reactors, Spent Fuel Buildings, Control Buildings, and Safety Pump Houses
Water Solutions: Integrated Water Supply Systems, Bulk Water Transmission, Dams, Barrages, Irrigation, Water Treatment and Sewage Treatment Plants, Aqueducts
Buildings and Industrial: Metals & Process Plants and Factories, Hydrocarbon, Institutional Buildings, Residential & Commercial Buildings, Station Buildings
IL&FS Engineering and Construction Company Limited
IL&FS Engineering and Construction Company Limited (IL&FS Engineering Services) is one of the multi-national Infrastructure Development, Construction and Project Management companies with more than two decades of rich and varied knowledge in accomplishing landmark projects. The Company executes projects under different domains such as Roads, Buildings & Structures, Railways, Power, Ports, Irrigation, and Oil & Gas.
Specialties
End-To-End Infrastructure, EPC & BOT contracts in Energy (Power & Oil & Gas), Transportation (Roads & Railways), Irrigation, Water & Hydro Power, and and Buildings & Structures
Induprojects
Indu Projects Limited incorporated on 07 December 2001. It is engaged in Building of complete constructions or parts thereof; civil engineering
IRB Infrastructure
IRB Infrastructure Developers Ltd. was incorporated to fund the capital requirements of the IRB Group initiatives in the Infrastructure sector. The company undertakes development of various infrastructure projects in the road sector through several Special Purpose Vehicles. (Businesses of holding co. and its subsidiaries will be implemented under superintendence, direction and control of the board of holding company, with the objective of maximizing value for all stakeholders.)
IRCON International Ltd
Ircon International Limited is incorporated as a government company under the Companies Act. 1956. IRCON was set up to utilize the Indian Railway's experience in helping Developing Nations of the world to install or maintain their own railways and also to execute railway projects for private sector.
The Company was the first to get the ISO-9001:2008 Certification from TUV Germany for its full range of construction activities.
The Company's specialization is in Railway Electrification, Railways, Signal and Telecommunication, highways, commercial, construction of roads, industrial and residential complexes, airport constructions, airport runways, leasing of locomotives, mass rapid transit system etc.
In October 2004, IRCON has been ranked the 3rd largest construction company of India on the occasion of Construction World-NICMAR (National Institute of Construction Management and Research).
The Company has completed 280 landmark Infrastructure projects in India and 90 projects across the globe in 21 countries namely, Angola, Algeria, Bangladesh, Iran, Indonesia, Iraq, Italy, Israel, Jordan, Malaysia, Lebanon, Saudi Arabia, Nepal, Nigeria, Syria, United Kingdom, Tanzania, Turkey, Zambia. The Company has also taken up projects in Mozambique and Ethiopia.
ITD Cementation Idia Ltd.
TD Cementation India is a leading construction company in India operating for more than eight decades and has established its prowess across multiple lines of business: Highways, Maritime Structure, TBM & NATM Tunnels, Bridges & Flyovers, Foundation & Specialist Engineering, Airport, Mass Rapid Transit Systems, Industrial Structure & Building, Box Pushing, Hydroelectric Power, Tube Heading & Microtunelling, Dams & Irrigation, Water & Waste Water.
IVRCL Infrastructures & Projects Ltd.
IVRCL operates in the following infrastructure sectors:
Water & Environment
Transportation
Buildings
Power
J Kumar
Jaihind Projects Lyd
Jaihind Projects Limited is incorporated in 1985 in Ahmedabad.
Jaypee Group (Jaiprakash Associates Ltd)
The Jaypee Group is a Rs 20,000 crore well diversified infrastructural industrial conglomerate in India. Over the decades it has maintained its salience with leadership in its chosen line of businesses
Transforming challenges into opportunities has been the hallmark of the Jaypee Group, ever since its inception five decades ago. The Group is a diversified infrastructure conglomerate with business interests in Cement, Engineering & Construction, Power, Expressways, Real Estate, Fertilizer, Healthcare, Hospitality, Sports, Information Technology and Education (not-for-profit).
JMC Projects (India) Ltd.
JMC Projects (India) Limited is one of the dominant EPC Construction and Infrastructure companies in India with operations spread globally across SAARC and Africa.
It addresses critical needs in key sectors – Infrastructure (Highways, Flyovers, Elevated Corridors, Metros, Railways, Bridges, Water Projects, Smart City Projects), Construction of Buildings (High-rise, Integrated Township, Residential, Commercial, IT Parks, Institutional, Hospital, Sports Complex, Tourism), Industrial & Power projects among others.
Over three decades of a strong, customer focused approach and a sharp focus on world-class quality have enabled it to maintain a leadership position in its major lines of business.
Characterized by professionalism, high standards of Corporate Governance and Sustainability, JMC continues to evolve, seeking better ways of engineering to meet emerging challenges leveraging the power of People-Processes- Technology.
With more than 3500+ professional engaged in 50+ projects pan-India and International locations (in Srilanka, Ethiopia) JMC is growing at a healthy pace.
JSW Infrastructure Ltd.
JSW Infrastructure Limited (JSWIL) is part of JSW group - an $11 billion conglomerate with business interests across Steel, Energy, Cement, Sports amongst others. As one of the leading Private Sector Infrastructure Companies in India, JSWIL has been in existence since 1999 and boasts of 1200+ strong professionals from diverse backgrounds exuberating dynamism and driving excellence.
With an operational capacity of 15 MTPA, which will go up to 30 MTPA, JSWIL currently operates assets in Maharashtra (Jaigarh and Dharamatar) & Goa (South West Port); plans to take the capacity up to 200 MTPA by 2020; signed MoU with Paradip Port to develop a new iron ore berth at the Port.
Capabilities
Jaigarh Port - A modern, fully merchandised all weather environment friendly deep water port is poised to propel economic growth of Maharashtra. The port is fully operational with 2 berths and can handle a CAPE size vessel (1, 80,000 DWT)
Jaigarh-Dighni Rail Line - JSWIL recently entered into an agreement with the Railways and the Maharashtra Maritime Board to build a 33.7-km rail head with the Konkan Rail network, at an investment of Rs 771 crore.
South West Port:- The port has two dedicated bulk cargo berths at Mormugoa Port Trust at Goa and has a handling capacity of 10 million tonnes with focus on capacity expansion to 12 million tonnes next year.
Dharamtar Port:- The port has 5 berths with a depth of 4.5 metres and the capacity to handle about 8 MTPA.
JSW Paradip Terminal Pvt Limited: JSWIL has been recently awarded a Terminal in Paradip Port Trust in Orissa under BOOT basis through its Special Purpose Vehicle, JSW Paradip Terminal Pvt Limited. The terminal would be mechanized to handle bulk cargoes with a capacity of 18 MTPA
Today JSWIL is systematically expanding from constructing and operating ports, to developing roads and rails for better connectivity. With the same objective, it has plans to develop inland waterways, an innovative step in domestic connectivity.
KEC International Ltd
Kirby Building Systems
KMC Constructions Limited
KNR
Larsen &Toubro Construction
L&T IDPL
L&T Infrastructure Engineering Ltd.
Lanco Infratech Limited
Madhucon Projects Ltd
Magoxy Infra
MARG (company)
MBL Infrastructures Ltd
McNally Bharat Engineering
Nagarjuna Construction Company Ltd (NCC)
Odisha Construction corporation
Om metal infra projects
PBA Infrastructure Limited
Petron Engineering Construction Ltd
PNC INFRATECH
Pratibha Industries Ltd.
Reliance Infrastructures Ltd
Sadbhav Engineering Limited
Saipem India Projects Ltd
SAMSUNG C&T
Shapoorji Pallonji Group
Simplex Infrastructures Ltd
SOMA
Strabag India Pvt Ltd
Subhash Projects & Marketing Limited (SPML)
Sunil Hi-Tech Engineers Limited (SHEL)
Tata Projects Ltd
Tata consulting engineers
Techno Electric and Engineering Company Limited
Unity Infraprojects Ltd
URC
VOLTAS
Sandvik India