Topic We Cover: College Admissions Tips and Tricks for Indian Students
1. RESEARCH ABOUT THE COLLEGE
2. FIND THE RIGHT COLLEGE FOR YOURSELF
3. MEET DEADLINES, INFACT APPLY EARLY
4. TALK TO SENIORS AND EX- STUDENTS
5. LIST OUT THE ADMISSION CRITERIA YOU MEET
6. ENTIRE APPLICATION SHALL BE COMPLETED
7. MENTION EXTRA-CURRICULAR ACTIVITIES
8. AVOID SPELLING MISTAKES AND GRAMMATICAL ERRORS
9. BE PRECISE AND CLEAR
10. BE HONEST
11. REMEMBER ESSENTIAL DOCUMENTS
SELECT A HONEST CAREER OPTION
SHORTLISTING ATLEAST FEW COLLEGES
CONFIRM ATLEAST ONE ADMISSION
Applying to a college for admission??
Getting into a college is a whole process which when executed properly and with care can make you land into the college of your dream and similarly if the application is not done in an appropriate manner then it can shatter your wish of studying in a renowned college. Applying into a college with some tips and tricks can make the complete Procedure of Admission easy and make true your wish of graduating from a good and Highly Regarded College.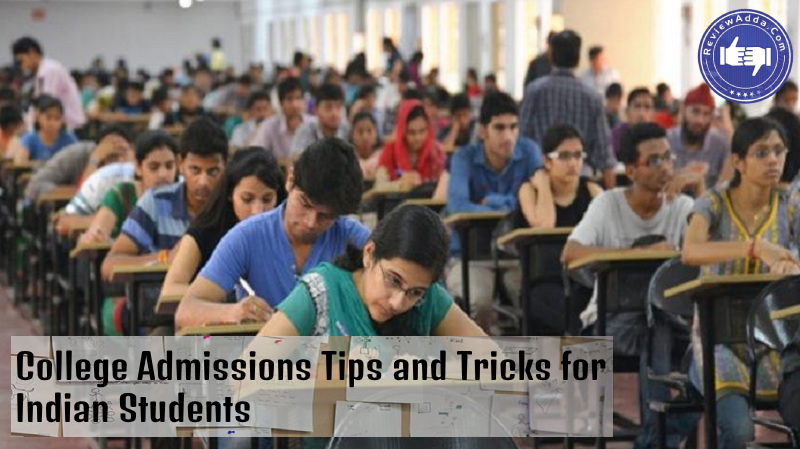 College Admission is always a cumbersome process and it may even cause a feeling of stress and anxiety among school passed out students as they are the ones who are going to face the situation of College Admissions. Most Universities and Colleges are well versed about what they want from their students. They know exactly which potential students they are going to give admission and to whom not. A little research about various colleges and their requirements can give you the Best Institutions for Attaining Education.
The aim of students shall be to provide such information through the application form to the Admission Department of Various Colleges that no scope of doubt is left in their minds about student's qualifications, talent, etc. So let's discuss such tips and tricks which when followed can make your application and admissions process a success.
1. RESEARCH ABOUT THE COLLEGE
Normally the colleges are looking for such students who are academically brilliant, have leadership qualities and have diversity in various areas. They are looking for students who are overall talented. Colleges compare what an applicant can add to their college that another student can't. Also, college studies that will a student be able to adjust to their Academic Program. Colleges look for such students who can adjust to their Academic Syllabus and complete their course and have a successful career.
When a student is applying to various colleges, the research shall be done as what a college is demanding and will the student be able to fulfill such requirements and after that, only the students shall apply to the Colleges for Admission.
2. FIND THE RIGHT COLLEGE FOR YOURSELF
There are hundreds of colleges available to choose from. Every college is different in its own respect. A student shall visit the college and its campus a number of times before making the decision of getting admission into it. Try and find such a college in whose environment you adapt to easily and also which caters to all your needs relating to academics.
Also, when you have done research work on different colleges and visited them numerous times, then you can have a fair idea of what exactly the admission department looks among the students who are applying for the seats and you can tailor your application form in a similar way.
3. MEET DEADLINES, INFACT APPLY EARLY
Remember, that there are thousands of students who apply to Colleges for Admissions. And every college receives numerous applications. So it is better to apply well within the time which is provided for applying for admission so that last-minute rush can be avoided. Also, when a student is applying to various colleges then the student shall be more careful and remember the deadlines for all colleges where he is Applying for Admissions. It is advised to apply rather early than waiting for the last day's rush. The more it is earlier the better it is.
4. TALK TO SENIORS AND EX- STUDENTS
Having discussed about the college with senior students and the ex-students always prove to be advantageous. They are able to tell about the exact atmosphere of the college and the pros and cons of getting admission into a specific college. And according to the advice and information provided by the seniors a student can select the college.
Get Updated Review ( Voice Based Alumni Feeback)
Also, information about what all is required to get admission to their college can also be achieved from them and that piece of knowledge will guide you in finalizing the application form and making the Procedure of Admission much simpler.
5. LIST OUT THE ADMISSION CRITERIA YOU MEET
As you are progressing towards Short-listing Colleges from the various options one thing that will come in front of you is that some colleges will have large selection criteria where other colleges will have less. The more selective college look for various factors in the students and admission into these colleges depend upon grades, extra-curricular activities, other talents, recommendations, etc. A less selective college will mostly rely on the minimum marks which are required to reserve a seat. Students shall see what all Minimum Requirements of Admission are the students fulfilling and accordingly apply to the college.
6. ENTIRE APPLICATION SHALL BE COMPLETED
The Complete Application Form and the entire process shall be completed in all respects. Before submitting the form to the college administration, the students shall carefully cross-check it and ensure that each section of the form is complete. Incomplete forms or forms which are not properly completed are rejected by the college administration and they are not considered for admission purpose. The incomplete forms can even convey the wrong message to the college that the student is not serious about the admission or that he is not qualified enough.
7. MENTION EXTRA-CURRICULAR ACTIVITIES
College Admission staff always looks for those students who are academically strong and also have a track of extra-curricular activities. Such students will always be given preference above those students who don't have such records. Admissions are generally preferred to those students who are all-rounder and are good in studies and are active in other fields as well.
Such students bring laureates to the college and make the college proud and famous. Hence, college administration always gives priority to such students during admissions.
8. AVOID SPELLING MISTAKES AND GRAMMATICAL ERRORS
While filing the Application Form for College Admissions, be careful about not making spelling mistakes. Generally, syntactical errors and misspellings are not appreciated by the college administration and admission panels. If you create such mistakes, then it discredits your application.
Also if the Admission Application is being filled in hard copy then try to be neat, organized and fill it with utmost care without cutting and crossing. Complete it in all respects and make any friend or a family member have a look at it before you submit the form to assure that you have not committed any mistake.
9. BE PRECISE AND CLEAR
To answer the questions asked in the Application Form it is always good to be precise and clear, rather than writing long essay type answers. Using too lengthy answers and phrases is of no use and they would not help you in securing a seat in the college. In fact, if you write direct answers they are more attractive to read and understand and would give a direct picture of who you are and why do you want to take admission to a particular college. The simple language will be more beneficial here than using language that sounds too smart.
10. BE HONEST
Remember that honesty is the best policy and while filing the Application Form Students should always adhere to it. The admission department of colleges do cross-check the claims, references, and documents that students provide with the admission forms. And so all the information that is provided in the application form to the college authorities shall be true and fair in all respects so that any problem in the future can be avoided.
11. REMEMBER ESSENTIAL DOCUMENTS
The admission form of every college requires some necessary documents to be attached to it. Without them, the application form is not treated as complete and it can even be rejected on this basis. Therefore, these mandatory documents shall not be forgotten to be attached. Every college asks for documents such as mark sheets, character certificates, other certificates and documents related to identity, etc. Colleges also want to see your athletic awards and certificates that have been earned by you during your school days. Therefore, all these shall be furnished to the college within time to Complete the Admission Procedure.
These are some smart tips and tricks related to applying for Admissions Into the Colleges. These prove to be of great help to the students and shall be followed by students during the admission time. There are other things also which students shall consider while they seek admission to the colleges. Let's discuss them also so that students can get an overall picture of the various aspects, tips, and tricks that students should follow so that they get a graduation degree from the best institutions.
SELECT A HONEST CAREER OPTION
Before selecting a good college and Applying for Admission it is really important for students to understand that they should select a career with utmost honesty. Whichever career they elect shall be such in which the student shall have an interest and they aspire to make their future in it. Confusion in career selection makes things worse and also impacts the choice of college. Choosing college will depend on the course you take up. Hence listen to your inner self and depending upon your talent and abilities make a career choice and then apply to the college according to it.
Also, it shall be understood by parents that they shall not force their children to select a particular career choice. All the streams like engineering, law, medical, arts, etc. have an excellent success rate in today's world and the crucial decision of career option shall be left on the children.
SHORTLISTING ATLEAST FEW COLLEGES
Although every child wants to get admitted to the college of his/her dreams but still everyone cannot achieve this. So students shall become more practical and shall shortlist at least a few colleges in which Application for Admission has to be made according to various factors like courses offered, proximity to home, location, the reputation of the college, and various other criteria for admission.
Students shall familiarize themselves with the Admission Procedures of all these colleges and apply as and when the date for admission starts. Students shall keep handy the attested copies of all the necessary documents which may be required during the Admission Process such as identity proof, domicile certificate, marks lists, etc. Visiting the campuses of all these selected colleges can give some clues and ideas about the college, faculties, and courses offered.
CONFIRM ATLEAST ONE ADMISSION
As the Admission Process initiates in various colleges, students shall confirm his admission and reserve a seat at least in one college. The college may not the one which tops the choice list of the student, but it is advised to take up the offered seat so that the applicant is not leftover and he doesn't have to face a situation where he will not be allotted a seat in any college.
Reserving a seat reduces the anxiety of the student, his parents, and family. Later if the student is getting admission to some other good college and if he is willing to change then he can do so as every college allows so. Every college also provides you enough time to confirm your seat.
In the present competitive world, only those students succeed who are multi-talented and keep various skills under their belt. College Admission department also gives priority to those students only who shine academically, have an interest in extra-curricular activities and social work, or they have great sports record. Students through there inter- personal skills and team-work skills also outshine and boost their overall performance which ultimately helps them in getting admission to a good college. Being anxious about the Admission Process is normal but it shall always be kept in mind that your knowledge and information is all that is going to make your admission, a truth. Also if a systematic approach is followed by the students and the above tips and tricks and points are kept in mind while Applying for the Admission in any college then the whole process can become comfortable and can be easily tackled by the students and their parents.