Topic We Cover: Career Counselling
1. Overview
2. COURSES OFFERED BY DELHI UNIVERSITY
Faculty of Arts
Faculty of Social Sciences
Faculty of Applied Social Sciences & Humanities
Faculty of Commerce & Business Studies
Faculty of Mathematical Sciences
Faculty of Sciences/ Interdisciplinary and Applied Sciences
3. DELHI UNIVERSITY COURSES WHOSE ADMISSION ARE ENTRANCE TEST BASED
4. DELHI UNIVERSITY- ADMISSION PROCEDURE
5. REGISTRATION
6. CUT-OFF LISTS
7. CHOOSING COLLEGE AND PROGRAMME
8. VERIFICATION OF DOCUMENTS AT THE COLLEGES
9. DELHI UNIVERSITY POSTGRADUATE ADMISSION PROCESS
10. DELHI UNIVERSITY – ELIGIBILITY CRITERIA
11. DELHI UNIVERSITY- RESERVATION CRITERIA
With the Board examination of class 12th coming to an end, University of Delhi is all set to begin with its admission procedure. The admissions are going to begin from mid of April, 2019 and students keeping an eye on a seat in this premier university can apply henceforth.
Having coming in existence in the year 1922 as a unitary, teaching and residential University, DELHI UNIVERSITY (DU) is a highly acclaimed university not only all throughout India but internationally as well. It is a trend setter for its high educational standards, varied academic programmes, unique faculties, modernised infrastructure, various co-curricular activities and illustrious alumni. It started with just three colleges, two faculties and 750 students at its founding to become one of the Largest Universities in India with over 16 faculties, 80 academic programmes, 77 affiliated colleges, 5 other institutes and approximately 132,000 regular students and 261,000 non-formal students spread across Delhi in North Campus and South Campus which are its two main campuses.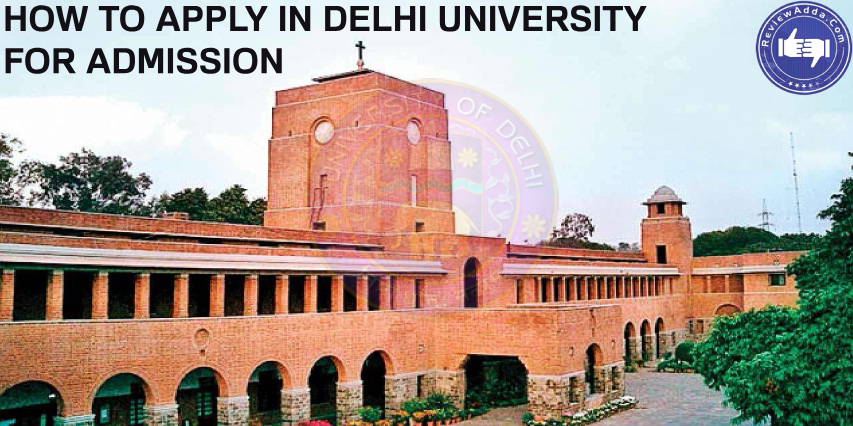 So if you are willing to get admission into this collegiate public central university located in New Delhi, India for courses like B.Com, B. SC, B.A, then you can apply for admission from 15th April, 2019 through the available Application Form. The University offers many Under Graduate courses and Post Graduate courses and the admission to them can be taken either through entrance examination conducted by the Delhi University or direct entry through merit basis. The merit list of Delhi University admission will be formulated through the 'Best of Four subjects' calculation of the university. For directly getting admission as per the merit list there will be around 10 cut-off list that will be released by the colleges which are accredited to Delhi University and as per your marks a student can apply in that respective college in which she/he becomes eligible. Through this advisory article you will be guided about the detailed procedure of Admissions in Delhi University, courses offered, about the application form, eligibility criteria and reservation.
COURSES OFFERED BY DELHI UNIVERSITY
University of Delhi boasts of offering around 87 Undergraduate courses and around 153 Post Graduate courses to the students in various streams like Science, Art, Commerce etc. Students can select the course of their choice and apply for it if the eligibility criteria are fulfilled. Students can apply through the DU Application Form and submit it online along with payment of requisite application fee. Below is a list of programmes divided on the basis of admission criteria.
DELHI UNIVESITY PROGRAMMES WHOSE ADMISSION IS ON MERIT BASE
Faculty of Arts//Social Sciences/Applied Social Sciences & Humanities
Bachelor of Arts [Vocational Studies]
Bachelor of Arts [Hons.]
Bachelor of Vocation (B.Voc.) Programme and Advanced Diploma Programme
Faculty of Arts
A. Programme, B.A. (Hons.) in Arabic, Bengali, English, French, German, Italian, Hindi, Persian, Philosophy, Psychology, Applied Psychology, Punjabi, Sanskrit, Spanish, and Urdu.
Faculty of Social Sciences
B.A. (Hons.) in Economics, Geography, History, Political Sciences, Social Work, and Sociology.
Faculty of Applied Social Sciences & Humanities
B.A. (Hons.) in Hindi Patrakarita, Journalism, B.Voc. in Health Care Management, Retail Management & IT, Web Designing, Printing Technology, Banking Operations, Software Development, Advanced Diploma in TV Programme & News Production
Faculty of Commerce & Business Studies
1.Bachelor of Commerce
2.Bachelor of Commerce [Hons.]
Faculty of Mathematical Sciences
Bachelor of Science – Mathematical Sciences
Bachelor of Science [Hons.] – Mathematics
3.Bachelor of Science [Hons.] – Statistics
4.Bachelor of Science [Hons.] – Computer Science
Faculty of Sciences/ Interdisciplinary and Applied Sciences
1.Bachelor of Science [Hons.] in Anthropology, Biochemistry, Biomedical Science, Biological Sciences, Botany, Chemistry, Electronics, Food Technology, Geology, Home Science, Instrumentation, Microbiology, Physics, Polymer Sciences, Zoology.
DELHI UNIVERSITY COURSES WHOSE ADMISSION ARE ENTRANCE TEST BASED
FACULTY

PROGRAMME/COURSE

Faculty of Applied Social Sciences and Humanities

B.A. (Honours) in Business Economics, Bachelor of Management Studies

Bachelor of Business Administration (Financial Investment Analysis)

Cluster Innovation Centre

B.Tech. (Information Technology and Mathematical Innovations)

B.A. Honours (Humanities & Social Sciences)

Faculty of Education

Bachelors of Elementary Education

Faculty of Inter-disciplinary & Applied Sciences

Bachelor of Science in Physical Education, Health Education & Sports (B.Sc. [PE,HE &S])

Indraprastha College for Women

B.A. (Honours) Multimedia and Mass Communication

Music and Fine Arts

Bachelor of Arts (Honours) in Hindustani Music- Vocal/Instrumental (Sitar/Sarod/Guitar/Violin/Santoor)

Bachelor of Arts (Honours) in Carnatic Music Vocal/Instrumental (Veena/ Violin) Bachelor of Arts (Honours) in Percussion Music (Tabla/Pakhawaj)

Faculty of Social Sciences

Five-Year Integrated Programme in Journalism in Delhi School of Journalism
Get Updated Review ( Voice Based Alumni Feeback)
Apart from the above mentioned Courses Delhi University also offers the following courses to students:
Bachelor of Business Studies
Bachelor of Financial and Investment Analysis
Bachelor of Fine Arts
Bachelor of Elementary Education
Ed. Special Education MR
Ed. Home Science
P.Ed.
Bachelor of Engineering
LLB
Delhi University also offers various Post Graduate Courses and the eligibility for these vary from one course to another. Some of such courses with their eligibility are as follows:
COURSE

ELIGIBILITY CRITERIA

M.Tech Microwave Electronics

M.Sc. Electronics or M.Sc. Physics with specialization in Electronics by obtaining minimum 60% mark

OR
B.Tech./B.E. Electrical/ Electronics/ Electronics and Communication/ Instrumentation Engineering by obtaining minimum 60% marks.

M.Sc. Physics

B.Sc in related subjects or any branch of Science or Engineering with Physics and Mathematics passed with minimum 60% aggregate marks (50% marks for B.Sc. (Hons.)

M.Com

B.Com (Hons.) or B.A. (Hons.) Economics Or B.Com Or B.B.S. B.B.A. , B.B.A., B.I.F.A., and B.B.E degree from recognized institution.

MCA

Bachelor degree from the University of Delhi with at least one paper in Mathematical Sciences (Mathematics, computer Science, Statistics, Operational research).

M.A. Political Science

B.A. Degree with 50% marks or any other graduate degree (Science/commerce/Engineering etc) with 60% marks from the recognized University/institution.

LL.M.

A three-year/five year LL.B. Degree with 50% marks (45% marks for OBC/SC/ST category candidates).
DELHI UNIVERSITY- ADMISSION PROCEDURE
For admission in Undergraduate courses one can either give Delhi University Entrance Test (DUET) or get direct admission through Merit list depending upon the marks of class 12th. Lakhs of students apply every year for getting admission in streams like Science, Arts, and Commerce etc. According to an estimation and newspaper reports around 3.5 Lakh applicants had registered themselves for Admission in Delhi University last year. For admission in Undergraduate merit based courses Delhi University releases cut-off lists which are available on its official website which is admission.du.ac.in . For making the understanding of admission procedure simpler and less complicated let's divide the whole procedure into the following steps:
REGISTRATION
Students who are seeking admission into any college of Delhi University firstly have to register themselves through online mode. After the registration is completed applicants can login and fill the application form with the utmost care information like personal details, educational qualification details, your address and contact etc. To login, candidates need to enter the username and password that have been created.
In this application form students also have to fill in the score of 'Best four' subject's. Application form window remains open for a limited period of time and then it closes. You also need to submit the application fee by online mode.
An applicant can apply for multiple courses through a Single Application Form.
Calculation of Best of Four Subjects:
The calculation of the best of four subjects shall be based on the following subjects
One language (Core/Elective/Functional)
One subject related to the course which student opts
Any other two academic subjects
CUT-OFF LISTS
Every college which is affiliated to Delhi University lists a cut-off of minimum percentage of marks for every course which a student shall have for getting admission into that respective college. Such cut-off list is available on the DU Official Website and the college notice board also.
Therefore, you should as the list denotes decide which college will you fit in and what courses are available to you as an option.
Almost around ten cut-off lists are released by the university. Cut-off list is related to the number of seats vacant in each college for each programme.
CHOOSING COLLEGE AND PROGRAMME
If you hold that minimum marks which are required for admission in a college then it depends according to your wish which college you opt for which course you choose and once your selection of college and course in respect to cut-off list has been done then the students need to login to the admission portal through their registration number and elect the college where he/she desires to take admission and complete the remaining formalities which are required.
VERIFICATION OF DOCUMENTS AT THE COLLEGES
Once the cut-off lists have been released and students have picked up the college of their dreamand completed all the requirements online which are mandatory for admissions, then next step shall be reporting to the college as soon as possible. Take the print of registration form along with all certificates and documents in original, which will prove your DU Eligibility for Admission.
The list of documents that shall be submitted during the verification time will be given in the DU Application Form.
ADMISSION
Once the verification of your documents is concluded, the respective college will approve your admission in the Undergraduate course and upon the confirmation it will retain all your original documents for specific period of time.
ONLINE PAYMENT OF ADMISSION FEES
Lastly, the students who have been admitted need to pay the admission fee of the respective college. Fees shall be paid online through the admission portal given on the site.
Applicants shall pay the fees soon after the admission is confirmed. Try and pay before the last day of the admission cut-off list in which your admission has been made.
DELHI UNIVERSITY POSTGRADUATE ADMISSION PROCESS
Apart from the faculties that offer inter-disciplinary or professional courses all the remaining faculties have a common mode of admission for the post graduate courses . These are as under:
Merit List or the Direct Mode: This mode of direct admissions is solely for the Delhi University students. A total of 50% of the total seats are filled up through this way.
Entrance Examination: The remaining 50% of the places are for students from other Universities and they get admitted by given entrance examinations which will be followed by Interviews/ Group Discussion.
DELHI UNIVERSITY – ELIGIBILITY CRITERIA
Students who desiderate of admission in Delhi University in Programmes like B.A, B.SC, B.Com shall make sure that they satisfy the eligibility criteria before they apply for admissions. Any student who is short of eligibility criteria's will not be pondered.
Eligibility for Undergraduate Courses:
Completion of Class 12th examination from CBSE or any other recognized state boards.
There is no age bar for applicants applying for Admission in DU.
Eligibility for all Colleges Affiliated to DU remains alike except for St. Stephen's College and Jesus and Mary College.
ELIGIBILITY FOR POSTGRADUATE COURSES
Applicants should have obtained the requisite Bachelor's degree for the specific course which they desire to apply for.
There is no age limit for Postgraduate courses also.
DELHI UNIVERSITY- RESERVATION CRITERIA
University of Delhi also reserves some seats for special and backward classes. The following is the list of reservation provided by the University.
| | |
| --- | --- |
| CATEGORY | PERCENTAGE OF SEATS RESERVED |
| Other Backward Classes | 27% |
| Scheduled Classes | 15% |
| Scheduled Tribes | 7.50% |
| Persons with Disabilities | 5% |
| Kashmiri Migrants | 5% |
| Sports/ECA Quota | 5% |
| Foreign Candidates | 5% |
| Wards/Widows of War Army Officers | 5% |
All the admission process are single handed managed by Delhi University and for students who are looking forward to apply for admission into this reputed University, a good news is that the admission process is quite simple, easy and mostly online.
For students who want to live a great college and campus life, Delhi University is the most appropriate option for them as there are many notable alumni to it which includes seven heads of state or government and two Nobel Laureates.