Topic We Cover: Top Career Oriented Courses after Class 12th Commerce
1. Bachelor of Commerce (B.Com)
Educational Path for Commerce
Commerce Without Maths
Top UG Colleges for B.Com
2. Chartered Accountant (CA)
Career Opportunities for CA
Educational Path to Pursue CA
Commerce without Maths
3. Company Secretary Program (CS)
Career Opportunities for CS
Educational Path to pursue CS
Commerce Without Maths
4. Cost Management Accountant (CMA)
5. Bachelor of Business Administration (BBA)
6. Courses in Hospitality
7. Digital Marketing
8. Finance
Career Opportunities in Finance
Educational Path for Finance
Some Top UG Colleges for Finance
9. Journalism and Mass Communication
11. Economics
Career Opportunities in Economics
Educational Path to Pursue Economics
Commerce Without Maths
Some Top UG Colleges for Economics
12. Cost and Management Accounting
Career Opportunities for CMA
Educational Path for CMA
Commerce Without Maths
13. Stockbroking
Career Opportunities in Stockbroking
Educational Path for Stockbroking
Commerce Without Maths
Some Top Certifications for Stockbroking
14. Entrepreneurship
Educational Path to pursue Entrepreneurship
Commerce Without Maths
15. Statistics
Career Opportunities in Statistics
Educational Path for Statistics
Commerce Without Maths
Top UG Colleges for Statistics
16. Diploma in Advertising and Public Relations
17. Courses in International Trade
18. Actuarial Science
19. Bank PO
20. Conclusion
Now that you have crossed one of the valuable stages of your life, i.e the 12th standard, now it is time for you to take the next step! So what have you thought about it? Still not confident about Which stream to choose? Your tomorrow is based on your today's' decision. So at whatever conclusion you are reaching, it has to be intelligent and should advantage you in the long run.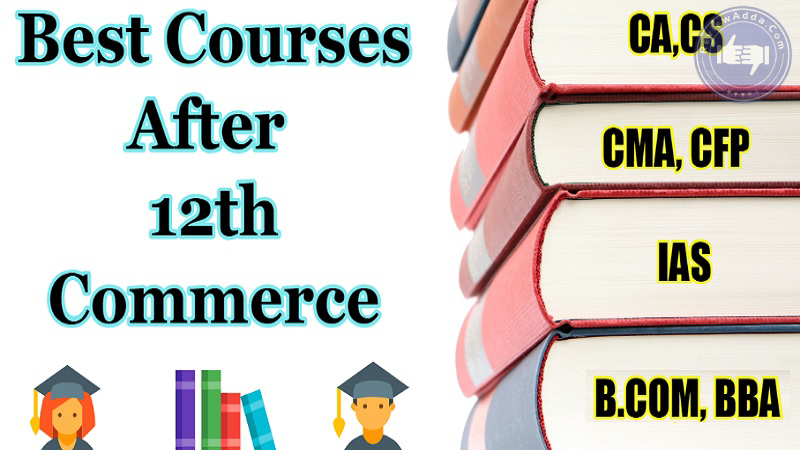 Commerce as a stream of education can be defined as a Study of Business and trade activities that include interchange of goods or commodities on a large scale. Commerce has grown enormously and is known for providing a Wide Scope of Career Options to pursue after class XII. Generally, the students who would like to work in a corporate world, select the field of commerce in their education. It offers them a wide arena of Career options to pursue after class XII. Most people often think that choosing commerce means becoming a chartered accountant which is not so. Students need to realize that there are many other options available in the field and they require to keep an eye out for all these options.
Here we have assembled a list of some beneficial and Top career oriented Courses after 12 commerce to be pursued. This will help the students to check out the Best career options after 12th Commerce in future.
By thinking logically from the mind, not from the heart, you can get a very good choice.
Deciding a career oriented courses after class 12 commerce mainly depends on two factors
Personal Interest which includes your expertise, hobbies, goals, etc.

Best returns in the future like growth, scope, demand, etc.
Many of you may opt for your passion and personal interest as your career. But at all the times you can't relate your hobbies to your career. There, to fulfill your dreams you have to earn a handsome amount of money. You may enjoy your hobbies when you are free, like on holiday. This interesting article makes you knowledgeable of the top courses to be Prefered after Class 12 Commerce that can bring in you wider career opportunities in the future.
Here are some substantial points to be considered while searching for any Professional career oriented Courses after 12th commerce.
1. Bachelor of Commerce (B.Com)
The duration of 3 years course, B.Com. allows students to take a chance on to other Job Oriented Courses such as vocational courses, M.B.A., skill-oriented courses, etc. Students may go for M.Com after the completion of B.Com. This master's program of 2 years helps the students to acquire proficiency in the selected stream and in turn get ample opportunities in the job sector. Other than that, there are a no. of job opportunities for simple B.Com. graduates, both in private as well as govt. sectors in the field of finance and accountancy.
After 12th commerce, most of the students prefer this as one of the Most Popular Career. The subjects like company law, accounting, statistics, mercantile law, organization of commerce, auditing, finance, taxation, entrepreneurship development are included in the three-year course. The degree course is available with all the Universities in the country. This course gives all the detailed knowledge of the field of commerce and makes you eligible for any masters of this field.
In Various streams of commerce, a degree in B.Com (Programme and Hons.) provides you with a solid foundation and acts as a gateway to numerous professional and Higher education opportunities. The blooming trade and commerce of the country, as well as the increasing economy, make this an in-demand field with a no. of respectable and productive availability of career options.
Educational Path for Commerce
You can pursue a B.Com or B.Com (Hons.) degree at the UG level, and follow it up with an M.Com, MBA, or a certification course, such as CA, CS, CMA, etc., based upon the field and role you would like to get into.
Commerce Without Maths
You can go for a B.Com without Maths, but a B.Com (Hons.) course needs a background in Maths.
Top UG Colleges for B.Com
2. Chartered Accountant (CA)
One of the most prestigious and popular career option for commerce students, Chartered Accountant (C.A), is an internationally Recognized Professional Certification conducted by the Institute of Chartered Accountants of India (ICAI).
In Accounting Chartered Accountancy Course is a professional one. With the accelerated growth in economy, careers have gained tremendous popularity in finance and accounts and the Most Influential Career Option in this field is that of a Chartered Accountant. Job profile of a CA is to inspect if the financial affairs of companies and businesses are in accordance with the laws set by govt. authorities. One has to successfully finish Chartered Accountancy course to become a CA and become a member of ICAI (Institute of Chartered Accountants of India).
Chartered Accountant calculating Tax chartered accountant's work involves taxation, auditing, financial planning, investment, and accounting. After doing chartered accountancy career prospects are exciting.
Chartered Accountants are members of the Institute of Chartered Accountants of India. They work in the accounts dept. of firms and organizations or in private practice. In private practice, the range of work can vary tremendously as per the size and place (city) of practice. If it is a huge practicing firm there is a greater specialization of individual accountants within the organization.
Career Opportunities for CA
In government and private organizations, you can find professional opportunities in roles such as tax consulting, auditing, corporate finance, investment banking, etc. After a few years of experience, you would also have the option to set up a private practice.
Educational Path to Pursue CA
After 12th Commerce, to become a Chartered Accountant you require to go through the following steps:
Step 1: Register yourself with the ICAI, and clear the Competency Professional Test (CPT).
Step 2: Clear the Integrated Professional Competence (IPC) Course Exam in one or both groups.
Step 3: For 3 years need to undergo article ship under a practicing C.A or a C.A firm.
Step 4: After or during the completion of your article ship, clear the C.A Final to gain your C.A certification.
Commerce without Maths
It is not compulsory to have a background in Maths, but it can prove highly beneficial.
3. Company Secretary Program (CS)
One of the powered and influential job profiles is Company Secretary. Every company needs a company secretary for its efficient administration. In a public sector organization or a private sector company, a company secretary is a senior position, normally in the form of a managerial position or above. To become a C.S., one has to appear for the Company Secretaryship course and clear the exams associated with the course. The ICSE (Institute of Company Secretaries of India) is conducted the CS course.
The Company Secretary's job profile is to takes care of the particulars with respect to ensuring legal and statutory compliance, efficient administration of a company, and governance-related issues such as ensuring that the decisions of the board of directors are implemented. Their job involves giving advice on conducting business, developing corporate strategy, dealing with situations involving conflict of interest, assisting in planning, suggesting ways to prepare financial reports, and advising on company law.
Career Opportunities for CS
You can work with both public and private sector organizations and render services in areas such as corporate governance and secretarial, legal, conciliation and arbitration, corporate restructuring, joint ventures and foreign collaborations, financial management, project planning, corporate advisory services, investor relations, and capital market, etc.
Educational Path to pursue CS
The three levels of the CS course is as the following:
(i) Foundation Course
(ii) Intermediate/Executive Course
(iii) Final/Professional Course
After the accomplishment of the Professional course of CS and 15 months of training, the student is joined as an associate member of the ICSI and called as Associate Company Secretary. Better leadership, communication, and problem-solving skills added with appropriate experience can lead you to the top positions like managing director or the chairman of any organization.
Commerce Without Maths
This career doesn't require a maths background.
Get Updated Review ( Voice Based Alumni Feeback)
4. Cost Management Accountant (CMA)
With accounting skills and leadership competencies, Cost Management Accountants (CMA) are strategic financial management professionals. Generally, a cost accountant's job is to collect and analyze the financial information from all the areas of a company required to manage the business within the available resources.
Formerly, ICWAI (Institute of Cost & Works Accountants of India) is a Premier institution of India which is commonly known as the Institute of Cost Accountants of India (ICAI) which offers education and develops the proficient cost accountants that are eminently demanded in the private enterprises, govt. sector, banking & finance sector.
Like CMA, the CS course has also been divided into three stages:
(i) CMA Foundation
(ii) CMA Intermediate and
(iii) CMA Final.
With the growth of the economy, at national as well as international platforms demand cost management professionals is rising rapidly.
5. Bachelor of Business Administration (BBA)
If right after 12th standard you are willing in achieving Business Management and Administration skills, this one is the perfect course that you may pursue. For this field, there is an availability of a diploma as well as a degree course. The duration of three years for this degree course and the diploma is for one year.
After Class 12th commerce, it is the most sought bachelor degree program. BBA is the 3 year Bachelor Degree Programme for those who are interested in leadership and management positions. Students are considered as professionals who having BBA Degree and are intensely employable for higher positions in any business organization. After accomplishment, for producing sound management professionals one may also follow it up with an M.B.A. (Master of Business Administration) Degree which provides the needed ground knowledge. Through CAT/ MAT many prestigious colleges offer MBA Programmes. Though jobs are available for B.B.A. graduates in govt. sector but the private sector offers more opportunities in finance and management-related positions.
The BBA Course trains students and helps them achieve key management and administration skills. Briefly, this management course trains students and make them qualified and capable managers, who may take on administrative or managerial roles in organizations, business houses, companies, or industries.
The best colleges providing a Business Administration degree are Amity college, Christ College Bengaluru, Institute of Management Studies, etc.
6. Courses in Hospitality
There is no specific requirement of the subject in class XII or graduation for hospitality management courses. You may opt for hospitality management courses even though you have taken Commerce or any other subjects. Due to the fast growth in tourism, the hotel /hospitality industry is also booming.
It is one of the highly job oriented fields certainly has got elements of the hospitality sector. This is a 4 years degree course. With the worldwide integration more and more hotel industries are extending their business to the global markets. This has created a huge demand for hospitality management professionals. Thus hospitality management has emerged out to be a hot career option for the last decade. Because of this course, you can serve govt. as well as non-govt. sectors. Moreover, in abroad it is a very demanding profession.
In the sector of hospitality Job profile depends on one's qualification like Customer Relations Executive, Management Trainee, Kitchen Management/ House Keeping Management, Marketing/Sales Executive, Catering Officer or Chefs in Hotels, Fast Food Chains and allied industry, Flight Kitchens, and Cruises.
The courses include a Bachelor of Hotel Management (BHM), a B.Sc. in Hotel Management, a Diploma in Hotel Management, and Catering to name a few.
The institutions that provide these courses are IIHM, ITC group, IGNOU, Manipal Institute, etc.
7. Digital Marketing
This course is perfect for the one who is thinking about the box career choice. The digital marketing field is really ample and is booming. For Digital marketing there is no specific degree course but there are several institutions that are providing training with certification for the course. The Field of Digital Marketing is increasing at a faster rate of getting onto a digital platform as more no. of companies are joining the rat race.
Almost all the Facets of digital marketing will be cover in the digital marketing training institute or academies. This includes SEO, SEM, social media marketing to name a few. The field is never going to lose its charm as to showcase their business more number of people will be joining the digital platform. So if you think you have a creative mind, good writing skills, and interest in graphics designing, this is the Right career choice for you.
8. Finance
A career in the finance domain involves helping businesses and individuals in making various financial planning decisions, monitoring cash flow, managing assets and liabilities, raising capital for expansion, and running business operations. Across finance careers, a common set of skills needed include a good grasp of accounting and economics concepts, a knack for numbers and data, and analytical thinking.
Career Opportunities in Finance
This is an extensive sector and can include various roles, such as Financial Planning/Consulting, Private Equity, and Venture Capital, Investment Banking, Financial Analyst, Wealth Management, Corporate Finance, Risk Management, etc.
Educational Path for Finance
At the undergraduate level, you can either go for a Specialized finance course (BFIA, BFM, etc.) or pursue a more broad course, such as B.Com or BBA. While it is possible to get into this career through any graduation, these courses would adorn you with the requisite information of financial concepts and related skills right from the start, leading to a stronger base.
At the postgraduate level, you can either go for a Specialized Master's in Finance (more suited to roles such as Wealth Management) or go for an MBA in Finance (better suited to roles such as Investment Banking, Corporate Finance). You can also pursue additional certifications in finance to boost your skill-set, such as CFP (Certified Financial Planner), CFA (Chartered Financial Analyst), FRM (Financial Risk Manager), etc.
Financial planners earn a living by helping people sort through and opt for insurance, investments, and other financial products.
In the world, Certified Financial Planning is among the Fastest Growing Careers. In India, the international CFP certification is awarded by the Financial Planning Standards Board of India (FPSB India). As a Gold Standard, the CFP certification is rated. It gets its acknowledgments of Financial organizations in 22 countries and holder acceptance. In India there are currently over 1,00,000 CFPCM Charters globally and around 1200 + CFPs.
Commerce Without Maths
This career doesn't need a background in maths, but it can be highly beneficial.
Some Top UG Colleges for Finance
9. Journalism and Mass Communication
If you are willing to continue in a career that will give you real-life experiences, then you must consider going into the field of journalism. Journalism is not just working in a newspaper or becoming a TV anchor, it is much more than that. Though you can work there are many other options that are associated with it. Journalism is all about writing good content and stories. So you can find a job as a reporter or correspondent with a TV channel or a newspaper, or you can become a content writer with a good company.
So to get started with this field, you can go for Bachelors in Journalism and Mass Communication degree that is for three years. Many universities are giving out this course now.
10. Bachelors in Law
To pursue a Career in law can never be a failure. Even if you are a pass out from 12th commerce, this won't mind including you in its mold. After 12th LLB is also one of the options to look for. For this, you have to give CLAT entrance that is at 14 National Law School/Universities all over India. You can also give AILET to National Law University, New Delhi. If you crack this, you get an admission to one of the finest law colleges of the country.
The field is not just related to one area.
11. Economics
It is the study of the transfer, production, goods, and use of services, and resources. It is a Research-oriented career and would require you to learn and make use of various principles, theories, and models. Economists conduct researches and to predict market trends they analyze data, build models and economic theories, and for resolving economic issues make recommendations. The field has an intensely positive future outlook, as there is an enormous demand for qualified economists in private banks, consulting firms, as well as public sectors, both in India and abroad.
Career Opportunities in Economics
In this field professional opportunities include working as a statistician, economist, operations research analyst, strategist, risk management analyst, budget analyst, insurance underwriter, etc.
Educational Path to Pursue Economics
To make a career in this field, you have to pursue a Bachelor of Business Economics, bachelor's degree – B.A/B.Sc. (H) Economics, or a major in Economics, following which you can pursue a Master's in Economics.
Commerce Without Maths
In order to be eligible for the course, most of the top colleges for Economics need you to have a Maths background. This criterion has been decided by keeping in mind the strong combination of Economics with Maths and research. There are, however, some colleges such as Loyola College, Christ University, Mount Carmel College, etc that do allow you to pursue Economics without Maths,.
Some Top UG Colleges for Economics
Sri Ram College of Commerce (SRCC), Delhi

Lady Shri Ram College(LSR), Delhi

H.R College of Commerce and Economics, Mumbai

St. Xavier's College, Mumbai

St. Stephen's College, Delhi

Loyola College, Chennai

Fergusson College, Pune
12. Cost and Management Accounting
Cost and Management Accountants (earlier referred to as Cost and Works Accountants) are responsible for budgeting, cost management, performance evaluation, and asset management within a company or organization. By the Inst. of Cost Accountants of India (ICAI), the certification of CMA has been provided, which is earlier known as the Inst. of Cost and Works Accountants of India (ICWAI).
To prepare the financial plan and strategy of the company cost and management accountants work alongside corporate executives, and various regulatory authorities also prepare financial reports, tax authorities, creditors, etc.
Career Opportunities for CMA
You can work as a cost accountant and other related fields such as auditing and financial consulting. In the financial domain, cost accountants can also advance to even higher-level positions, such as financial controller, finance director, cost controller, etc.
Educational Path for CMA
You are required to clear 20 different exams by the ICAI, which are divided into 3 different levels- Foundation, Intermediate, and Final.
Commerce Without Maths
This career doesn't require a maths background.
13. Stockbroking
Stockbroking is one of the Influential Career that involves buying and selling of stocks on the stock market. Stockbrokers manage investments in bonds, stocks, and derivatives for their clients, and offer recommendations to them about fluctuations of the market. The list of their clients includes individuals buyers as well as small and large organizations. With the fixed raise in the Indian stock markets, this field is predicted to witness a good development in Demand for Qualified professionals. If you have a propensity for following financial markets, such as Nifty and Sensex, and are adaptable and fast on your feet then stockbroking is also a possible career option for you.
Career Opportunities in Stockbroking
You can work with insurance companies, brokerage firms, pension funds, banks, investment banks, and other financial institutions. As you acquire domain expertise over the years you can also work as an independent broker.
Educational Path for Stockbroking
Through short-term and long-term certifications you can also pursue a career in stockbroking. To provide a solid foundation, however, you can pursue degrees/courses such as CA, BBA, B.Com, or MBA (Finance).
Commerce Without Maths
This Career Oriented Course doesn't require a maths background.
Some Top Certifications for Stockbroking
The certification has been given by the Bombay Stock Exchange (BSE) in various areas such as Securities Markets, Central Depository, Options Trading, Derivatives Exchange, Corporate Governance, Security Analysis, and Portfolio Management, Credit Rating, Fundamental Analysis, etc. In stock markets, NISM, NSE, and ICFM also offer courses and certifications.
14. Entrepreneurship
The scope of this career is extremely high these days as many people nowadays wish to initiate their own business, referred to as a start-up. Entrepreneurs build the structure, conceptualize the business idea, function, and strategy, and subsequently design and launch the company. Entrepreneurship is a broad field, and one can be associated with a wide range of ventures to sell services, products, or processes.
It has an intensely positive outlook for the future as the government and political setup of the country is supporting start-up initiatives. To be successful the key factors required in this field include business knowledge, creativity, and persistence. However, this can prove to be a highly risky path to pursue and is relatively more challenging than many other career options.
Educational Path to pursue Entrepreneurship
Although this career can be pursued through any graduation stream, it is highly preferred if you pursue a BBA or MBA degree (in entrepreneurship or any other specialization) as it will equip you with the requisite business knowledge and skills.
Commerce Without Maths
This career opportunity doesn't require a maths background.
15. Statistics
Statistics is one of the Preferred Career Oriented Course after 12th commerce involved in the analysis, interpretation, and representation of numerical data. To solve various problems, Statisticians collect and analyze data and make recommendations in organizations, both in the public and private sectors.
Statisticians conduct organize data, data collection, to analyze the data use various statistical tools and techniques, base conclusions and inferences on the data, and on the basis of the results further, make approvals to policymakers and stakeholders. To work across various sectors this is a challenging, yet rewarding, career with the flexibility of possibilities and work opportunities.
Career Opportunities in Statistics
In the public and private sector, there is an array of opportunities available both in roles such as big data, investment analysis, data analysis, market research, risk analysis, research analysis, etc.
Educational Path for Statistics
After the 12th, you can go for a B.A/B.Sc. Statistics or B.Stats, at the PG level followed by M.A/M.Sc Statistics or M.Stats.
Commerce Without Maths
To pursue this career-oriented course Maths is necessary.
Top UG Colleges for Statistics
Indian Statistical Institute (ISI); Hindu Colleges, Delhi

Lady Shri Ram College (LSR), Delhi

Ramjas College; Delhi

St. Xavier's College, Mumbai

Fergusson College, Pune

Mount Carmel College, Bangalore

Madras Christian College, Chennai
Apart from this, there are some more career-oriented courses after 12th commerce as follows:
Diploma in Advertising and Public Relations
There are many different jobs that are open to these individual professionals in both the field of advertising and public relations. The entry-level salary is between 30,000 INR and 35,000 INR.
The best colleges in India that teach these courses include IIMC Delhi, MICA, Xavier College, University of Mumbai to name a few.
Courses in International Trade
The International Trade course offers you job opportunities in various areas like trade, banking, accounts, commerce, etc. It provides you a good base in the international business field and prepares students for a professional qualification in foreign trade. You can work in export houses to raise overseas sales, search for new business hubs, etc. Based on marketing research you can also work as a marketing executive that plans strategies.
The courses you can find as Diploma in International Trade, Advanced Diploma in International Business, Diploma in Foreign Trade Management, and Advanced Diploma in Foreign Trade.
Indian Institute of Management (IIM) gives admissions on the basis of the CAT national level examination. Some other institutions offer admission on the basis of XAT, CAT, MAT, GMAT, etc. examinations.
Actuarial Science
Actuarial Science is a field dealing with the analysis of risk across numerous fields, such as finance, healthcare, insurance, and business.
Career Opportunities in Actuarial Science
Actuaries work in life insurance, general insurance, health insurance, pension funds, enterprise risk, actuary consulting firms, investment, pension and retirement, risk management, etc.
Educational Path to Pursue Actuarial Science
You are required to clear the Actuarial Common Entrance Test (ACET). After clearing your entrance, you can register at the Institute of Actuaries of India (IAI). Overall there are 15 exams conducted by the IAI, however, you can start working after passing only 4-5 exams.
Bank PO
It is an entry-level position in a bank, where an individual initiates as a trainee known as Bank Probationary Officer (PO). Bank PO exams are conducted by both public and private banks.
Career Opportunities for Bank PO
To work in the bank you can find various positions including, administrative assistant, accounts clerk, cashier, insurance officer, credit officer, financial dealer's assistant, postal employee, etc.
Educational Path for Bank PO
You can give the Bank PO exam after graduation in any stream, although degrees such as B.Com, BBA, Economics can be advantageous. Some popular exams for the Bank PO position include SBI-PO Exam, IBPS-PO Exam, ICICI Bank-PO Exam, Axis Bank-PO Exam, HDFC Bank-PO Exam, etc.
Conclusion
Thus, there are several career oriented courses after class 12th commerce that one can opt for. obviously, the selection of the course is based on the interest of the student and also its scope in the future. With the right skills, one can absolutely build a rewarding career, after pursuing any of the above-mentioned courses.
Don't confine your thinking as there is a huge world of opportunity in front of you. So go ahead and get the success!
All the best!