Topic We Cover: Top Courses After 12th
1. BEST COURSES AFTER 12TH SCIENCE
2. B.SC. COURSES
3. COURSES AFTER 12TH BIOLOGY (BI.PC) STUDENTS
4. BEST COURSES AFTER 12TH COMMERCE
5. DUAL DEGREE/FOUR YEAR DEGREE OPTIONS
6. COURSES AFTER 12TH ARTS
7. DEFENSE SERVICES
8. TEACHING PROFESSION
9. BANKING COURSES
Puzzled about what after 12th? What should be the course in which you could make a career? Your mind must be baffled altogether. For sure it would be! After all, the crucial decision of what would be your profession and course after 12th has to be taken.
There are various Top Courses After 12th depending upon the stream in which you belong to and have studied in the foundation years of Class 11th and 12th and your individual interest and attitude.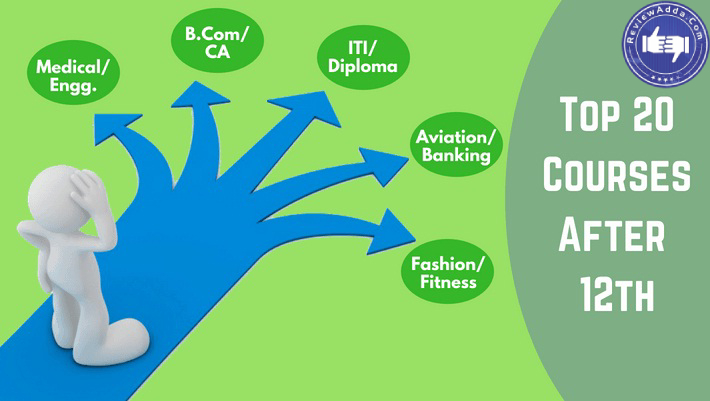 Generally, students studying in intermediate are divided into following streams and further career options after 12th will be taken on the basis of these streams only:
Arts
Commerce with mathematics
Commerce with Computer Science
Science - Bi.PC (Biology, Physics, Chemistry)
Science - PCM (Physics, Chemistry, Mathematics)
There are numerous courses after 12th in India which are available to the students according to the respective streams and this article would definitely provide career guidance about the courses after 12th. Let's have a detailed analysis of such professions one by one.
BEST COURSES AFTER 12TH SCIENCE
Science stream is divided into two categories among students as discussed above. And therefore, the career options after 12th science will be according to the subjects you have. Let us First Discuss stream of PCM that is science stream which has mathematics as a subject.
Students who have PCM as their subjects can pursue a career in the field of Engineering, Technology, Pharmacy, Architecture etc. Mathematics being one of the main subjects for students of PCM stream, it gives an opportunity to have a proficient future and rapidly growing career if they would choose Engineering or technology as their career option. Engineering involves the application of mathematics, research and innovation, building designs and solutions to never-ending problems in the field of technology.
Factors like salary, job opportunities in a particular profession, growth prospects, duration of completion of a particular course and last but not the least your interest and wish play a decisive role in the selection of course after 12th. Students can opt for any specialized form of Engineering after considering the various parameters and make their Career After 12th Science in it. Students who pursue engineering are awarded a degree of BE or B.Tech.
The following are some Prominent Engineering Courses:
S.NO

COURSE

BRIEF DESCRIPTION

DURATION

(In Years)

EXPECTED SALARY

(In Lakhs)

1.

Computer Science Engineering

This type of Engineering is generally related to study, research and designing of computers.

4

4-6

2.

Civil Engineering

This engineering is which deals with designing, construction and maintenance of buildings, dams, bridges, roads, canals etc.

4

4-6

3.

Mechanical Engineering

This branch of engineering is related to the manufacturing, analysing, designing and maintenance of mechanical systems and machinery.

4

4-7

4.

Electronics & Communication Engineering

This is a study of electronic devices and software application.

4

4-6

5.

Biotechnology

This type provides specialization in using Living systems and Organisms to make products.

4

4-6

6.

Electrical & Electronics Engineering.

It is a study which deals into generation, usage and storage of power and energy.

4

4-6

7.

Aeronautical Engineering

This type of engineering is a study of the development of Aircraft and spacecraft. It has two branches namely, Aeronautical Engineering and Astronautically Engineering.

4

4-7

8.

Agricultural Engineering

Designing of Farm machinery, farm structures, soil management, electrification of rural areas and other processing of agricultural products are a part of Agricultural Engineering.

4

4-7

9.

Petroleum Engineering

This branch of engineering deals with the production of hydrocarbons which can be in the form of either crude oil or natural gas.

4

4-7

10.

Food Technology

This branch of engineering deals in the application of science for preservation, packaging, distribution of food.

4

4-7

11.

Textile Engineering

Textile engineering is related to designing of fiber, textile and its products.

4

4-6

12.

Chemical Engineering

Chemical Engineering is the application of physical sciences and life sciences together with mathematics and economics.

4

4-6
The following are also some other branches of engineering:
| | | | |
| --- | --- | --- | --- |
| S. No | BRANCH | DURATION (In Years) | EXPECTED SALARY(In Lakhs) |
| 1 | Ceramic Engineering | 4 | 4-7 |
| 2 | IT Engineering | 4 | 4-7 |
| 3 | IC Engineering | 4 | 4-7 |
| 4 | Electronics and Telecommunication Engineering | 4 | 4-7 |
| 5 | Aerospace Engineering | 4 | 4-7 |
| 6 | Automobile Engineering | 4 | 4-7 |
| 7 | Mining Engineering | 4 | 4-7 |
| 8 | Genetic Engineering | 4 | 4-7 |
| 9 | Plastics Engineering | 4 | 4-7 |
| 10 | Dairy Technology | 4 | 4-7 |
| 11 | Power engineering | 4 | 4-7 |
| 12 | Production Engineering | 4 | 4-7 |
| 13 | Metallurgy Engineering | 4 | 4-7 |
| 14 | Marine Engineering | 4 | 4-7 |
The above are all High Salary Courses after 12th Science available to students from which students can very well select the line of their engrossment and proceed in living the career of their dreams. Although starting salary can vary due to aspects like the institution from which degree has been obtained, job location and branch of engineering.
To get admission to these courses there are various entrance exams such as JEE MAIN, BITSAT, VITEE etc.
The job profile of an engineer can be of a:
Chief Engineer
Assistant Engineer
Supervisor
Consultant
Get Updated Review ( Voice Based Alumni Feeback)
B.SC. COURSES
B.Sc programmes are the second Most Preferred Courses after engineering in the PCM stream. These are three year Degree Courses available for Science students after Class 12th .These are some best courses after 12th science other than engineering:
| | | | |
| --- | --- | --- | --- |
| S.No | COURSE | DURATION (In years) | EXPECTED STARTING SALARY (In Lakhs) |
| 1. | B.Sc. Agriculture | 3 | 3.5 – 5.5/6 |
| 2. | B.Sc. Horticulture | 3 | 3.5 – 5.5/6 |
| 3. | B.Sc. Forestry | 3 | 3.5 – 5.5/6 |
| 4. | B.Sc. IT | 3 | 3.5 – 6 |
| 5. | B.Sc. Computer Science | 3 | 3.5 – 6 |
| 6. | B.Sc. Chemistry | 3 | 3.5 – 6 |
| 7. | B.Sc. Mathematics | 3 | 3.5 – 5.5/6 |
| 8. | B.Sc. Physics | 3 | 3.5 – 5.5/6 |
| 9. | B.Sc. Hotel Management | 3 | 3.5 – 5.5/6 |
| 10. | B.Sc. Nautical Science | 3 | 3.5 – 5.5/6 |
| 11. | B.Sc. Sports Management | 3 | 3.5 – 5.5/6 |
| 12. | B.Sc. Electronics | 3 | 3.5 – 5.5/6 |
| 13. | B.Sc. Electronics and Communication | 3 | 3.5 – 5.5/6 |
| 14. | B.Sc. Biotechnology | 3 | 3.5 – 6 |
| 15. | B.Sc. Aviation | 3 | 3.5 – 6 |
| 16. | B.Sc. Animation | 3 | 3.5 – 5.5/6 |
COURSES AFTER 12TH BIOLOGY (BI.PC) STUDENTS
Medical Science is another branch of science. This field is one of the most respectable, challenging and high responsibility is attached to this profession. Students who chose medical after Class X have a dream of becoming a qualified doctor but apart from becoming a doctor there are various other courses which are also available to medical students.
S.NO

COURSE

BRIEF DESCRIPTION

DURATION

(In years)

EXPECTED SALARY FOR FRESHERS (In Lakhs )

1.

MBBS

Bachelor of Medicine and Bachelor of Surgery is the most desired degree of students in Medical Science. It is also called Medicinae Baccalaureus, Baccalaureus Chirurgiae in Latin.

5.5

4-7

2.

BDS

Bachelor of Dental Surgery is the second most favoured courses among students in Medical sciences. It is equivalent to MBBS degree but has a different work arena.

5

4-5

3.

BAMS

Bachelor of Ayurvedic Medicine and Surgery is a Bachelor degree in Ayurveda.

5.5

4-7

4.

BHMS

Bachelor of Homeopathic Medicine and Surgery is a Bachelor degree in the field of Homeopathic medicines and surgeries related.

5.5

4-7

5.

BUMS

(Bachelor of Unani Medicine and Surgery) is related to the study of Unani medicines and surgery. This way of treatment is one of the most ancient modes.

5 and half years

4-6

6

BNYS

Bachelor of Naturopathy and Yogic Science is a study where medical treatment is done by using natural substances and herbal medicines.

4

4-7

7

BPT-Physiotherapy

This branch of medicine treats any kind of pain and muscular injuries by physical therapy and non-surgical modes.

4.5

2-4

8.

B.VSc

This branch of medicine deals in treating and preventing animals and birds from diseases. The people who practice this profession are called Veterinary Doctors.

3

4-7

9.

B.Pharma

This course is just about pharmaceutical sector. It related to making medicines, chemicals which are used in medicine making, various usage of medicine etc.

4

4-6

10.

B.Sc. Nursing

This course provides us with well trained and qualified nurses As the demand for nurses is always high this course has an accomplished future.

3

2-4
Each of the above mentioned Medical Courses is a renowned course with great job opportunities and a bright and successful future. Salary for freshers may vary according to the selection of their profile i.e. whether they would practice in their field or elect to do a government job or a private job. Apart from the above after 12th Science Courses, there are also other allied Health Sciences courses such as:
BOT- Occupational Therapy
Bsc – Anaesthesia Tec, Cardiac Tech, Medical Lab Tec, Radio Therapy Tech
Sc – Clinical Optometry
Sc – Nuclear Medicine
Sc – Operation Theatre
Sc – Physician Assistant
Sc – Respiratory Care
BMLT- Medical Lab Technology
All the above courses can be completed in 2-3 years. These are Short Term Courses after 12th and are fairly reputed courses and have sufficient salary packages. There are also some Paramedical Courses which can be elected by aspirants to make career in like:
Dialysis Technician
ECG Technician
X-Ray Technician
Operation Theatre Technician
BEST COURSES AFTER 12TH COMMERCE
Commerce is considered as one of the Most Important Stream of Education and it includes in-depth knowledge of Business studies, legal, finance, banking, accounting, financial management etc. There are many top courses which are available to students of commerce stream after they pass out 12th.
Dear friends here is a list of some job oriented and High Salary Commerce Courses. The time of completion of course is also provided.
Let's have an analysis of such courses which are offered to students as Career Options After 12th Commerce:
S. No.

COURSE

BRIEF DESCRIPTION

DURATION

(In Years)

EXPECTED SALARY (In Lakhs)

1.

B.Com

Bachelor of Commerce is the most common degree which almost all commerce students do after class 12th.

3

2-5

2.

BBA

Bachelor of Business Administration is a degree which is attained in the administration of Business and Commerce.

3

2-5

3.

BMS

Bachelor of Management Studies is an undergraduate program in management is studied and this programme s offered by many universities after 12th.

3

2-4

4.

B.Eco

Bachelor of Economics is another course which is in demand and with ample amount of job opportunities.

3

3-5

5.

CA

Chartered Accountancy is a professional course and the degree is provided by the Institute of Chartered Accountants of India. CA has expertise in the field of accountancy.

5

3-6

6.

CS

Company Secretary is one of the professional courses after 12th commerce and is related to secretarial and corporate legal activities.

4

3-6

7.

ICWA

Another professional course which can be taken up by students

4

2-5

8.

LLB

This is the only Law Degree which is a Law aspirant can pursue in India.

5

5-7
3 year Degree Courses after 12th commerce apart from the above are:
B.Com – Computers, Banking Management, Taxation
BCA – Bachelor in Computer Application
BBM- Bachelor in Business Management
BAF- Bachelor in Accounts & Finance
BFM- Bachelor in Finance Management
DUAL DEGREE/FOUR YEAR DEGREE OPTIONS
Best Courses after 12th commerce which are dual degree courses and the time duration for their completion is four years are as follows:
BA+B.Ed
B.Sc +B.Ed
BA+LLB
B.Com +LLB
BBM +LLB
BBA + LLB
Having two degrees obtained in one time, the job profile of these courses become attractive and have great success attached in terms of salary, rise, growth and job opportunity.
COURSES AFTER 12TH ARTS
Arts and Humanities offers a wide range of Career Options to Students which extend from movies , media, animation , choreography to cultural art, painting, photography and cooking. Some of these courses can even be pursued by commerce students. Below is the list of some best courses after Class 12th arts:
S. No

COURSE

COURSE DESCRIPTION

DURATION

(In Years)

STARTING SALARY

(In Lakhs)

1.

Animation & Multimedia

This is a very attractive field and it offers courses from multimedia, graphics, web designing, gaming, media to entertainment and 3D animation.

1-3

2-3

2.

Fashion Designer

This is another profession which is spreading its legs to a large extent and fashion experts are highly in demand all over the world. Students can make career in this after Class 12th arts.

1-3

2-3

3.

Visual Arts

By opting this field students can make a career in ceramics, drawing, painting, sculpture making, printmaking, photography, filmmaking, architecture etc.

1-3

2-3

4.

Literary Arts

Students who have keen interest towards writing can prefer this as a career option.

1-3

2-3

5.

Aviation & Hospitality Management

This profession is related to customer handling, hospitality and one can become air hostess and flight steward by choosing this as your career

1-3

2-5

6.

Hotel Management & Catering

This is study of hotel and how to manage it. The degree which is earned in this field is Bachelor of Hospitality Management or Bachelor of Hotel Management.

1 -3

2-5

7.

Journalism

This is related to media and television industry.

1-3

2-4

8.

Foreign languages

Due to the cross country work culture there is a need of people who can learn, and then interpret different languages. This is a field with much scope.

3

3-5
All the above mentioned professions are such which are best from career perspective and job opportunities. A student according to his/her liking and keen interest can select any course and progress in career. All these courses are highly in demand in the practical world and have attractive pay also.
Also the following are some Other Career Options for students of class 12 arts. Students can explore these courses and if interested can make their career in it. Duration of these courses will also range from 1- 3 years.
BA-HEP( Bachelor of Arts in History, Economics and Political Science)
BA-HTP
BA –Linguistics, Economics, Psychology, Fine Arts, Political Science, Library Science, Sociology
Fire Safety
Home Science
Tourism
Rural Development
Designer – Fashion, Jewellery, Interior
Film Making – Direction, Screen Writing. Cinematography, Sound Designer, Editing, Action
Management – Hotel, Finance, Event
DEFENSE SERVICES
There are some aspirants who have heed to serve the nation. Their curiosity and delight lie in doing something for Mother India; and so such students can join National Defence Academy after 12th and decide in which force they want to be a part of i.e. Army, Navy or Air force.
TEACHING PROFESSION
Teachers earn a lot of respect in society and this is a very noble profession. Well recognized teaching courses present in India are as:
S. No.

COURSE

DESCRIPTION

DURATION

(In Years)

SALARY (In Lakhs)

BA + B.ED. Integrated course

B.ED is Bachelor of Education and this course provides eligibility to become a teacher. According to your choice, you can pick out subjects and do this dual degree.

4

2-4

B.SC + B.Ed Integrated Course

This is another integrated program where both the degrees can be attained simultaneously and accordingly pursue their teaching profession also.

4

2-4

B.EL.ED

It stands for Bachelor of Elementary Education. This course is for those who want to become a primary school teacher.

4

2-4

D.EL.ED

It stands for Diploma in Elementary Education. It can be treated as an alternate to B.EL.ED

2

2-3

5.

B.PED.

B.PED. stands for Bachelor in Physical Education.

3

2-4
BANKING COURSES
Banking Sector has emerged out to be a lot popular among youths. Students see it as field to settle down in career. Below are some Popular Banking Courses after 12th in India:
Bachelor of Vocational Studies – Banking & Finance
Investment Banking
Bachelor of Economics
Bachelor of Finance and Accounting.
CMA- Certified Management Accountant
These are those courses which makes you eligible to earn a job in this sector. Duration of all these courses is 2-3 years. Jobs in this field have high pay and job stability. It is a very secure sector.
Through this advisory article all efforts have been made to give you precise and accurate information about all the Best Courses which are available after 12th. Things have changed now and students have become more pro-active. They understand that profession should be chosen on various aspects like interest and future growth prospects. Therefore, this article will help you deciding what are the choices and what can be best suited to you.