Topic We Cover: Why BTech Still Consider Better Career Options
1. INTRODUCTION
What is the Bachelor of Technology course?
Why should you choose a B.Tech course?
2. Opportunities after Doing B.Tech Degree Courses
Job Opportunities
Types of job profiles for BTech Graduates
Top recruiters for BTech graduates
Doing higher studies in Engineering (MTech/MS)
Doing MBA
Government sector jobs
Private sector jobs
Going for Civil Services Examination
3. Entrepreneurship
4. Conclusion
INTRODUCTION
Is pursuing B.Tech a good career option? Often, students get baffled about their career options, about whether to select for a bachelor of technology as their graduation or not. So, we are here to answer all the questions you have in your mind related to the Scope of Bachelor of Technology, the career choices you have after completion of B.Tech Course and the salary package you can get after completing the same.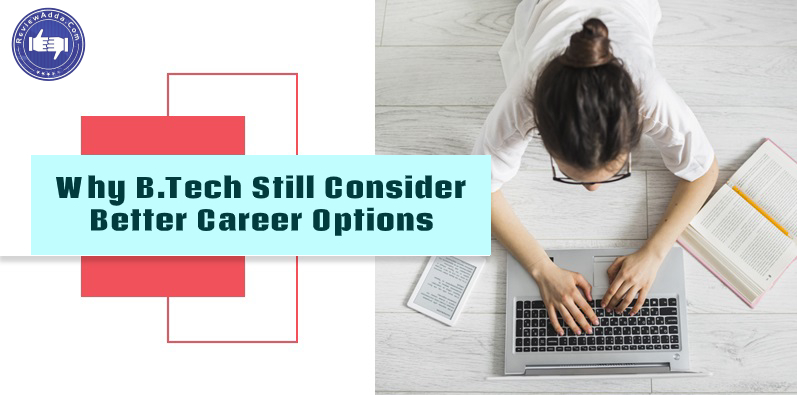 Till now, In India, engineering is considered one of the most popular career options among students. B. Tech (Bachelor of Technology) is still the most preferred Undergraduate Degree Course that students take up after clearing class 12th examination in Science stream.
The duration of a B.Tech Course is four years and it is offered by various Engineering Colleges all over India including the prestigious IITs (Indian Institutes of Technology) and NITs (National Institutes of Technology). For the eligibility criteria for a B.Tech Course, students must have a PCM group (Physics, Chemistry, Mathematics) in class 12 as mandatory subjects.
But what happens after the completion of a B.Tech Degree? Well, it's a question that students have to face in the third or fourth year of engineering. In fact, most of the people who take up jobs straight after completing their B.Tech degrees also go for a Masters's degree or a Postgraduate Program in a particular field at some point in their lives to enlighten their skills and improve their chances of getting better and more productive job offers.
Apart from options like preparing for Civil Services to land a government job or taking up a job through campus placement or starting a business, an engineering graduate can go for the common choice, which means going for Higher Education and taking up a PG program. However, what happens mostly students get confused about the options they have to make. Mostly, students are unable to conclude which course will perfectly match their areas of interest, skills and long-term career goals.
In this article, we've tried to intricate on the course options that students may consider taking up after finishing their B.Tech degree. But before we talk about the courses after B.Tech, let us quickly take you through some Popular B.Tech Entrance Exams that engineering aspirants take in order to become eligible for admission in Engineering Colleges of the country.
What is the Bachelor of Technology course?
Bachelor of technology, commonly known as B.Tech, is the most popular and in-demand Undergraduate Course in India which is picked by students after completion of 12th with science. It is an undergraduate degree received by students after completion of four years of academic study in the Field of Engineering.
Why should you choose a B.Tech course?
Have you ever thought in your imagination, What is so distinguished in the B.Tech Course that makes it the most well-known course? Although its recognition is decreasing due to the sprouting of low-quality colleges over the years, B.Tech is still the most famous course in India. In getting your dream job, a B.Tech degree offers you a lot of freedom. It is all about having a practical approach to different kinds of problems. Here are some key points, explaining why one should opt for B.Tech Course:
B. Tech Courses are currently among the most consistently expanding areas of demand for employees.
Decision-making skills get enhanced.
Employers these days look for candidates who are techno-savvy. The engineering course is all about new inventions, analytical work, and research.
Variety of career choices.
In B.Tech you won't just learn the theoretical part but also get the opportunity to do practicals.
It gives you appreciation and exposure to the outside world and how to deal with various situations.
Opportunities after Doing B.Tech Degree Courses
B.Tech accessible various career opportunities even if one needs to avoid going for a postgraduate course immediately after graduation. Some of the options that students can acknowledge after finishing their B.Tech Degree are mentioned below:
Job Opportunities:
After completion of their course, most of the Engineering Graduate Students go for the job. Job opportunities are excellent after engineering. For their student's engineering colleges also offer campus placement. It is good to get a job in a company through campus placements as it is very tough to get a job after you are out of college. So, try to catch the job during Campus Placement.
There are several engineering institutes that offer jobs through campus placements. For entry-level job roles in technical fields, B.Tech Graduates are offered jobs by many private sector companies. Also, for qualified engineers, there is a lot of demand in the real estate, construction sector, petrochemical industry, automobile manufacturing and design and development of technology, etc. Those who have an engineering degree in Computer Science are always in demand as software or hardware engineers. In fact, Engineering Jobs can be divided into two categories:
In technical fields the Job Opportunities for B.Tech Graduates are huge. Any graduate who has successfully pursued a B.Tech degree can get a job in almost all the sectors in India. Besides being hired as engineers, B.Tech graduates are also hired as subject matter experts, consultants, researchers, managers etc. Let's have a look at some of the popular job profiles for BTech graduates below.
Types of job profiles for BTech Graduates
| | |
| --- | --- |
| Computer Science Engineer | Mining Engineer |
| Mechanical Engineer | Ceramic Engineer |
| Civil Engineer | Production Engineer |
| Automobile Engineer | Robotics Engineer |
| Chemical Engineer | Electronics & Communication Engineer |
| Electrical Engineer | Lecturer/Professor |
| Electronics Engineer | Software Develop |
| Aeronautical Engineer | Product Manager |
| Marine Engineer | Construction Engineer |
| Aerospace Engineer | Telecommunication Engineer |
As a B.Tech graduate, it's essential to be knowledgeable of the options that you are or you will be making for your future. To make the right accord, you must be knowledgeable of all the options available to you after graduation to lead a better career.
After completing their 4-year program many B.Tech Graduates, go for an MBA Degree. While there are many who appear for GATE to pursue higher studies in the selected specializations. Some B.Tech Graduates also launch their own start-ups.
Get Updated Review ( Voice Based Alumni Feeback)
Top recruiters for BTech graduates
Across every domain, the demand for B.Tech graduates is very high. Every company recruits engineers in various capacities whether it is – private or government, big or small. After a successful 4 year program, have a look at the list of some of the top companies recruiting B. Tech Graduates.
| | |
| --- | --- |
| TATA Consultancy | Bain & Company |
| Infosys Technologies | Larson & Tubro |
| IBM Global Services | InfoEdge India Ltd |
| Accenture Services | Honeywell |
| HCL Technologies | Samsung |
| Goldman Sachs | AT Kearney |
| Qualcomm | Blackstone |
| Microsoft | Hindustan UniLiver Ltd |
| Cairn | ITC Limited |
| Mckinsey Knowledge Centre | JP Morgan |
| Rubrik and Uber | Intel |
| Apple | EXL |
| Google | Flipkart |
| Morgan Stanley | Myntra |
| Schlumberger | Amazon |
| Deutsche Bank | HSBC |
| Procter & Gamble | ICICI |
| Millennium | Mahindra & Mahindra Ltd |
| ISRO | Siemens |
| Sysmex | Triveni Turbine Limited |
Doing higher studies in Engineering (MTech/MS)
After college If you could not get a nice job, then you can always opt for higher education and raise your chances to get a good job. But it is commonly seen that very few people are concerned in higher education as devoting money and time in higher education yield benefits for the long term. Most of the universities organize their own admission test but Graduate Aptitude Test for Engineering (GATE) examination is the most common exam for M.Tech Admission.
Many students choose to get admission to an M.S. degree from a foreign university. To do M.S. you must pass TOEFL/IELTS (English proficiency tests) and GRE to get scholarships. Now a day, for higher studies most of the foreign universities are offering postgraduate courses at affordable costs and also many banks provide loans.
Doing MBA
After completion of their Engineering Course, many students want to do an MBA. After engineering and MBA degree is deliberated rewarding in terms of salary. In a few years, engineers with good technical skills get bored by doing the same stuff, and without a management exposure, they may be stuck in a groove. An MBA degree gives you more disclosure and supports you earning more in very less time. Also, an MBA degree from a renowned institute in India/abroad can add much to the resume and it happens that most engineering students come from Tier 2 and Tier 3 colleges.
In India, the business schools considered as the most prestigious business schools are IIMs. Through Common Admission Test (CAT) they take admission which is conducted by IIMs.
The CAT 2016 result shows that it is controlled by engineers. In the Common Admission Test (CAT) CAT 2016 as many as 20 candidates have scored overall 100 percentile and all the 20 candidates were engineers. So doing an MBA Program from a well-known engineering college is always good.
Government sector jobs
The jobs that are undertakings through the GATE are available in technical fields are in the Public Sector. For entry-level jobs, many PSUs hire B.Tech graduates on the basis of GATE Score. In the field of engineering, some of the other government jobs available are in the Food Corporation of India, Indian Railways, oil and natural gas corporations, airport authorities of India, Indian Space Research Organisation (ISRO), etc.
Private sector jobs
Companies that also hire fresh B.Tech Graduates are Wipro, Microsoft, Samsung, Oracle, Intel, Dell, etc. and offer them good employment opportunities. So, for campus placements students who are not willing to sit, can try their hand at private sector companies and apply for an in technical job roles and acquire knowledge as well as experience in the corporate world.
Going for Civil Services Examination:
The Union Public Service Commission (UPSC) is one of the complicated examinations to crack which is conducted by the Civil Services examination, but for an Engineering Graduate, it can be a great option in order to land a government job. For a B.Tech graduate cracking Civil Service Services, the examination can prove to be advantageous who wishes to become an IAS officer or an IPS officer.
In his life dreams every Indian at a sooner or later stage to be an IAS officer because this is the most prestigious and influential job and carries with it a lot of responsibility. It is the backbone of India. Although corporate jobs may offer handsome salaries and perks, still most of the engineering aspirants still crave entry to the influential Indian Civil Services held by the UPSC.
As per the report of 65th Annual Report of the Union Public Service Commission, in Union Public Service Commission (UPSC) over half of the candidate qualifying exam comprises of engineers.
Entrepreneurship:
When you have a unique business idea this is the best option for you and you have also money to spend in your business. Entrepreneurship is the most advance thing everyone is doing and you should also do it too. But do not get carried away by the belief of becoming well-known and wealthy in very little time. It may happen but do acknowledge this as a learning opportunity.
There are many who do not have well-off family background need to join some job so that they can earn money to invest and assemble experience about how things work in the corporate world. Do not initiate a startup just to impress someone or to be affluent in very little time. To give a result every action needs an appropriate time. Give time to your action.
You can analyze your creative side and use your skills to achieve advantages from initiating your own business venture. Also, to learn while earning you can try freelancing options that can provide you with an opportunity.
Who doesn't desire to be his/her own boss? Initiating something of your own is a great choice, but you require to be sure of your skills as an entrepreneur. More like a fashion than a career, the startup is trending. Initiating and making your venture successful would be the toughest of the things you do. If you want to become an entrepreneur be ready for the challenges and immense learning because at times it gets very challenging to survive in cut-throat competition with already established companies.
I am not trying to turn aside from your thoughts of becoming an entrepreneur if you trust in yourself and have shown some great results during your graduation years then give your start-up a ride. After all, there are many businessmen who have also undergone the journey of becoming rags to riches.
Conclusion
After engineering, there is a lot of scopes and career opportunities are available. All you require to do is mobilize your talents and according to your skill-set find yourself a suitable job. I hope this blog helps you in moving your career in the right direction. However, if you still have any doubts about the career, scope, and salary of a B.Tech Graduate, you can contact us on RRIMT, we will be glad to provide consultancy for admission in bachelor of technology. All you require is to gear your talent and find a suitable job. To pursue your dream job always stay connected with your seniors and friends because they can provide you a breakthrough.