Topic We Cover: HOW TO PREPARE FOR GATE
1. ALL ABOUT GATE
2. PATTERN OF EXAMINATION
3. TIPS FOR PREPARATION FOR GATE
DRAFT A STUDY PLAN
SELECTION OF BOOKS AND OTHER RESOURCES FOR GATE PREPARATION
FOCUS ON CONCEPTS AND CALCULATIONS
TIME MANAGEMENT
TAKING MOCK TEST
Well, GATE 2019 is history now!! The exams were held on February 2, 3, 9 and 10, 2019 by IIT Madras and the results will be announced on March 16, 2019. Lakhs of graduates and other applicants see Graduate Aptitude Test in Engineering (GATE) as a route through which they can get admission to M.Tech/Ph.D and other various government scholarships in the field of engineering and technology. By taking GATE one can also get employment in Public Sector Undertakings as it directly recruits to Group A level posts in the Central Government and other government organizations. There are various benefits of taking GATE which turns the number of test takers into lakhs as a result of which strenuous competition prevails in this coveted exam and that makes every aspirant think HOW TO PREPARE FOR GATE?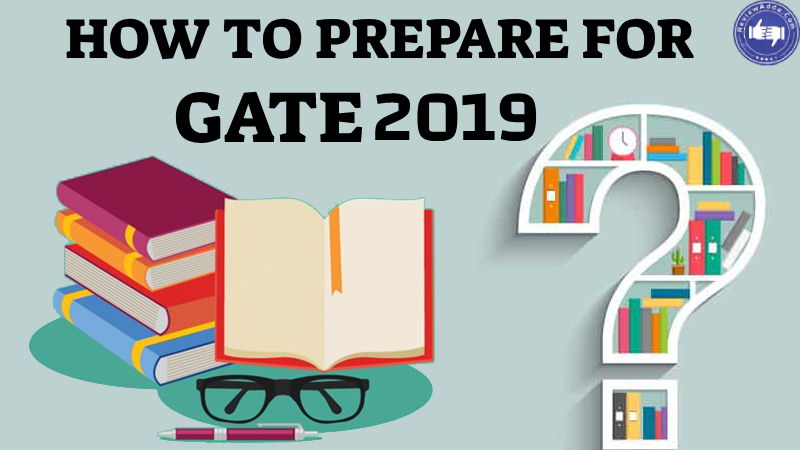 Graduate Aptitude Test in Engineering, GATE as the name indicates is an exam of your general aptitude and just cramming up won't do any good. Students preparing for GATE shall always remember that the basic apprehension of the fundamentals of the candidates is inspected in this exam. Also, there are some questions which are based on principles, formulas and laws of the selected subjects. This is a technical exam and preparing smartly with help of some tips and tricks will make your Preparation for GATE simpler and worthy. The aspirants should rely on their computational and logical reasoning skills. But before we get into the preparation strategies let's know What Makes GATE so Popular?
ALL ABOUT GATE
Graduate Aptitude Test in Engineering (GATE) is conducted jointly by the Indian Institute of Science (IIS), Bangalore and the seven Indian Institutes of Technology (at Bombay, Delhi, Guwahati, Kanpur, Kharagpur, Madras and Roorke) on behalf of the National Coordination Board (NCB)-GATE, Department of Higher Education, Ministry of Human Resource Development. Annually one of the administering institutes is elected as organizing institute for GATE. IIT, Madras was the organizing institute for GATE, 2019.
Empowering GATE is imperative for seeking admission and/or financial assistance to a) Master's programs and direct Doctoral programs in Engineering/Technology/Architecture and b) Doctoral programs in relevant branches of science, in the institutions and colleges which are supported by MHRD and other Government agencies. Qualifying in GATE Exam is necessary even in those colleges which admit candidates without MHRD scholarship/assistantship.
PATTERN OF EXAMINATION
Having awareness of the exam pattern plays a crucial role in the preparation for it. Familiarizing with the syllabus and model of GATE will simplify the preparation procedure. Every year the organizing institute of GATE releases a brochure which has detailed information about the syllabus and its order. A brief overview of the examination sequence is discussed below.
GATE is a Computer Based Test (CBT) that means that the examination for all its 24 disciplines will be taken on the Computer terminal. It is not an online exam and the use of the internet is restricted. The duration of the exam is three hours and maximum marks are 100. The examination is generally held in two shifts i.e. morning and afternoon and questions asked consists of both Multiple Choice questions (MCQs) and Numerical Answer Type questions (NAT).
There will be a total of 65 questions carrying 100 marks out of which 15 marks will be on General Aptitude (GA). The GA section is mandatory for all the 24 exams of GATE and the rest sections are based on subject-specific questions which are selected by the students. The General Aptitude section comprises of 10 questions. 5 questions are of 1 mark each and remaining 5 questions are of 2 marks each.
There is always a set style and system of exams which has been followed in recent past years. So it is important that pattern shall be analysed and understood as it aids in plotting the preparation strategies. The GATE 2019 consisted of two types of questions namely:
MCQs: Multiple choice questions are basically objective type questions and one has to choose the correct answer from an available set of four options. The MCQs are of one mark and two marks both. Negative marking is also attached to these types of questions. 1/3 mark is deducted for every wrong answer to 1 mark MCQ. Likewise, 2/3 mark is deducted for every wrong answer to 2 marks MCQ. There will be no negative marking if the question is un-attempted.
Numerical Answer Type (NAT): The answer to these questions is in a numeric form which can be a real number like 2,3,41 or in form of decimal like 00.1, 1.2 etc. No choices are provided for such questions. There is also no negative marking for NAT.
Following is the section-wise breakage of marks:
Paper-Code

Section-wise percentage of marks

AE,AG,BT,CE,CH,CS,EC,EE,IN,ME,MN,MT,PE,PI,TF and XE

General Aptitude – 15% marks

Engineering Mathematics – 15% marks

Subject-specific section – 70% marks

1.

AR, CY, EY,GG,MA, PH, ST and XL

General Aptitude – 15% marks

Subject- Specific Section – 85%
The List of GATE paper and there code is given below:-
| | |
| --- | --- |
| GATE PAPER | CODE |
| Aerospace Engineering | AE |
| Agricultural Engineering | AG |
| Architecture and Planning | AR |
| Bio-technology | BT |
| Civil Engineering | CE |
| Chemical Engineering | CH |
| Computer Science and Information Technology | CS |
| Chemistry | CY |
| Electronics and Communication Engineering | EC |
| Electrical Engineering | EE |
| Ecology and Evolution | EY |
| Geology and Geophysics | GG |
| Instrumentation Engineering | IN |
| Mathematics | MA |
| Mechanical Engineering | ME |
| Mining Engineering | MN |
| Metallurgical Engineering | MT |
| Petroleum Engineering | PE |
| Physics | PH |
| Production and Industrial Engineering | PI |
| Statistics | ST |
| Textile Engineering and Fibre Science | TF |
| Engineering Sciences | XE |
| Life Sciences | XL |
Having a wish is good but a systematic approach to attain it actually important and that can only be fulfilled if you are familiar with the path which is to be followed. Knowing the pattern and syllabus aids you in making a dedicated plan of action. You can segregate the topics as per easy, moderate and difficult levels and focus on the game plan which is required to be formulated as per your convenience.
Get Updated Review ( Voice Based Alumni Feeback)
TIPS FOR PREPARATION FOR GATE
DRAFT A STUDY PLAN
For a better future, planning should be done today. It is a mammoth task to finish syllabus and revise it within an allotted time period. And so you should plan and codify such a study approach that is best as per you and adhering to which makes your syllabus finish within time. While you are drawing up your blueprint as how you are going to proceed with your preparation some points should be kept in mind.
While preparing the plan of action always do an analysis of previous years exam papers. Through this you can bifurcate topics into categories which are repeatedly asked and which are less frequently questioned. Attention shall be given on topics which are time and again asked and they should be prepared laboriously and properly.
Always divide topics into easy, moderate and difficult segments. This helps in deciding the allocation of time which each topic and subject requires as per their toughness level.
You should check the weightage of sections and topics from previous years question papers and plan your study accordingly. Pay more attention to topics which emerge out to carry more percentage of marks.
Concentrate on target based preparation. Make daily, weekly and monthly targets. And try to comply with your targets as much as possible.
SELECTION OF BOOKS AND OTHER RESOURCES FOR GATE PREPARATION
Electing proper and good textbooks for your GATE Preparation is very essential. You are advised to carefully check and select the book from which you are going to prepare. The selected books should be neither very comprehensive with regard to the subject nor it should be less informative.
Apart from the books, now-a-days internet and social media is another option which students can refer to do their Preparation for GATE. There are videos, tutorials, articles and ample amount of study material available on the web and candidates can very well refer to them to clear of doubts and get hold of the topics. Internet is free of cost and you can search for any amount of information that you want.
When you are preparing either from the book or from internet try and pen down the relevant points, make short notes that you can revise at the time of final revision. Highlight the significant topics and sentences in the books so that when the revision is on its end stage you can recapitulate quickly.
FOCUS ON CONCEPTS AND CALCULATIONS
While preparing for a competitive exam such as GATE, conceptual knowledge and clarity of fundamentals is required. If basics are clear then you can solve any type of question presented in front of you and on the other hand just mugging up the subjects and lack of transparency in concepts will not help you in any way.
Mastery in calculation skills shall be achieved. A large part of the exam can be practical and honing your calculations will give you accurate and speedy answer during the examination and you will be able to save time. A virtual calculator is provided during the exam which is different and cumbersome to use. Candidates should thereby work on improving their calculation ability.
TIME MANAGEMENT
From day one frame a time table which gives equal time period to all sections and subjects. Formation of time table shall be such that you have enough time for the first revision, second revision and any further revision. Stay calm and be dedicated and just try and follow your time table and follow it by heart. This exam generally takes place in February so you should make your time table such that all your preparation comes to an end by November and then you start revising thoroughly.
TAKING MOCK TEST
It is vital to evaluate yourself once the basic preparation is over. This assessment can be done if you take mock tests for each subject. Mock tests are available on the internet and even on the website of the organizing institute. By taking such sample papers you can learn the level of your preparation and where actually you stand. You will be able to review your shortcomings and weaknesses and then you can try to overcome those. To win on your flaws you can always discuss them with your seniors, teachers or fellow students.
The above are a few points which if taken care of can be of great help to the students. As said by experts and toppers that you shall always stay motivated and devoted towards the goal which they are progressing towards. Attitude matters while preparing for examination such as GATE. Positive thinking will bring positive results. Don't compare yourself with others. The only thing that matters is self-faith and confidence that you can clear GATE Examinations.
Also, Health is something which should not be overlooked. Study is necessary but so do is health. Eating healthy and properly keeps the mind in a relaxed condition. Don't take too much of stress and try to have an adequate amount of sleeping hours. Don't just study all round the clock. Relax; take a break and revitalize yourself through meditation, pursuing your hobbies and taking such other short breaks which discontinue the monotonous atmosphere of studies. This will also be helpful in keeping you motivated towards your aim.
Be regular with your studies and finish off the entire syllabus beforehand. Stand by to the targets and schedules that you have set. Re-brush yourself through the short notes that you have prepares before the examination. Examine yourself at every stage of preparation through mock tests and try to resolve all the doubts and problems that you have. Try and stay away from distractions like social media where you tend to waste a large amount of your precious time.
Clearing GATE is all about proper preparation strategy and implementation of it. Abiding with your preparation strategies, hard-work and belief in yourself that yes you can crack this examination of GATE will play a decisive role in achieving your objective.