Topic We Cover: DU vs IPU vs JNU vs Amity
1. DU vs IPU vs JNU vs Amity: Parameters to Consider
Repute
Student to Teacher Ratio
Placements
Location
Infrastructure
2. Delhi University (DU)
Courses offered at Delhi University
Placement in Delhi University
Scholarships in Delhi University
Undergraduate Scholarships
Post Graduate Scholarships
Departmental Scholarships
3. IPU
Courses Offered by IPU
Placements in IPU
Scholarships of IPU
Jawaharlal Nehru University
Courses Offered by JNU
Placements in JNU
Scholarships/Fellowships of JNU
4. Amity University
Courses offered by Amity University
Placements in Amity University
Scholarships of Amity University
5. DU VS IPU VS JNU VS Amity
Perception
Student to Faculty Ratio
Infrastructure
Location
Placements
Are you into much turmoil as to decide on the best college and need a proper analysis of DU Vs IPU Vs JNU VS Amity, all of which are known to be the topmost college of the country?
With Higher Education being the pillar to prepare intelligent, dynamic and responsible citizens, there is no dearth of colleges one might choose to get admission into. However, quality will always be a factor to cherry-pick a particular college.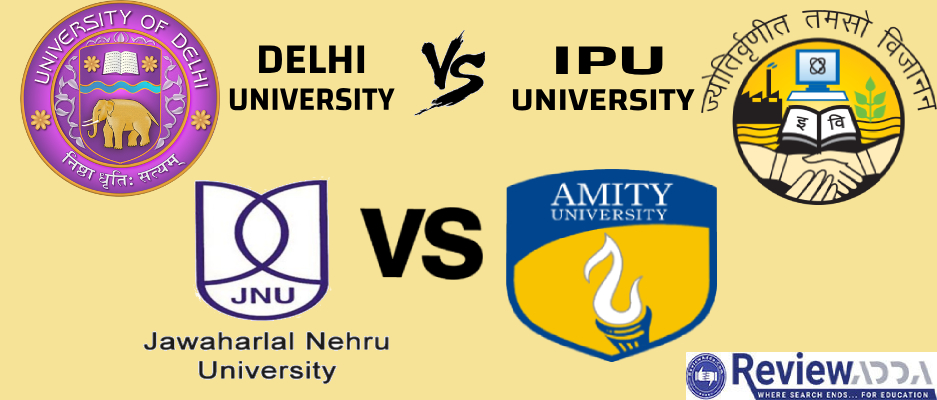 In the current scenario, students are brainy enough to judge the quality education provided by a college and on the basis of that only, they start picking up their preferred college. So, should you start analyzing DU vs IPU vs JNU vs Amity to enroll into the best course on varied parameters?
Well, why not? It's your own career that is on a stake and you are the one who needs to decide your future.
Good research on DU vs IPU vs JNU vs Amity will surely leave you in a doubt-free state as at that time you might be able to pick the best college of your choice considering all the parameters offered by these colleges.
It is true that all these colleges are prominent ones and attract a number of students across the country sometimes due to their education, facilities, admission fees, and other factors.
Not only their facilities but the way they have been imparting their education draw many students to them.
Let's check the following factors why it is needful for you to go through DU vs IPU vs JNU vs Amity analysis and what will come out after doing that?
DU vs IPU vs JNU vs Amity: Parameters to Consider
1) Repute
To choose a reputed institute after researching DU vs IPU vs JNU vs Amity will be beneficial if you go by a college's repute and not deciding on its other factors before getting admission into any of its courses. But repute always exists with all the parameters being completely satisfied. So, it is just a judicious thought to check the repute of a university. In all the four universities DU, IPU, JNU and Amity, a reputation factor can actually instill confidence in the minds of the students which pulls them to a particular university and the courses offered by it.
2) Student to Teacher Ratio
What will happen if there are fewer teachers for a whole crowd of students? Well, in such cases, no serious study will take place from the end of the students. And they, themselves will think of them being duped. So, by researching DU vs IPU vs JNU vs Amity just see the ratio of teachers and students so that you can acknowledge the fact that a good number of teachers are very necessary for a large number of students.
3) Placements
Placement is one of the most important points to consider before selecting a university to enroll in. A university that is low on placements can't attract the students as after all, the students are always cautious of their future before being enrolled into the university. So, you should delve into DU vs IPU vs JNU vs Amity Analysis that will help you take a good decision based on their placement records. Students can also take into account the percentage of students that get placed in a particular university to judge the suitability of a specific university.
4) Location
Would you go into the college that is too far from your home and that long distance is taking a toll on your study? Well, you would never ever do that? Right! So, the proximity of your decided college to your home will always be best suited for your study. However, a quick analysis of DU vs IPU vs JNU vs Amity will let you know which college will be most beneficial for you in this respect. Once you are satisfied with the proximity of the colleges of a university, just go for that university straight away.
5) Infrastructure
A consolidated amount of facilities such as Wi-Fi, hostel accommodation, labs, amenities, sports; library, gym etc. make an infrastructure! Yes, if the infrastructure of a college is not in sync with your requirements, you will stay away from that college. So, researching DU vs IPU vs JNU vs Amity will surely let you come to a solid decision to choose any one among the mentioned list.
Delhi University (DU)
Delhi University is one of the topmost Indian Universities that is recognized for its legacy as well as heritage. This university has produced innumerable talents such as eminent policymakers, thinkers & intellectuals. As many as 77 colleges are affiliated with the Delhi University.
A number of ex-students of Delhi University earned a big name in the field of Journalism, Commerce, Cinema, Sports, Politics etc. The university proffers a variety of undergraduate, postgraduate, Ph. D & M. Phil courses in a number of disciplines.
Get Updated Review ( Voice Based Alumni Feeback)
Admission in most of the undergraduate courses of Delhi University is possible via merit. Delhi University lets the students apply online. Once the application procedure is over, a cut-off score is released for different colleges & courses. Colleges that are affiliated with Delhi University organize entrance exams for a number of courses such as BBS & BBM.
Admission in Postgraduate Courses of Delhi University is subject to the merit as well as the entrance examination. Postgraduate schedule for admission is released in a separate manner by the departments of this university on its site.
Admission to Ph. D and M. Phil courses are based on the performance gained in the entrance test as well as interview organized by different departments of the university.
Courses offered at Delhi University: -
Delhi University offers a wide array of streams in its B.Sc. programs, B.A. programs, B.com programs etc.
Delhi University's humanities programs are much popular among other programs, which is the reason why class 12th students are often inclined to take admission into these programs. The most famous of all Delhi University Programs are B.A. (Hons) English which is followed by BA (Hons) political science & BA program.
Commerce programs of Delhi University are also immensely popular and everybody likes to get enrolled in these courses. B.com (Hons) & B.com program are the most famous courses in Commerce Stream of Delhi University.
Some of the popular science Courses of Delhi University are B.sc &B.Sc. Physics.
Apart from these programs, there are a few entrance test-based programs that are as follows: -
Faculty of Applied Social Sciences and Humanities
Faculty of Education
Faculty of Inter-disciplinary & Applied Sciences
Music and Fine Arts
Faculty of Social Sciences
Placement in Delhi University
Placement Facility of Delhi University never look you down as being a prominent university, many students are placed in the big MNCs, NGOs, Govt. jobs & private sector organizations.
Students who register with the central placement cell of Delhi University can get placement assistance from the placement cell or even get counseling to get employment.
The central placement cell of Delhi University works like an interface between the students and the industry and it helps the students to go for their preferred career options.
Scholarships in Delhi University
Delhi University grants a large number of scholarships to its meritorious students. Through its scholarship programs, the university helps economically weaker students to complete their higher education. All the DU students are eligible to avail Scholarships of Delhi University.
The following few scholarships are available for the students in Delhi University: -
Undergraduate Scholarships
Sh. Prem Prakash Award
Dr. V.K.R.V Rao Endowment Book-Grant
Shri Uggersain Memorial Endowment Book-Grant
Post Graduate Scholarships
The pope scholarship
Sh. G.L. Mehta Memorial book grant
Delhi University and All India Post Graduate Scholarship
Departmental Scholarships
Dr. G.S. Sarin Scholarship
Hamdard Educational Scholarship in Persian
Datia Darbar Endowment Scholarship in Economics
IPU
Centered in Delhi, IPU or better known as IP University was established in 1998. The University offers a range of diploma, undergraduate, postgraduate &PhD programs in varied disciplines in its affiliated self-financed and Government colleges. Delhi University releases its application form in January month for undergraduate and postgraduate courses. Candidates who need to enroll in any of the Delhi University Courses can fill the application form online by going to the IP university website.
IP University conducts exams for undergraduate & postgraduate course in the month of April and May 2019. The test of IP University named IPU CET is conducted by the university for the ones who want to get admission to its UG & PG programs.
IP University Admission test is an objective type test where there is a provision of negative marking. The application form of this test is released online & the fee payment of the form is online too. Candidates who are looking for sitting in this exam need to know the eligibility criteria before starting filling the application form.
Courses Offered by IPU
IPU invites applications for its wide range of undergraduate & postgraduate course that comprises of the programs such as B.Ed, M.A. English, M.A. Economics, M.Sc in Forensic Sciences, M.A. English, B.Sc in Nursing, B.Ed, B.A. in economics etc.
Candidates can look at the course list of the university with their university schools' name as well as affiliated institutes. It would be the best for the candidates to go through the list of IPU courses and make a good decision of choosing their desired course.
Candidates who are willing to enroll in any program run by IP University can apply for the same. There are 5 dual degree programs, 20 UG programs, 1 integrated course & 33 PG programs offered by IP university. Candidates can apply for a number of courses however they should fill separate forms to do so.
Placements in IPU
IP University, Delhi has a placement cell that commune with the companies for the purpose of training & placement of the students. The placement Agency of IP University conducts pre-recruitment training as well as discussion programs for the most deserving students. The placement cell of the University organizes industry-oriented programs, mock personal interviews, summer industrial training & placement of the students.
The first and foremost target of the placement cell of IP University is to offer 100% placement to its students. The university conducts many courses to enhance its student's confidence such as soft skill & personality development courses.
IP University invites a number of industrialists for interactive sessions done with the students. Regular seminars are organized where students can learn real job challenges. A number of programs are run in the placement cell of IP university such as Flipkart live projects, Adobe Digital Disha program & internship for the students of undergraduate as well as postgraduate students.
Scholarships of IPU
IPU offers a range of scholarships to the students that are based on a number of schemes. Some of the scholarship programs that are run by IPU are as follows: -
Scholarship for technical & professional courses
Scholarships for minorities
Scholarship for students who have disabilities
Prime minister's scholarship schemes for Assam Rifles & Central Armed Police Forces
Jawaharlal Nehru University
Jawaharlal Nehru University has a nice academic structure that makes it differ from other available universities. The schools & special centers provide a range of undergraduate, postgraduate & research courses in a number of specializations in different streams such as Commerce, Arts, Science etc.
JNU releases offline application forms to the students in the mid of February month every year. Each and every enrolled student of the university gets financial help from the university through its wide range of scholarship and fellowship facilities that are meant for promoting higher education.
JNU's Entrance Exam is organized at KendriyaVidyalayas in the 3rd week of May month per year. The entrance exam comprises of a 3 hours question paper for each program. The entrance exam is for 4 days which comprises of 2 sessions of 3 hours each day. The marks weightage is 70% for written exam & 30% for Viva Voce respectively.
JNU has a provision of reservation for people who are from backward class & physical disabilities. In addition to that, the university has also the provision of offering 15% seats to the foreign nationals. There is also a provision of awarding Deprivation points to the female candidates, Kashmiri migrants, widows of defense personnel etc.
Courses Offered by JNU
JNU offers a variety of courses to the students. There are many schools available in the university that offers many courses. The schools operating in JNU are as follows: -
School of Language
School of International Studies
School of Life Sciences
School of Physical Sciences
School of Arts & Aesthetics
School of Computational & integrative sciences
Centre for Molecule Medicine
Centre of Sanskrit Studies
School of Computer and System Sciences
Placements in JNU
Jawaharlal Nehru University is undoubtedly one of the most recognized universities in a number of research fields. JNU has a placement cell that is totally dedicated to the development of a student's career.
Opened in 2008, this placement cell is working sincerely to secure the future of the students. JNU's Placement cell is making continuous efforts in offering esteemed job opportunities to the students. JNU placement cell is totally committed to helping students get engaged in a number of government institutions, non-government institutions, and other companies.
Scholarships/Fellowships of JNU
The following scholarships/fellowships are provided in JNU: -
Okita Memorial Fellowship
Special Fellowships for SC/SC/PH students
G Parthasarthi Endowment Fellowship
Nippon Foundation (Japan)
Swamy Pranavananda Memorial Research Fellowship
Jawahar Bhawan Trust Scholarship
Amity University
Founded by Ashok K.Chauhan, Amity University is one of the esteemed Universities of India. It is the member of many associations such as Association of Indian Universities and Association of Commonwealth Universities. Amity University invites applications to its number of programs that are available in regular as well as in distance mode. Some of the streams in which Amity offers applications are medical, law, forensic sciences, engineering etc. Owing to its best online portal and the best placement record, it holds a high rank among the best Indian universities.
One who wants to seek admission into Amity University can take an English essay test organized by the University itself. Once the candidate clears the entrance test, he needs to crack an interview or group discussion that depends on the selection of the course.
Candidates who seek application in UG courses must clear 10+ 2 examinations from a legally recognized board. The candidates are required to attain 60% marks in 12th class. However, admission to some courses can be done on the percentage ranges of 50-60%. Candidates who are from reserved category can get 5% relaxation in the marks.
Admission to PG courses demands a graduation degree from a renowned university. Candidates must secure 60% marks in their graduation for enrolment in this university. For many PG courses, the minimum range of percentages is 50-60 %. Candidates from reserved category get 5% relaxation in their gained marks.
Courses offered by Amity University
Amity University has a vast curriculum as a large number of curriculum related activities are going on in almost every field. Right from cultural fests to sports, every kind of activity performed in the college paves the way for the students' development.
The courses of Amity University impart broad practical knowledge to the students along with some languages such as German & French.
Placements in Amity University
Amity University Campus possesses the required manpower and resources for fulfilling the placement needs of the students.
Amity Campus is comprised of IIC/CRC wing so as to support the students and coordinate with them perfectly.
The placement cell of Amity University does its work in the best possible manner. The faculty makes genuine efforts in calling the companies to the placement cell as well as helping the student before the commencement of placement drive. Most of the companies that participate in the placement drive are from Noida and Gurugram.
Scholarships of Amity University
Amity University is every student's dream in a number of aspects. And the university's scholarships are not behind too. The university offers financial aid to the most brilliant students especially who come from the weaker background. Amity university's Scholarships programs are considered to be the largest of all the scholarship programs provided by any university of India.
Perception
The perception formed about a particular university can really help the students to choose their preferred university. In general, all the institutes or colleges are always wary of getting a spotless record when it comes to perception and reputation.
Of all the four Universities mentioned above, Amity University is the one that has won the battle here. Being considered as the best campus in India, Amity too has been away from any stigma whatsoever and gained many accolades due to its scholarship programs.
Student to Faculty Ratio
Sadly, no University is good at the student to faculty ratio and UGC & AICTE should do something to cope up this issue. There are endless students studying in these universities and it seems tough to maintain a good student to faculty ratio in all these universities.
Infrastructure
Infrastructure is one thing that most of the student mull over while taking admission into a college. Well, to the much delight of the students, all these four universities are offering state of the art infrastructure to the students. And this works as a plus point for the university itself as more and more students get fascinated to a particular university and take admission into their chosen courses.
Location
DU, IPU and JNU, all three universities are near Delhi, unlike Amity university that is in Noida. However, Amity too is not too far and good means of transport are available for the students to bring them to and fro.
Placements
Although placements in all these universities are good, yet DU and Amity University are much better in providing suitable placements to the universities. Amity University, with its dedicated placement cell, goes ahead of all these universities to help them placed suitably in big MNCs.