Topic We Cover: GGSIPU Admissions 2018
1. Indraprastha University Common Entrance Test (IPU-CET)
2. IPU-CET 2018 Eligibility
3. IPU-CET 2018 Key dates
4. IPU-CET 2018 Application form
5. IPU-CET 2018 Corrections
6. IPU-CET 2018 Admit Card
7. IPU-CET 2018 Exam Pattern and Preparation
8. IP University courses and fee details
9. IPU Affiliate Colleges
GGSIPU is one of the Biggest Universities in India with 84 affiliate-colleges in the Delhi-NCR region.
Established in 1998, GGSIPU was instituted with the aim to cater to students who were dependent on government colleges and universities for undergraduate and postgraduate studies. IPU is a state university operational under the purview of the Govt. of Delhi. The vice chancellor of the university, who is also the head of the board of management at GGSIPU, is appointed by the Delhi Government.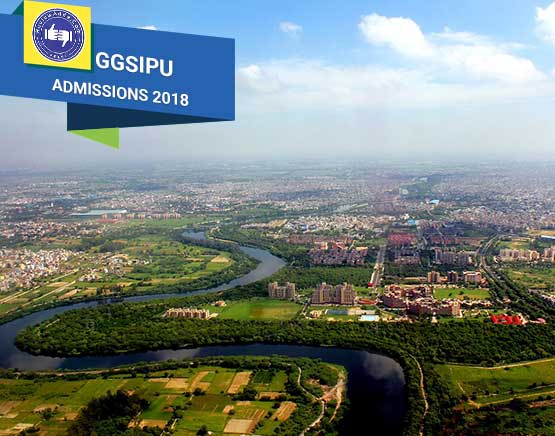 Aerial view of GGSIPU Campus in Dwarka
The main campus of GGSIPU is located in Dwarka, New Delhi. Though IPU is primarily confined in the Delhi-NCR regions, many students from far-reaching parts of India apply for admissions to GGSIPU.
Much of IPU's fame comes from the number and quality of its affiliate colleges. Engineering institutions such as MAIT and USIT give IPU a lot of credibility over other private universities. In comparison to other neighbouring universities such as UPTU, GGSIPU has much more uniformity in terms of academics and student quality. For instance, the quality of top UPTU colleges is the only reason why students still give the UPSEE exam. Many seats in engineering colleges in UPTU go vacant, while more than one million students write engineering entrance exams every year.
On the other hand, IPU does not have this problem. Some colleges do have vacant seats, but not at the scale of UPTU. As the benefits of choosing engineering as a major are slowly declining (click here to find out more), students are becoming more and more wary of paying high fee for B.Tech course at big private universities as there is no longer a guarantee of getting a job, either on or off-campus.
In a time like this, most families are unwilling to shell out a large sum on money on engineering studies for their children unless the college in question is a top tier college. This is why public universities such as IPU gain significant importance as they are extremely inexpensive compared to most other private universities.
Admissions to IPU are conducted on the basis of performance in an entrance test called Indraprastha University Common Entrance Test (IPU-CET). This exam is conducted by IPU in the months of April and May.
Indraprastha University Common Entrance Test (IPU-CET)
IPU-CET is an entrance exam conducted by GGSIPU every year for admission to UG programs offered at its campus and other affiliate colleges. The exam is conducted across two months, April and May, for admission to every course offered under the purview of GGSIPU.
IPU-CET 2018 Eligibility
For a candidate to apply for admission to IP University, he/she must first be eligible to apply for IPU-CET. The IPU-CET eligibility criteria have been listed below:
Must have passed class 12 from a recognized board of education or must be appearing for class 12 board examinations from a recognized board.
Must have taken or cleared English as a subject in class 12
Must have a minimum aggregate board examination score of 50%
If a student is applying for UG admissions, his/her age should not be more than 21.
If a candidate fails to meet any of the above criteria, he/she will be ineligible to apply for IPU-CET.
IPU-CET 2018 Key dates
Some key dates in related to IPU-CET are listed below.
IPU-CET Application form availability:
IPU-CET Application Form is made available - Feb 19
Last date to submit IPU-CET application form - April 10
| | | |
| --- | --- | --- |
| IPU-CET Course | Exam Date (In the year 2018) | Result Date (In the year 2018) |
| IPU-CET for B.Com | May 5 | May 17 |
| IPU-CET for BA (Economics) | May 20 | May 31 |
| IPU-CET for B.Tech | May 13 | May 24 |
| IPU-CET for BBA | May 26 | June 7 |
| IPU-CET for BCA | May 12 | May 24 |
| IPU-CET for B.Ed | May 12 | May 24 |
| IPU-CET for BJMC (Journalism and Mass Communication) | April 29 | May 10 |
| IPU-CET for BHMCT (Hotel Management and Catering Technology) | April 29 | May 10 |
IP University counselling dates will be released later, commencing tentatively around late June and ending mid-July. The same is true for its affiliate colleges, though some university commence counselling much earlier.
IPU-CET 2018 Application form
IPU-CET 2019 application form was made available online on Feb 19 for admission to UG and PG programs. The form will be available until the second week of April. A key factor to remember is that the form will not be available offline. Students have no other option but to fill the application form available on IP University's official website.
While filling the form, candidates will have to provide general information along with their academic qualification which includes 10th & 12th board examination marks and their choice of course. The latter will decide which subject exam they the student will write. For instance, if a science student wants to apply for a BBA course, he will give IPU-CET BBA exam which will be held on May 26 and not the B.Tech exam.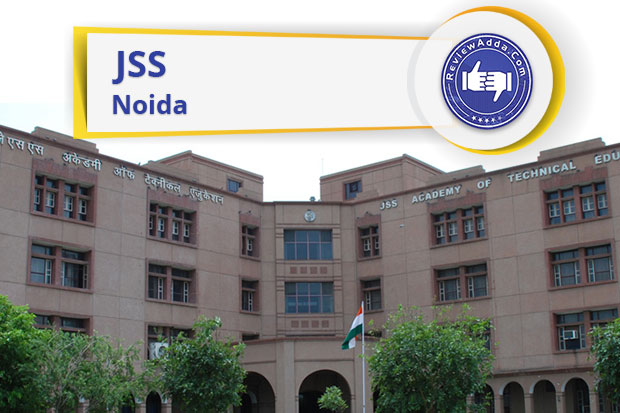 JSS Noida's BBA course is also affiliated to IP University
Along with these details, candidates will also have to upload images which contain their signature, thumbprint and passport-sized photograph. The authenticity of these images is of paramount importance as they will be verified during the exam and later when college counselling commences.
The IPU-CET 2018 application form fee is INR 1000/-. This fee can only be paid online, either through debit credit card or online banking.
IPU-CET 2018 Corrections
Candidates who made certain mistakes while filling the IPU-CET 2018 application forms can rectify their mistakes by applying for the correction facility. This tool will be made available to candidates at an additional price of INR 500/-
This functionality will be made available on IP University's official website five days before the official IPU-CET 2018 application deadline.
IPU-CET 2018 Admit Card
The IPU-CET 2018 Admit card will be made available to students five days before their respective exams. Candidates will have to carry two copies of the admit card on their person on the day of the exam to the exam centre. Both copies of the admit card will be signed by the invigilator, one of which will be submitted there and then to kept for the university records and the other will be retained by the student.
It is absolutely mandatory for a student to carry the admit card to the exam. Failing to do so will mean automatic disqualification from IPU-CET.
IPU-CET 2018 Exam Pattern and Preparation
The IPU-CET exam pattern varies drastically depending on the subject. For IPU-CET B.Tech, the pattern is different as technical subjects like Physics, Chemistry and Mathematics have to be given preference. Likewise for IPU-CET BA Economics exam, the exam pattern will be bent more towards analyzing the student's aptitude in economics.
Preparation is also vastly different for different exams. CET exams for courses like BJMC and B.Com do not require rigorous two year preparation like B.Tech entrance exams do. Every student has to analyze the respective difficulty level of their CET exam and prepare accordingly.
Get Updated Review ( Voice Based Alumni Feeback)
IP University courses and fee details
IP University offers over 45 courses at its campus in Dwarka across various disciplines in science, engineering, commerce, management, arts and humanities. Each of these courses has a different academic structure and consequently, a different fee structure.
We stated earlier that fee at IP University is vastly more affordable compared to its counterparts in the private sector. The fees of some of the popular courses at IP University are tabulated in the list below.
| | | |
| --- | --- | --- |
| Course | Duration | Fees (INR) |
| Bachelor of Technology (B.Tech) | 4 | 1,15,700/- |
| Master of Business Administration (MBA) | 2 | 64,000/- |
| Bachelor of Medicine & Bachelor of Surgery (MBBS) | 5 | 27,500/- |
| Bachelor of Business Administration (BBA) | 3 | 51,300/- |
| Bachelor of Computer Applications (BCA) | 3 | 19,333/- |
| Bachelor of Arts - Economics (BA) | 3 | 47,800/- |
| Bachelor of Journalism & Mass Communication (BJMC) | 3 | 19,333/- |
| Bachelor of Commerce (B.Com) | 3 | 69,800/- |
| Bachelor of Arts + Bachelor of Law (BA.LLB) | 5 | 54,900/- |
| Master of Technology (M.Tech) | 2 | 64,000/- |
| Master of Computer Application (MCA) | 3 | 24,333/- |
| Bachelor of Hotel Management and Catering Technology (BHMCT) | 3 | 16,333/- |
IPU Affiliate Colleges
Besides being a decent public university in its own right, a major part of IPU's appeal is the high number of affiliate colleges it has in the Delhi-NCR region. A total of 84 colleges follow the curriculum and admission procedure set by GGSIPU.
In spate of such a high number of colleges and universities, students who clear IPU-CET often get confused over which college to choose. Compiled below is a list of the top five colleges affiliated to IPU.
MAIT is a private college located in New Delhi. It is very popular amongst aspirants around India and often considered the best college for engineering under IP University.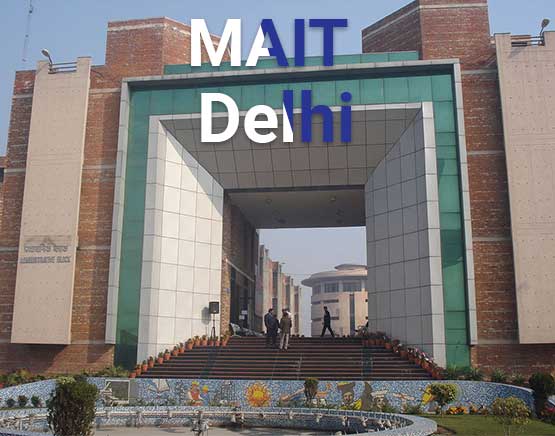 MAIT Delhi is regarded amongst the best engineering colleges under IP University
To get admission to MAIT, students need to secure a very high rank in IPU-CET. Even for courses such as MBA which aren't that popular, aspirants usually need to secure a very good rank to qualify. For a general category student outside Delhi, the cutoff is extremely competitive
The IPU-CET 2017 cutoff for general category students (outside Delhi) has been listed below for certain courses
| | |
| --- | --- |
| Course | IPU-CET 2017 Cutoff rank |
| B.Tech Electronics & Communications Eng. | 695 |
| B.Tech Information Technology | 406 |
| B.Tech Electrical and Electronics Eng. | 901 |
| B.Tech Mechanical & Automation Eng. | 1177 |
| MBA Finance | 210 |
The argument between MAIT and USICT has seemingly been going on forever, as to which is the best IP affiliated college. USICT is a private institution in New Delhi famous for offering dual B.Tech + M.Tech courses only.
A key reason why students prefer USICT over MAIT at times is their low fee structure and the proposition of doing two degrees in one go. The IPU-CET cutoff is almost as high as MAIT. The only drawback USICT faces is the absence of normal four year B.Tech courses. Many students plan to do other things after B.Tech such as MBA or even work. Such types of students constitute a majority amongst most engineering aspirants. Thus, USICT misses out on this part.
MSIT is another private college affiliated to IP University. Counted repeatedly amongst the best colleges under GGSIPU, MSIT is largely known for providing a very good engineering course. Fee at MSIT is similar to MAIT, but lesser than USICT nonetheless.
Besides engineering programs, the BCA and B.Ed program is also very famous at MSIT, with mostly the top rankers managing to break through the admission barriers. The college is further accredited by AICTE & NBA and graded 'A' by NAAC.
USCT is a course specific institution, kind of like ISM Dhanbad or IIIT Hyderabad. A private college established back in 1998, USCT was instituted to provide a special place to promote and hone the skills of future chemical engineers.
Now operational under the purview of GGSIPU, USCT maintains an elite status due to its contrarian approach to engineering studies. Rather than focusing on new and trending courses like CS and IT, USCT only offers a B.Tech in Chemical Engineering, thereby creating a niche amongst engineering aspirants.
The IPU-CET cutoff is also usually very high. The cutoff for general category students last year was 2213, which is still a very tough rank to gain considering the high number of engineering aspirants giving the exam.
One of the few government into be affiliated to GGSIPU, NPTI like USCT offers only one engineering course, power engineering.
Students mostly interested in a career in the public sector take up power engineering at NPTI. The fee is significantly higher than the like is USICT and MSIT, but the promise of the degree is equal to it.