Topic We Cover: Sathyabama University vs Hindustan University
1. Fall of a giant: IT recedes into the oblivion
2. Sathyabama University
Sathyabama University Academics
Sathyabama University course details
Sathyabama University placements
3. Hindustan University
Hindustan University academics
Hindustan University course details
Hindustan University Placements
4. The Comparison
Sathyabama and Hindustan University are two major institutions of education in Chennai. Though they are more popular for engineering, other courses such as MBA also have considerable popularity amongst students.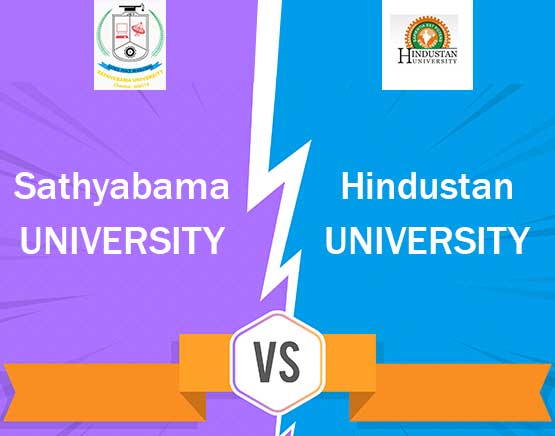 Sathyabama and Hindustan University are amongst the most Popular Private Colleges in Chennai
For students in South India, both Hindustan and Sathyabama represent viable options for B.Tech Admissions after 10+2. Both universities have created a niche brand around their model of teaching since their year of establishment around over 30 years back.
Another reality facing the students is the slow decline of jobs in the private sector for engineers, and the IT sector is right at the eye of this storm.
Fall of a giant: IT recedes into the oblivion
A analytical study carried out by a top headhunting firm in Bangalore has claimed that over 6 lakh IT professional will be unemployed in the coming few years. Considering the shocking employability statistics of engineers graduating (employability is at an astounding low of 7%), this should be the bellwether for the upcoming storm.
However, the craze for engineering has shown no sign of abating. Even this year, more than a million engineering aspirants are slated to appear for JEE Mains. If IT does fall, these aspirants who are presumably the future engineering of India are heading into unknown territory.
The reasons for this downfall are many. Automation and artificial intelligence are slowly taking over the reins in the IT sector. This has made several positions at IT conglomerates redundant. As they are competing with some of the world's top IT companies, Indian tech companies are thus being forced to cut the fat on their payroll. This will undoubtedly have adverse affect on the fate to future engineering graduates' job prospects.
Secondly, the absolute lack of flexibility and the increasing incompetence of most public and Private Universities in India have eroded any chance students previously had of adapting to changing industry.
At this point of time, the question boils down to why colleges are not able to maintain high quality of teaching. After all, adapting to a changing industry is the primary job of any institution. In this case though, most universities have been caught napping.
Naman Singh* is a placement officer at a very popular engineering institution in Noida. He explains the daunting scenario every Engineering College in India is about to face. 'It is akin to the 'Fat Peasant Syndrome'. Most colleges believed the lush IT placements would last forever, so they kept on increasing intake with the belief that there would always be a place for students in the industry. Guess what, the bubble has burst'
We further asked him whether he proposed a change in curriculum to his employers. 'The problem is not so simple. Even if you change the curriculum, you cannot change the infrastructure overnight. Are the teachers up to task? Do they have a sense of what new concepts need to be taught? Changing the curriculum is a cheap sell. What is needed now is a complete overhaul in practically all engineering colleges of India, both in manpower and infrastructure'
*Name changed
Sathyabama University
Sathyabama University is a highly reputed private university based in Chennai. It was established in 1987 as a Christian Minority institution which carried the university tag. Though it cannot advertise as a university anymore, Sathyabama remains a respected institution in India.
Sathyabama offers both UG and PG programs, but its B.Tech Program is easily the most popular offering of the institution. It is approved by UGC and accredited by NAAC with an 'A' grade.
Sathyabama University Academics
The division of courses at the university is done through the various departments of engineering. They have been listed below:
Department of Information Technology
Department of Computer Science and Engineering
Department of Electrical and Electronics Engineering
Department of Electronics and Communication Engineering
Department of Electronics and Telecommunication Engineering
Department of Electronics and Instrumentation Engineering
Department of Electronic Science
Department of Mechanical Engineering
Department of Automobile Engineering
Department of Aeronautical Engineering
Department of Civil Engineering
Department of Business Administration
Department of Chemical Engineering
Department of Biotechnology Engineering
Department of Bioinformatics Engineering
Department of Bio-Medical Engineering
Department of Dental Sciences
Department of Bachelor of Architecture
The Sathyabama University campus is spread across 134 acres, is well entrenched with facilities for students. These facilities include a voluminous library; Wi-fi enabled campus and state-of-the-art facilities for research.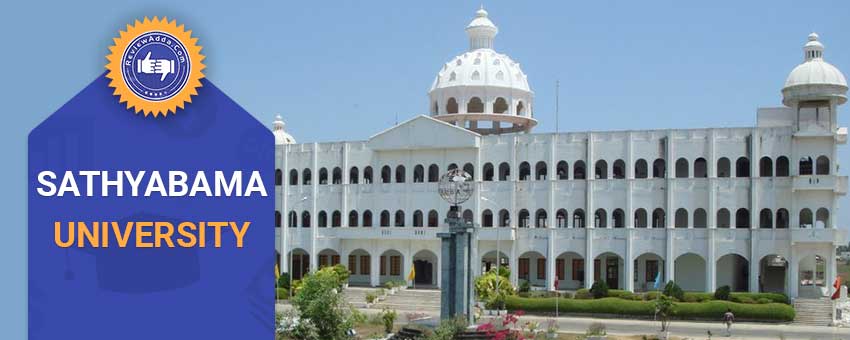 Sathyabama University's B.Tech program remains its most popular offering
One of the research centres includes the Centre for Nano-science and Nanotechnology which was established in 2006 and subsequently upgraded a few years later in 2011 with advanced instrumentation facilities such as FE-SEM, XRD, E-beam, DC thermal, RF, AFM, PLD etc. The centre works in fields of potential growth such as Material Sciences, Thin Film Coatings, Nanofabrications, Environmental Nanotechnology and many other fields.
Sathyabama University course details
There are a number of other courses offered at Sathyabama besides B.Tech. The details of each of these courses, namely the duration and fees are in the table below.
| | | |
| --- | --- | --- |
| Course | Duration | Fee per year (in Rs.) |
| Bachelor of Technology (B.Tech) | 4 | 2,15,000/- |
| Bachelor of Engineering (BE) | 4 | 2,15,000/- |
| Bachelor of Science (B.Sc) | 3 | 2,16,667/- |
| Bachelor of Arts (BA) | 3 | 2,16,667/- |
| Bachelor of Commerce (B.Com) | 3 | 2,16,667/- |
| Bachelor of Business Administration (BBA) | 3 | 2,16,667/- |
| Master of Technology (M.Tech) | 2 | 2,16,667/- |
| Master of Engineering (ME) | 2 | 2,16,667/- |
| Master of Science (M.Sc) | 2 | 2,16,667/- |
| Master of Business Administration (MBA) | 2 | 2,16,667/- |
Get Updated Review ( Voice Based Alumni Feeback)
Sathyabama University placements
A key factor most engineering students take into consideration before joining any given college is placements. Sathyabama is known for attracting top companies for campus recruitment during placement season every year.
A highlight of Sathyabama University placement performance is explained in the table below:
| | | | |
| --- | --- | --- | --- |
| Year | 2015-16 | 2014-15 | 2013-14 |
| Total No of Students Registered for Placement | 1812 | 1855 | 1734 |
| Total No of Students Got Placed | 1636 | 1749 | 1427 |
| % of Students Placed | 90.24 | 94.28 | 82.3 |
| Noteworthy Companies | Cognizant, Infosys, Wipro, Capgemini, Aricent, iGate, Scope Intl, Oracle, Virtusa, TechMahindra, Payoda, RBS, Cybage, BnP, Bank of New York, MuSigma | Cognizant, Infosys, Wipro, Capgemini, Aricent, iGate, Scope Intl, Oracle, Virtusa, TechMahindra, Payoda, RBS, Cybage, BnP, Bank of New York, MuSigma | Cognizant, Wipro, Capgemini, Oracle, L&T InfoTech, ICICI, CSC, Indus Ind, Sanmar |
| Average Salary | Rs. 3.30,000 P.A | Rs. 3.30,000 P.A | Rs. 3.25,000 P.A |
Hindustan University
Hindustan University exhibits characteristics synonymous to Sathyabama University. It was established around the same time Sathyabama came into being, two years early in fact in 1985. This time coincided with the opening of several educational institutions in India such as SASTRA, VIT, SRM and Karunya University. Hindustan and Sathyabama were two institutions which were established during this period with a key emphasis on bringing the tech revolution to India.
23 years on, Hindustan remains a premier institution in Chennai. Besides students from the state, a major portion of the aspirants include engineering hopefuls from North India.
It has accreditations from a number of illustrious educational bodies such as NBA & COA and membership in the Association of Indian Universities (AIU). The university also has approval from UGC and has further been graded 'A' by NAAC.
Hindustan University academics
Like most universities in India, Hindustan University courses are offered through different departments at the institution. They are listed below:
School of Building Sciences
School of Building Sciences
School of Mechanical Sciences
School of Aeronautical Sciences
School of Electrical Sciences
School of Management
School of Computing Sciences
School of Science and Humanities
School of Fashion Design
School of Fashion Design
CDTS & CENCON
Aeronautical engineering is a uniquely popular course at Hindustan University. Many students interested in aeronautics choose Hindustan University every year over more established institutions to follow their passion. It is easily the most well known course at the campus.
Hindustan University remains popular for its aeronautical engineering course more than any other program
Hindustan University course details
Engineering is not the only course offered at Hindustan University. The details of the other courses offered at the campus, namely the duration and fees are in the table in below:
| | | |
| --- | --- | --- |
| Course | Duration | Fee per year (in Rs.) |
| Bachelor of Technology (B.Tech) | 4 | 2,63,000/- |
| Bachelor of Architecture (B.Arch) | 5 | 1,71,400/- |
| Bachelor of Science (B.Sc) | 3 | 39,167/- |
| Bachelor of Computer Applications (BCA) | 3 | 49,167/- |
| Bachelor of Commerce (B.Com) | 3 | 59,167/- |
| Bachelor of Business Administration (BBA) | 3 | 59,167/- |
| Master of Technology (M.Tech) | 2 | 80,750/- |
| Master of Computer Applications (MCA) | 3 | 72,167/- |
| Master of Science (M.Sc) | 2 | 72,167/- |
| Master of Business Administration (MBA) | 2 | 2,12,500/- |
Hindustan University Placements
Hindustan University placements are generally decent considering the overall scheme of things in most engineering colleges in India.
Touching a median placement average of 74% in the past four years, Hindustan has no doubt created a steady amount of credibility. However, these numbers pale in comparison to the previously mentioned placement statistics of Sathyabama University.
A key reason behind this can be cited to be the over-emphasis on courses such as aeronautical engineering. Aeronautics is still a relatively new concept in the Indian education-sphere. Over 74 companies have visited the university campus in the last three years, suggesting the obvious clout it has in the market.
| | | |
| --- | --- | --- |
| Academic Year | % of placement | No. of Companies |
| 2013 - 14 | 71.83 | 77 |
| 2014 - 15 | 72.53 | 78 |
| 2015 - 16 | 75.42 | 51 |
| 2016 - 17 | 77.93 | 74 |
The Comparison
We finally come to the direct comparison between Sathyabama and Hindustan University. Like all of our previous comparisons, we will again discuss the factors upon which these two private universities will be compared.
Placements
For any college, securing a strong placement program holds vital importance. The current rush for engineering is primarily because of relatively higher percentage of placements in this particular profession.
In terms of pure placement statistics, Sathyabama edges Hindustan University out as it has a higher proportion of students getting placed during its campus recruitment.
1:0 to Sathyabama University
Perception
Perception plays a key role in the dictating the decision making process of students. A college with a bad reputation is only seldom considered for admissions by students.
Student perception of Sathyabama is one of being a very strict institution. While this is a relatively subjective issue, most students prefer to join colleges with a more independent environment. Hindustan University on the other hand is perceived to be less strict.
1:1 between Sathyabama and Hindustan University
Affordability
India is a country which comprises of an ever-growing population of working middle class families. In most families, education is viewed as a major investment for the future. With the advent of Private Universities though, affordability has become a major factor in governing the choice made by students.
Consider the fee for B.Tech Course at Hindustan and Sathyabama University. Sathyabama is slightly more affordable at INR 2.15 Lakhs per annum.
2:1 to Sathyabama University
Infrastructure
For technical institutions, having a well established infrastructure is a key component to building a strong perception of the college or university. Infrastructure doesn't necessarily refer to the outward appearance of a university. Many IITs are not too pleasing on the eye, but their infrastructural capabilities in respect to the top-notch labs and research facilities are second to none in the country.
Between Hindustan and Sathyabama, the former takes the cake. Hindustan University has impeccable infrastructural facilities, especially for aeronautics which is the most popular choice amongst its students.
2:2 between Sathyabama and Hindustan University
Location
Universities and colleges in prime cities tend to have a much better profile as they are able to establish industry connections faster than inner-city colleges. Furthermore, the most popular course being offered at a university should match the main industry of that city. For e.g. an IT student will have a better chance of getting a prime job in Bangalore. Similarly, a mechanical engineer's chances of getting a job are better near an industrial area.
Hindustan University's prime course is aeronautics. Job prospects after doing such a course are minimal as the Indian economy still doesn't have a substantial stake in aeronautics or rocket science. Thus, Sathyabama takes the point here as its most popular course is CSE.
3:2 to Sathyabama University
Conclusion: After concluding our analysis, we come to conclusion that Sathyabama University is narrowly a better choice in comparison to Hindustan University.