Topic We Cover: SAT vs ACT
1. SAT vs ACT: The broad differences
2. SAT vs ACT: The Differences
Science Section
No calculator section in SAT
Time
Formula reference guide
Math Topic Focus
Math-oriented exam
Integer-based or Grid-in Math questions
Number of choices in multiple choice questions
Passage-based Reading Questions
Order of questions
Essay style
3. Which one to choose – ACT or SAT?
Entrance Exams often dominate much of the discussion about education in student circles. Be it online forums or classroom discussion threads, you will find every student either seeking or espousing advise to their peers for the proverbial 'tough times' to come.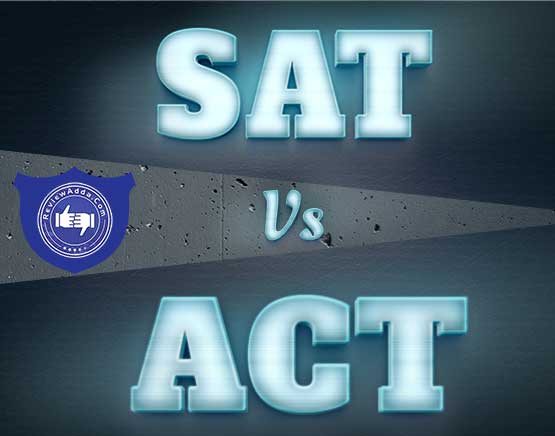 SAT and ACT are the two major pre-college exams in the US higher education system
SAT and ACT exams are ubiquitous across the US as all colleges and universities accept performance in both exams as a suitable parameter during admissions.
If both are accepted by every college and university, what is the point of having two pre-college exams?
The answer lies in understanding what the key differences between these two exams are.
SAT vs ACT: The broad differences
Though their purpose remains the same, SAT and ACT differs on a number of factors. The table below highlights some broader differences between the two.
Factor

SAT

ACT

Duration

3h 50m (with essay)

3h (without essay)

3h 35m (including writing)

2h 55m (without writing)

Pattern

Reading (65 min)

English (45 min)

Writing and Language (35 min)

Math (60 min)

Math (with calculator) (55 min)

Reading (35 min)

Math (without calculator) (25 min)

Science (35 min)

Essay (Optional) (50 min)

Writing (Optional) (40 min)

Exam fee

$46 (without Essay)
$60 (with Essay)

$42.50 (without Writing)
$58.50 (with Writing)

Number of questions

Reading: 52 questions

English: 75 questions

Writing and Language: 44 questions

Math: 60 questions

Math No Calculator: 20 questions

Reading: 40 questions

Math Calculator: 38 questions

Science: 40 questions

Essay (optional): 1 essay

Writing (optional): 1 essay

Marks distribution

Each section uses a scale of 1-36. The final score is the average from all four sections combined.

Scoring range is between 400-1600

Acceptability

All colleges and universities in the US

All colleges and universities in the US
The differences cited in the table above are more structural and organizational in nature. There are several intricacies which separate SAT and ACTs. We will attempt to highlight every discernable detail differentiating tow of the biggest pre-college exams in the world for UG admissions.
SAT vs ACT: The Differences
The divergence between SAT and ACTs begin in their approach itself. While SAT seeks to test out the general capabilities of a given candidate, the ACT is a much more focused exam more inclined towards students who are looking to pursue science, engineering or medicine as their major.
Through the following points, we attempt to differentiate between the two exams.
Science Section
One glaring difference between SAT and ACT is the presence of a science section in the latter. While SAT also has science questions spared occasionally, the context of the question is in the form of a reading comprehension. This implies students do not need to do any special science preparation for SAT.
The ACT Science section carries 25% weightage in the overall ACT score. Thus, it is vital for students to be very well prepared with concepts related to science.
The ACT Science section consists of 40 questions which have to be solved within 35 minutes. Most questions are not direct and test the student's capability to use scientific concepts in an abstract manner.
While science is amongst one of the optional SAT subject tests, most colleges do not ask candidates for their respective score in such specific tests. However, if you are going for a course which is based on science, the college will ask for your ACT score.
No calculator section in SAT
In ACT exams, students are free to use calculators across all sections. This is done to allow students to focus purely on the conceptual aspect of the questions.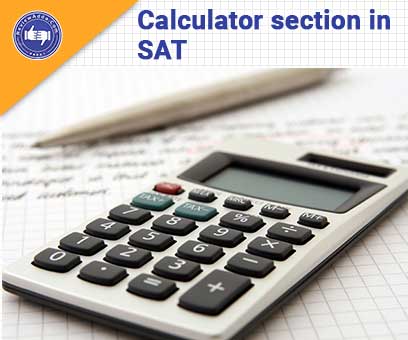 While SAT have a special 'no-calculator' section, ACT allow students to use calculator across all sections
The SAT 'No Calculator' Math section consists of 20 questions to be solved in 25 minutes. Unlike what many believe, the 'No calculator' section is not designed to test a student's mental maths skills. Calculations in this section are actually easier than what you will find in the rest of the exam.
Time
If you are one of those who feel the weight of the world under a ticking clock, SAT is a better solution.
Most sub-sections in SAT are allotted more lenient time frames to allow students to approach a question with a more surgical approach. In ACTs, the margins are much tighter as the number of questions is a lot more.
This factor is easily one of the most marked differences between SAT and ACT. Time is the most valuable resource during an ongoing exam. The fact that SAT allows candidate more room in terms of time should be factor every student should consider before making a choice between SAT and ACT.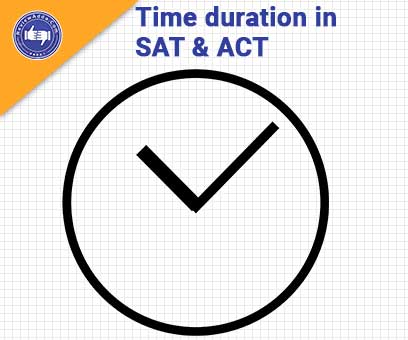 SAT is more forgiving than ACT in terms of time constraint
The time distribution section wise in given in the table below:
Section

ACT

SAT

Reading

53 sec/ques.

75 sec/ques.

ACT English/ SAT Writing

36 sec/ques.

48 sec/ques.

Math

60 sec/ques.

75 sec/ques. (No calculator)

87 sec/ques. (calculator)

Science

53 sec/ques.

-
As you can see, SAT offers atleast 12-15 sec extra per question which totals to a much larger time difference towards the end. For this reason, students who aren't the best at time management should avoid ACT.
Get Updated Review ( Voice Based Alumni Feeback)
Formula reference guide
Not the best at memorizing stuff? If yes, then ACT might not be your cup of tea.
The methodology of SAT to focus only and solely on conceptual learning is underlined more under this factor than anywhere else. In SAT, students are provided a formula reference guide which contains all the formulas the examinee might need during the exam. Thus, students giving SAT need not memorized any formulas as they will be provided during the exam. Looking each concept in depth is enough.
The ACTs appropriate a different methodology which focuses more on arithmetic skills and memorization capacity, which implies that students should know all possible formulas which might come in the exam.
The image below is a SAT reference sheet. As you can see, it contains all necessary formulas and the laws involving the topic, which in this case is geometry, are also given.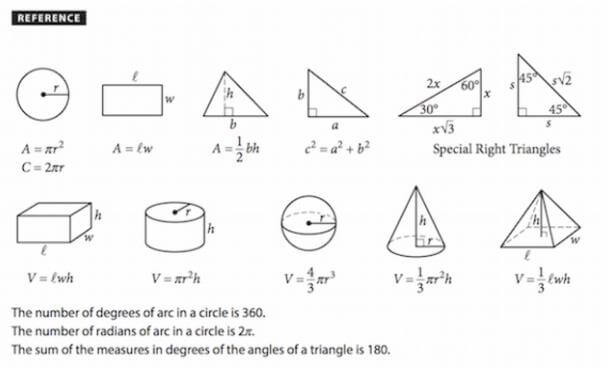 Math Topic Focus
The SAT and ACT both have math sections, however the weightage of topics is different.
Algebra is the most important section in both exams, especially SAT. No other section in math comes close to algebra in terms of pure overall importance.
The ACT exam however is slightly more balanced and mixed algebra with a considerable amount of geometry. Atleast 35-45% of the math section is covered under geometry in the ACT exam. There are also additional concepts like matrices, graphs of trig functions, and logarithms which are not asked in SAT Math, but are ever-present in ACT. Similarly trigonometry accounts for 7% of the questions in ACT, but only 5% in SAT.
Thus, if algebra and data interpretation is your forte, you will do well in SAT. If trigonometry and geometry has your fancy, ACT is the exam for you.
Math-oriented exam
You may heard people saying SAT is a purely mathematics based test. They are in fact partially correct.
50% of your SAT score will depend on your mathematical prowess. This focus on math is based primarily on the demand set by colleges and universities to lay a strong groundwork in high school for mathematics.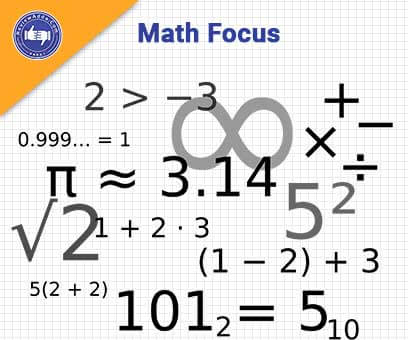 SAT is much more math-oriented than ACT, with as much 50% of a student's SAT score being determined by math alone
The ACTs on the other hand are equalitarian in their focus, giving equal weightage to all sections. So Math, Science, Reading and English all carry equal weightage. This is further exemplified when the weightage of math score can disrupt or elevate the percentile of a SAT exam taker to a much larger extent compared to ACT.
If math isn't your best suit, strongly consider choosing ACT as the math weightage is still economical.
Integer-based or Grid-in Math questions
While most questions are multiple choice in SAT and ACT, the former contains 13 questions which are not objective in nature. They are called SAT Grid-In Math questions. Essentially students have to provide by colouring the bubbles on the given OMR sheet.
Some students prefer objective type questions as it offers the chance to get to the answer through plain elimination. Furthermore, choosing an option at random (both ACT and SAT have no negative marking) would still give the student a probabilistic shot of getting it right. In Grid-In questions, there is no choice besides knowing the answer.
Number of choices in multiple choice questions
SAT has four possible choices in its Math section in multiple choice questions while ACT has five. In essence, the probability of getting an answer right at random is 25% for SAT and 20% for ACT.
Though we are not advocating you to depend on pure guesswork, an advantage of 5% in SAT may just come in handy. Or does it?
Passage-based Reading Questions
Also known as the Evidence-Support Reading section, the presence of this section plays a crucial role in differentiating SAT and ACT. While evidence-based questions are ever-present in SAT, they are entirely absent in ACT. ACTs do however have passage based questions, but they are vastly different from the evidence based format.
This highlights a more subjective approach by ACT examiners in comparison to SAT which is highly objective.
For candidates who are good at identifying sections from a passage to support their answers on a given question, SAT is a better option due to the presence of evidence based questions.
Order of questions
Passage-based questions form a great part of both SAT and ACT exams.
In SAT, questions based on passages are asked in chronological order in reference to the passage they are referring to. For instance, the first question in the passage-based section will most likely come from the first paragraph. The following questions will follow this order and move further into the passage in a chronological manner.
In ACT, questions in the passage-section appear at random. This presents a great challenge as students have to comb through an entire passage to find an answer. This makes ACT even more challenging as the time-per-question is significantly less.
Essay style
Though the essay is optional, it still acts a key differentiator amongst SAT and ACT.
The SAT essay section consists of a small passage written by another author on a particular issue. The job of the examinee is to understand the reasoning of the author behind this opinion and present an essay explaining the opinion of the author. Thus, in SAT, students do not have to give their own opinion.
The ACT essay section offers much more independence. Students are again presented with a small passage written by another author regarding a random issue. However, students are free to write the essay based on their own opinion. In this case, they can either write the essay supporting the author's opinion or offer a contrarian view. In any case, the students are free to give their own opinions.
Which one to choose – ACT or SAT?
Still confused?
It is not uncommon to find yourself in a pickle regarding making a decision between ACT and SAT. After all, a bad score can set back your UG plans drastically.
The first thing you should know is which score is accepted in the state where your preferred university is located. The table below identifies which states accept require either SAT or ACT.
| | |
| --- | --- |
| Exam | State |
| ACT | Alabama, Hawaii, Kentucky, Louisiana, Mississippi, Missouri, Montana, Nebraska, Nevada, North Carolina, South Carolina, Utah, Wisconsin and Wyoming |
| SAT | Colorado, Connecticut, Delaware, District of Columbia, Illinois, Maine, Michigan and New Hampshire |
If your preferred state is not in either list, it means both SAT and ACT scores are accepted in universities from those states.
Furthermore, you can attempt various online mock ACT and SATs to get a feel of what to expect. Remember, both exams are not polar opposites. Some aspects of SAT will benefit and some from ACT will do the same. It is more about analyzing the pitfalls on either side, which could eventually prove detrimental.