Topic We Cover: Review vs Feedback vs Testimonial
1. Review vs Feedback vs Testimonial: The Basic difference
2. The Role of the reviews, feedbacks and testimonials
College Reviews
Student Feedback
Testimonials
3. Review vs Feedback vs Testimonial: A Summary
Customer reviews and feedback have become an essential part of almost every modern-day organization. Companies around the world in the business of providing products and services to customers and other businesses have transformed their entire operational structure to prioritize customer services.
On hearing the terms Reviews and Feedback, people tend to make the mistake of assuming them to be synonyms of each other. While they do share similar roots, reviews and feedback diverge on certain intricacies.
Review vs Feedback vs Testimonial: The Basic difference
Reviews are a critical analysis of the product or service provided by a given organization. To put in a context for the Education Sector, a student giving a review of a course provided by the college would be a review.
Feedback is essentially provided by a customer, or a student in the case for education, with an expectation that the organization will use the information to improve their operational structure. Unlike a review which is a document meant for critiquing, feedback is provided in the hope that the company will improve. For instance, students giving feedback to a faculty in college in the hope that the faculty will use the information to change the way he/she teaches.
Testimonials are personal accounts given by certain customers about the quality of service provided by the seller of the product. They are generally positive accounts about the given organization. To use the context of the education sector, a student praising a given college by recounting his own personal experience would ideally be a testimonial.
Before getting down to compare the importance of each of the three, let us first understand the role reviews, feedbacks and testimonials play with reference to the education sector.
The Role of the reviews, feedbacks and testimonials
Reviews, feedbacks and testimonials are three sources of information provided by students (in reference to the education) voluntarily. The use of this information is made by different demographics. Let us understand how the system of this information works.
College reviews are given by existing and passed-out students about the various services provided by a given college. These services include all factors college aspirants consider before taking admission to a given college such as academics, infrastructure, affordability, faculty, placement services, accommodation and mess facilities.
An example of a college review is given on the link here.
The information regarding various information regarding colleges and entrance exams is readily available on a number of Educational Websites. This information more prominently includes college reviews.
For students across India, college reviews have become an essential piece if information to consider before taking admission to a college. More than 20,000 colleges in India remain open for admission during the enrolment season from May to August. Sifting the good colleges out of the heap of institutions is a very tedious task. This is where college reviews play their part.
Praveen Singh, the founder of one such online education platform explains his motivation behind starting this website. 'When I was researching for my own college admissions during '93, there was no particular way to know which institution was worth taking admission in. I wasn't a brilliant student and thus failed to make it to the top IITs. After failing to make any constructive opinion about any college, my father stepped and told me to make a choice quickly. Under pressure at the time, I choose a college from a basketcase of mediocre institutions'
The choice Praveen made stuck with for a while. 'I somehow graduated after four years. Campus Placements were a complete no-show. I toiled for over a year before finding a job. Since then, I made a promise to myself to create a tool which makes sure aspirants in India don't make the mistake I made all those years ago. My entire business is built around providing unbiased college reviews to the general student population of India'
This case clearly illustrates the importance and role of college reviews in shaping admissions in India. The principal consumers of college reviews are students.
Student Feedback
In pure content terms, there isn't much difference between Reviews and Colleges. Like college reviews, feedback is also provided by students of the given college. The main difference is the reason behind the students giving the information.
Unlike college reviews which are meant for students, feedback is given by the students to the college itself, with the hope that the college will act on the given advice.
Three months into the job, Girish received his first feedback report from students. 'The feedback was an eye opener for me. Most students felt that my classes seemed rehearsed. While no one questioned my subject knowledge, the students felt my teaching style seemed too coached and shackled. I immediately realized my obsession to ape my former teachers had backfired
After gaining valuable information from the feedback, Girish decided to adopt a more personalized approach to his style of teaching. 'The next feedback report I got didn't mention my previous misgivings. At the end of the day, I'm providing a service to the students. Besides benefiting the students, the practice of conducting feedback sessions has made me a much better teacher and taught me a valuable lesson, your teaching methodology should be a reflection of yourself and not someone else'
Get Updated Review ( Voice Based Alumni Feeback)
College reviews and feedback almost have a cyclic relation considering their interdependency. For instance, consider a number of college alumni giving a bad college review citing poor academic structure. Being naturally astonished by this bad review, the college sets out to understand one question: Why is the academic structure at their institution getting such a bad name? Having invested a lot of money on labs, faculties, classrooms and accommodation facilities, the college administration is bound to fell short-changed if they get bad reviews.
To solve this problem, the college decided to introduce a well-rounded feedback system where students can provide valuable information about the drawbacks of the college anonymously. As the feedback system slowly gains the trust of the students, the administration is able to see the real picture of education at their college through a number of different set of eyes. So, if any faculty regularly cancels classes or doesn't finish the syllabus on time, the administration will know through the feedback system.
Eventually the academic structure of the college will improve as faculties will become much more sincere in their duty due to the vigilance of students and the college administration. The same system could be incorporated to various other systems in the college such as hostel maintenance, mess and extra-curricular facilities. Thus a strong feedback system will help the college to eventually create a cooperative environment between the students, teachers and administration.
Such a comprehensive feedback system will eventually lead to positive college reviews which will further bolster its perception amongst students and other education bodies.
Testimonials
Student testimonials are essential for colleges and other education-related bodies as they provide them a very suitable marketing opportunity. Unlike reviews and feedback which are unfiltered and are essentially a critique of the college or educational organization in question, a testimonial focuses purely on the positive aspects of such a case.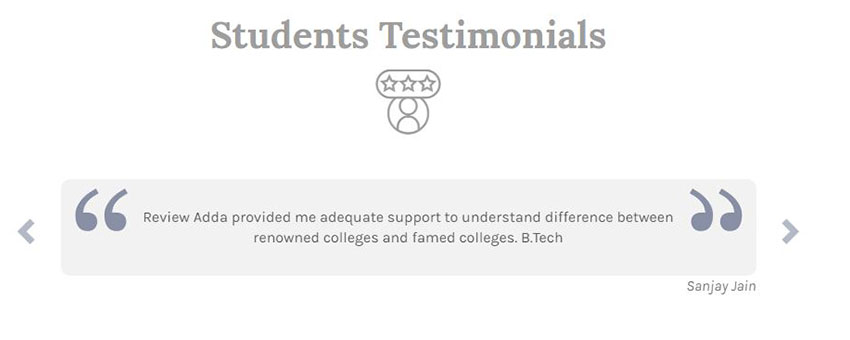 Above is an example of a student testimonial praising the services provided by an educational website, ReviewAdda.com
Ram Mathur, a student based in Delhi who recently emerged successful in the recently concluded CAT exam wrote a testimonial for the coaching centre he went to preparation for. 'I attribute a great part of my success to my coaching centre. Without their continual support, I would have found it extremely difficult to put together such a performance in a fiercely competitive CAT exam'
Many coaching centres across India offering training for engineering, medical, MBA and other entrance exams use testimonials after the declaration of results every year to boost their own reputation. According to them, it is an opportunity to tempting to miss.
'Despite what one may say about the popularity of the internet, there is no greater medium of reaching people than the old method, word of mouth' explains a marketing expert at a Top Coaching Institute who wished to remain unnamed. 'Testimonials help us tap this method to a great extent. When someone sees a handwritten testimonial by students themselves, the slowly start accepting the credibility of the institution'
Colleges also use the testimonials to boost their credibility amongst students. Raman Iyer, the outreach chief of a top engineering college in Bangalore explains the importance of testimonials. 'Let us assume a student X looking for a college. Now, X reads about many colleges on the internet, magazines and newspapers, all of whom claim to have 100% placement. Does X simply believe them or is there a need for verification? Well of course there is a need to check whether a college is telling the truth or not. Another question, how does X verify? This is where testimonials come in'
'If a fellow student writes a document saying he got placement with a top package at a top company by studying at a given college, the perception and credibility of the college increases tremendously. Even the IITs were ordinary colleges when they were first established. After students slowly started realizing the credibility of the IITs by learning about the success of their alumni, they shot to fame and have since never looked back'
So is testimonial only a business tool?
'It certainly seems so', says Raman. 'People automatically cringe about something when they hear the word business. Nobody is forcing students to write testimonials. I have seen students happily agree to help the college which earlier aided them in getting placed. At the end of the day, running a private college requires a lot of money. If testimonials help the college in building credibility amongst students, I see nothing wrong in such a method. If the testimonials are paid, I find such a practice very disturbing, but not otherwise'
Review vs Feedback vs Testimonial: A Summary
In the article above, we have covered the importance of reviews, feedback and testimonial with regard to the educational sector. Given below is a tabular summary of the factors discussed before: