Topic We Cover: Top Coaching Institutes for NDA in India
1. Factors to be considered before joining a coaching institute
2. Why Join a Coaching Institute
LAKSHYA ACADEMY
THE CAVALIER
BAALNOI ACADEMY
AIM AND ACHIEVE INSTITUTE
KD CAMPUS
PARAMOUNT COACHING CENTER
VEDANGA INSTITUTE
TARA INSTITUTE
Searching for Top Coaching Institutes for NDA in Delhi? You are at the correct place as this article will prove to be of great help..!
NDA (Nation Defence Academy) Examination is conducted every year in which thousands of aspirants appear but only a few are able to clear. All the cadets of three defence services, namely Army, Navy and Air force, are trained together at one place at National Defence Academy before they are sent to their respective service for the training. National Defence Academy is the first academy of its type in the world being the first tri-service academy. NDA is situated in Khadakwasla, near Pune in Maharashtra.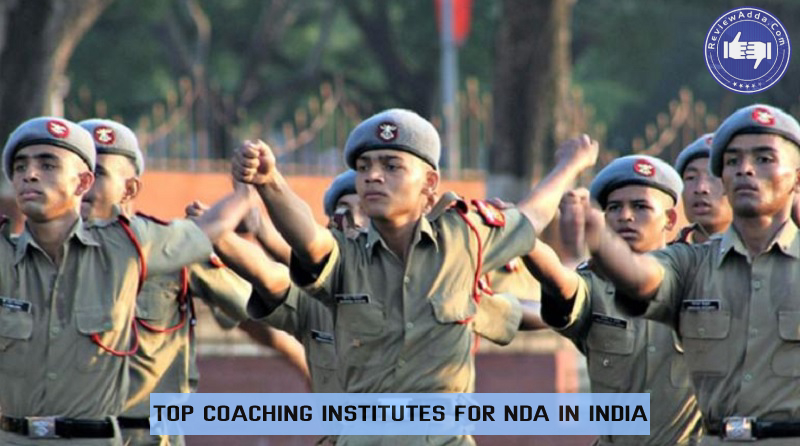 The examination is challenging and it requires proper guidance and hard work to clear it. Some students want to join NDA and serve the nation but the path is not clear in their minds and they are always thinking about How to Prepare for This Exam. Preparation and clearing of this exam depends on factors like your educational base, your skills, your approach and your hard work.
You can either opt to do self- study and self- preparation or you may even join one of the top institutes for NDA in Delhi. Coaching institute always provides you the correct guidance and help you prepare a blue-print which you can follow and taste success. Coaching institutes follow a professional procedure through which they help you to prepare and clear the Examination of NDA. There are many coaching centres available in the market. But you should do some research about an institute and then only join it.
Factors to be considered before joining a coaching institute:
Before you make your choice from Various Coaching Institutes there are some factors which shall be considered. Firstly, you should check the track record and history of the institute, how much is the passing percentage and how old and experienced is the institute. The older the institute, more will be the experience and hence beneficial for students. Secondly, one should always enquire about the faculty members of the institute. Teachers are the most important part of a good institute and if they are expert and experienced then they will also educate the child in the same manner and give a correct direction to the student. Thirdly students shall talk to the former students of the institution before joining it. Needless to say, a coaching centre with positive feedback shall be preferred.
Why Join a Coaching Institute:
While some students prefer to sit back and study themselves, there are a lot of students who favour joining a coaching institute and do their preparation. An institute makes a student do preparation in a more professional manner. It provides you a proper course through which the syllabus will be taught and revised. The teachers of an institute have expertise in their respective subjects and they are able to teach such tricks and tips to the students which help them solve problems quickly and easily.
A sense of competition with the fellow mates prevails at the institution and that always keep you inspired towards study and hardship. These institutions carry out mock tests which provide you a feeling of the actual test and hence you are able to get a glimpse of what actually you will encounter at the final day of examination. So, it's up to students whether they want to do self study or take help of a coaching institution for preparing for NDA examinations.
To help you students for making a choice of the institute, here is a list of top coaching institutes for NDA in Delhi:
1.LAKSHYA ACADEMY
Colonel Yudhvir Singh, an infantry officer who served the nation for 27 years is the founder of the Lakshay Academy. He has huge experience in human psychology and trains his students not only for the battle of examination but for battle of life as well.
The standard of difficulty is increasing every year in NDA Examination and students get surprised sometimes, the Lakshya Academy prepares the students well for these surprises. The institute provides focused classroom programs for NDA Preparation and also special doubts classes are also taken up for weak students. Full study material for all the subjects is provided by the institute.
The batches are kept small and a maximum of 40 students are only present in each batch so that individual attention to the students can be given. The teachers here are very experienced and devoted and have expertise in their respective subject. The institution provides combined courses for NDA Written and SSB Interview. Also, personality development and spoken English are also conducted by the academy.
Get Updated Review ( Voice Based Alumni Feeback)
2. THE CAVALIER
The Cavalier is a pioneer in providing education to those aspirants who want to make a career in Army, Navy, Air force or any other Paramilitary forces. Their specialization is providing coaching for NDA exam, CDS written, CAPF Written Exam, SSB Interview coaching, etc.
The institution was founded in the year 2001 and it has vast experience in improving the student's communication skills, increasing the group effectiveness by improving participation in Group activities and rectifying the weakness of each student in written examinations and SSB interviews. The coaching institute has a psychologist present for Counselling of Students and boosting their confidence.
The training is given by the latest modes of technology like Interactive projection system and online examinations on a daily basis. It also provides an online test series to the students. The academy prepares the students for NDA with extreme dedication and hard work and also gives classes for spoken English for free.
The team of trainers and teachers are very committed and come from the background of Army, Navy and Air force. The success rate of the academy is very high.
3. BAALNOI ACADEMY
To honor the 9 Rajputana Rifles for their achievements in 1971, Indo-Pak War in the "Battle of Baalnoi", the academy was named as Baalnoi Academy. It was founded in the year 1997 to give coaching to the aspirants who wanted to make a career in Defence services. With the quality of education which it imparts to its students, the academy is counted in the Top Coaching Institutions for NDA examination in Delhi.
The instructors and teachers at the institution are highly concerned and they have a past record of serving the SSBs. The teachers are fully informed about the latest procedures and methods of teaching and giving training to the students. The institution is completely equipped with new and modern technology and education is provided by up-to-date techniques and technology.
The institution works on first recognizing the strengths and weaknesses of a candidate and thereafter working on evolving his/her personality. Emphasis is given on theoretical knowledge and then application of that theoretical information. The institution boasts of having an incredible success and selection rate.
4. AIM AND ACHIEVE INSTITUTE
Aim and Achieve is one of the Leading institutions for providing NDA Coaching. It has a great team of faculty members, best testing methods and exhaustive study materials. Being one of the top coaching institutes for NDA entrance examinations in Delhi, it provides specialized courses for this exam.
It also provides Coaching for Bank PO/Clerk, SSC and various other competitive exams and that also at a very affordable cost. There are various NDA dedicated classroom programs which benefit the NDA aspirants tremendously. The institute also carries out various mock tests and the online mock test series of the institute is very beneficial. The study material of the Coaching Academy is best and prepared in a systematic manner. Various video lectures are also conducted by the institute.
Institute provides free Sample Papers for NDA Exams, SSC and bank exams as well. Various career guidance and motivational classes are also conducted.
5. KD CAMPUS
KD Campus, KD Defence Brigade has been founded by Ms. Neetu Singh, a renowned teacher, and famous author. With its headquarters in Delhi, KD Defence Brigade is an initiative by the founders to train the candidates who want to go in defence services by experienced ex-defense officers, ground officers, and psychologists.
Through the rigorous training in the classroom and field by the defence officers of all ranks, a candidate gets mould into a future leader who is ready to take up any challenge in life. The institute states that it makes a candidate a defence officer before he is actually a defence officer. This is what the SSB seeks in a student.
The institution emphasizes on the overall development of the child by providing expert guidance and high standard study material. It also has one of its kind, Android app test series which can be accessed by the mobile which makes it easier for students to use it from anywhere and anytime.
6. PARAMOUNT COACHING CENTER
Here at Paramount Coaching Center, Paramount Defence wing, the commitment is to provide best and Quality Education to the Students. It is one of the top names for Coaching for NDA Examination and other government competitive examinations in Delhi.
The institute aims in providing such a classroom atmosphere which is well equipped with technology that all students are able to make the most of the time and gain knowledge. The quality of lectures and study material is extremely high. The faculty here is extremely devout and keep guiding and motivating the students.
Personal attention is provided to students, and teachers give special sessions for clearing the doubts and problems. Students are evaluated on a regular basis by online assessments and teachers keep counselling them from time to time. Information about the Upcoming Exams is also provided to the students. The feedback about the institution is also very positive.
7. VEDANGA INSTITUTE
Vedanga is one of the Top Coaching Institutes in Delhi for NDA examinations. It regularly provides guidance to the aspirants and helps them to live their dreams. They expertise in providing coaching for other government competitive exams also like, UPSC, SSC, Bank, Railways, etc.
The teachers here are very experienced and are regularly working with students so that they can attain success. The teachers keep guiding and Counselling Students to make them move in the right direction. Individual attention is given to the students so that the best out of them can be brought out.
Demo classes are provided to the students so that they can get classroom experience before they choose the institution. Regularly test series are conducted so that students can be examined. Good quality study material is provided by the institution and books are also given to students for free. Group discussion and group teaching are encouraged to increase confidence and knowledge.
Students are updated with monthly current affairs. Extra classes for doubts are also provided to students. The success rate of the institution is considerable.
8. TARA INSTITUTE
Tara Institute offers such distinctive educational environment to students which make it one of the top coaching institutes in Delhi for NDA examination and other government exams like, IBPS Bank PO, SBI PO, SSC, BBA, CLAT, etc. It prepares the students to survive in this competitive world.
It has a strong pool of teachers who are highly qualified and experienced and they provide quality education to its students. It gives its students dedicated classroom programs for NDA entrance examination, detailed study material, and online test series through which they can evaluate themselves.
Regular tests are conducted by the institute; quiz sessions and group discussion are also frequent happenings. All these things help in the overall development of the student.
The institution works on the vision that the perfection by the students can only be attained by dedicating time and continuous efforts, and maintaining patience. The success rate of the institution is extremely good.
The above listed are those institutions which are well known for providing training to aspirants who want to Serve the Nation by Joining the defence forces. To be in the defence you require a lot of dedication and discipline and all These Institutions help in providing you all that is required to clear these difficult examinations.
So dear students it is according to your interest and wish, the institution which you shortlist. But be thoughtful and careful before selecting the institute because the choice will help in making your career and so it shall be made after thinking in depth.