Topic We Cover: Top Coaching Institutes for CA
1. WHY JOIN A COACHING INSTITUTE?
2. FACTORS TO BE CONSIDERED BEFORE JOINING A COACHING INSTITUTE
3. TOP COACHING INSTITUTES FOR CA
PROWISE CA
ACADEMY OF COMMERCE
TOPPER'S INSTITUTE
VIDYA SAGAR CAREER INSTITUTE, JAIPUR
NAHATA PROFESSIONAL ACADEMY, INDORE
YESHAS ACADEMY, BANGALORE
CHANAKYA ACADEMY FOR MANAGEMENT AND PROFESSIONAL STUDIES, HYDERABAD
J K SHAH CLASSES, MUMBAI
AGARWAL CLASSES, PUNE
TAKSHILA LEARNING
The Institute of Chartered Accountants of India, ICAI conducts the Chartered Accountancy, CA Examinations twice every year. With a dream of becoming a proficient professional and becoming successful Chartered Accountants, lakhs of students appear in these exams. But due to the difficulty level of these examinations and with a very minimum passing percentage, only a few students are able to make through these examinations and therefore, students seek the support of Top Coaching Institutes for CA.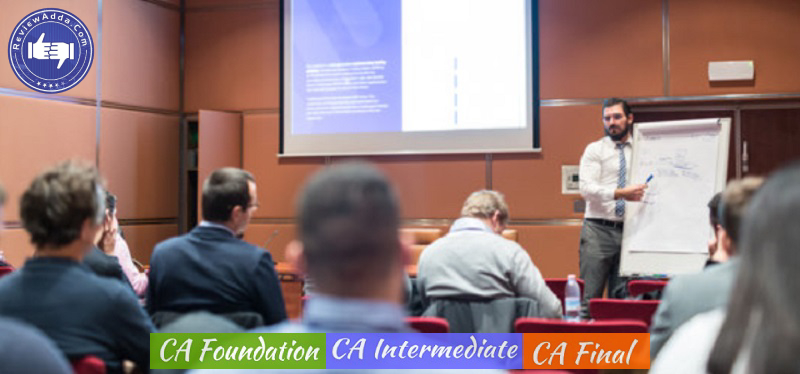 Without any doubts, the examination of CA requires immense hard-work and rigorous preparation if students want to make through them. Coaching Institutes play a guiding role and help students prepare for these tough exams. Selecting one of the Top Coaching Institutes for CA becomes important for students as the coaching institutes makes a road map for the student's preparation and helps them.
WHY JOIN A COACHING INSTITUTE?
There are students who believe in self-study and they may even crack CA Examination through their self-preparation but, coaching institutes always direct students in a professional manner for preparation and passing these exams. When a student joins a good coaching institute there prevails a spirit of competition with your fellow mates and hence you are always charged up and motivated for hard work and positive results. Also, the Syllabus of CA is very huge and difficult and one of the advantages of joining a coaching academy is that you get to learn all the subjects under one roof. You will get professional knowledge and education about all subjects by trained and experienced teachers. The teachers and faculty there will always steer the students in the correct direction according to their experience and knowledge.
FACTORS TO BE CONSIDERED BEFORE JOINING A COACHING INSTITUTE
There are thousands of coaching institutes available for CA all over India and choosing amongst them the best institute is a tedious job. There are various factors which are required to be considered before you chose a good institute.
Before joining an institute, students shall do some research about them and shall get to know about its success rate. The success rate is important as it will give a fair picture of how seriously subjects and topics are taken up.
Faculty of the institute shall be highly qualified, experienced and trained in the respective subjects.
Feedback about the institute shall be positive. Students shall ask about the institute from ex-students who have already taken coaching and have experienced the environment of the institute.
TOP COACHING INSTITUTES FOR CA
In this article, I have incorporated the top institutes which provide coaching for Chartered Accountancy Course:
1. PROWISE CA
Prowise CA is ranked as one of the Top Coaching Institutions for CA in India. It has various branches in different cities of India. Prowise CA aims of providing CA aspirants with advanced and professional coaching under one roof. The coaching institution is the outcome of efforts by CA Parveen Sharma, CFA Sanjay Saraf, CA Bhanwar Borana, CA Raj Kumar and CA Pankaj Kumar. These names are very famous within CA fraternity and require no introduction.
Prowise is known for its highly advanced teaching technology where the best faculties of the institute conduct live interactive classes from their state-of-art studios situated in Delhi, Kolkatta, Mumbai, and Pune. The institutes provide its coaching to around 160+ Live learning classrooms and this technology makes it an unparalleled institute for CA Coaching.
The faculties of the institute are excellent in the subjects and highly dedicated. Qualified professionals only teach the subjects. The coaching is well planned and comprehensive and this makes the institution unique.
2. ACADEMY OF COMMERCE
Academy of Commerce is a well-known brand for providing CA Coaching in Delhi and North India. It has been educating and teaching students for the last 38 years and has a tremendous success rate in CA Examinations. It boasts of having 27000 CA to its credit in past years.
It delivers such quality education and best methods that its students are benefited in overall manner. Since its inception it has achieved the glory of training and educating around 1,00,000 students. It has achieved milestones by producing rank holders every year. Academy of Commerce is a house to the most experienced teachers. It has exhaustive procedures to prepare its students for CA Examinations and focuses on covering all aspects of subjects.
The institute also provides hostel facility for girls in its every branch spread over various cities of India. Moving a step forward in technology, AOC has launched interactive courses for CA Students.
3. TOPPER'S INSTITUTE
Topper's Institute was founded in the year 1997 under the guidance of CA BhagwanLal, a fellow member of Chartered Accountants of India and Associate Member of ICSI & ICWAI It was the first institute to start teaching and educating CA students. It is one of the best institutes to prepare students for the CA Examination. It is a recognized name for delivering a number of rank holders every year.
The teachers of the institute are very qualified and extremely experienced. They have a brilliant academic record and every teacher have expertise in their subjects and topic and they are committed and focused towards providing success to the students of the institute. The study material that is provided to the students are relevant, precise and appropriate which are developed after a lot of research. The language of the material is easy and understandable and the material consists of concept-based problems which enhance the skills of students.
Institute also gives students coaching and lectures in video formats and around 10 lac students of CA, CS and CMA are taking advantage of them.
Get Updated Review ( Voice Based Alumni Feeback)
4. VIDYA SAGAR CAREER INSTITUTE, JAIPUR
Vidya Sagar Career Institute, Jaipur is one of the Top Coaching Institutes for CA and has delivered three times All India 1st Rank. This result shows the quality of education that is being provided to the students and proper guidance which is given to the students to help them in preparing for the examinations and yielding the best outcome.
The students of this institute constantly achieve ranks in each Examination of CA. The reason behind the success is that the batches have limited students and individual attention is provided to students. Separate batches are conducted for students for English and Hindi Medium. Also, separate notes in Hindi and English both are provided to students according to their requirement. Classes are taken by renowned and qualified professional teachers who have expertise in their subjects.
Mock Test Series are taken on regular basis and examination like environment is created during such tests. Topic and subject wise assignments are provided by the coaching institution for proper evaluation and practice of students. Extra classes are conducted by faculties to solve the queries and problems of students. Moreover, the institute also provides hostel facility also.
5. NAHATA PROFESSIONAL ACADEMY, INDORE
With CA Anil Nahata leading from the front, Nahata Professional Academy has been providing quality education to CA aspirants since 1992. The institution believes in accepting the changes in the educational field, creating new strategies and adopting new means and methods through which best education and information can be provided to students to make them clear these elite examinations.
With the mentorship of CA Anil Nahata, Nahata Professional Academy now has around 30 highly qualified and professional faculties and because of which the results of students have been astounding. The academy provides comprehensive notes to its students for all subjects which are prepared after a lot of research.
The academy is well known because of providing excellent classroom guidance to students for all subjects inclusive of the theoretical part, both in English and Hindi language for all levels of CA Examinations.
It has taught around 1, 00,000 students till yet and holds the record for bagging top ranks for seven times in various examinations.
6. YESHAS ACADEMY, BANGALORE
Yeshas Academy is one of the reputed and Top Coaching Institutes for CA in India. This is located in Bangalore, Karnataka and has the maximum success rate in CA and CS qualifying students as compared to other institutes of the state.
It was established in the year 2004 and is greatly pro-active for preparing students for examinations like CA and CS in a very systematic manner. The study material given by the institute is an outcome of large research. The study material is prepared by learner-centric approach, is exam-oriented and presentation of the study material is student-friendly. The institute conducts mock tests and revisions so that they can evaluate students on a regular basis and improve their performance as well.
There are around 20 teachers in the academy and all are well qualified and trained with an average experience of 10 years in teaching.
7. CHANAKYA ACADEMY FOR MANAGEMENT AND PROFESSIONAL STUDIES, HYDERABAD
Chanakya Academy for Management and Professional Studies, CHAMPS, is one of the prime coaching institutes for CA and other Professional Courses. It is a joint venture of MMTI, which has given training to thousands of students and helped those becoming successful professionals.
The teaching methodology of CHAMPS is such that students are able to thoroughly understand the core concepts, are able to think analytically, students are able to improvise their problem-solving techniques. Focus is given on making students learn and work smartly rather than harder. Attention is also given on communication and presentation techniques of students.
The institution has well experienced and certified faculty members. The institute has a scientific methodology to educate its students according to the understanding level of students and as per the requirement of the course. The institute tries and covers 100% syllabus, both conceptually and logically. Also, the number of students per batch is kept limited so that attention can be given to every child. Regularly assessments are conducted to evaluate the students.
8. J K SHAH CLASSES, MUMBAI
Being one of the Top Coaching Institutes for CA in India, JK Shah Classes has been educating CA aspirants for 34 years in cities like Hyderabad, Mumbai, and Chennai, etc. Professor J.K Shah is the founder of these classes and the institute has become an ultimate center for the preparation of CA Course.
The procedure through which coaching is provided to students is very exhaustive and based on concepts. The conceptual problems which are taught to students are selected from examinations which are held not in India but around the world also. The assessment tests and mock tests which are conducted here covers problems of past papers as well as which are expected to be asked in future also.
All the faculties present at J.K Shah Classes are experts and have knowledge and experience in their respective domains. The coaching provided here to students is well panned and very systematic.
9. AGARWAL CLASSES, PUNE
Agarwal Classes was established in the year 2001 and is one of the Top Coaching Institutes for CA. It is favourite among students and CA aspirants from all over India come to study here.
The faculty is highly dedicated and they would help you in understanding concepts in all possible ways. The teacher's expertise in imparting the knowledge they have in their respective subjects. They have a systematic pattern to complete the syllabus and the course is completed within time. Also, the institute possesses a library where students can sit and peacefully study.
10. TAKSHILA LEARNING
Takshila Learning is amongst the leading institutes which are providing education through online mode. The focus is to impart quality education to students anywhere and anytime and on any device say it a mobile, laptop, pen drive, etc.
Takshila Learning provides education in various courses and CA Course being one of them. The organization has joined hands with "SKILL INDIA" so that the best of education in every course can be provided to students. The institute provides education online as well as offline. Offline modes include CD, pen drive, DVD, Tablet, memory cards, etc. The teachers here at Takshila are young, energetic and experienced and have the aim of educating and helping students to the maximum.
To make through the difficult Exams of CA, one requires a good coaching institute as not only students get academic help from there but they are also motivated by the competitive environment of the coaching center. This article would surely help CA aspirants who are looking for institutes for coaching in India. Remember, selection of coaching institute is a tough task and shall be made carefully as that decision can make or break your career.