Topic We Cover: How to Prepare for CA CPT
1. CA CPT EXAMINATION PATTERN
2. CA CPT EXAMINATION SCHEDULE
CA CPT MARKING SCHEME
CA CPT PASSING CRITERIA
SYLLABUS OF CA CPT
3. CA CPT PREPARATION TIPS
PREPARE A TIME TABLE
DESIRABLE TO MAKE ORGANIZED AND BRIEF NOTES
STUDY MATERIAL
GROUP STUDY
MODEL TEST PAPERS
SELF ASSESSMENT QUIZ
KEEP YOURSELF FIT PHYSICALLY AND MENTALLY
4. SOME IMPORTANT TIPS FOR STUDENTS DURING THE EXAMINATION
With CA CPT around the corner, you must be busy preparing for the examinations!!
Chartered Accountancy is one of the most revered and challenging professions of our country. In this era of a free market economy and cross-border trades and services, Chartered Accountancy has emerged as a distinct profession with a unique and high level of responsibility. Apart from performing the traditional functions of accountancy, audit, and taxation the Chartered Accountants today also have expertise in the field of corporate governance, strategic management, consultancy services and much more. CA CPT is a sought of entrance examination for such an eminent and reputed profession.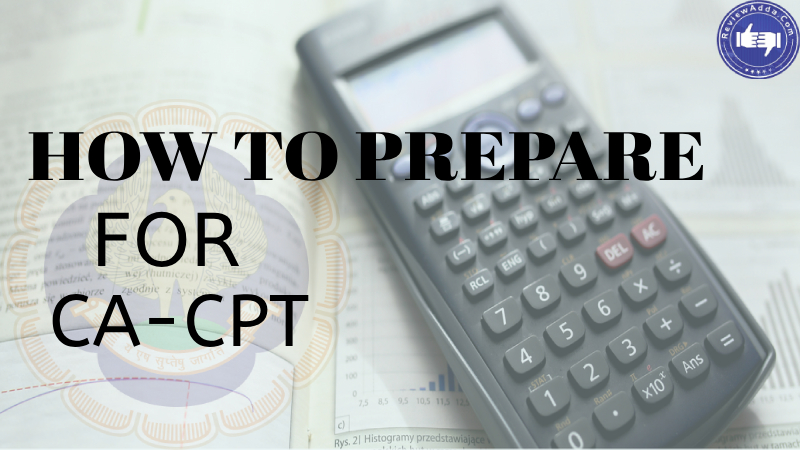 Chartered Accountancy Common Proficiency Test (CA CPT) is conducted by The Institute of Chartered Accountants of India (ICAI) twice a year. The competition level is very high in this qualifying examination and CA aspirants always have this big question "How to prepare for CA CPT"? It is a general perception that CA CPT is very difficult. Yes, it is but if you plan strategically and study with sincere efforts, and then there is nothing which can stop you from achieving your goal. Every student has a unique approach towards study and the way they would prepare for CA CPT and so planning before preparing their action plan becomes an integral part of the study. Understanding the syllabus and pattern of examination of CA CPT should be the first step of the preparation strategy. Knowing your syllabus gives you an assessment of how much time devotion does each subject and each topic requires.
CA CPT EXAMINATION PATTERN
CA CPT Exam is an offline objective type test paper. There will be choices for the question given and students will have to select the correct answer from the available options by darkening the circle by pencil. The total number of question asked are 200 and the duration of the exam is 4 hours which is conducted in two sessions of 2 hours each. The total marks of the examination are 200. The test paper is conducted in both English language and Hindi Language and students can opt the language in which they would give the examination.
CA CPT EXAMINATION SCHEDULE
CA CPT Sessions

Session I

Session II

Time

10.30 am – 12.30 pm

2 pm – 4 pm

Subject

Fundamentals of Accounting

(Section A)

Mercantile Law

(Section B)

General Economics

(Section C)

Quantitative Aptitude

(Section D)

Number of Question

60 questions

40 questions

50 questions

50 questions

Number of Marks

60 marks

40 marks

50 marks

50 marks
CA CPT MARKING SCHEME
There will be 200 questions of 200 marks in totality. Every correct answer will fetch you 1 mark. And with every wrong response, 0.25 marks will be deducted. That means there will be negative marking and so students should be very cautious while giving the exam. There will be no negative marking for an un-attempted question. Also, it is to be noted that if a student gives more than one answer then that will be treated as invalid and marks will be deducted for that.
CA CPT PASSING CRITERIA
To clear the CA CPT Level the following is the passing Criteria which every student shall attain for making to the next level of CA.
Subject

CA CPT Cutoff

Over all Cutoff

Fundamentals of Accounting

30% of 60 marks

50% of 200 marks

Mercantile Law

30% of 40 marks

General economics

30% of 50 marks

Quantitative Aptitude

30% 0f 50 marks
SYLLABUS OF CA CPT
FUNDAMENTALS OF ACCOUNTING
Contents:
Theoretical Framework
Accounting Process
Bank Reconciliation Statement
Inventories
Depreciation Accounting
Preparation of Final Accounts for Sole Proprietors
Accounting for Special Transactions
Partnership Accounts
Introduction to Company Accounts
MERCANTILE LAWS
Contents:
The Indian Contract Act, 1872
The Sale of Goods Act, 1930
The Indian Partnership Act, 1932
GENERAL ECONOMICS
Contents:
Introduction to Micro Economics
Theory of Demand and Supply
Theory of Production and Cost
Price Determination in Different Markets
Indian Economy- A Profile
Selected Aspects of Indian Economy
Economic Reforms in India
Money and Banking
QUANTITAIVE APTITUDE
Contents:
Ratio and Proportion, Indices, Logarithms
Equations
Inequalities
Simple and Compound Interest including annuity-Applications
Basic concepts of Permutation and Combinations
Sequence and Series- Arithmetic and Geometric Progressions
Sets, Functions and Relations
Limits and Continuity-Intuitive Approach
Basic Concepts of Differential and Integral Calculus
Statistical Description of Data
Measures of Central Tendency and Dispersion
Correlation and Regression
Probability and Expected value by Mathematical Expectation
Theoretical Distributions
Sampling Theory
Index Numbers
Get Updated Review ( Voice Based Alumni Feeback)
The first and foremost goal of a student when it comes preparing for an exam like CA CPT is how to develop smart study habits that will automatically promote one's learning capability. Studying alone is not what is going to help rather how you retain and remember what you study and then recall what all you have assimilated matters. With the below-mentioned tips the aspirants will get help not only in doing preparation but also in recalling the same during the examination.
Students preparing for CA CPT shall prepare a time table according to which the whole procedure of preparation will be executed. Allocation of an equal amount of time to each subject is necessary. But, yes you can give a bit more of time to those subject which carry more marks i.e. preparation strategy can be made as per the weight of marks.
Complete the basic preparation within the allotted time period as per the time table. Once the first round of preparation is complete, then continue with the revision of the topics and subjects. More you will revise more you will retain and so more will be the probability of recalling the same during the exam. Strict to your time table and follow it with sincerity.
Judiciously managing time is necessary. Time shall be distributed intelligently between all the subjects. Maintain a strict regimen of study and always try to start your study at the same time of the day as it creates a proper schedule which your mind also follows. Make short term and long term goals and stick to achieve them.
DESIRABLE TO MAKE ORGANIZED AND BRIEF NOTES
While you are Preparing for CA CPT read and practice as much as possible. The apprehension of fundamental concepts is as important as making notes. Understand the topic and concepts by co-relating with whatever information you know about it. Create linkages between the concepts and their facts. Read again and again those concepts and topics which you are not able to understand adequately. Focus on them more and also other difficult topics and try to win over them. In each topic every point and every aspect is not important and not relevant to learn, therefore, concentrate on the major topics.
Once you have completed the topic, then wait for some while and try to remember what you have learnt and then re-produce the same in form of small and clear notes which you can use for final revision during the examination time. These notes will be self-prepared and so you should well prepare them in an organized form which would cover all the prime aspects related to the topic. Adopt this practice of making notes with full determination as you progress in preparing and this will surely be helpful for you during the exam.
The Institute of Chartered Accountants of India provides a comprehensive study material for each and every subject. The study material defines and confines the syllabus which the students should cover while preparing for the CA CPT. The subjects and their topics are very clearly presented and that makes easy for the students to grasp and understand the topics.
Students should thoroughly study these study material for each subject once, twice, thrice. It will help in developing your fundamentals and conceptual base. As much you study and practice more will your confidence enhance as to the subject and topic. Apart from study material you can also refer to any good text book related to the subject and prepare and practice from it as well.
Well, being a part of a group of students who are pursuing the same preparation is always beneficial. You can discuss the queries and doubts which you have relating to any topic with your fellow mates. Sometimes merely having a discussion about a topic will solve the doubts you have or you will be able to retain the topic by just listening about it.
Studying in groups also creates a sense of competition and you will be always be motivated to achieve the task you are preparing for and who knows, maybe you will get through your exam in the first attempt itself.
While preparing for CA CPT an essential role is played by the model test papers. You should practice as many test papers as you can. Taking such mock tests is beneficial in various ways. Firstly, it gives you an overview of the examination pattern and makes you familiar with it. Secondly, you can evaluate yourself through these tests. You will be able to realize the actual level of your preparation as to where you stand. While giving these exams one should follow all the rules of the actual test papers. Once you practice it with this commitment it will create wonders in your preparation.
Mock tests are also conducted by the Regional Councils and branches of the Institute of Chartered Accountants of India.
The Institute hosts a number of Online Self-Assessment Quizzes on its website i.e. www.icai.org to enable students of CA CPT to make self assessment of their preparation. These Quizzes are in three formats:
All Subjects Online Assessment Quiz
Subject Wise Self Assessment Quiz
Chapter Wise Self Assessment Quiz
You can take the quiz whichever you want to and test yourself.
KEEP YOURSELF FIT PHYSICALLY AND MENTALLY
A healthy mind and physical fitness are a pre-requisite for concentrating on your studies and Preparation for CA CPT. With active and alert mind you will be able to focus more on your studies. The mantra for good health and a peaceful mind is to eat healthy food, maintaining a sound sleep and taking break from your studies at regular intervals. During these short breaks, you can do such tasks which will refresh your mind like meditation, brisk walking, listening to music etc. By doing all these you will be able to maintain equilibrium in your health and studies and that will increase the absorbing capacity of your mind.
SOME IMPORTANT TIPS FOR STUDENTS DURING THE EXAMINATION
Be on time for the examination and be in relaxed state. Don't take too much of stress.
Read the instructions given very carefully and observe them.
Read the question properly before answering it. Be very careful while responding and don't be in a hurry.
If you stuck on any specific question then just skip it and move on to other question as remember that all questions carry equal mark and sticking on one question will just lead to wastage of time.
Leave a question un-attempted if you are not sure of the answer or else you will be marked negatively. You can return to the same once all the question paper has been completed by you.
Don't panic, stay calm and focused, and give your answers attentively.
The above are some tips and tricks which if complied with then would prove to greatly help you in the action plan of preparation of CA CPT. Dear Students, passing the examination depends on the intellectual ability of an aspirant but you can improve your chances of clearing the exam by using appropriate study and revision techniques.
The main objective of this examination is to test the basic understanding and its implementation of the concepts of the subjects which are the part of the syllabus. You will face difficulty in the preparation course as the standards of difficulty are high in CA CPT. The only solution is to spare more time and tune yourself towards a better understanding of basics and techniques in solving the problems. Competence in all the subjects can only be achieved by mere practice on a regular basis and then only you can achieve the dream of becoming a part of such a renowned and acclaimed profession.