Topic We Cover: How to Shortlist College for BTech Admission
1. ACCEPTANCE OF B.TECH ENTRANCE EXAM SCORE
2. AVAILABILITY OF SPECIFICATIONS/PROGRAMS
3. REPUTATION AND RANKING OF COLLEGE
4. FINANCE
5. LOCATION
6. MAKE YOUR OWN WISHLIST
7. TEACHER STUDENT RATIO
8. JOB PLACEMENTS
9. SCHOLARSHIP OR FINANCIAL AID
10. FACULTY
11. INFRASTRUCTURE OF COLLEGE
The Admission Process for B.Tech has triggered all across the country!
And if you score excellent in the Entrance exam for B.Tech then chances are that you may get lot of admission offers from various colleges and institutions. That's definitely Good news! But with this happiness comes a headache too. With so many available options, what to choose??
A bad decision will directly affect your education, career and life. So, stop worrying and start focusing on how you are going to shortlist and choose the most apt college for yourself.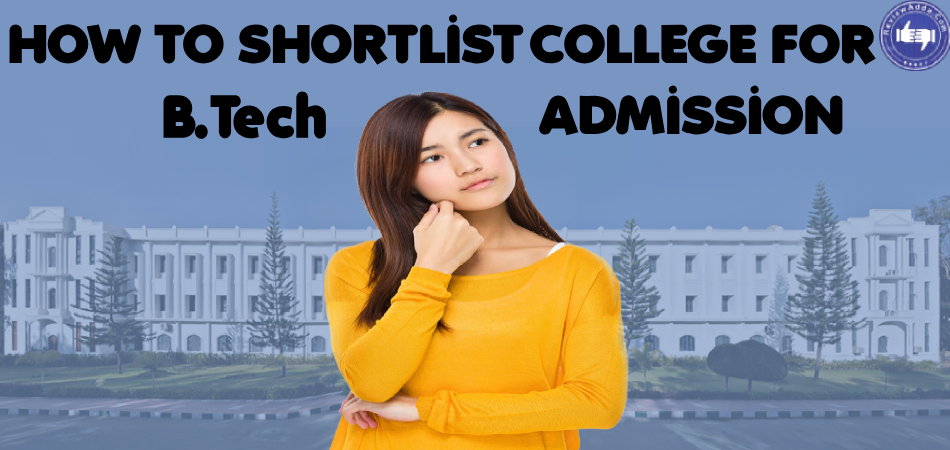 Every B.Tech aspirant endeavours to pursue the course from one of the finest and leading engineering colleges of India. For this to happen every student should be well aware of B.Tech Admission Procedure, engineering entrance examinations, the list of Best Colleges in India and the criteria's on the basis of which they are going to shortlist the college for B.tech degree. Your choice of college shall also be based on your strengths and the goals and targets that you have set in your life.
All the engineering colleges in India don't follow the similar Admission Process for B.Tech. Eligibility criteria and admission process many vary from one college to another. Also, B.Tech Course offers degree in different specialisations like Electrical Engineering, Mechanical Engineering, Computer Science and Engineering, Software Engineering etc. from which students can choose whichever suits them the most. Students shall be well versed with the information about what are the admission norms for varied colleges and what all courses the college is offering when he/she is short-listing the college for B.Tech Admission so that they pull out the most pertinent college from the available options.
Before you initiate the selection procedure for the admission in the college of your choice, B.Tech aspirants should know all about the admission process and the entrance exams. In India, Engineering Entrance Exams are conducted on National level and State level both. It is for the students to choose whether they want to give national level entrance examination or state level. Given below is the list of some of the most famous and popular engineering entrance examinations which students give:
NAME OF EXAMS:
JEE MAIN
BITSAT
VITEEE
SRMJEE
UPSEE
WBJEE
NATA
KCET
LPUNEST
GUJCET
MET
IPUCET
MSCT
MHT CET
KEAM
BVP CET
AP EAMCET
There are many aspects which students should consider while short-listing college for B.Tech Admission. While these determinants may vary from student to student, here is a list of some of points which will be common to all and would help simplify the decision of admission into a good college.
Get Updated Review ( Voice Based Alumni Feeback)
1. ACCEPTANCE OF B.TECH ENTRANCE EXAM SCORE
There are number of colleges which are available as choices to the students from which the students can fish out the best college as per their suitability. The admission process varies as per every college and one component which will help students to shortlist the college for Admission to B.Tech Course is the acceptability of the entrance exam which have been given by them. Not all colleges accept the score of any particular entrance test and it has to be evaluated by students as whether their score of entrance test will be considered by the particular college or not.
One entrance exam, i.e. JEE MAIN is such entrance exam the score of which is widely accepted in colleges throughout India for admission in B.Tech course. Apart from JEE MAIN another exam which is trendy among students is BITSAT. Also there are some state Level Engineering Entrance Exams which are popular among B.Tech aspirants but a disadvantage with them is that the score of these exams are confined to that specific state only of which the exam is of.
So, for aspirants who are finding a better college, evaluation on the basis of this factor will be the first step.
2. AVAILABLITY OF SPECIFICATIONS/PROGRAMS
Not every college may offer the type of program/specification you want to do in B. Tech. It may alter from college to college and so it best to study about the courses one college offering before you apply for admission in it. There are colleges where certain streammay not be available which you want to pursue and then it will be of no use to apply to such college. The details of the courses offered, the curriculum, eligibility criteria and the degree which would be earned after completing the course can be found out either from their respective admission offices or on the official website of the college's.
Getting admission into the college in which your preferred course is available is very important if you want to excel in career and life or you may end up doing such stream of engineering in which you didn't had interest and that will lead to loss of your self-confidence.
3. REPUTATION AND RANKING OF COLLEGE
Before applying in for admission in any college please do check its background. Do some research work and get to know its rank, how reputed it is, about its faculty members, infrastructure, status of the explicit engineering stream you will elect and its placement offers etc. Grasp this information by talking to the students and teachers of the colleges by visiting them. Have an idea of the facilities present in the college especially of the stream which you are considering.
Having graduated from an accredited college is always advantageous. Not only will the degree from such institution secure you a good job but also if you want to go for further studies, the degree from greater rank college will always be beneficial.
B.Tech Degree from a branded college will always have more value in the eyes of the employers and good companies and so many options will always be available for you in your future.
You will leverage the benefit of the brand all throughout your career.
4. FINANCE
Does your pocket allow you to study in a particular college you wished? Cost is another pivotal component which students shall consider when they Shortlist College for Admission into B.Tech. While electing you should remember that you should have sufficient finance that you can sustain throughout the course of your graduation degree. Every college have different fee structure which fluctuates depending on the location of college and also on the fact whether it is a private or public college. Colleges situated in big cities are more expensive than those which are small cities as cost of living in big cities is much more. Also public colleges are comparatively cheaper than the private colleges.
So considering all the expenses of tuition fees, hostel, dining, transportation etc. the decision shall be made.
5. LOCATION
Based on the environment which makes you comfortable, the location of the college shall be opted. Although, it is advised that you opt for a new location as it can be a great experience for you. Remember, Diversity can be life-long learning and new location can give you new motivation and experiences. For example if you stay in Northern part India you can choose a college situated in any place apart from north India.
Ultimately it will be your outlook and perspective that will be counted. Whether you want to stay in your comfort zone or you want a distinctive experience while learning, after all will be your standpoint and so be well-informed and then make a decision.
6. MAKE YOUR OWN WISHLIST
Draft a list of elements as per your priorities that you would like to witness in your college. These considerations can include degree, Location (rural or urban), government or Private College, cost, ranking, placements, faculty, class size, extra-curricular activities like sports, music etc., quality of education, campus facilities, affordability, distance from home and much more.
If a student has to select from two colleges then he can select it on the basis of the above list as per his interest. For example if one is stuck to choose between two colleges so he/she can decide which is much befitting for him/her depending upon the above mentioned criteria's.
7. TEACHER STUDENT RATIO
Another decisive factor for short-listing a College for B.Tech shall be the ratio of teacher and students. Generally, colleges post information about their class sizes of their assorted streams. Larger the class size lesser will be the individual attention of faculty towards students. Smaller the class size more will be the interaction between teachers and students and hence, more discussions on topics will be possible and likely more learning.
It is a viewpoint of students to which college they would choose as this would have a significant influence on the instructions that would be received by them.
8. JOB PLACEMENTS
There are a number of colleges which provide immense opportunity to students in form of placing them to marvellous companies during the last year of their course. They offer job placements and it is for the aspirants to identify such colleges and give them predilection during the short-listing procedure.
Also, there are some considerable colleges whose students are valued more by the companies. In order to pinpoint such colleges you can check the data given on the websites regarding placements or you can even get in touch with the alumni of these institutions. College fairs are another way from which you can derive the knowledge of job placements.
9. SCHOLARSHIP OR FINANCIAL AID
There are number of opportunities in form of scholarship and financial aids which students can avail of. Through these financial aids students can make their dream come true of studying in exclusive colleges which you might have set aside because of high tuition fee. Colleges usually publish information about the students who have received aid on their website and browsing through it will give you an estimation of probability of students getting aid. Financial aid can be in form of federal or state grants, student loans, scholarship.
10. FACULTY
The professor's of any college are its strongest pillars. They have the calibre to mould a college into the outstanding one. Any college which has most experienced and highly qualified teachers and faculty will automatically be able to impart quality education to their students. So the most excellent engineering are the end products of such colleges.
While you are selecting your college always consider the views which are given about the faculty of that peculiar college. For getting information about teacher's background and their teaching abilities, their qualification you can always consult former students.
11. INFRASTRUCTURE OF COLLEGE
Although this is not a vital factor, but still some students consider a college which is larger in size and have better infrastructure in comparison to such college which are smaller in size and have less advanced and modern infrastructure. Colleges which have large libraries, properly equipped laboratories, internet access, computer access, sports area etc are given more preference over those which don't have them.
In today's vying atmosphere competition is accelerating day by day in every field of work. To procure a good and secure job, superior and worthy education is demanded. Excellent education can be attained only from the best of colleges and universities. So, students shall aim of getting education from first-rate and renowned colleges so that they can have a bright future.
Selecting the perfect and right college for getting Admission into B.Tech is a crucial and big decision for you. So students shall with utmost care and attention decide the college after considering the above mentioned factors. The years you will spend in your college shape up you and your personality as an individual and the time spent in college campus also determines as what you will do in life.
There are pros and cons with every college and you have to accordingly compare all the scenarios and make a final call. All colleges are right but you have to diagnose which is just the right for you!