Topic We Cover: Parul University Vadodara Reviews
1.Overview
2. Highlights of Parul University
3. Infrastructure and Facilities of Parul University
Accommodation
Classrooms
Computer & Internet Facilities
Library
Sports Facilities
Healthcare
Banking/ATM
Hangouts and Fun
E-Station Skills Lab
Transportation
Seminar Hall & Auditorium
Gym & Swimming Pool
Cafeterias
4. Placements at Parul University
5. Programs offered by Parul University
6. Parul University Rankings
7. Admission Procedure of Parul University
8. Fees Structure
9. Entrance Exam
10. Scholarship Scheme
11. How to Apply for Parul University programs
12. Parul University Recruiters
Parul University, one of the renowned Universities of India, was established with an aim to empower the students with the quality study environment to help them achieve an exalted position in their field.
Centered in Vadodara, Gujarat, Parul University is functioning under Parul Arogya Seva Mandal Trust and is a group of 34 institutes that offers as many as 250 programs to its students.
Parul University has a fully equipped campus with almost 20000+ students. The campus is a 150-acre large campus. There are also 1000+ international students studying various programs of the university. In addition to this, its 1600+ faculty, as well as in-campus residential facilities to nearly 7000+ students, make it one of the most talked about multidisciplinary universities of the country.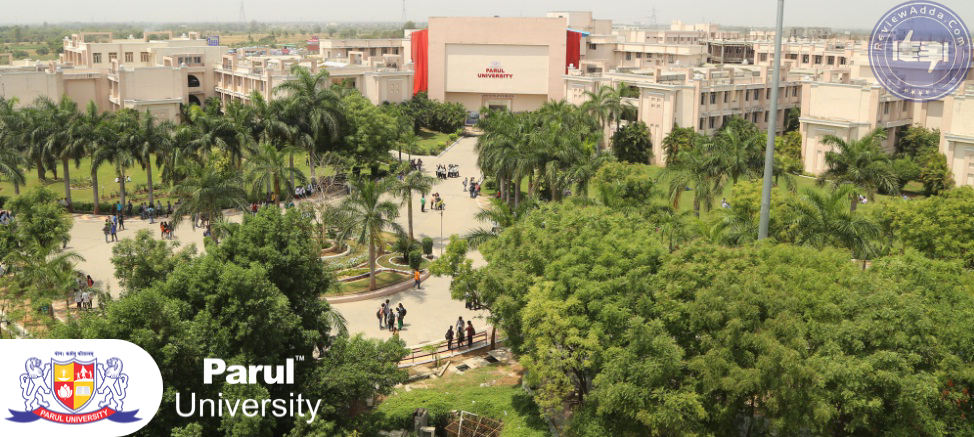 One of the interesting facts about Parul University is that it has almost 110+ faculty from the most renowned universities such as NITs and IITs.
Parul University has numerous support cells that facilitate the best learning as well as career building opportunity during the learning period and also after the completion of the studies.
Some of the support cells that are functioning in Parul University are as follows:-
Research and Development Cell
Career Development Cell
Training and Placement Cell
Cell for International students
Deptt. Of Events and Media Relations
International Relations Cell
Parul University Campus is shaping the future of its students perfectly through its long-experienced faculty members that create a perfect scene of the academic ambiance of learning, innovation, knowledge, and teaching.
Highlights of Parul University
Parul University was established in the year 2015
Parul University is recognized by University Grants Commission (UGC)
Parul University is awarded as well as ranked in the topmost organizations such as CII, AICTE, ASSOCHAM, and GESIA
As many as 500+ corporates take part in campus recruitment of Parul University and the best firms amongst them are Tata Consultancy Services, L & T Infotech, Infosys, Reliance Industries Limited, IndusInd Bank, ZydusCadila etc.
Parul University is said to be the one and the only university of Gujarat to have 1200 + international students who come from 49 countries.
Parul University possesses 10 libraries that possess almost 24,000 books as well as 15825 online magazines/journals.
Infrastructure and Facilities of Parul University
Like other renowned universities, Parul University too offers a gamut of facilities for its students. All these facilities make the university stand out from other universities.
Let's see what Parul University has to offer for its students: -
Accommodation
Parul University possesses a residential complex that has a separate accommodation provision for girls and boys. As many as 7000+ students can be accommodated in this residential complex. All the hostels are equipped with 24 hours water & electric supply. There are separate blocks for International and NRI students that are equipped with AC and other kinds of modern amenities. The campus has five messes that serve highly nutritious breakfast to the students such as Lunch, Breakfast, Dinner, and Tea.
Classrooms
Parul University has spacious and well-maintained classrooms with almost all the much-needed facility for its students. All classrooms have excellent lighting facilities and are equipped with audio-visual aids with PA & OHPs systems, nicely designed benches, soft boards, Wi-Fi facilities, demonstration area etc.
Computer & Internet Facilities
Parul University has a system support cell that offers access to a variety of technical resources to the students such as classrooms, IT offices, and computer labs.
The campus has an excellent infrastructure that offers a great ambiance to provide deep learning to the students. All the facilities such as research centers, computing facilities, the classrooms, the library, and the architecture offer a holistic learning environment to the students.
Parul University Campus offers a state-of-the-art network of computers with a sufficient number of nodes that are connected to all members of the committee of the institute together.
The computer lab of the university is equipped with a number of firewall and network switches that can easily handle tones of data traffic that is generated. Nearly every work area on the campus has nice internet connectivity that helps the students to always get connected to the internet.
Right from computer labs to administrative offices, development center, student hostels, internet connectivity can be easily enjoyed by everyone. The university uses long distance ethernet technology that helps the staff and faculty to enjoy the internet. The university has a Wi-Fi system with the highest level of security on the basis of username-password authentication.
Library
The library of Parul University is a rich source of knowledge for the students. It is in a way, the gateway of academic excellence. The library possesses a great collection of books comprising of as many as 143950+ books, journals, 447+ periodicals, magazines and almost 8528+ DVDs/CDs/Floppies on a number of subjects such as Pharmacy, Physiotherapy Science, Social Work, Paramedical, Vocational Education, Commerce, Arts etc.
The library possesses digital learning resources in DVDs, CDs & floppy. It also has an internet facility that is much beneficial for the students to access the world's information.
Sports Facilities
Students of Parul University has access to a number of sports activities through which they can develop their mind as well as body. There are indoor as well as outdoor sports facilities that are loved by all the students. Some of the sports facilities at Parul University are as follows: -
Badminton court
Table Tennis
Carom
Chess
Hand Ball Court
The students of Parul University have brought many awards to the university by winning a number of intercollegiate sports tournaments under the mentorship of excellent physical instructors.
Healthcare
The university has a 350-bed hospital by the name of Parul Sevashram and another 250-bed hospital named Parul Ayurveda hospital. Both these hospitals are functioning 24x7 for the students. This kind of healthcare facility is something unique and it helps the students to get seamless access to nearly all the health-related facilities.
Students can also take emergency care in these hospitals. These hospitals are equipped with a number of departments such as Dialysis units, special neurological unit, intensive care unit, a physiotherapy unit, and operation theatres etc.
Students can also avail a number of discounted medicines from the dispensary of the hospital that is 24-hour operational.
Banking/ATM
Parul University also possesses excellent banking facilities on its campus for its students. Students get access to 3 prestigious banks at the campus that are Bank of Baroda, DCB and Central Bank of India. A great ATM facility is also available for the students apart from the educational loan and other regular bank services.
Hangouts and Fun
Parul University Campus is the best place to be when it comes to fun and hangouts. Campus life of this university is truly magical as there is a great opportunity for everyone to create life long memories with their fellow students. The students can get the benefit of open mike platforms for doing a performance on the campus. Regular funny activities make campus life much more fun for the students.
E-Station Skills Lab
Parul University provides a great platform for enhancing the skills of its students. There is a skills lab in the campus that is dedicated to enhancing the learning of the English language. The lab provides the best training in all the language aspects such as listening, speaking, writing and reading comprehension. This lab is ideal for the students who are Portuguese, French and German.
Transportation
As many as 4000 students and 1000 staff members commute to Parul University on a daily basis by 63 buses & 20 passenger vans. The facility of the daily bus is available from several cities near to Vadodara such as Nadiad, Bharuch, Ahmedabad, Anand etc. All the drivers of the university buses are well experienced and keep registered licenses with them.
The university also takes extreme care of the environment by adopting "Hexi Cycles" that are available for the students. The initiation of these bicycles are good for the overall health of the students as using these vehicles will provide physical well-being and sound health to the students.
Seminar Hall & Auditorium
Parul University has a beautiful auditorium to be proud upon. The auditorium possesses above 600 square meter carpet area with the seating strength of almost 420 people. This centrally air-conditioned auditorium is equipped with good acoustics, AV aids such as video playback, cue light system, additional talkback, video tripod, headsets etc.
Apart from the auditorium, Parul University has almost 6 seminar halls that have a seating strength of 50 to 175. Both of these facilities are widely used for a number of uses such as meetings of faculty members and students, presentations, workshops, guest lectures, celebrations, gatherings, functions etc.
Gym & Swimming Pool
Parul University aims to provide health and fitness to its students. And keeping that in mind, the university has set up modern Gym & Aerobics Arena that is spread to the area of 5000 sq. ft with a number of equipment such as hot showers, sauna bath, steam bath, changing area etc.
A team of skilled fitness trainers always there to guide the students at the gym and the aerobics. A full-time nutritionist and dietician are also available in the fitness center to guide the students about the nutritious & healthy diet-plan. Students, in this way can acquire physical as well as mental health after utilizing the Gym and other facilities.
Cafeterias
Parul University is committed to providing the most hygienic food to its students. All the hostels of the university have spacious messes and dining halls that serve all the three meals such as breakfast, lunch as well as dinner with special diet served on Sundays. In addition to this, food courts, as well as college canteens of the university, offers tea, drinks, coffee, snacks, ice cream and other diverse food varieties throughout the whole day. And the students do not have to be stressed about the quality of food and other eatables as the quality of the food is always high.
Placements at Parul University
Parul University has been a popular name across the state of Gujarat due to the best placement record. The placement cell of the university has a pool of proactive, dynamic and brilliant placement officers that toil very hard in maintaining excellent placement facilities in the university. Due to them, the placement scenario of the university is top-notch and it takes students smoothly from academic life to the life of a professional.
Around 500+ corporates partake in the University's Placement Sessions per year and as many as 750 industry representatives come to the campus every single year in order to communicate with the students that really strengthens the bond between academics and industries.
The placement cell of Parul University conducts an HR summit every year across all the Gujarat state that sees more than 265 representatives from esteemed designations such as MDs, CEOs, CMDs.
Apart from this, the university is totally committed to offering the best jobs to the students by conducting job fairs from time to time.
Center of Excellence
Parul University's Center of Excellence is set up by a renowned MNC named Automation Anywhere, that helps the students to become aware of the Automation and Robotics software that will help them augment their employability in terms of knowing the trending technologies.
Programs offered by Parul University
Graduation Programs in Parul University
B. Tech
B.Sc
BBA
B.Des
B.V.A.
B.Sc (Hons)
B. Pharm
BCA
BSW
B.I.D
BPT
BHMS
BHMCT
B. Com (Hons)
Post-Graduation Programs in Parul University
M.Tech
M.D.
MPT
MSC
MA
MS
M.Lib
MSW
Master of Planning
MCA
Parul University Faculty
Faculty of Law
Faculty of Design
Faculty of Nursing
Faculty of Architecture
Faculty of Homeopathy
Faculty of Management
Faculty of Applied Sciences
Faculty of Fine Arts
Faculty of Physiotherapy
Faculty of Social Work
Faculty of Medicine
Faculty of Arts
Parul University Rankings
Parul University basks in the glory of as many as 38 awards as well as rankings that were awarded to the university in the last 3 years.
Some of the rankings got by Parul University are as follows: -
Second best enggg. College in the whole Gujarat got CIVIL SERVICES CHRONICLE- 2015 B++ ranking
Enlisted in the top 10 Indian Engg. Institutes (infrastructure) in the year 2013 by the Chronicle.
Parul University Awards
Since supreme quality education is offered in Parul University, several top magazines, reputed organizations, television channels, and newspapers have conferred awards to the university. The awards, ratings, and rankings are awarded on the basis of several parameters such as infrastructure, industry interface, placements, international relations etc.
As the university has awarded many recognitions and awards, it certainly ranks high over other universities and students hanker after getting admission into the university.
Parul University is always geared up to receive more national and international awards as well as recognition. Some of its notable accomplishments are as follows: -
Pedagogical Innovation Award conferred by Gujarat Technical University in the year 2017
The best private university of western India award conferred by National Educational Excellence Awards in the year 2017 from Praxis Media
Best campus university award conferred by ASSOCHAM Education Summit in the year 2016
Admission Procedure of Parul University
75% seats in a number of Professional Courses such as B. Tech, M. Tech, B.H.M.S, and B.A.M.S are filled by the admission board as per the guidelines.
25% of seats are filled under NRI/Management/All India quota in the professional courses as per the merit via the Applications Received Online.
Admission eligibility criteria are decided by admission board and is applicable to all the available seats which include 25% management seats too.
All the candidates who apply for NRI/Management seats are required to abide by the registration process decided by the admission committee and are allotted merit numbers.
100% seats are filled in Non-Professional Courses such as BCA, BBA etc. as per the merit of applications that are received online.
Documents that are required by the candidates
2 passport photos
Bachelors Marksheet
Attempt Certificate
School Leaving Certificate
SSC and HSC mark sheet
Admission committee's registration acknowledgment slip
GCET/ MAT/CMAT Scorecard (if applicable)
Caste Certificate (if applicable)
Get Updated Review ( Voice Based Alumni Feeback)
Fees Structure
Programs

Tuition Fees of 2019-20 in Rs. (PA)

Management Quota of 2019-20in Rs. (PA)

Faculty of Engineering & Technology

Bachelor of Technology (B.Tech.)

86000

–

Master of Technology (M.Tech)

96000

–

Diploma in Engineering

43000

–

Faculty of Management Studies

Bachelor of Business Administration (BBA)

50000

–

Post Graduate Diploma in Management (PGDM)

125000

–

Master of Business Administration (MBA)

74000

–

Faculty of Hotel Management & Catering Technology

Bachelor in Hotel Management & Catering Technology (BHMCT)

74000

–

Diploma in Hotel Management & Catering Technology (DHMCT)

43000

–

Faculty of IT & Computer Sciences

Parul Institute of Computer Application (BCA)

50000

–

Parul Institute of Engg. & Tech.-Lateral Entry (MCA-LE)

74000

–

Parul Institute of Engg. & Tech. (MCA)

74000

–

Faculty of Pharmacy

Diploma in Pharmacy (D.Pharm.)

50000

–

Doctor of Pharmacy (Pharm. D)

200000

–

Master of Pharmacy (M.Pharm.)

116000

–

Bachelor of Pharmacy (B.Pharm.)(Practice)

45000

–

Bachelor of Pharmacy (B.Pharm.)

91000

–

Post Baccalaureate (Pharm.D.- PB)
(Doctoral course after completing B.Pharm.)

200000

–

Faculty of Homoeopathy

Doctor of Medicine Homoeopathy (MD)

(State Quota)
160000*

180000*

Bachelor of Homoeopathic Medicine & Surgery (BHMS)*#

(State Quota)
78000*

115000*

Faculty of Physiotherapy

(Ahmedabad Physiotherapy College)
Bachelor of Physiotherapy (BPT)

(State Quota)
84000*

96000

(Parul Institute of Physiotherapy)
Bachelor of Physiotherapy (BPT)

(state Quota)

98000*

150000

Master of Physiotherapy (MPT)

(State Quota)
236000*

265000

Faculty of Ayurveda


Bachelor of Ayurvedic Medicine & Surgery(BAMS)

240000*

359000*

Bachelor of Ayurvedic Medicine & Surgery (BAMS)

(State Quota) 260000*

365000*

Doctor of Medicine Ayurved (MD)

375000*

Master of Surgery Ayurved (MS)

375000*

–

Faculty of Nursing

Auxiliary Nursing Midwifery (ANM)

(State Quota)
24000*

37000

Bachelor of Science (Nursing)

(State Quota)
90000*

130000

Master of Science (Nursing)

(State Quota)
125000*

175000

General Nursing Midwifery (GNM)

(State Quota)
53000*

78000

Faculty of Applied Sciences

Bachelor of Science (B.Sc.)

60000

–

Microbiology*

Forensic Science

Chemistry*

Biotechnology*

Geology

30000

–

Applied Maths

Physics

Food Technology

Biochemistry

Environmental Science

Nutrition & Dietetics

Master of Science(M.Sc.)

60000

–

Chemistry*

Microbiology*

Forensic Science

Biotechnology*

Applied Maths

30000

–

Food Technology

40000

–

Geology

Nutrition & Dietetics

Biochemistry

Faculty of Architecture & Planning

Bachelor of Interior Design(B.I.D.)\

100000

–

Master of Planning

40000

–

Bachelor of Architecture (N.Arch)

92000

–

Faculty of Fine Arts

Bachelor of Visual Arts(BVA)

40000

–

Faculty of Design

Bachelor of Design(B.Des.)

200000

–

Certificate Course in Design

80000

–

Diploma in Design

100000

–

Faculty of Social Work

Master of Social Work

35000

–

(MSW-HRM)

35000

–

Bachelor of Social Work

30000

–

Dept. of Paramedical & Health Sciences

Diploma in Vocational

40000

–

Blood Bank Technology

Optometry

Medical Laboratory Technology

Anesthesia& Critical Care

Operation Theatre Technology

Cardiology

Emergency Medical Services

Neurology

Radiography

Dialysis

B.Sc. (Vocational)

60000

–

Medical Laboratory Technology

Blood Bank Technology

Optometry

Operation Theatre Technology

Cardiology

Emergency Medical Services

Anaesthesia & Critical Care

Dialysis

Neurology

Radiography

Diploma in Health Assistance

40000

–

Faculty of Medicine

Bachelor of Public Health (BPH)

60000

–

Master of Public Health (MPH)

80000

–

Master in Health Administration (MHA)

80000

–

Bachelor of Medicine and Bachelor of Surgery (MBBS)

25000USD

Faculty of Library Science

Bachelor of Library Science (B.Lib.I.Sc.)
(Offered after any Graduation Degree)

20000

–

Master of Library Science (M.Lib.I.Sc.)
(Offered after completingB.Lib.I.Sc.)

20000

–

Master of Library Science (M.Lib.I.Sc.-External)
(Offered after completingB.Lib.I.Sc.)

20000

–

Faculty of Commerce

Bachelor of Commerce – Honors (B.Com. Hons.)

30000

–

Master of Commerce – Honors (M.Com. Hons.)

Master of Philosophy (M.Phil.)

30000

–

Faculty of Law

Integrated LLB (B.A + LL.B)

100000

–

Integrated LLB (B.B.A + LL.B)

Integrated LLB (B.Com + LL.B)

LL.M

30000

–

LL.B

30000

–

(M.Phil.)

30000

–

Faculty of Arts

Master of Arts (M.A.) English Language Training

20000

–

Bachelor of Arts (B.A.)

20000

(M.A.) – Clinical Psychology

40000

–

Faculty of Agriculture

Bachelor of Science (B.Sc. Agri. Hons.')

60000

–

Ph.D.

60000 and 88000(for Faculty of Ayurveda)

–
Entrance Exam
The key points related to the online entrance exam of Parul University are as follows: -
Each applicant will be given a computer and the questions will appear on the screen of the computer. The candidate is required to submit his answers with the help of the mouse. The computer on which the candidate is sitting, is connected with the server, that helps in delivering the exam in real time via reliable and powerful connectivity.
Candidates are required to have a basic knowledge of using the computer.
Entrance Exam Procedure.
All questions are in the English language and the type of the asked questions are Multiple Choice Questions
Each Multiple-Choice Question will be comprised of a stem that will be in a question form or in the form of a statement that is incomplete & four responses that will be labeled as A, B, C & D. Out of all the 4 responses, only one response will be correct or the right answer. Applicants are required to choose the correct answer by clicking on a button that is just next to the given answer.
Applicants can easily navigate through the asked questions by clicking on the Next & Previous button.
Scholarship Scheme
| | | |
| --- | --- | --- |
| Sr. No. | The percentile score in PUSH 2017 | Scholarship in Tuition Fees |
| 1 | 90 and above | 75 % |
| 2 | 80 - 89 | 60 % |
| 3 | 70 - 79 | 50 % |
| 4 | 60 - 69 | 40 % |
Note:
The scholarship scheme provided above will be applicable to all the programs irrespective of their duration for which the student has been given the admission.
This scholarship does not apply to the following programs of Parul University: -
B. Pharm
BAMS
B.Arch
Pharm. D
BPT
MBBS
BHMS
B.Sc Nursing
MD Homeopathy
MD/MS Ayurved
3, Students who are domicile of Gujarat are not eligible for above-referred scholarship programs based on the result of PUSH – 2017.
How to Apply for Parul University programs
Applying for any Parul University Course is super easy as you only need to follow a few simple steps that are as follows: -
Step1: Sign into Parul University Website
Step 2: Now go ahead and create an account for you.
Step 3: Next you need to fill out the personal details.
Step 4: Now apply for your preferred course.
Step 5: After that fill out the details of your education.
Step 6: Finally, you need to pay the fee. Fees can be easily paid through either online or offline.
Parul University Recruiters
Parul University Placement session is visited by top-notch recruiters. These recruiters are divided below as per the department of the university: -
Dept. of Engineering
Recruiters for deptt. of engineering are as follows:-
DECATHLON
MATRIX
BYJU'S
SYNTEL
INDIGENIUS
COLLABERA
AMAZON WEB SERVICES
TECH MAHINDRA
IDEA
COGNIZANT
FLOURISH
ADITYA BIRLA ULTRATECH
LINDE
POLYCAB
Deptt. of Computer Applications
Dots & Coms
AXELOR
CAPEGEMINI
CLOUDTHAT
CMC LIMITED
CORE RESEARCH
CYBERROAM
Deptt. of Management
ALEMBIC
GEOPUBLISHERS
VODAFONE
SUN MICROSYSTEMS
SNL FINANCIAL
FASTRACK
GODREJ
JUSTDIAL
QUIKR
VENTURA SECURITIES LTD.
Deptt. of Pharmacy
AMANTA
ASTRON RESEARCH LIMITED
CIPLA
CLARIS
FTF
AMNEAL PHARMACEUTICALS
VOVANTIS
Scholarship Programs of Parul University
The scholarship Program of Parul University is just like a boon to the students from weaker backgrounds. As these students do not have the required fee or the sufficient amount for the expense of their education, they really get stressed over managing their expense. At this stage, a scholarship program comes to their rescue. The University offers Scholarship Programs on the basis of needs, merit, career, college, and students etc. Parul University provides scholarships of Rs 5 crores each year.
Parul University International Relations Cell
Parul University's International Relations Cell is actively involved in organizing any kind of campus engagements and activities related to international nature. This cell is a great support for the international students looking for any kind of help regarding maintaining their existence in the campus.
Some of the activities organized by international relations cell of Parul University are as follows:-
Initiation of dialogue as well as the establishment of any kind of relationship with foreign research or academic institutions.
Organization of foreign countries' subject matter experts as well as the students.
Facilitation & meditating student as well as faculty exchange programs.
Organizing international programs with the perfect coordination of concerned college and event management cell.
Management of abroad visits, processing and receiving applications, financial agreements, monitoring visits etc.
Informing the students of higher education about the local & government grants, scholarships, and schemes.
Training the students for many kinds of competitive examinations such as GMAT, SAT, TOEFL etc.
Organizing workshops as well as sessions on basic life-skills and communication skills for the students who look forward to undertaking higher studies in other countries (foreign countries). Here coaching for English language and any foreign language is given.
Partaking in a number of international fairs as well as inviting foreign institutions for greater cooperation and dialogue.
International Collaborations of Parul University
Some of the international collaborations made by Parul University are as follows: -
Parul University has many international collaborations with other foreign universities. It has entered into an MOU with the University of Granada, Spain to exchange the teachers as well as the research workers of both the universities.
Parul university has also signed an MOU with Canada's Vancouver Film School to work in partnership to encourage and foster cooperation in different fields such as education, cultural exchange, and research.
Parul University has a memorandum of understanding with ESIGELEC School of Engineering, France that makes both of them capable to have joint academic programs, Dual degree program, exchange of undergraduate as well as postgraduate students. Both of these universities work in a tandem with the collaborative relationship they have maintained by way of the contribution of resources and complementary skills.
Parul University International Student's Affair Cell
Parul University has a dedicated international student's affair cell that came into being in the year 2013. The prime objective behind its establishment is to offer a conducive as well as a supportive environment to the students of foreign countries.
This department of Parul University has dedicated faculty members who can be helpful at helping the students offer information about life at the University. It can rightly be said as the one and only contact for all the foreign students in case they face any kind of problem at the University.
This cell does its work brilliantly in promoting as well as facilitating the development of the foreign students outside the classroom along with enhancing quality life for them.