Topic We Cover: Study Abroad vs Study in India
1. Confused between whether it is better to study in India or abroad?
Scholarships
Living a Dream
Research Opportunities
A Global Outlook
Career Benefits
The Burden of the Bank Loan
Quality of Education
2. Motivation
3. Field of Study
4. Long-Term Goals
5. Cost Vs. Return On Investment
6. Self-Financing
7. Adaptability
8. Degree Recognition
9. Political Situation
10. Conclusion
Are you curious to know if it is better to Study in India or Abroad? This article analyses the pros and cons of studying abroad and answers your doubts and queries.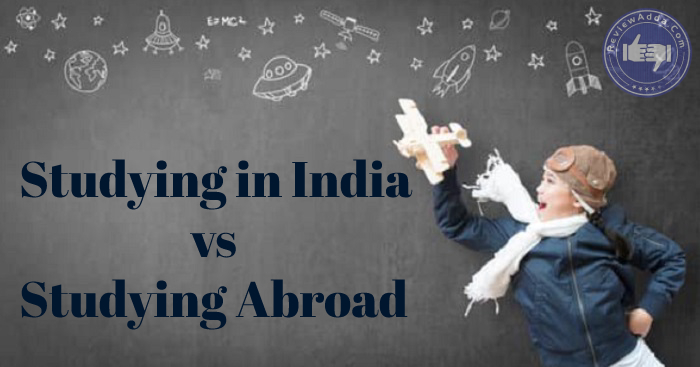 Confused between whether it is better to study in India or abroad?
You're not the only one. This is a question which is facing by many students and their families on a regular basis. On one side, you have the ease of living and Studying in Your Native Country and not having a pain to leave behind all your family and friends. On the other, the bait of a international degree, excellent research opportunities, global exposure, and the associated career benefits are equally appealing. Let's have a look at some substantial reasons why you should consider studying abroad and the benefits that it offers.
Scholarships
Scholarships open up the possibilities to a whole wide world. From Scholarships offered by the private companies and philanthropists to scholarships offered by various government organizations and Educational Institutions to increase the output of research work; you can opt and apply for a relevant scholarship. Some of the Popular Scholarships and fellowships are: Fulbright-Nehru Research Fellowships, The Rhodes Scholarship Program, and Huawei Maitree Scholarship for studying in China.
Living a Dream
The thought of Studying Abroad is no longer a inaccessible dream, which can be afford by only a few chosen people. If you have a good academic track-record and you also meet the eligibility criteria set by the bank; then you can submit your proper documents and you will guaranteed get an education loan. Today with the number of offers on education loans and scholarships; Higher Education Abroad is much more accessible.
Research Opportunities
It is no more a secret that the availability of the research opportunities in countries like the USA and the UK rank way ahead of the facilities and funding offered in India. This is one of the dominant reasons for the migration of Indian Students Abroad. Mostly students complete their research and stay on as faculty members. Some students return to India and adopt teaching assignments or find appropriate work.
A Global Outlook
Studying Abroad means exposure to a new culture and lifestyle which will definitely amaze you. As a student the initial days in an international land may cause you to feel home-sick and lonely; but rest guaranteed after this initial phase you will transform into an independent and responsible individual. Living in a student resident hall fosters a sense of community-living and gives you a chance to meet students from other countries and understand their culture and lifestyle. This is when bonds of friendship are formed, which last a life-time.
Career Benefits
An MBA from a distinguished institution like the Harvard Business School or Kellogg School of Management is definitely a great benefit when distinguished to an MBA from a smaller Indian institution. This does not belittle the MBA program offered by Indian institutions. Employers choose to hire candidates who have achieved an international degree with relevant Academic Scores and work-experience; over a student who has completed the same degree and has similar work experience in India. Additionally, studying on international land will also offer students a chance to secure a appropriate job in that country. Countries like New Zealand offer a one-year extension on the student visa to enable graduates to find an appropriate job in New Zealand. A degree from abroad also commands a good salary-package!
The Burden of the Bank Loan
"Ask yourself if you can afford the course-fees?"
Bank-loans have to be repaid and for a larger loan-value a guarantor is required; you know your family's financial condition the best. Weigh all the pros and cons and only if you are 100% sure that your family's finances will not be badly affected; apply for an education loan from a bank. Also don't forget to check with diversified banks to get the finest deal on your education loan. Even a difference of 0.25% in the ROI; or an extra year of await before you initiate to repay your loan can make a abundant difference.
Quality of Education
Premier Indian institutions like the IITs and IIMs are offering Excellent Courses that also have scope for doctoral research. A number of these institutions offer merit scholarships as well. Endeavour as many exams as possible and acknowledge Higher Education Opportunities in India as well. Studying abroad and staying away from your family is a very essential decision that you required to make. If you are dedicated to accomplishing your academic goals, get admission to a course and institution of your choice and secure funding; go ahead take a leap of faith and fulfill your study abroad dreams!
1. Motivation
Before making any decision about whether to pursue studies in India or abroad, first of all recognize what is your ambition behind your choice. Making a alternative under pressure or due to passing fancies can be devastating.
Get Updated Review ( Voice Based Alumni Feeback)
Is your choice to study abroad influenced by peer pressure, or because you enjoy travelling? Studying Abroad will undoubtedly give you plenty of opportunities to travel, explore new places and new cultures, however, those goals can also be met by simply travelling or taking up overseas summer internships. If you are Studying Abroad, make sure your motivation was the course, the teaching and the professional opportunities you will have.
Likewise, Studying in India may be ease, being near to family and friends but if you are making the choice based on the comfort factor, consider the benefits you will have from the course. If your chosen course has excellent universities, colleges, and teachers in India, that would make India a suitable choice for your studies.
2. Field of Study
In the past, Business Management Courses have been amongst the most popular choices for students Studying Abroad. Now, many more fields are gaining popularity such as Engineering and Technology, Sciences, Arts, Design and Architecture.
Studying abroad may give you an edge in many fields, but there are certain fields in which it would be preferable to study in India, such as law (if you plan to practice in India), politics or government administration. If you are unsure about your career path, consider taking Career Counselling to zero-in on the right course before you go ahead with your decision.
Thus, it's important to have a firm idea of which field you are interested in, so you can maximise your learning experience.
3. Long-Term Goals
Imagine your future and picture yourself 10 years down the line or even 20 years – which country do you wish to reside in? Students opting for Studying Abroad can broadly be divided into 3 types, based on end-goals:
Those who go abroad, study, finish their course and return to India.
Those who travel abroad, complete their studies, work for a few years and then return to India.
Those who go abroad, thorough their studies and permanently settle abroad.
If you are interested in settling abroad in the long-term, the best path would be through a course suiting the job market in the target country. In this case, it would be best to shortlist countries that have an open immigration programme, plenty of job opportunities and cultural compatibility.
Studying and settling in English-speaking countries such as Canada, UK, Australia, the US would be easier than staying in non-English speaking nations where you would require fluency in another language.
If you are intent on a future in India, take into account the benefits an International Study Programme will provide you in your career path. You can opt for any country in the world that offers mastery in your field, whether it's France for fashion, Italy for culinary arts, Spain or Germany for sciences, as directing a different language and atmosphere would be a short while challenge and not a lasting situation.
4. Cost Vs. Return On Investment
Studying Abroad is expensive, including tuition fees, cost of living, travel and other miscellaneous expenditures. While the costs involved should be a factor in your decision-making process of whether to Study Abroad or in India, be sure not to make it the only factor.
The upfront costs of a graduate or post-graduate degree can seem expensive and daunting, but consider the return on investment you will receive by means of Career Opportunities with your degree. If you choose a more cost-effective degree of lesser renown, you may save upfront costs, but in the long run, you won't receive the career boost you might have.
Among the Most Popular Studying Abroad destinations, in the US the approximate annual expenditure for tuition fees and cost of living is Rs 34 lakh, in Australia, the annual total expenditure is approximately Rs 25 lakh, in the UK it is around Rs 25 lakh and in Canada, the cost is almost Rs 19.8 lakh.
5. Self-Financing
The means of financing your education is also an important factor to consider whether you decide to Study in India or Abroad. There are numerous scholarships available, based on merit, subjects taken, course opted for, and on the economic background of the applicant. The scholarships are offered by organisations, the government, universities, and colleges.
Although there is hefty competition for full scholarships that cover the entire tuition fees, partial scholarships are also available. Once you select your course, research on the scholarships offered in that field and the financial aid offered by colleges.
In case scholarships do not materialise, you can look into taking student loans, a process which is commonly followed by American students as well. Also, you can consider working part-time to cover up the costs, such as working as a teacher's assistant, research assistant, tutor, or freelancer while you study.
6. Adaptability
We all like to think of ourselves as highly adaptable people, able to adjust to whichever situation we face, but the reality is that sometimes change becomes too much. When you consider where you want to study, realistically think about the environment change that you will face. Travelling and new experiences sound exciting but may become a strain if you are in a changed atmosphere for a long period of time and you also have to concentrate on studies.
If you are thinking about Studies Abroad, keep in mind that the form of education, teaching styles, and admission process will be radically different than what you are used to. A change in the format of teaching may seem to be a good option theoretically, but think practically on whether you can adjust enough to extract the benefits from the study programme.
7. Degree Recognition
The world may have become a 'global village', however, not all degrees are recognised as equal by different countries. The Differences in Education Systems affect higher studies as well, which may impact your career in the long run if you choose to either study abroad or work abroad later in your career.
For example, the basic graduation degree in India runs for a duration of 3 years, while the same graduation degree is completed over 4 years in the U.S. As a result, if you want to be eligible for a post-graduation degree in the U.S after graduating in India, you must have completed an Honours level degree. Similarly, the UK offers a 1-year Master's degree which is not recognised in India or in the US.
Whether you want to complete graduation in India and then Study Abroad, or study abroad and work in another nation, carefully examine the prospective course and its accreditation and recognition status.
8. Political Situation
Politics is a subject that most people tend to avoid thinking about, especially when it comes to international politics. However, if you are considering Studying Abroad, the political situation in that country is worth looking into, as well as the crime rates. The security atmosphere in India is not ideal but if you continue studies here you have the support of your loved ones and already are familiar with the environment.
Some countries, despite having Great Educational Programmes, also have a history of racism, which can affect Indian students studying there. For example, Australia is a Popular Study Destination for Indians, but there have frequently been instances of racism.
In the face of racism in western countries, South Asian destinations such as Singapore have emerged as Popular Options for Studying Abroad. Interact with Indians already studying in the country to understand the day-to-day life and any difficulties that are faced.
Conclusion
There is certainly a dissimilarity in the quality of education offered between India's Best Educational Institutions and international institutions of repute. To conclude, the advantages of abroad education are many and help you construct a secure future and career. Our academic counsellors can help you make a wise choice completely free of cost.