Topic We Cover: Top Law Colleges in India
1. The Challenges facing the legal sector
2. Five year integrated course vs three year law degree
3. Top law entrance exams
Common Law Admission Test (CLAT)
All India Law Entrance Test (AILET)
Law School Admission Test (LSAT)
Delhi University LLB Entrance Test
Banaras Hindu University Undergraduate Entrance Test (BHU-UET)
Christ University Law Entrance Exam (CULEE)
Symbiosis Entry Test (SET)
Indraprastha University Common Entrance Test (IPU-CET) Law
Jamia Millia Islamia Law Entrance Exam (JMILEE)
UPES Law Aptitude Test (ULSAT)
4. Top Law Colleges in India
5. The Factors
College perception
Quality of faculties
Quality of students
Placements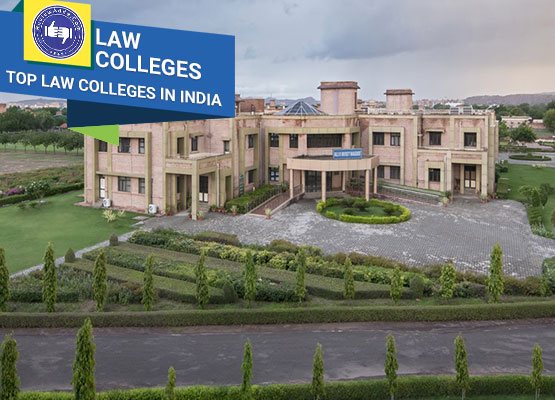 NLU Jodhpur is one of India's most renowned and Popular Law Universities
Law as a profession has always emanated a sense of aura and diligence. Besides the sense of pride in serving a higher cause, the best lawyers are often considered savant-like professionals with a unique outlook towards problems.
With over 3 crores of pending cases in courts across India, the importance of lawyers and law as a profession takes a monumental position in the overall scheme of things. Consequently, this does bet the question over the Best Law Colleges in India.
Unlike many other professions which are painted with the same brush, such as doctors or CAs, lawyers are often left divided between the top class lawyers and the ones at the end of the line.
Why there is such a disparity and what can one do to close the gap?
The Challenges facing the legal sector
The number of pending cases in India is huge, but that is a logistical problem rather than a qualitative anomaly. The holistic problem which young law graduates face is an old one: the lack of trust.
Law is a field which isn't considered as difficult a field of study as CA or medicine. The reason behind this is the overabundance of law graduates. Many potential clients imply don't consider young law graduates good enough to practice in court. The same holds true for senior advocates as well, who hire young lawyers and deliberately pay them a measly amount of salary.
We interacted with a Supreme Court senior advocate with over 25 years of experience in litigation. He wishes to remain unnamed for this part.
When asked what he pays the young graduates he hires, he scoffed, 'The question in itself is redundant. You have to understand that law graduates aren't ready to understand the working of courts, let alone practice law professionally. By hiring them out of Law Colleges in Delhi, I'm doing them a favor. To answer your question, I pay them nothing for their first year in training. Many of my former employees thank me for the hard hours I made them work without paying them. A metal worker tosses the gold in the furnace to shape it accordingly. That doesn't make him the villain. Law graduates need to be shaped as well'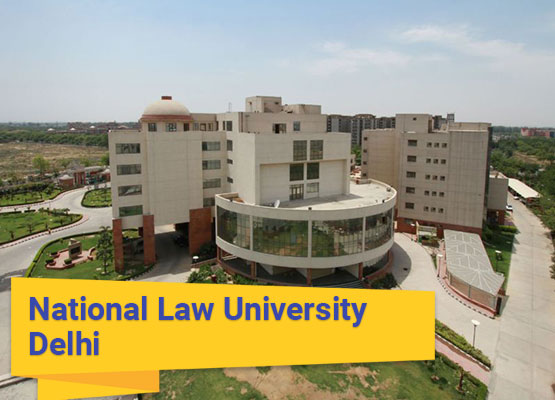 NLU Delhi is amongst the new law universities which has quickly made a name for itself amongst law asporants
We further asked him if he had a problem with the quality of law education itself. 'Some are very bad, but the Top Law Universities do a good job. The primary problem lies in the eventual quality of lawyers who burst onto the scene every year. If the Bar Council adopts a strategy similar to the one used by the ICAI for chartered accountants, we would essentially guarantee the quality of law professionals coming through. If that does happen, I would have no problem paying a good salary to my employees'
The idea isn't a bad one. An All India Bar Exam after graduation would solve many problems pertaining to the quality of lawyers emerging every year. If the exam is set at a high standard, one can even expect future law graduates to be paid as well as CAs or software engineers from Top Engineering Colleges.
Five year integrated course vs three year law degree
The emergence of the five year (BA/BBA/B.Com + LLB) course has changed the scenery of law education to a large extent. Many Top Colleges such as NLSIU and NLU have started to offer only integrated programmes as part of their overall curriculum. This trend has been met with its share of praise and skepticism.
Besides the fact that an integrated course saves a year for a student, candidates have the chance to complete their graduation from a law college itself which instills a sense of legal sobriety from the very beginning. Additionally, candidates also don't have to look for a law college after graduation and can simply continue with their course.
The skeptics however cite the finality of the degree. Pankaj Sharma, a Career Counselor in Delhi explains why a five year course may be a bane for students. 'College students can't tell their plans for the coming week. How can we expect them to be happy with their law degrees after five years? A regular degree atleast offers the student a chance to consider whether he/she is suited for a profession in the legal sector. There are no such caveats in a five year course'
Pankaj makes a good point. Students should be extremely careful while choosing a course. If one is completely sure about law as a career, a five year degree is a good option. However, if the case is otherwise, choose a regular degree and contemplate future options after graduation.
Some differences between the five year and three year course are mentioned below.
Factor

Five Year

Three Year

Duration (of complete education)

5

6 (Graduation + LLB)

Availability of seats

Most top colleges such as NLU offer NLSIU only five year courses. General availability in top law schools in India is very good

Top colleges such as NLU do not offer three year LLB, but some others like Jindal, BHU and Faculty of Law at DU offer 3 year LLBs

Number of degrees

2

1

Job trends

General positions at top law firms are filled five-year graduates

Graduates usually take up positions of judges, law officers and roles in academia

Eligibility

10+2 pass

Graduate

Top colleges offering course in India

1. National Law School of India University, Bangalore

2. National Law University, Jodhpur

3. National Law Institute University, Bhopal

1. Faculty of Law, Delhi University, Delhi

2. Banaras Hindu University, Varanasi

3. Jindal Global Law School, Sonepat
Law Entrance Exams in India
Like every major profession in India is posed with entrance exams, the same is true for the law colleges of the country.
Law colleges across the country accept scores on law entrance exams as a criterion for admission. The need for admission exams is obvious. Law colleges in India do not deem performance in the board exams as a suitable criterion for granting admissions. For this reason, nearly all Top law colleges in India conduct their own law entrance exams or accept scores of some other exam.
1. Common Law Admission Test (CLAT)
The most popular of the lot, CLAT is an entrance exam conducted in rotation by the 18 national law universities in the country. The score is also accepted by 43 other law colleges in the country as a criteria for admission to integrated undergraduate (BA/BBA/B.Com/B.Sc + LLB) and postgraduate courses (LLM).
The CLAT exam is two hours long divided across five sections, vis-à-vis English, General Knowledge and Current Affairs, Elementary Mathematics, Legal Aptitude and Logical Reasoning.
There are a total of 200 questions with a mark for each correct answer and a 0.25 deduction for every incorrect answer. The CLAT application fee is Rs. 4000/-
Some PSUs such as Oil India and Oil and Natural Gas Corporation (ONGC) also use CLAT PG scores as a criterion for direct recruitment, on a similar line to their stance on GATE.
It is only conducted in online mode.
2. All India Law Entrance Test (AILET)
The AILET is conducted by National Law University, Delhi every year for admission to its integrated undergraduate (BA+LLB) and post graduate (LLM) courses. Unlike most other NLUs who accept CLAT scores for admissions, NLU Delhi conducts its own law entrance exam. The stakes for the exam are high as well, considering NLU Delhi is the best law college in Delhi and amongst the top law universities in India.
The AILET score is accepted by only a handful of other law colleges in the country. The exam is divided into five sections, namely English, General Knowledge and Current Affairs, Elementary Mathematics, Legal Aptitude and Logical Reasoning. Besides mathematics which contains ten questions, the other sections have 35 questions each, which totals down to 150 questions.
The duration of the exam is 90 minutes and the application fee is Rs. 3000/-
JGLM Sonepat accepts LSAT scores for admission to its five year integrated law programme
3. Law School Admission Test (LSAT)
LSAT is conducted by Pearon VUE on behalf of the US-based Law School Admission Council (LSAC) for admission to more than 85 institutes accepting LSAT scores in India. Amongst the leading colleges accepting LSAT scores includes Jindal Global Law School (JGLS), India's best private law school and Rajiv Gandhi School of Intellectual Property Law.
The LSAT exam contains 100 questions with a time limit of 140 minutes covering sections such as Analytical Reasoning, Logical Reasoning and Reading Comprehension.
LSAT is conducted in offline mode only. The application fee for LSAT is Rs. 3800/-
4. Delhi University LLB Entrance Test
DU LLB Entrance test is especially for candidates applying for a regular 3 year law degree after graduation. Conducted for admissions to the Faculty of Law, DU, the exam is held once every year. The exam is the only ticket to some of the top law colleges in Delhi.
Only a few other colleges accept DU LLB scores for admission to their LLB programmes. Comprising of 100 questions, four marks are awarded for each correct answer and a negative one for every incorrect answer. The DU LLB entrance test application fee is Rs. 500/-
5. Banaras Hindu University Undergraduate Entrance Test (BHU-UET)
The BHU-UET is conducted every year for admission to undergraduate programmes offered at BHU and its affiliate colleges. Amongst these programmes, law stands tall as one of India's top destinations for getting a law-based education.
There is no prescribed syllabus for BHU-UET, but certain topics such as general affairs, legal knowledge, English and Logical reasoning should be ideally prepared before the exam in June. The application fee of the college is Rs. 500/-
6. Christ University Law Entrance Exam (CULEE)
One of Bangalore's and India's oldest and finest educational institutions, Christ University is one of the most trusted names in higher education in the country. From engineering and management to law, each aspirant from these different fields has retained faith in the quality of courses offered at Christ University. Besides NSLIU, Christ University can be considered amongst the best law colleges in Bangalore.
The syllabus of Christ University Law Entrance Exam includes General English, Current Affairs, Logical Reasoning, Quantitative Aptitude and Data Analysis. A total of 120 multiple choice questions are asked during duration of 120 minutes.
The CULEE application form fee is Rs. 1000/-
7. Symbiosis Entry Test (SET)
The SET exam is conducted for undergraduate admission to Symbiosis International University in Pune and its own other constituents around India. The integrated five year law degree is also amongst the programmes offered by Symbiosis.
While SIU is more known for its management programmes, the integrated law degree has also gained a lot of traction over the past few years. With new campuses in Noida and Hyderabad, SIU is slowly building a nationwide brand.
The SET Law exam is divided into five sections containing 30 questions each and each further carrying a mark. The SET application fee is Rs. 1000/-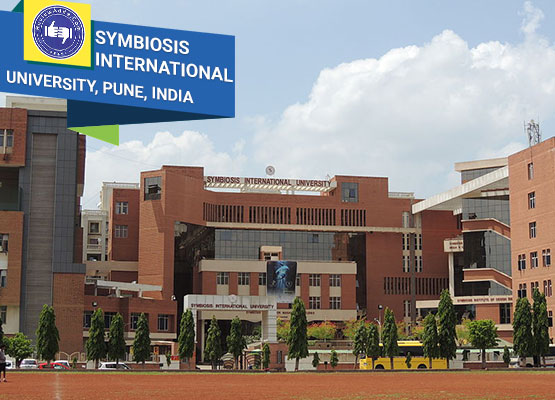 Symbiosis International University has also slowly made a name for itself in legal studies
8. Indraprastha University Common Entrance Test (IPU-CET) Law
IPU-CET Law exam is conducted for admission to law colleges affiliated to IPU. Conducted once every year usually after the completion of the board exams, the IPU –CET offers nearly 2300 seats in integrated BA/BBA +LLB courses to the exam takers.
Nearly 12000 candidates appear for the exam every year, a low number compared to the general rush in quotidian competitive exams. The syllabus for the exam is based generally upon the usual syllabus followed by many other law entrance exam conveners. Lasting for a time of 150 minutes, the application fee of IPU-CET Law is Rs. 1000/-
9. Jamia Millia Islamia Law Entrance Exam (JMILEE)
One of the most renowned universities in India, Jamia offers a multitude of courses in its campus in Delhi. Amongst these courses, law is a course vied for admissions every year.
Admissions to JMI are conducted through JMILAT, a law entrance exam organized by the college itself. The syllabus upon which the exam is set includes English Language, General Knowledge, Legal Reasoning, General Studies and Elementary Mathematics.
The JMI application fee is Rs. 700/-
10. UPES Law Aptitude Test (ULSAT)
UPES Dehradun also offers integrated law programmes at its campus. For admissions to law courses, it conducts the ULSAT. With over 400 seats across various law integrated courses on offer, UPES finds many takers for its law entrance exam.
The application fee of ULSAT is Rs. 1850/-
Top Law Colleges in India
We will now move to ranking top law colleges in India. Since each college has its own strength and weakness, it can often get difficult to gauge which college should end up higher. The only way to rank colleges impartially is to choose a set of factors contributing equitably to a college's ranking.
In the list below, government law colleges such as NLUs, DU and BHU haven't been included. This has been done as these colleges are already well known amongst law aspirants across the country. Populating yet another ranking list with private colleges makes little sense.
The Factors
The factors which are being chosen to rank these law colleges have been mentioned below
1. College perception
College perception is a very totalitarian factor in determining an institution of any kind. A number of factors go into shaping college perception such as placements, alumni reviews, ranking in magazines and journals and infrastructure.
Perception alone however, can become a very deceptive factor. For instance, one may keep hearing good things about a given college through adverts and marketing campaigns, but the ground reality may be something else entirely. Thus, it is important for a college to have a good perception, but the perception should be corroborated by other factors.
2. Quality of faculties
Faculty quality for a law college can become a make or break factor. In essence, a law course is essentially a study of the constitution of a country in its totality. This also includes studying a voluminous number of case studies which have to be understood in detail.
Considering the theoretical expanse of the course, it is necessary to have top-draw faculties to create an engaging classroom atmosphere. This factor cannot be underestimated, as the difference between the best law colleges in India and the others is often separated by this very line of fire.
3. Quality of students
Many academicians often argue whether the IITs and IIMs are as good as they are because of the quality of students coming through every year. A similar argument could be made for law colleges.
A law college with a strict admission policy which is purely merit-based and premised upon a strict intake rule usually ends up with the brightest students in the country. Thus, the harsher the admission policy, the better is the quality of students.
Get Updated Review ( Voice Based Alumni Feeback)
4. Placements
The bottomline is often the only thing which matters. Law students are no different in their approach as they identify placements as a key driving factor while choosing a college. Placements at a college are dependent on a number of factors, such as the presence of a strong alumni network and a job-oriented curriculum.
Top private Law colleges in India have been ranked below:
Ranking

College/University

Entrance exams

Perception

(out of ten)

Faculty quality (out of ten)

Student quality (out of ten)

Placements (out of 10)

1

· LSAT India

· CLAT PG

· DU LLB

· DU LLM Exam

9.4

9.3

9.2

8.9

Regarded amongst the top law colleges in India and the best private law school by a distance

Faculty quality is up to the mark in terms of maintaining rhythm of law studies

Student quality is decent as intake flow is well monitored and capped

Placements aren't as glamorous as the top NLUs, but still amongst the best in the country for law institutions

2

SET Law

8.9

8.9

9.0

8.7

Borrows its popularity from the Symbiosis tag. Law course is slowly gaining credibility

Faculty quality is decent enough, but not as cutting edge as the NLUs or JGLS

Since intake is largely capped, student quality is maintained

Placements are relatively good when compared to other law schools

3

Punjab University LLB Exam

9.0

8.7

9.0

8.7

Well known and respected amongst law professionals and college alumni

Faculty quality isn't as cutting edge as other top law schools

Since intake is very low, student quality and academic standards are easier to maintain

Placements are decent

4

· CLAT

· CLAT PG

8.8

8.5

8.9

8.5

Perception is very good in Gujarat and adjoining states.

Faculty quality is good enough for law studies

Attracts many top talents interested in law studies. Maintains

Placements are above average when compared to other L-schools

5

IPU-CET LLB

8.5

8.6

8.7

8.3

Perception is slightly lower die to mixed alumni reviews

Faculty quality is generally considered decent

Intake is high considering one course has over 300-odd students, depreciating student quality

Placements are average relative to other law colleges in India

6

· AILET

· AILET PG

8.4

8.6

8.5

8.2

Known only within state lines and not much elsewhere

Quality of faculty is decent for law studies

Intake is too high at 600. Difficult to maintain standard of education

Placements are not as good as some other colleges mentioned before

7

Christ University Law Entrance Exam

8.5

8.3

8.6

8.1

One of the oldest and most renowned private universities in South India

Faculty quality is relatively above average

Student quality isn't as up to speed as university is more popular for management studies

Placements are relatively above average

8

ILSAT

8.2

8.0

8.2

8.0

Not known as well for its law programme

Faculty quality is average as main focus of university is on management studies

Student quality isn't as well endowed as law aspirants don't consider university as their first choice

Placements are average.

9

KIITEE Law

8.0

7.9

7.9

7.8

Known more for engineering studies. Law course relatively unknown

Faculty isn' the best as most resources are focused on technical education

Not a first choice law college for aspirants

Placements are average when compare dto performance of other top B-schools

10

· CLAT

· KSLU Exam

7.9

7.8

7.8

7.8

Law programme is relatively unknown around the country. Affiliation to central university helps reputation to some extent

Quality of teaching isn't in line with modern methods of teaching

Colleges isn't a preferred destination for most law aspirants, creating lack of quality amongst students

Placement programmes isn't well-drilled due to lack of job integration

11

· CLAT

· AP LAWCET

7.6

7.6

7.5

7.5

Law programme very new to have gained any discernable foothold amongst law aspirants

Since college is new, it is yet to attract the best teaching resources in the country

Student quality is yet to take off as college is still very new

Placements programme isn't well-ingratiated with major law firms

12

IMS JET

7.5

7.8

7.3

7.4

Unknown outside the Delhi-NCR region. Some poor reviews also drive perception down

Quality of faculty is good considering the perception of college

Student quality isn't as good because qualifying exam isn't up to the standard law entrance exams

Placements are below average considering other law colleges

13

· LSAT India

· CLAT PG

· CLAT

· ULSAT

7.4

7.5

7.3

7.4

College perception is slightly negative as college is much more famous for its B.Tech programme

Quality of faculty isn't top draw specifically for law

Not the first choice for law studies amongst students

Placements are below average for law students

14

· CLAT

· LSAT India

· ACLAT

· CLAT PG

7.3

7.6

7.2

7.2

Perception tarnished by controversy surrounding the administrative control of the university in 2016

Alumni perception is relatively negative

Not the preferred choice amongst law aspirants

Placements for law students are not up to the mark

15

LSAT India

7.4

7.5

7.1

7.1

Unknown in most parts of India for legal studies

Quality of teaching resources not on par with required modern standards

Student quality is found lacking as college doesn't attract the best talent in the region

Placements are below the required standard

16

KSLU Exam

7.2

7.3

7.0

7.0

Not regarded amongst the best possible law colleges in Karnataka

Quality of faculty isn't at the requisite standard

Since perception isn't ideal, student quality is low as the best talents are not attracted to this particular L-school

Placements programme is lacking of the necessary integration with top law firms and consulting agencies

17

· CLAT

· LSAT India

7.1

7.2

7.0

7.0

College isn't known outside adjoining regions

Faculty quality is below par

Student quality is low due to lack of a strong perception around college

Placement cell not up to the mark

18

Dr DY Patil Vidya Pratishthan Society's Dr DY Patil Law College, Pune

MH-CET Law

7.1

7.1

7.0

7.0

Well known in Pune. Not as famous elsewhere

Faculty standards are sub par

Student crowd isn't the best possible sample size in the region, let alone state or country

Placements are below average

19

· LSAT India

· CLAT

· AILET

· AILET PG

· CLAT PG

7.1

7.0

7.0

7.0

College isn't known outside Delhi-NCR

Top teaching talents are not attracted to this particular university

Student crown mostly comprises of local students who couldn't make it to the top law colleges

Placement cell isn't up to the necessary standards for law students with low integration with law firms

20

IILET

7.0

7.0

7.0

7.0

Well known in Indore. Not acknowledged elsewhere

Faculty quality is poor

Student quality isn't as high because of conduction of admission on the basis of non-standard exam in IILET

Placements are poor relative to other law colleges on the list