Topic We Cover: Why Students prefer B.Pharma as Career
1. ABOUT B.PHARMACY AND THE COURSES AVAILABLE
2. HIGHER EDUCATION IN PHARMACY
3. WHY STUDENTS IN INDIA PREFER B.PHARMA AS CAREER?
4. CAREER OPTIONS OF B.PHARMA
DRUG INSPECTOR
PHARMACIST
PHARMACEUTICAL MARKETING
QUALITY CONTROL AND PRODUCTION
MEDICAL UNDERWRITING
CLINICAL RESEARCH ASSOCIATE
R & D SCIENTIST
FORMULATION DEVELOPMENT (F & D) ASSOCIATE
SCIENTIFIC WRITER
SELF EMPLOYMENT
5. COLLEGES OFFERING PHARMACY COURSES
6. TOP RECRUITERS OF THE PHARMACY STUDENTS
7. SALARY PACKAGE
Pharmacy is defined as that branch of science which deals with the preparation, doses, dispensing and effects of medicines/ medicinal drugs or simply drugs. This Field of Science has started gaining recognition and attraction among the medical aspirants of the country. The pharmacy industry is huge and it was valued at $33 billion in India in 2017.It is such a stream which requires interacting with the people wherein the trust can be earned and that would help in improving the health of the patients. Now-a-days due to the intensive competition among the students for Admission in MBBS (Bachelor of Medicine and Bachelor of Surgery) and BDS (Bachelor of Dental Surgery), students have started opting pharmacy as career.
ABOUT B.PHARMACY AND THE COURSES AVAILABLE
This Field of Science deals with health and chemical science, wherein students get knowledge about the uses, effects and side-effects of various drugs and medicines. Students who are interested in the medical field can opt for B.Pharma Course after completion of 12th grade with subjects such as Physics, Chemistry, Mathematics or Biology. The stream of pharmacy offers students with lot of career options and if a student wants to make career in this particular sector then the person can choose from various courses available.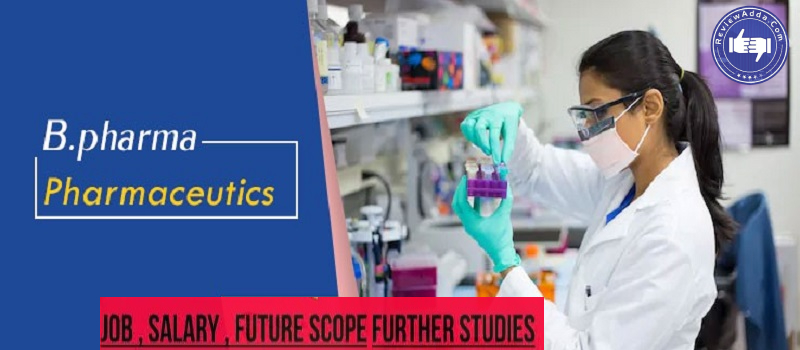 There are options of diploma, undergraduate and Postgraduate Courses in Pharmacy. Diploma in Pharmacy (D.Pharma) is a basic level or a foundation course in the field of Pharmacy and the duration of this course is 3 years. It comprises of such subjects which are related to the pharmacy only. Bachelors of Pharmacy or B. Pharma., is an undergraduate course with duration of four years. The subjects included in this course are;
Human Anatomy & Physiology - Human Biology including Pathophysiology

Pharmaceutical Chemistry including Physical Chemistry, Inorganic Chemistry, Organic Chemistry, Analytical Chemistry and Medicinal Chemistry

Pharmaceutics which deals with formulation, drug delivery, drug stability, dosage forms, patient acceptance, etc.

Pharmacology which involves the study of effects of drugs on human's body and biological systems. It includes biology, physiology and chemistry and covers the basic and advanced clinical pharmacology.

Pharmacognosy is the

Study of Medical Drugs

which are derived from plants. It deals with botany, plant science and phytochemistry.

Biochemistry is a study of biological reactions within living organisms.

Microbiology is a study of micro-organisms like bacteria, virus, protozoa, etc.

Pharmaceutical Engineering

& Technology deals with concepts of Chemical Engineering like Fluid Dynamics, Process Chemistry and Industrial Processes.

Pharmaceutical Maths & Biostatistics and Pharmaceutical Biotechnology.
There are ample options available to students once they complete the course. They can go for higher education in pharmacy or pursue their career in it.
HIGHER EDUCATION IN PHARMACY
For enhancing the understanding about the subject, a graduate can opt for pursuing Masters in Pharmacy. Particularly, for students who urge to make career in research and development, M.Pharma is necessary as it will increase the understanding, information, expertise and credibility. The Eligibility for M.Pharma in most of the institutions is 50% marks in B.Pharma.
There is also one professional doctorate course in Pharmacy called as Doctorate of Pharmacy (Pharm.D) which consists of 5 years of academics and 1 year of internship. Students are trained in courses like pharmacy practice, clinical pharmacy, and pharmaceutical care under this course. There are different institutions which provide this course, for example, Jamia Hamdard University (New Delhi), National Institute of Pharmaceutical Education and Research (Mohali), etc.
Some popular examinations option available for a B.Pharma Graduate student to pursue higher education are GPAT, NIPER JEE, CUCET, CEE AMPAI, TOFEL,GRE, IELTS. There are various lucrative options available to the degree holders of B.Pharma. These graduates can get employment in government as well as private sector as pharmacists, drug inspectors, medical underwriters, drug technician, Hospital Drug coordinator or they can even open a drug store of their own.
WHY STUDENTS IN INDIA PREFER B.PHARMA AS CAREER?
There are aspirants who want to work for the welfare of patients and they like to help people in some way or the other. Such people tend to take up career as a pharmacists or any other related career in the Field of Pharmacy. The responsibility of a pharmacist varies from one healthcare unit to another. They have diverse role and they also do other services in addition to those of providing medicine. They provide asthma care, cholesterol screening, monitoring blood pressure, addiction consultation, etc. So for such people who want to help the patients, this field is the best choice.
Pharmacists are specialists in medication and they play an important role in the adherence of medications. B. Pharma provides diverse Career Opportunities to its students and so the students can very well decide in what they want to make up the career. The graduates of pharmacy or the pharmacists can work in a retail pharmacy, in a health care facility or community. They generally provide the over-the-counter role wherein they provide medications and counselling to the patients. The aspirants of this field can work in Pharmaceutical Industry or can even teach in any college or university or conduct research work. There are many options available to the students.
Pharmacists play a critical role in healthcare industry throughout the country. They are one of the important members of the healthcare team. So if a student opts B.Pharma there is a great opportunity for him/her to be a part of health care industry. Also, a Bachelor Degree in B.Pharma definitely provides stability in your career. With a graduation degree one will have job for sure. But with this stability there is flexibility attached. You can choose your working hours and working place as well.
Get Updated Review ( Voice Based Alumni Feeback)
CAREER OPTIONS OF B.PHARMA
Pharmacy is a reputed field and also a reliable one where students can avail ample job opportunities available to them. Here is a List of career options and future prospects available to graduates of B.Pharma in India:
1. DRUG INSPECTOR
The job of a Drug inspector is the most gratifying Job in the Pharmacy industry. As implied by the name itself 'Drug Inspector', ensures the quality, safety and utility of the drug which is in the production. To ensure the quality of the drug is the prime duty of an inspector. The job also requires that a person shall test the drugs and also be sure about the results of the tests and also be confident about himself and his results.
Normally a drug inspector is found in the government sector jobs. So students who want to make career as drug inspector can give national level and state level exam such as SSC, UPSC, PSC, etc. once they complete Graduation in B. Pharmacy. If a person is confident in his skills and have qualification and confidence and clears the examination then the person can get job with attractive package that may range between Rs. 50,000/- to Rs. 80,000/-.
2. PHARMACIST
The Job of a Pharmacist is considered as a one of the rewarding jobs in the government sector. The Pharmacist can get job in government hospitals, railways, etc. and the salary package can range from Rs. 45,000/- to Rs. 55,000/- per month. The salary package varies from one state to another. The job as a pharmacist is generally available in government sector and for recruitment for the same aspirants shall give various government recruitment exams which are conducted for this purpose.
3. PHARMACEUTICAL MARKETING
Another great Career opportunity for graduates of B. Pharma is the job of a Medical Representative. The job of a Medical Representative is of promoting the drugs which have been developed by the company in which the person has been recruited as a medical representative. The vacancies for the job of Pharmaceutical Marketing are available primarily in private sector. The job profile requires an aspirant to have excellent communication skills, ability to sell and promote the product, ability to form networks, and also that the aspirant shall have an in-depth knowledge about the subject. The job requires a person to be physically fit as the job will be strenuous.
The pay scale in this job is around Rs. 20,000/- to Rs. 30,000/-. A higher degree in education of a representative will enhance the chances of increase in the salary and also in the promotion at the job.
4. QUALITY CONTROL AND PRODUCTION
A candidate who is hired for the post of quality control and production check has the duty to keep a check on the Quality of the Manufactured Drugs and also he ensures that the production work is going in a proper manner. His work is to keep an eye on the day to day production and also to ascertain that the standard of quality is being maintained.
Although the pay scale is average for this job, but it gradually increases with the increase in the experience.
5. MEDICAL UNDERWRITING
Another Job Opportunity in the field of pharmacy is of Medical Underwriting. A person who chooses this job is required to do the work as a medical coder, medical transcriptor, medical scribes, etc. A person of this field is required to have an in-depth knowledge of pharmacology, various medical terminologies and other medical related information. With necessary training and experience in this field a person can get a good amount of pay.
6. CLINICAL RESEARCH ASSOCIATE
Post the B.Pharma Degree, a person can take up the job of a clinical research associate, CRO and data validation associate. B.Pharma degree opens up numerous doors for graduate students and this gives a kickstart to their career.
7. R & D SCIENTIST
The Pharmacy industry flourishes mainly due to the R&D Division. And those people who work in R&D Division of Pharmacy are called as R&D Scientists and they have great responsibility attached to their work. They require sharp knowledge and great understanding of the subject.
8. FORMULATION DEVELOPMENT (F & D) ASSOCIATE
Identifying new and more effective formulations and combinations of active drugs and their constituents is very important and this is a role of Formulation Development (F & D) Associate.
9. SCIENTIFIC WRITER
If a person doesn't want to work in research department, or any technical field, then he/she can chose the Career of Scientific Writer. This job profile includes researching, writing and editing scientific news, articles, etc.
10. SELF EMPLOYMENT
Among the various options available for a B.Pharma Student, one option is to start one's own pharmacy or medical shop or even open a pharmaceutical company. A person can become a wholesaler or supplier of medicines and medical drugs. With ample opportunities available in today's time, it has become easier to set-up one's own business. The profitability and success of the business and career will undoubtedly depend on an individual's hard work, knowledge, networking capabilities and how one adapts in the industry.
COLLEGES OFFERING PHARMACY COURSES
Government Pharmacy Institute, Bariatu

Government Medical College, Thiruvananthapuram

Government College of Pharmacy, Maharashtra

Jamia Hamdard University, New Delhi

National Institute of Pharmaceutical Education and Research, Mohali, Punjab

Manipal College of Pharmaceutical; Sciences, Manipal

Dr. Harisingh Gour Vishwavidyalaya – Sagar, Madhya Pradesh

JSS College of Pharmacy, Mysore

Delhi Institute of Pharmaceutical Sciences and Research, New Delhi

University College of Pharmaceutical Science, Kakatiya University, Warangal
TOP RECRUITERS OF THE PHARMACY STUDENTS
Hospitals and Clinics – Government and Private both

State wise Drugs and Pharmaceutical Boards

Medical Shops

Chemist Shops

Cipla

Abbott India

Research bodies and labs

Sun Pharmaceuticals

Biocon

Glaxo Smith Kline India
SALARY PACKAGE
In our Country there are Huge Employment Opportunities available for the aspirants who have graduated in this field and want to make career in it. Although there may be a difference in salary from company to company or place to place or even form sector to sector (government or private). But still a fresher of this field can earn from Rs.15,000 – Rs. 20,000 in India. And with experience, dedication, sincerity and hard-work this amount will increase per annum.