Topic We Cover: What is NTA exam
1. NTA Exams
Features of exams to be conducted by NTA
What should students know about National Testing Agency?
Role of NTA in Education in India
Why was NTA formed?
How will Roles and responsibilities of NTA discharge?
Improvement of the quality of education
NTA Exam is useful for all types of students
National Testing Agency-NTA 2019 Exam List
Know All About the NTA Exam
What are the Changes in NTA Exam 2019?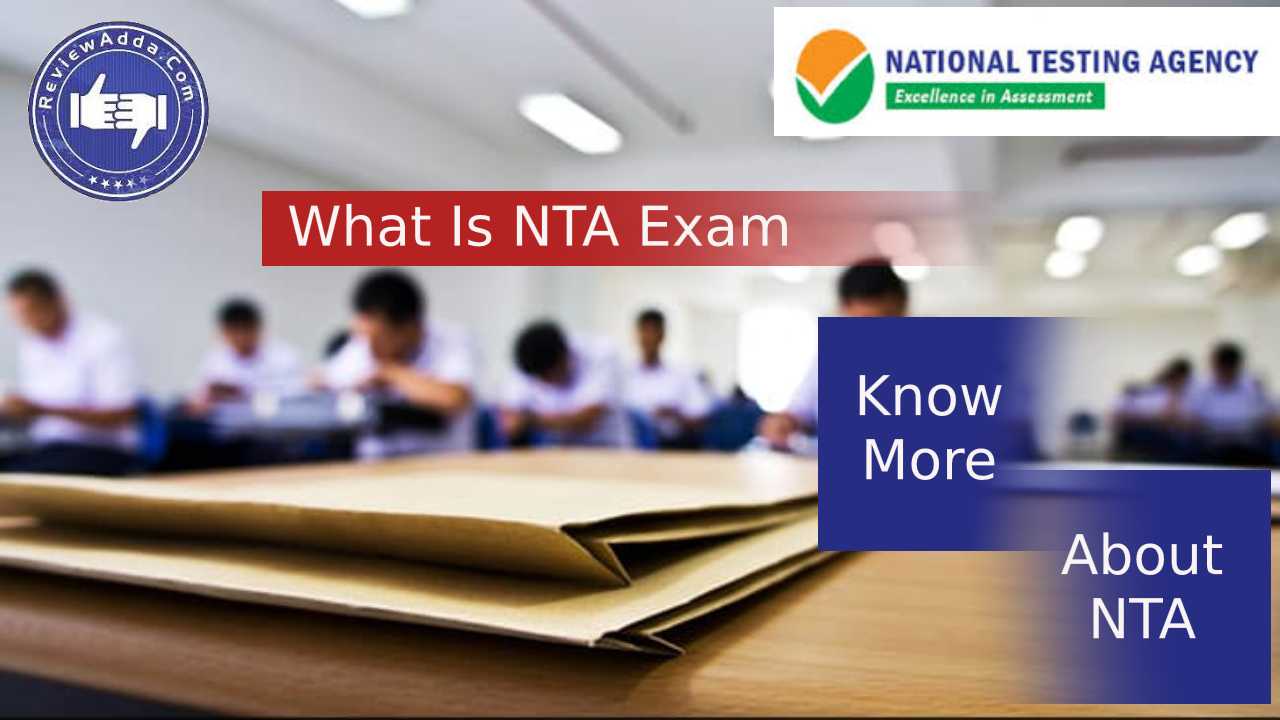 National Testing Agency commonly known as NTA, is a kind of statutory body. NTA Exam is known for organizing one of the prestigious entrance examinations like JEE, NEET, CTET, UGC NET, etc. NTA has been approved by Union Cabinet for As a result, medical and engineering aspirants will get a sigh of relief. To explain more about What is NTA Exam, here are some more details like educational bodies such as CBSE and AICTE will be freed from the responsibilities of conducting these entrance examinations. Without intervention of any governing body, NTA independently working with its infrastructure, systematic planning and competent staff.
Well! The answer of What is NTA Exam is described as NTA is actually a representatives from a few educational organizations name CBSE, UGC, NCERT, AICTE, HRD. Ex-IIT Director will headed a task force which has seven members. The logic for brlief for setting up the NTA lies in ensuring that multiplicity of entrance exam dominating to emphasis on the students is addressed in a comprehensive manner by formulating a uniform entrance exam for admissions in different branches of higher learning.
NTA Exams
National Testing Agency (NTA) which we already discuss in the header 'What is NTA Exam' is registered under the Societies Registration Act, 1860.
Given exams will be conducted by NTA in following domains:
Features of exams to be conducted by NTA
In the history of competitive exams it happens first time that the JEE (Main) and NEET (UG) will be organized twice in a year before admissions in the next academic session.
Because of this students will get more chances thereby giving enough favorable circumstances to emphasize the best of student and lower down the stress which establishes due to one exam conducted on one single day annually. However, appearing and sitting in both the tests will not be mandatory. Both the two tests JEE (Main) & NEET (UG) will be equated using psychometric methods, uniformity techniques and best of the equated scores will be used for the admissions.
The examinations will be organized in online mode i.e. computer-based mode for all candidates appearing for the exam.
All the tests like UGC- NET ( December), JEE (Main) & NEET (UG) will be held in multiple sittings and candidates have an option to select dates as per their convenience. After that, the scores of candidates scored in multiple sittings of the exam will also be equated by using standardization techniques.
Highly secured IT software and encryption techniques has been used in these examinations to ensure timely delivery of tests. Due to highly secure technology, the exams will ensure no leakages and other malpractices.
Here NTA, which we already discuss above that what is NTA Exam, will develops a hub of test practice centres for students of urban as well as rural areas so that everyone will have an equal opportunity to practice before the entrance exam. Schools and colleges which has computer centres would be identified and used as the practice centers for the exam and kept open on weekends i.e. Saturday and Sunday. It will be starting from 3rd week of August. This facility can be used by any student at free of cost.
All tests which are conducted under NTA which we already explain in What is NTA Exam, would be decided in a scientific manner along with the test items which is developed by the experts of that particular subject and psychometricians combinedly. Before creating the question papers, the writers for the exams will be also given feedback on the functioning of the previous years' papers so that they are able to prepare test items which are more reliable and valid.
What should students know about National Testing Agency?
Students have some questions about what is NTA Exam, the answer of which we already decribe in the upper section of the article. Here, we advise students to target on preparation of exam without any major changes to arrangement for ongoing academic session. JEE Main and Advanced are of course happening now. Whether or not they will get replaced will be made clear by the authorities concerned well in time for next session.
Role of NTA in Education in India
NTA plays a substantial role in education system according to the MHRD. It may look after outcome assessment and learning.
Why was NTA formed?
The renowned educational bodies conduct JEE and NEET entrance examinations annually. BY following this, students who are willing to appearing for these exams need to work very hard academically to qualify for the entrance examinations in one go. And Incase if a student eventually get failure in the exam, students would wait for one more year to take their entrance examination. This will resulted in the wastage of time.
Apart from this, these educational bodies were not able to contend with the ever-increasing number of willing aspirants of engineering and medicaland. Sometimes, this derived in disparities and malpractices. Taking these facets into deliberation, the govt. determined to set up an autonomous body for conducting the entrance exam.
Get Updated Review ( Voice Based Alumni Feeback)
How will Roles and responsibilities of NTA discharge?
The roles and responsibilities of NTA are as follows:
NTA will act as an autonomous body.
NTA will have a board of governors, who will setting free their duties honestly and ardently.
As per 1860, Indian Societies Registration Act, NTA has been registered.
Various entrance exams will be conducted bby NTA twice in a year.
This move will be beneficial for medical and engineering aspirants taken by NTA. Moreover, NTA will be result in negligible wastage of vacant seats, which used to remain empty due to system flaws. The entrance exam will be conducted in online mode in a orderly manner to refrain any malpractices and discrepancies. There is no nedd to students will no longer stay under burden or stress to take their entrance examination soon after appearing in their board examinations. NTA cater around 40 lakh students in various entrance examinations.
Improvement of the quality of education
Because of lesser pressure of responsibility, the educational bodies would get adequate time to lay focus on the quality of education. NTA will introduce all the relevant topics which hold a great significance for students and remove unwanted stuff that will be inconvenience for students. As a consequence, students will be in a good position to manage with their academic stress and ace their entrance examinations. The entrance exam held by NTA twice in a year would help students to organize their studies well and give them an opportunity to try their luck again without wasting a year.
NTA Exam is useful for all types of students
As we all know that all students are not intelligent. The medical and engineering entrance examinations in our country has become tougher day by day due to a massive influx of students. Those days are gone, when only well off and amazing students aimed to become great professionals, such as doctors and engineers. But now-a-days, the trend has changed completely. Even those, who are average students, also aim to crack the entrance examinations with excellent preparation. NTA formation, the educational system will change as explained above.
As a result, NTA is beneficial for all types of students whether they are brilliant or mediocre. They will no longer feel harassed and disheartened due to the improper syllabus of their studies and wastage of time.
National Testing Agency-NTA 2019 Exam List
To replace the stress of AICTE, CBSE and other educational bodies, NTA come into existence. Let's have a look to the NTA Exam 2019 which comprises NEET-UG NTA 2019, NTA JEE (Mains & Advance), NET and CTET (Twice in an Year) and other exams.
| | | |
| --- | --- | --- |
| Exam Name | Authority which conducts previously | Conducting Authority 2019 |
| | CBSE | NTA NEET 2019 |
| CTET 2019 | CBSE | NTA CTET 2019 (Expected Soon) |
| | IIM | CAT National Testing Agency |
| | NLU | National Testing Agency CLAT |
| GPAT (Graduate Pharmacy Aptitude Test) | AICTE | NTA GPAT |
| UGC-National Eligibility Test (NET 2019) | CBSE | NTA UGC-NET |
| | AICTE/ IIT | JEE 2019 NTA |
| Jawahar Navodaya Vidyalayas Entrance Test | NVS, MHRD Govt. of India | JNVST NTA 2019 |
| CMAT (Central Management Aptitude Test) | AICTE | CMAT NTA |
In initial days, NTA will organize NEET (UG) Exam and JEE (Mains and Advance).
Let's discuss the things related to NTA Exam that will change and will remain the same as last year
Now as per the above discussion on What is NTA Exam, it will be clear to all that the National Testing Agency (NTA) will conduct NEET, JEE Main, GPAT, CMAT, and UGC NET for upcoming admission. As per the details about NTA Exam announced by MHRD Minister, Prakash Javadekar, in a press conference. He announced that NTA has started the exam preperation, few other changes related to NTA and the four things that will remain constants for all the NTA Exam.
The major change which will create bugging in students and parents is that the NTA Exam will be held twice a year. So, here we will try to remove the ambiguity about the NTA Exams and changes in it.
Know All About the NTA Exam
Before discussing about the changes and the things that will remains the same in the NTA Exam, the candidates are advised to first know about the concern exam. There are five exams that will be conducting by NTA and brief about these are given below.
JEE Main – It is one of the prestigious exam of national level known as Joint Entrance Examination Main. It is organized to fill B.Tech / B.E / B.Arch / B.Planning seats in IIITs, NITs, and CFTIs. This exam comprises of two Papers, where Paper I is for UG Engineering and Paper 2 is for B.Arch and B.Planning students.
NEET – This exam is surrounded by controversies since it was started name as National Eligibility-cum-Entrance Test. This exam is held to fill 100 % MBBS and BDS seats in the nation.
CMAT – This renowned exam which is known as Common Management Admission Test was organized by AICTE until now. It is held to fill seats in PGDM, MBA, PGCM courses, Executive PGDM, offered by colleges which are AICTE approved.
GPAT – It is the biggest entrance exam called Graduate Pharmacy Aptitude Test which take admission in PG Pharma courses. This exam is equivalent to GATE, in the field of Pharmacy.
UGC NET – This National Eligibility Test is held for those candidates who are willing to be Assistant Professor or Junior Research Follow.
What are the Changes in NTA Exam 2019?
#1) NTA Exam disclosed certain outstanding changes in the exam. The first change is that the Exams will be held in the computer based mode. Formerly, only UGC NET and NEET were conducted in pen and paper mode. Nevertheless, JEE Main was held online and offline and AICTE used to conduct CMAT and GPAT in Computer Based only.
Last time, around 1135084 candidates registered for the JEE Main out of these, only 237318 enrolled for online exam and 897766 opted for pen and paper based examination. Around 13 lakh aspirants registered For NEET and for UGC NET the number goes as high as 11 to 12 lakh.
Conversion of NTA Exam from online to offline mode might create a chaos among the candidates. Hence, to remove it, NTA has finally decided to declare exam centres where students can go and give the practice test.
#2) Another major alteration in NTA Exam will be that it will be held twice a year. Previously, only JEE Main and NEET will be held twice. As per the available dates, CMAT, UGC NET, and GPAT will only be held once a year
Have a look to the 4 Major Factors which will going to be remain the Same as per the last year in NTA Exam
National Testing Agency has make cleared that 4 things will not change in any of NTA Exam. These are – Language, Exam Pattern, Syllabus, and Fee of the exam. Hence, these in NTA Exam will be:
#1) Language of NTA Exam: JEE Main will be held in English, Hindi, and Gujarati Language.
NEET is held in 11 languages and these are Assamese, English, Gujarati, Hindi, Bengali, Tamil, Marathi, Kannada, Telugu, Oriya, and Urdu.
UGC NET will be conducted in Hindi and English. CMAT and GPAT are available in the English only.
#2) Syllabus of NTA Exam: The syllabus for JEE Main and NEET is NCERT and CBSE focused. Whereas, the Syllabus for NET is according to the UGC norms and for CMAT / GPAT it has been decided by AICTE.
#3) Exam Pattern for NTA Exam: The exam pattern of each exam varies.
JEE Main and NEET are UG exams having MCQ type. The question comprises from Chemistry, Physics, and Mathematics with tot. No of questions is 90 of 360 marks.
NEET the question are from Physics, Chemistry, and Biology subject, no. Of questions is 180 of 720 marks.
UGC NET consists of two papers. Paper I has 50 questions of 100 marks and Paper II has 100 questions of 200 marks.
CMAT has 100 questions of 400 marks from subjects like General Awareness, Logical Reasoning, Quantitative Techniques and Data Interpretation, and Language Comprehension.
GPAT has 125 questions of 4 marks each, which are from Pharmacology, Pharmaceutics, Pharmaceutical Chemistry, Pharmacognosy, and other subjects related to Pharmacy.
#4) Fee of NTA Exam: The amount of application fee will be the same as last year.
CMAT/ GPAT fees will be Rs. 1400 for General category and for other categories it will be Rs. 700.
UGC NET fees will be Rs. 1000. For OBC NCL category fees Rs. 500 and for SC / ST / PwD category it will be Rs. 250 only.
NEET fees will be Rs. 1400 for General and OBC category and it will be Rs. 750 for SC / ST / PH category. The application fees of JEE Main 2019 is as follows: