Topic We Cover: MBA in India vs MBA Abroad
1. Admission Prerequisites
2. Education Cost of MBA in India vs MBA Abroad
3. Jobs and Career
4. Career Benefits and Global Outlook
5. Curriculum and Exposure
6. Quality of Education
7. Which is more Valuable? MBA in India vs MBA Abroad
8. 5 Best countries to study MBA abroad
9. MBA Colleges Fee in India
10. Other top MBA Colleges in India with Fee Structure
11. Weightage of Various Application Components in the MBA Admission Process
There is one dilemma that has been confronted by a lot of aspirants of MBA and has left them confused is the selection between pursuing MBA in India vs MBA Abroad. All the willing candidates are perplexed between the comforts of living and studying in their native country and the attraction of a foreign degree, global exposure, and excellent research opportunities, shortly they are swing between MBA in India vs MBA Abroad.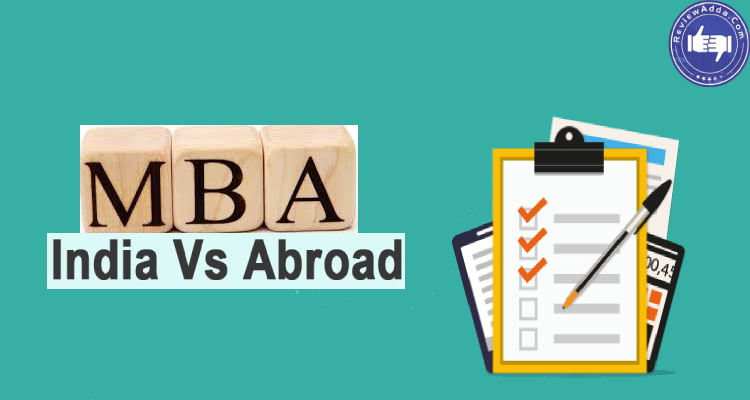 Currently, MBA (Master in Business Administration) is one of the most sought-after courses in B-Schools in India and abroad. Aspirants are confused b/w MBA in India vs MBA abroad because most of the Top management colleges in India offer specialized management courses which are especially designed to meet the distinguish requirements of Indian students. It will help student boost an understanding into the workings of corporations with a strong presence in the country, acquaint themselves with the laws of corporate administration in the country, and even launch start-ups or join their family businesses.
The number of Indian students is raises consistently to going abroad to gain their MBA Degree. It is very usual for an aspiring MBA student to mull over the question, "Which is better?" MBA in India vs MBA abroad. The following factors are required for careful consideration before we settle on an MBA in India vs MBA abroad debate.
As we can see that there are pros and cons of each, therefore, in taking a right decision a candidate must do comparison between the two i.e. MBA in India vs MBA abroad. There are few relevant factors that should be considered in this case are the cost of education, quality of education, job market, living costs, etc.
Following are the important factors and a comprehensive comparison between MBA in India vs MBA abroad:
Admission Prerequisites
In India, the most influential and popular entrance exam for MBA is CAT. Along with few other important exams are like NMAT, XAT, SNAP, IIFT, etc. All these written exams are followed by Group Discussion and Personal Interview round. The Top Institutes for MBA in India are IIMs. In the discussion between MBA in India vs MBA abroad, MBA in a foreign country like US or UK is complicated as it requires a good score in GRE and GMAT along with a good academic record including this the Top colleges of Abroad also requires a work experience of 2-3 years which is imperative to be eligible for MBA.
Education Cost of MBA in India vs MBA Abroad
The cost of education while doing MBA in India vs MBA Abroad is a very important factor. A 2-year residential program in the Top B schools of India will cost 10-20 Lakhs while Overseas MBA Courses can start off at Rs 30-40 Lakhs for one-year programs and raises up to 75-80 Lakhs for the Top MBA Programs in US. Add to this the cost of living abroad we can clearly see that MBA Abroad is more expensive than MBA in India.
To be straight and clear, studying in one of the premier American universities can cost to an aspirant up to 25 lakh rupees. So, if money is a constraint, go and opt for the Indian MBAs from some of the Top Business Schools such as the IIMs are considered among the best in the world.
But, if you want to go abroad then prepare to shell out a lot of money. Either you should be crummy rich or apply for a student loan, if you're not a descendant of the Ambanis or Birlas then a student loan is your only option. Be prepared to loan a large amount of money and keep paying it back in hefty instalments for several years after your MBA is completed. That means MBA in India vs MBA abroad, cost in India is less.
Jobs and Career
In Indian B-Schools the placement process is comparatively easy for students to network and interview with top companies of the country on campus. In fact most of the good students from the top schools are virtually guaranteed multiple offers. On the other hand, in abroad the placement process is different; the B-schools cannot guarantee that you will get a good job (or any job for that matter). So it is must for students to take a appropriate decision take the onus of reaching out to their dream companies and utilising the opportunities on campus to maximise their chances of getting a job.
There is no confusion in that that completing MBA in abroad from League colleges will give a high-paying jobs but worst is that you will have to come back to India and do work and pay back the big education loan. A one year MBA in India from reputed colleges assures you good job through campus placements and you don't need to worry much about the loan as it will be easily handled.
Career Benefits and Global Outlook
When you study abroad; your exposure to a new culture and lifestyle will definitely make you a better professional as you would be able to look at problems from different perspectives. In comparison to MBA in India vs MBA abroad, MBA abroad gives you an international perspective and exposure. An MBA from a prestigious institution like the Harvard Business School is a great benefit when compared to an MBA from Indian institutes. Additionally, studying abroad will also offer students a chance to secure a relevant job in that country if they are interested in settling abroad.
Foreign universities offering MBA may offer great placement opportunities anywhere across the globe whereas Indian business schools are more likely to offer domestic opportunities. So, it is totally depends on a student that either they want MBA in India vs MBA abroad.
Curriculum and Exposure
The best part of pursuing a MBA abroad is the sheer diversity to be exposed to. From the racial and cultural diversity of your peers to the varied markets you shall be studying through the course of your education, you are likely to learn to look at challenges and solutions from different perspectives. The curriculum of the MBA Program Abroad is likely to be structured on the basis of the global scenario. If you're planning for pursuing MBA in Canada or the US, it is possible that you will be learning a lot about indigenous market conditions. An MBA from India, however, will be priceless if you plan to join the family business or launch a startup for the Indian market.
Quality of Education
The quality of education plays a very important role in advancing one's career. Premier Indian institutions like the IITs and IIMs are offering excellent courses which are at par with the international B-Schools. The level of competition in India is immense and in case you can't get admission into a Top Indian B-school you can consider getting into a relatively good B-School Abroad. An MBA abroad is more practical and focuses on developing your professional skills.
The choice between MBA in India vs MBA abroad, India has about over 1,250 approved B-schools. Some of these are exceptionally good, but not every institute will enhance the career prospects. Similarly, there are numerous universities which offering MBA Abroad, you have to carefully select the quality of education and infrastructure before opting to study in these.
After going through the influential facts about MBA in India vs MBA abroad, now let's have a look on few Advantages of MBA abroad:
Experience personal enhancement and broaden your mind on a global view: Pursuing MBA from a foreign university helps you achieve a new empathetic of culture and values. Studying abroad makes you more independent and confident too. It will help to understand a new culture, diversify thoughts and values, and a broad and sophisticated worldview.
Gain valuable life skills: Getting admission in an abroad university gives a full absorption experience of living in a different country, it will give you the opportunity to learn a new language, interact with the locals as well as the fellow international students.
Enhance leadership skills: In comparison between MBA in India vs MBA abroad, MBA abroad will give you an understanding of how to work with and improve a better understanding of different leadership and business styles.
Broadens career horizons: For any Indian student pursuing MBA abroad helps to stand out from other aspirants with the skills that can only be accquired through international experience, such as laws and regulations, strong cross-cultural communications and familiarity with international standards.
Hands on Learning: Doesn't matter from where you pursuing your MBA, whether it is an MBA in Singapore, USA or Australia, MBA abroad from any university is generally based on inspecting the case studies of several business entities. This method of transmitting the course essentially makes a student understand how to apply a theory into actual business practices. This teaching method is interesting as well as practical in contrast to MBA Programs in India, which focus more on theoretical learning.
Scientific Self-assessment method: The international B-schools conduct psychometric tests on a regular basis presided over by highly qualified professionals for knowing the aptitude of their students. These tests help candidates to select their MBA specialization and also help in analyze their skills.
Cultural Diversity: Studying overseas enables interaction with students from all across the globe with diverse culture and rich work experience join MBA programs. It will help in exchanging ideas and enables one in developing personality.
Widens Networking Base: MBA Abroad offers one an opportunity to network, with the who's who of the business world, through its vast alumni base. Interaction of students with business icons during or completion of MBA program, which in turn helps in their final placements.
Earn while you learn: Many B-schools of abroad provide opportunities for paid internships where students can easily earn while learning. It will help candidates as apart from earning for their day-to-day expenses, they get an international experience added to their resume which further pays them off in the long run.
High opportunity cost: Opportunity cost or we can say placement cost while pursuing MBA abroad is higher. Harvard and Oxford are top B-schools abroad offers high paid placements.
Advantages of a One-Year MBA: The MBA Program of one-year has several pros. Getting the degree in half the time brings considerable savings in tuition and fees, room and board, and the lost opportunity cost of not having a job for two years. In short in one-year a student can saves approximately US$ 100,000.
On the whole, MBA from abroad gives more opportunities and an excellent career with private and public enterprises in diverse fields and gives you a bright future.
Get Updated Review ( Voice Based Alumni Feeback)
Which is more Valuable? MBA in India vs MBA Abroad:
If you are willing to pursue MBA courses then, you need to compare MBA in India vs MBA Abroad on the basis of few factors such as cost of study, placements, salary growth, entrance exams, etc. For more clarity just check the list of parameters necessary while choosing MBA course and country.
Comparison of MBA in India vs MBA Abroad:
Let's have a look to the detailed comparison between MBA in India vs MBA abroad to help the students to make sound decisions that can benefit your career and investment in the long run.
Entrance Exam for MBA
The popular and most influential entrance exam for MBA in India is the Common Admission Test (CAT). The top B-schools in India such as the prestigious IIMs accept CAT Scores. Apart from CAT, there are few other popular entrance exams such as XAT, SNAP, NMAT by GMAC and IIFT that are taken by a large number of students every year. However on the other hand, for taking admission in an MBA abroad, candidates need to appear for GRE and GMAT which is conducted on a rolling basis and gives an student a choice to opt the exam date as per their convenience.
MBA Fees and Cost of Study
This is one of the major factor that willing candidates need to keep in mind while choosing to pursue MBA in India vs MBA abroad. Acquiring MBA in India is comparatively less expensive as compared to foreign countries like US, Canada and UK. In India it cost around Rs. 7.5 lakh - Rs. 25 lakh while an MBA abroad it will be Rs. 20 lakh - Rs. 70 lakh.
Work Experience for Pursuing MBA
In India B-schools offer admissions to many candidates with a good work experience, but not all stick with that idea. On the other hand, the US universities prefer candidates to have at least 2-3 years of work experience.
Placement Opportunities
The placement process in Indian B-schools is relatively easier to get an opportunity to interview with top companies on campus. But when it comes to the placement process abroad the colleges usually does not guarantee a job.
Average Salary after MBA
There is a huge difference between the average annual packages offered by top Indian B-schools and the topmost business schools abroad. Students from ISB get an average salary of Rs. 18 lakhs, IIM-A get around Rs. 19 lakh. The alumni of reputed universities abroad get an average salary of Rs. 78 lakh.
| | | |
| --- | --- | --- |
| Parameters | MBA in India | MBA Abroad |
| Exam | CAT, SNAP, IIFT, GMAT, NMAT by GMAC, XAT | GMAT, GRE |
| Course Fee | Between Rs. 7.5 lakh - Rs. 25 lakh | Between Rs. 20 lakh - Rs. 70 lakh |
| Average Annual Salary | Approx Rs. 18 - Rs. 19 lakh | Approx Rs. 45 lakh |
5 Best countries to study MBA abroad
The United States of America
The US is one of the most popular B-school destinations with the most number of Business schools in the world. It is compulsory for aspirants to clear GMAT and English proficiency tests like TOEFL or IELTS to get admission in USA B-schools.
Top B-Schools in the USA:
Booth School of Business, University of Chicago
Harvard Business School
The Wharton School, University of Pennsylvania
Kellogg School of Management, Northwestern University
Stanford Graduate School of Business
United Kingdom
Among Indian students the United Kingdom has always been the favourite destination. The fact that the UK has a strong Indian population base is what makes this country an attractive destination for Indian students.
Top B-Schools in the UK:
London Business School (LBS)
Univ. of Strathclyde - Strathclyde Business School
Univ. of Oxford - Said Business School
Univ. of Cambridge - Judge Business School
Univ. of Warwick - Warwick Business School
London School of Eco. and Political Sc. (LSE)
Lancaster University Management School
Imperial College Business School
The Univ. of Manchester
Univ. of Edinburgh Management School
Cranfield School of Mgmt.
Canada
Canada is also a home to many of the world's largest and influential companies and is a favourite destination for Indian students to pursuing an MBA.
Top B-Schools in Canada:
York University Schulich's Business School
University of Toronto: Rotman School
University of British Columbia's Sauder Business School
Queen's School Of Business, Queen's University
St. John Faculty of Buss., Univ. of New Brunswick
Mcgill University's Desautels School
Ivey Buss. School, Western Univ. Canada
Alberta School of Business, University of Alberta
Australia
Australia is another popular study destination with Indian students, as this country offers affordable education opportunities with no compromise on quality.
Top B-Schools in Australia:
Melbourne Buss. School, Univ. of Melbourne
Australian School of Buss, Univ. of New South Wales
Sydney Business School (SBS), Univ. of Wollongong
Macquarie Graduate School of Management (MGSM), Macquarie University
Faculty of Business and Economics, Monash University
School of Management – Queensland University of Technology
Curtin Business School
Singapore
Top B-Schools in Singapore:
INSEAD Singapore
Nanyang Business School
University of Liverpool
JE Educational College
NUS Business School
Spain
Top B-Schools in Spain:
IESE University Barcelona
ESADE University Barcelona
IE University Madrid
MBA Colleges Fee in India
Institute Name

Fees 2019-21 (Rs.in Lakhs)

Fees 2018-20 (Rs in Lakhs)

IIM Ahmedabad

22+5%

22

IIM Calcutta:

21.10

21

IIM Bangalore:

21.45

IIM Lucknow:

16+

16

IIM Kozhikode:

--

IIM Indore:

16

IIM Trichy:

--

14

IIM Shillong:

--

14.37

IIM Udaipur

--

14

IIM Kashipur:

--

13.15

IIM Ranchi

--

14

IIM Jammu

--

12.75

IIM Raipur

--

12.61

IIM Rohtak:

--

12.3

IIM Nagpur:

--

11.5

IIM Visakhapatnam:

--

10.5

IIM Amritsar

--

IIM Sirmaur

--

10.34

IIM Bodhgaya Bihar

--

10

IIM Sambalpur

--
Other top MBA Colleges in India with Fee Structure
| | | |
| --- | --- | --- |
| Institute Name | Fees 2019-21 (Rs in Lakhs) | Fees 2018-20 (Rs in Lakhs) |
| FMS New Delhi: Faculty of Management Studies | 0.22 | 0.22 |
| XLRI Jamshedpur: Xavier School of Management | -- | 20.49 |
| MDI Gurgaon: Management Development Institute | 21.34 | 19.81 |
| SPJIMR Mumbai: SP Jain Institute of Management & Research | 16 | 16 |
| SIBM Pune: Symbiosis Institute Of Business Management | -- | 18.25 |
| JBIMS Mumbai: Jamnalal Bajaj Institute of Management Studies | 6 | 6 |
| IIFT New Delhi: Indian Institute of Foreign Trade | -- | 15.7 |
| ISB Hyderabad: Indian School of Business | 33.34 | 22.5 |
| NMIMS Mumbai: School of Business Management, Narsee Monjee Institute of Management Studies - SBM | 18.50 | 17.5 |
| IMI Delhi: International Management Institute | 16.95 | 15.41 |
Weightage of Various Application Components in the MBA Admission Process
Conclusion
In summary, you need first to list out your objectives regarding your career plan, budget, country where you want to stay, etc. and prioritise them. Once you do that, deciding whether you should do an MBA in USA (abroad) or India will be an easier task. There is a difference between the quality of education in premier institutes of India and reputed international institutes, but at the same time, it is costlier and more difficult to get into. Thus, you should weigh the pros and cons based on these factors to make an informed decision.
To conclude with, where to pursue MBA from is a pertinent question and something that will decide your future. So, before enrolling for any examinations, take a look at the universities abroad, compare them with the Indian B-schools and then weigh your options.