Topic We Cover: VIT vs SRM vs Manipal
1. Placements
2. Reputation
3. Infrastructure
4. Student intake/Student to Faculty ratio
5. Location
6. Vellore Institute of Technology (VIT) University
Academics
Colleges Festivals and Extra-Curricular Activities
Fee Structure of VIT
7. Sri Ramaswamy Memorial (SRM) University

8. Manipal Institute of Technology
Academics
College Festivals and Extra-curricular Activities
9. Comparison: Where do they colleges stand?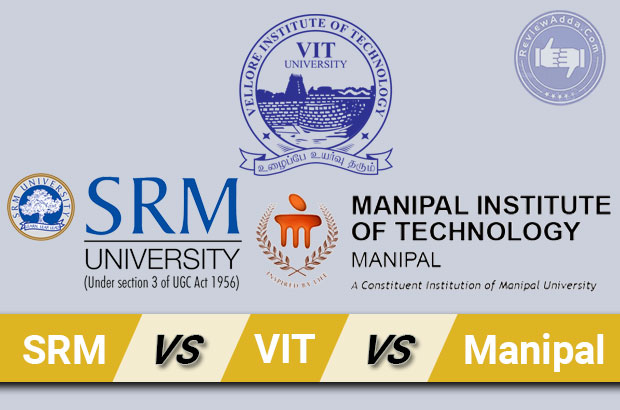 SRM, VIT and Manipal rank amongst the Top private engineering colleges in India
In India, engineering isn't a choice, but a duty.
The fixation of Indian students with engineering is an intriguing phenomenon. Every developing country needs a strong supply of STEM professionals for development and growth. The number of engineers and doctors being produced in our country is only increasing every year, but Indias science and technology programme still lags behind other developing nations.
This catch-22 has risen due to the poor quality of engineers being produced in India. Only 10-15% of the engineers graduating every year are deemed employable by industries. Of these 10-15% students many choose to jump ship and move abroad for better lifestyle and opportunities. This problem needs remedying soon or the value of engineering and science programmes in our country will collapse drastically.
The IITs are held as golden vestiges amongst aspirants in the race to bag seats in India's Top Engineering Colleges. While VIT, SRM and Manipal cannot match the star value of institutes like IITs or BITS, they still remain nailed targets amongst aspirants. With a strong academic curriculum and impressive placement record, colleges like VIT, SRM and Manipal have etched their name amongst other top colleges in the country.
The problem here lies in the choice. Which amongst VIT, SRM and Manipal holds highest credence? With similar placement record and academic curriculum, students often have to make a choice at their own peril.
Below is an in-depth analysis of all three colleges on the basis of various factors which hold importance while choosing a college for engineering. These factors are:
1. Placements
No surprises here. The law of the jungle, the engineering college jungle, works purely on the bottomline: placements. Whether a college has an up to date placement cell with various industry contacts plays an indispensable role while choosing a college. Leaving a college empty handed after four years is amongst the worst feelings in the world and no engineer wishes that day upon anyone.
2. Reputation
Is the college often embroiled in controversy? What is the general perception of people about a certain college?
Reputation plays an important part while choosing a college. No engineer wants to think twice before answering which college they completed their B.Tech from. Wherever one may go, the name of their college always remains etched their resume. It is thus necessary to choose a college with a stellar reputation.
3. Infrastructure
B.Tech is a long four-year slog. To be stuck for such a long duration at a college with inadequate facilities is disheartening to say the least.
Strong infrastructure boosts a college's profile immensely. Facilities such as labs, sports amenities, gym, library and Wi-Fi connectivity are amongst some services every modern engineering college must strive to provide.
4. Student intake/Student to Faculty ratio
The reason why colleges such as IITs and BITS have been able to maintain a high standard of education is their rigid intake policy every year. Less number of students on a campus is beneficial in many ways. Besides getting greater access to facilities, student unity and dispute allayment is more efficient in a campus with fewer students.
This also means students get greater access to high quality faculties who are vital in churning out top draw engineering graduates.
5. Location
Although it might seem an unnecessary factor to account for, colleges in metropolitan cities tend to thrive more than their sub-urban counterparts. Many companies prefer to start with major city colleges before delving into the inner cities.
Besides Placements in Engineering Colleges, living in a city is much more convenient considering limitless access to various facilities.
Vellore Institute of Technology (VIT) University
Ranked the best private college for engineering in India by the Ministry of Human Resource Development, VIT has covered leaps and bounds over the last few years. From overseeing a meteoric rise in research output to having an astonishing percentage of students getting placed, VIT has done all the right things to cover ground and become of one India's most coveted engineering colleges.
Established back in 1984, VIT University was earlier known as Vellore Engineering College. Back then, it started merely with three standard engineering courses. Now, nearly 84 courses have been inducted into its curriculum. Students from nearly 47 nations are currently studying at VIT, suggesting the incredible standing of the college amongst students in India and abroad.
Perched halfway between Chennai and Bangalore, VIT Vellore has accreditations from all national accreditation bodies such as NAAC, UGC and IEI. Besides national bodies, VIT was the first university in India to be accredited by the Accreditation Board of Engineering and Technology (ABET).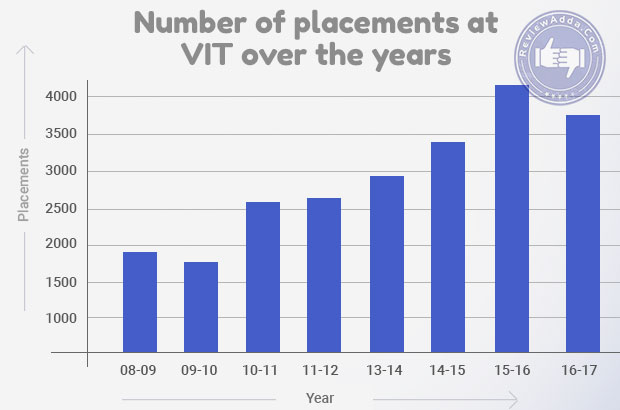 Placements at VIT have only risen over the past few years
Academics
VIT divides its curriculum into nine different schools which are as follows.
School of Computer Science and Engineering (SCOPE)
School of Electrical Engineering (SELECT)
School of Electronics Engineering (SENSE)
School of Mechanical Engineering (SMEC)
School of Civil and Chemical Engineering (SCALE)
School of Social Science and Languages (SSL)
School of Bio Sciences and Technology (SBST)
School of Information Technology and Engineering (SITE)
School of Advanced Sciences (SAS)
School of Architecture (V-SPARC)
VIT Business School (VIT-BS)
VIT Law School
Admission in VIT is offered on the basis of performance in VITEEE (VIT Engineering Entrance Exams)
Colleges Festivals and Extra-Curricular Activities
Besides seminars and presentations are organized in VIT almost every week, there are two major festivals held across a calendar year. These are:
Gravitas- Conducted in the Fall semester, Gravitas is a three day long tech festival infused with events such as tech seminars and presentations to student innovation shows.
Rivera- Rivera is counted amongst the best college festivals in India. Inherently a cultural festival, Rivera is a four day long festival consisting of live performances from top draw music artists in the country. It is held in early February every year.
Extra Curricular activities are aplenty at VIT. Sports facilities such as tennis, squash, cricket, football, volleyball, basketball, badminton and swimming are readily provided by VIT. AC and non AC gym facilities are also available along with a separate music room for enthusiasts.
The true fabric of social life at VIT is portrayed by the number of student clubs and chapters operational in the campus. From debate and dance clubs to dramatics and tech chapters, VIT is brimmed with students pursuing all kinds of activities.
| | |
| --- | --- |
| Fee Type | Amount (in Rs) per year |
| Tuition Fee | 1,95,000 |
| Caution Fee | 3,000 |
| Total Fee | 1,98,000 |
Sri Ramaswamy Memorial (SRM) University
Founded a year after VIT in 1985, SRM's trajectory has been similar to its Vellore counterpart. Ranked eighth amongst engineering colleges by India Today in 2017, SRM has long stood the test of time and remained a premier institution for education.
It has seven campuses in total, four in Chennai, and others in Delhi-NCR, Sonepat and Gangtok. Accredited by national bodies like UGC and NAAC, SRM was placed under the category of technical institutions, the highest category there is.
Over 55,000 students currently study across all seven SRM campuses out of which 45,000 are undergraduates. Admissions in SRM are offered on the basis of an independent entrance exam (SRMEEE) conducted by the university.
Get Updated Review ( Voice Based Alumni Feeback)
Academics
SRM University divides its curriculum into five departments:
Engineering
Management
Medicine and Health Sciences
Pure Sciences
Humanities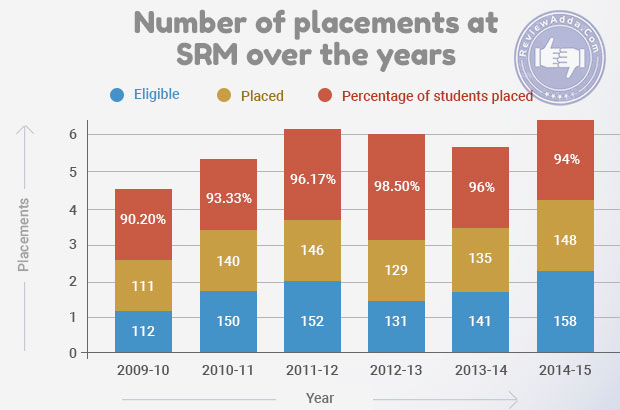 SRM has maintained a steady rate of placements over the past few years
Course Fee
SRM course fee for all courses except aerospace engineering is Rs. 1, 85,000 per year. Aerospace engineering tuition fee is Rs. 3, 35,000 per year
College Festivals and Extra-Curricular Activities
Three premier college festivals grace the SRM Main campus every year
Aaruush: Aaruush is a national tech festival organized by the engineering department of SRM. Besides events graced by tech world's top professionals, pro shows by some of India's greatest entertainers make this festival a top draw event.
Milan: Milan is a four day long cultural extravaganza organized by SRM annually for the past ten years. The theme is pure entertainment, amusement and fun. Many premier celebrities visit the campus during the festival
Many clubs and chapters operate in SRM encompassing various fields like sports, music, dance, drama and technology. Some of these clubs include
Webarch Club
Arts and Culture Club
Annsh (Social welfare club)
Butterflies Project
NCC (National Cadets Corps) and NSS (National Social Service)
Manipal Institute of Technology
Affiliated to Manipal University, MIT is amongst India's most highly regarded private universities. Ranked 12th by India Today in 2017, MIT is situated in the coastal town of Udipi near Mangalore.
The oldest amongst the aforementioned institutes, Manipal was established way back in 1957, then known as Manipal Engineering College. MIT is accredited with various national bodies such as NAAC, UGC and NBA.
Admission to MIT is offered through a private engineering entrance exam, Manipal University Online Entrance Test (MU-OET). Many industry bigwigs such as Satya Nadella (CEO of Microsoft), Rajeev Suri (CEO of Nokia), Anant Talaulicar (CEO of Cummins India) and Arun Shenoy (Grammy award nominated musician) were once students at MIT.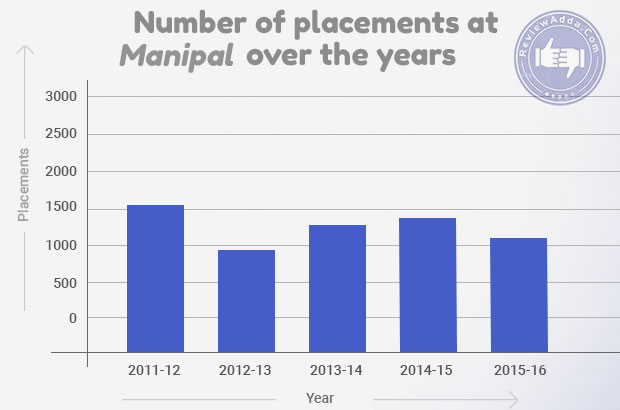 MIT placements have reached a standard point in recent years.
Academics
Like many colleges in India, Manipal follows a credit based system. Each student has to complete a given number of credits over a period of four years to complete his/her B.Tech degree. Compartmentalization at MIT is done on the basis of the respective engineering stream. Each branch has a separate department dealing with its students and labs.
MIT fee structure puts tuition fee at Rs. 2, 62,400.
College Festivals and Extra-curricular Activities
There are two major festivals hosted by MIT over the calendar year.
UTSAV: A seven day long bandwagon, UTSAV is an inter college culture fest conducted annually. The competitions vary from dance and music to cartooning, miming and writing. Many colleges around the country compete in competitions at UTSAV. Besides the students many celebrities perform at pro-shows organized by the college.
GUNJAN: Exclusively held for local students and faculties, GUNJAN is a chance for music savants to showcase their talents. Amongst the various genres of music enjoyes at this event some include Hindustani Classical, Carnatic Classical, Ghazzal, Sufi etc.
SPIC-MACAY: SPIC-MACAY (Society for Promotion of Indian Classical Music and Culture Among Youth) is a flourishing student chapter at MIT. The goal of this event is to bolster the standing of Indian classical music and culture amongst the young students at the campus.
Besides annual festivals, many other clubs at MIT remain highly active and compete at various other college fests. Some of these clubs are:
Manipal Literary Club: includes book/poem reading sessions, writing critique and organizing seminars.
Photography Club: organizes photography events and cover other events in the college as well.
Parikshit: Astrophysics club of MIT.
Aaina: Dramatics club of MIT
Comparison: Where do they colleges stand?
To walk the slippery slope of choosing which amongst VIT, SRM and Manipal is the best requires complete anatomization.
Here is table depicting where do these colleges stand on the factors proposed earlier.
Institute

Placement (packages in Rs.)

Perception (based on NIRF perception score out of 100)

Infrastructure (out of five)

Student to faculty ratio (based on TLR score in NIRF rankings out of 100)

Location (out of 5)

MHRD/NIRF ranking (2017)

Vellore Institute of Technology (VIT), Vellore

92.5% (Mostly in IT sector)

44.6

This score is considerably low due to management quota rules of VIT and industrial perception

4.0

VIT topples many government colleges in terms of top grade infrastructure.

56.49

The large intake every year has led VIT to fall behind in this category.

2.5

Even though it is connected directly to Chennai and Bangalore, Vellore is a particularly remote area. The weather isn't particularly pleasant either.

13

Average: 3.25 LPA

Highest: 32 LPA

Sri Ramaswamy Memorial (SRM) University, Chennai

94% (Primarily in IT Sector)

18.79

Due to the recent controversy surrounding medical admissions, SRM has fallen dramatically.

4.4

SRM Main campus is a state of the art campus. From high tech labs to top notch sports facilities, SRM is amongst India's best in terms of infrastructure

59.75

Just edging VIT, SRM too scores low due to high intake

4.5

Chennai is amongst India's premier cities. Students can avail a number of services living in a metropolitan city

35

Average: 3.2 LPA

Highest: 58 LPA

Manipal Institute of Technology, Udipi

93% (in IT sector)

24.06

Similar to VIT, the management quota at Manipal degrades its overall perception to some extent

4.5

Manipal comes out on top in this round. The sheer modernization the campus has undergone helps it cross the chequered flag.

70.66

Even with high intake, Manipal has managed to maintain its teaching standards and maintained a decent score

3.0

Like Vellore, Udipi isn't particularly well endowed either. However, better weather conditions help MIT beat VIT in this area.

43

Average: 3.1 LPA

Highest: 25 LPA