Topic We Cover: MAT Registration
1. Why consider MAT registration
2. MAT Registration Procedure
3. MAT Registration: Exam dates
4. MAT Registration: Exam Pattern
5. Preparation tips for MAT
6. Colleges accepting MAT scores
The biggest management admission test in the country, Management Aptitude Test or MAT grants the ticket to nearly 600 B-schools in India. Started back in 1998 by the All India Management Association (AIMA) to create a standard management test to envelope all B-schools in India, MAT Registration has now become essential amongst MBA Entrance Exams in India.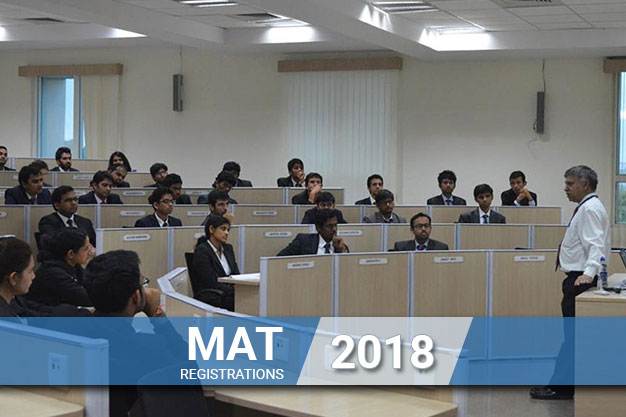 MAT Registration for December exam will begin in the first week of October.
While CAT gathers headlines for top IIMs and B-schools, MAT Registration is essential for admission to other B-schools opening their doors to management aspirants in India.
MAT Registration takes place four times every year. This affords candidates the opportunity to participate in separate intakes every year and the chance to give the exam again during the same year rather than waiting a whole long year.
The exam is held every year during the months of February, May, September and December. MAT Registration usually starts two months prior the exam. For December 2017, MAT registration will thus begin during the first week of October.
While IIMs and other top B-schools such as XLRI do not consider MAT scores, several other AICTE accredited B-schools accept and set cutoffs based on MAT scores. MAT registration remains crucial for management aspirants across India.
Why consider MAT registration?
The question is valid. With so many entrance exams around the corner, why does MAT exam registration necessitate a candidate's concern? CAT, XAT and SNAP open doors to plenty of colleges in their own right and most colleges accept CAT Scores, so why is MAT registration important?
The answer lies in relative difficulty and choice.
Besides having the choice of choosing out of four different months every year, MAT is relatively easier than CAT, XAT and SNAP. If a student is weaker in a particular section on the CAT level, he/she will find it easier to Score in MAT. At the end of the day, decent colleges accept MAT scores every year. By analysing strengths and weaknesses, completing MAT registration is a no brainer.
Choice of college also plays a part. With more colleges accepting MAT scores, a good performance opens doors to a number of colleges. Unlike CAT where getting a poor score will lead nowhere, MAT registration generally lands candidates is a reasonably good college.
MAT Registration Procedure:
MAT Registration fee can be paid online as well as offline. For completing MAT registration online, the procedure is as follows:
There are two ways of filling the MAT registration form
---
---
MAT registration can be done offline as well. MAT Application forms are available at all AIMA offices for INR 1652. A passport size photograph will also be needed to complete MAT registration.
After MAT registration, candidates can download the admit card from the exam website which is usually released two weeks' prior to the exam. Without admit card MAT registration will be considered incomplete.
MAT Registration: Exam dates
MAT registration for three of the four exams is over. For the MAT December exam, registration will begin in the first week of October. The exam can be given in both paper pencil form or a computer based test.
MAT Exam Dates(paper based) is on December 3 this year. The online exam date has been set on December 9 and may carry on after the allotted date if some candidates are unable to sit for the exam.
For February exam next year, MAT registration will begin in the second week of December and continue until the end of January. The exam itself will be conducted in the first and second week of February.
MAT Registration: Exam Pattern
After completing MAT registration, examining patterns and setting preparation targets becomes crucial. Like other MBA entrance exams, MAT syllabus aims to test the candidate's analytical and logical skills. The question paper is divided as follows
Indian and Global Environment- Usually about current affairs and other general knowledge
Language Comprehension- Grammatical questions and other verbal skills questions
Data Analysis and Sufficiency- Quantitative questions from all categories
Intelligence and Critical Reasoning- Topics such as family trees, numerical grids, pie charts etc. are widely covered under this section
Mathematical Skills: Percentages, algebra, averages, time distance problems etc.
There will be four sections having 40 objective type questions each with 1/4th negative marking across the paper
Preparation tips for MAT
Colleges accepting MAT scores
The IIMs and other prominent B-schools usually sing a different song when it comes to admissions. While over 600 colleges accept MAT scores, the IIMs along with other B-schools do not consider MAT scores as a criterion for admissions.
Of the 600 odd B-schools considering MAT scores, only a handful are trusted for imparting top draw MBA/PGDM programmes. In the race to reach the best B-school possible, MAT registration plays an essential part. Here are the top ten MAT colleges-