Topic We Cover: JAWAHARLAL NEHRU UNIVERSITY
1. Overview
2. SPECIAL CENTERS OF THE JAWAHARLAL NEHRU UNIVERSITY
3. RESEARCH AND DEVELOPMENT INSTITUTIONS
4. COURSES AND ADMISSION
5. RESEARCH COURSES
6. CAMPUS
7. ACCREDITED INSTITUTIONS
JAWAHARLAL NEHRU UNIVERSITY
Jawaharlal Nehru University (JNU) was established in the year 1969 in New Delhi, India. It is a Public University and came into existence by an act of parliament. The University is named after Pandit Jawaharlal Nehru, who was the first Prime Minister of India. Jawaharlal Nehru University is one of the renowned universities of world for education and research. National Assessment and Accreditation Council (NAAC) ranked the university as number one in India with a grade of 3.91 on scale of 4.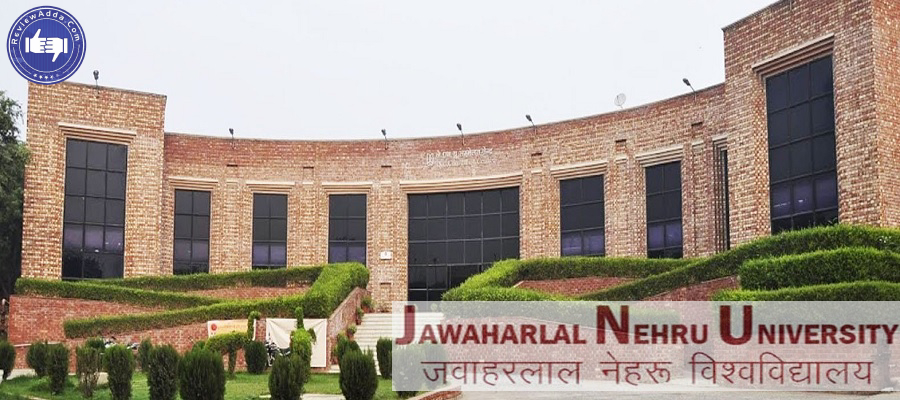 National Institutional Ranking Framework, Government of India ranked JNU as No. 3 among all Universities in India in 2016 and No. 2 in 2017. In 2017, President of India awarded the "Visitor's Award" for "Best University" to JNU. The university has unorthodox academic structure and is based on the faith of unity of knowledge. The Nehruvian objectives were embedded during the foundation of the university. These objectives are – national integration, social justice, secularism, democratic way of life, etc. The university has an excellent 1:10 teacher-student ratio. The teachers here motivate the students to explore themselves and their own talent and understanding apart from only reproducing the knowledge that they receive from teachers.
The academic structure, teaching process and evaluation pattern of JNU is based on grading system which ensures students participation and involvement in curricular work. The learning becomes a continuous process and the final exam does not only remain the way to measure the achievement of students. Also JNU has an incredible faculty which guides and educated its students in the best possible way. JNU has established specially designated 'chairs' apart from its regular faculty namely – Rajiv Gandhi Chair, Appadorai Chair,Nelson Mandela Chair, Dr. Ambedkar Chair, RBI Chair, SBI Chair, Sukhomay Chakravarty Chair, Environmental Law Chair, Greek Chair, Tamil Chair, and Kannada Chair. The faculty members and research scholars of JNU have been awarded by various national and international awards for their contribution in academic field.
The University takes out its own four research journals and these journals are highly famous in and outside India. These are in History, International Studies, Journal of the School of language, Literature & Culture Studies, and Hispanic Horizons. The University also has collaborations with universities across the globe for research projects, conferences and publications.
JNU has faith in Unity of knowledge and it avoids the department structure which is followed in the conventional universities. Rather it has believes in having allied disciplines within a few entities called as Schools and the centres which are placed under these schools. Presently, The University has around ten Schools which are mentioned as below:
School of Arts & Aesthetics
School of Biotechnology
School of Computational and Integrative Sciences
School of Computer and Systems Sciences
School of Engineering
School of Environmental Sciences
School of International Studies
Centre for African Studies
Centre for Canadian, US & Latin American Studies
Centre for Comparative Politics & Political Theory
Centre for East Asian Studies
Centre for European Studies
Centre for Indo-Pacific Studies
Centre for Inner Asian Studies
Centre for Inner Legal Studies
Centre for International Political, Organisation & Disarmament
Centre for International Trade & Development
Centre for Russian and Central Asian Studies
Centre for South Asian Studies
Centre for West Asian Studies
School of Language, Literature and Culture Studies
Centre of Arabic and African Studies
Centre of Chinese and South East Asian Studies
Centre of English Studies
Centre of French and Francophone Studies
Centre of German Studies
Centre of Indian Languages
Centre of Japanese Studies
Centre of Korean Studies
Centre of Linguistics
Centre of Persian and Central Asian Studies
Centre of Russian Studies
Centre of Spanish, Portuguese, Italian & Latin American Studies
School of Life Sciences
Atal Bihari Vajpayee School of Management and entrepreneurship
School of Physical Sciences
School of Sanskrit and Indic Studies
School of Social Sciences
Centre for Economic Studies and Planning
Centre for Historical Studies
Centre for Informal Sector & Labour Studies
Centre for Media Studies
Centre for Philosophy
Centre for Political Studies
Centre of Social Medicine and Community Health
Centre for Studies in Science Policy
Centre for the Study of Social Exclusion and Inclusive Policy
Centre for the Study of Regional Development
Centre for the Study of Social Systems
Centre for Women's Studies
Zakir Husain Centre for Educational Studies
SPECIAL CENTERS OF THE JAWAHARLAL NEHRU UNIVERSITY
Centre for the Study of Law and Governance
Special Centre for Disaster research
Special Centre for E-Learning
Special Centre for Molecular Medicine
Special Centre for Nanoscience
Special Centre for National Security Studies
Special Centre for the Study of North East India
RESEARCH AND DEVELOPMENT INSTITUTIONS
Central Drug Research Institute (CDRI), Lucknow
Centre for Cellular and Molecular Biology (CCMB), Hyderabad
Inter-University Accelerator Centre (IUAC), New Delhi
Institute of Microbial Technology (IMT), Chandigarh
Raman Research Institute (RRI), Bangalore
International Centre for Genetic Engineering and Biotechnology (ICGEB), New Delhi
Centre for Development Studies (CDS), Thriuvananthapuram
Inter-University Centre for Astronomy and Astrophysics (THSTI), Pune
Translational Health Science and Technology Institute (THSTI), Gurugram
V.V. Giri National Labour Institute (VVGNLI), New Delhi
COURSES AND ADMISSION
The University offers various Undergraduate, Postgraduate and research courses in multiple specializations in different streams through its schools, specialised centres and research centres. University offers both online and offline mode of Application Process. Offline application forms are usually available during the first or second week of February each year. For admission through online mode, application is available on the official website of the university.
Jawaharlal Nehru University offers only one Undergraduate Course i.e. Bachelor of Arts (B.A.) in various languages. It is offered in regular and lateral entry mode. Selection of the candidate for admission to B. A. (regular) course will be on the basis of their performance in the Entrance Examination which is conducted by the University. And for admission to BA (Lateral), the candidate has to appear in entrance examination and viva-voice. The entrance examination caries 70% weightage and the remaining 30% are of viva-voice.
Get Updated Review ( Voice Based Alumni Feeback)
Programmes available in B.A. (Hons) are:
French
German
Arabic
Russian
Persian
Chinese
Japanese
Korean
Spanish
Pashto
BA Hons (Lateral Entry):
French
German
Arabic
Russian
Persian
Chinese
Urdu
Hindi
English
Linguistics
Japanese
Korean
Spanish
The University offers students postgraduate programmes in different disciplines:
Master of Arts (MA)
Master of Science (M.Sc.)
Master of Computer Applications (MCA)
Master of Business Administration (MBA)
For getting admissions to MA, MSc and MCA Programmes, score of the entrance examination conducted by the university will be considered. For Admission to MBA course a bachelor's degree with minimum 60% marks is a must. The MBA Program is a two year full time course. Candidates who have qualified CAT are only eligible to apply for MBA.
For applying into any of the M.A. Courses the minimum eligibility is a bachelor's degree with minimum 50% marks in the concerned subject from a recognized university.
Following specialisations are available in M.A. in JNU:
A. Arts and Aesthetics
A. Politics
A. Economics
A. (German)
A. (English and Linguistics)
A in Social Science with the following specialisations:
Economics
Geography & Sociology
History, Development & Labour Studies
Political Sciences
Philosophy
Sanskrit
MA in Language, Literature and Culture Studies is offered in following specialisation:
French
Arabic
Russian
Persian
Chinese
Urdu
Hindi
English
Linguistics
Japanese
Korean
Spanish
For doing MA in Language, Literature Culture Studies a candidate requires 45% marks in graduation in any stream and adequate proficiency in the language concerned.
Number of courses is offered in M.Sc. by different Schools of the University. The Schools which offer the courses are as follows:
School of Life Sciences
School of Environmental Sciences
School of Physical Sciences
School of Biotechnology
School of Computer & Systems Sciences also offer various courses in M.C.A
RESEARCH COURSES
The University also offers its students following research and integrated programmes:
Phil/Ph.D
Pre-Ph.D/Ph.D
Sc.-Ph.D
Tech-Ph.D
MPH/PH.D
Selection of the aspirants is based on their performance in the entrance examination and viva, which are both conducted by the University. The programmes which are available are mentioned here in detail:
M.Phil/Ph.D in Arts and Aesthetics in the following specializations:
Cinema Studies
Theatre and Performance Studies
M.PHIL/PH.D in International Studies
American Studies
Latin American Studies
International Legal Studies
International Trade and Development
International Politics
Disarmament Studies
West European Studies
Diplomatic Studies
Japanese and Korean Studies International
International Organisation
Political Geography
Russian and East European Studies
South Asian Studies
South East Asian & Southwest Pacific Studies
Central Asian Studies
West Asian and North African Studies
Sub-Saharan African Studies
M.PHIL/PH.D IN LANGUAGE, LITERATURE AND CULTURE STUDIES
French
German
Russian
Persian
Chinese
Tamil
Hindi Translation
Linguistics
Japanese
Spanish
Phil/Ph.D in English
Phil in Portuguese
Phil/ Ph.D in Life Sciences
Phil/ Ph.D in Social Science
Phil/ Ph.D in Law and Governance
Phil/ Ph.D in Sanskrit Studies
Phil/ Ph.D in Computer and System Sciences
Phil/ Ph.D in Environment Science
OTHER INTEGRATED COURSES INCLUDE:
Pre-Ph.D/Ph.D in Computational and Integrative Sciences
Pre-Ph.D/Ph.D in Physical Sciences
Pre-Ph.D/Ph.D in Chemical Sciences
Pre-Ph.D in Molecular Medicine
M.Tech-Ph.D in Computer and System Sciences
MPH/Ph.D in Social Sciences
M.Sc- Ph.D in Computational and Integrative Sciences
M.Sc-Ph.D in Molecular Medicine
CAMPUS
Jawaharlal Nehru University is one of the most reputed and famous universities of India and has a huge campus. The campus is located in South Delhi, New Delhi, India and is spread in an area of 1019.38 acres. The campus is full of lush greenery and the campus life is very exciting where you learn not only academically but also about life.
The campus is a must visit places for college students and has many places which are famous for food like Mughal Darbaar, Ganga Dhaba, JNU Library canteen (a canteen which open according to hours of library), The 24*7 canteen. There is also this place called Parthasarathy Rocks which is very beautiful and famous among students.
JNU has a multi-storeyed library which is huge and a heavenly place for book lovers. It is amongst the biggest libraries of India and books of all variety are available here.
If you want to visit the JNU Campus then, Hauz Khas is the most nearest station. The campus is also well connected to the three main Railway stations, i.e. New Delhi Railway station, Delhi and Nizammudin Railway station. It is also well connected to Inter-state bus terminals and Indira Gandhi International Airport.
ACCREDITED INSTITUTIONS
There are many institutions in India which are recognised by JNU. These are as follows:
Army Cadet College, Dehradun
College of Military, Pune
Military College of Electronics and Mechanical Engineering, Secunderabad
Military College of Telecommunication Engineering, Mhow
Indian Naval Academy, Ezhimala
The University is highly renowned one and the alumni lists include Nobel Laureate for Economics, 2019, Professor Abhijit Banerjee; former Prime Minister of Libya, Libya Ali Zeiden, Mr. Baburam Bhattarai Ex-Prime Minister of Nepal and many other well known politicians, diplomats, scientists, artists, etc.