Topic We Cover: Alliance University Bangalore
1. Overview
2. Infrastructure
3. Highlights Of Alliance University
4. Why Alliance University
Teaching Excellence
Recognition/Accreditation
Awards & Rankings
Colleges under Alliance University
5. About Admission
Minimum eligibility requirements for UG & PG programs
Admission Process
Application Process
Documents Required
6. Placement
Overview
Alliance University is one of the oldest professional school located in Bengaluru. Alliance School of Business is a Private University recognized by the University Grants Commission (UGC), New Delhi by Act No.34 of year 2010. It is a well-known university of higher learning offering a variety of degree courses. The University has concentrations, baccalaureate postgraduate offerings, doctoral degree programs and several professional certificate programs.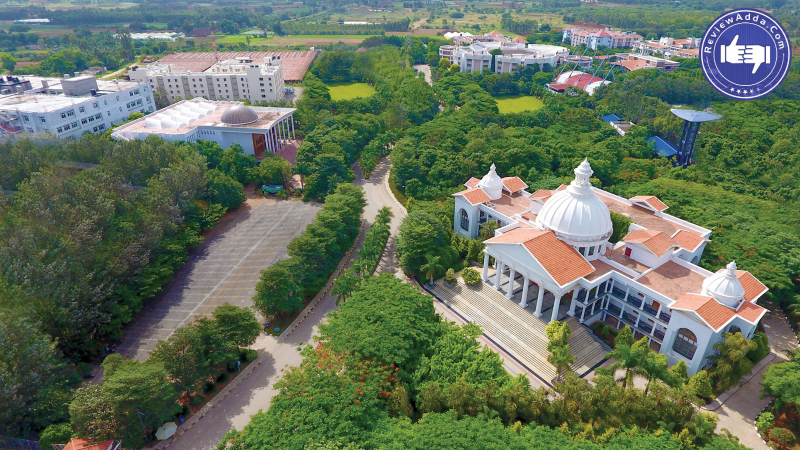 According to various ranking agencies, Alliance University Ranking consistently ranked among the Top Ten Private Business Schools in India, the University having already established Alliance School of Law; Alliance College of Engg.& Design; and Alliance Ascent College, is in the process of establishing many other prominent academic units, viz., Alliance College of Science; Alliance College of Arts and Humanities; Alliance College of Education and Human Services; Alliance College of Medicine and Dentistry; Alliance College of Media and Communications; and Alliance School of Health Sciences.
Infrastructure
The ambience and serenity of a world-class infrastructure housed in a 'green' campus; faculty who have proven themselves in their respective fields by providing an excellent blend of rigor and relevance in their teaching; staff who are ever ready to reach out; robust industry interactions; research aimed at solving problems of the real world; a plethora of international collaborative arrangements; an exemplary track record in career counselling; outreach activities that touch the lives of a wide cross section of society; and placement facilitation and enables students to follow their hearts with passion and confidence.
Alliance University is a house of excellent infrastructure which considered as the best in the world. Some of the outstanding features of the impeccable infrastructure of the university include:
Glorious infrastructure-comparable to the finest in the world
Amphitheatre classrooms
Experts created an advanced ambience by using the appropriate use of technology
The seminar halls are very spacious with excellent acoustics for interactions with practitioners and other professionals
Hostel for students
An information technology backbone for seamless integration
A wonderful library with matchless aesthetics and brilliance.
Departmental Stores
Administrative block
Residential accommodation for faculty and staff
A highly hygienic food court with all standard equipments and needs.
Gymnasium
Recreational Facilities
Healthcare center, apart from this university has many other features that provide a living experience and an unique learning to all residents
Alliance University is counted among the Top Universities in India and offers MBA Courses at the Alliance School of Business, which is ranked among the Top MBA colleges in the country. Alliance School of Business offered MBA course, Alliance University, is the flagship course of the School and is accredited by the International Assembly for Collegiate Business Education (IACBE), USA—a premier international accreditation body for business management programs
Alliance University (AU), Bangalore is a private university, located in Bangalore. The university was an extension of Alliance Business School offering MBA and Executive MBA Programs. Alliance University Best Private University 2017 (awarded at India Education Awards).
The university offers undergraduate, post graduate, Doctoral and professional certificate courses in mainly four streams Engineering, Management, and Commerce & Law.
Alliance University conducts AMAT i.e. Alliance Management Aptitude Test for Admission in MBA & PGDM programs. Score card of Top MBA Exams are also accepted i.e. GMAT/CAT/XAT/MAT/ATMA/CMAT/NMAT by GMAC/AMAT
For Engineering Courses JEE Main score card is valid other than an in house entrance test AUEET (Alliance University Engineering Eligibility Test).
Highlights Of Alliance University:
Establishment

2010

Formation

Karnataka State Act No.34 of 2010

Type of University

Private

Recognitions

University Grants Commission (UGC)

Approvals

Bar Council of India (BCI)

All India Council for Technical Education (AICTE)

Accreditations

International Assembly for Collegiate Business Education (IACBE), USA

Campus Area

40+ acres

Full-time Faculty

92

Recruiting Partners

275+

International Partners

Partners With 40 International Universities

Location

Bangalore, Karnataka, India

Collaborations

Georgia State University (USA),

European Business School (Germany),

Paris School of Business (France),

University of Chester (UK).
Why Alliance University?
Teaching Excellence
Lectures and Tutorials: Alliance University has well-equipped Classrooms and lecture halls with the advanced teaching aids such as computers and multimedia projectors with Wi-Fi connectivity.
Center for Industry Interaction: Alliance University organized the interactive sessions to provide an interface between the academic and the corporate world. Leading practitioners from diverse industry backgrounds share their insights and management lessons at interactive sessions with students.
Practicals / Workshops: The practicals sessions are ideal testing grounds for students to apply, test and confirm the curriculum that is delivered in the classroom. Laboratories are well-equipped, authority of university ensure that students receive world-class learning resources alongside access to learning CMS in domains of engg. & design, media and communications, and management.
International collaborations: Alliance University and universities abroad extend to students an opportunity to study at internationally-renowned, accredited partner universities while gaining an in-depth exposure to a different study environment. It prepares the students to adapt and excel in a global work environment, while helping them to understand different cultures, work styles and mindsets.
Centre for Excellence: The aim of Alliance University is to preparing students to enhance knowledge and well-rounded awareness about relevant soft skills, such as business etiquette, personal development, workplace conduct, grooming, presentation skills, and business awareness.
Case Study: These are designed and delivered in the classroom, case study provide students with a framework to understand and analyze real-world challenges in a simulated setting.
Mentoring: Mentorship is part of the larger ecosystem of the University to support and assist students from outside their direct learning structure, and to ensure that they develop the right skills and attitude to broaden their employment and educational options, while achieving their fuller potential as responsible adults.
Get Updated Review ( Voice Based Alumni Feeback)
Recognition / Accreditation
Recognized by UGC
Accreditation by IACBE
Established by the State Government
Recognized by BCI
Awards & Rankings
In 2015, Alliance University was awarded by the Associated Chambers of Commerce and Industry of India (ASSOCHAM) as the Best Private University of the Year, 2015.
In 2014, Alliance University was awarded the Best Private University of the Year by the ASSOCHAM.
In 2013 university awarded with Sevachakra Puraskar and Shining Image of India.
In 2013, awarded with Brands Academy Education Excellence Award.
CNBC-TV18's B-School Rankings 2013.
BBA Rankings 2013.
Colleges under Alliance University
BBA
MBA
PGDM
Executive PGDM
M.Com. (Hons.)
B.Com.
Ph.D. in Management
B.Tech. in CE / ME / EEE / ECE / AE / CSE / IT
M.Tech. in CE / ME / EEE / ECE / AE / CSE / IT
Ph.D. in Engineering and Sciences
B.A. LL. B. (Hons.)
B.A LL. B. (Hons.)
L.L.M
Ph.D. in Law
MBA
Planned Academic Units
INTERNATIONAL PROGRAMS
MBA
BBA
Summer School
About Admission
Alliance University (AU), Karnataka offers degree, diploma and certificate programmes to students at the undergraduate(UG), postgraduate(PG) and doctorate(PhD)level. The programmes offered are in the streams including - Business & Management studies, Engineering, Law and Arts. AU also has UG and PG programmes in commerce on offer.
Besides these, the university also offers international transfer Programs in MBA.
Minimum eligibility requirements for UG & PG programmes
For Admissions to UG Programmes at the University, students should have passed their Pre-University/Higher Secondary/10+2 Examinations or equivalent from any recognized Board with a minimum of 45% (40% for SC/ST candidates) aggregate marks.
Students will be considered eligible for Admissions to PG Programmes to the University if students have a Bachelor's degree with a minimum of 45% marks (40% for SC/ST) aggregate marks from a recognized University.
Note: Eligibility requirements may vary from course to course. Students are advised to go thoroughly through the eligibility criteria of the programme they are seeking admission to.
Admission Process
Take a look at the Admissions process for various UG and PG Programmes offered by the University below.
Programmes

Admission Process

BBA

AUMAT/ Personal Interview

BCom

MBA

AMAT/Essay writing/Oral Extempore/PI. Scores of GMAT/CAT/XAT/MAT/ATMA/CMAT/NMAT by GMAC are also accepted

PGDM

AMAT/Essay writing/ /PI. Scores of GMAT/CAT/XAT/MAT/ATMA/CMAT/NMAT by GMAC are also accepted

Executive PGDM

Personal Interview

MCom

AMAT/Personal interview

BTech

JEE (Main); JEE (Advanced); Karnataka CET; COMED-K; AUEET or any other State-level engineering entrance examination and PI

BA LLB

CLAT/LSAT/ACLAT scores & Personal Interview

BBA LLB

LLM

ACLAT + Personal Interview

Diploma programmes

Entrance exam & interview

Certificate programmes

MFA programmes
For some programmes, the university also uses parameters like scholastic and extracurricular record for selecting a candidate. However, the final selection will be based on the overall performance of the aspirant in the Admission Selection Process.
Application Process
Students can apply online or offline for Admissions to AU. Students can obtain the application form and prospectus for the programme of their choice from the University's admission office. For the same, students need to pay an application fee of Rs.1000/- in cash or through DD drawn in favour of "ALLIANCE UNIVERSITY" payable at Bengaluru.
Students can also download the application forms for various programmes from the official website of the university. The link to apply online for various programmes is given below.
The filled in application form needs to be sent to the respective address(mentioned below) with the following documents.
Documents required:
| | |
| --- | --- |
| Documents | Programmes required for |
| Standard X mark sheet/transcript | BBA, MBA, E- PGDM, B.Com, M.Com, B.Tech, BA LLB, BBA LLB |
| Standard XII mark sheet/transcript | BBA, MBA, E- PGDM, B.Com, M.Com, B.Tech, BBA LLB |
| Bachelor's degree mark sheets (available as on date) | MBA, PGDM, E- PGDM, M.Com |
| Post-graduate degree mark sheets (if any) | MBA, PGDM, E- PGDM, M.Com |
| Work experience certificates (if any) | MBA, PGDM, E- PGDM, M.Com, B.Tech |
| Entrance exam score card(if any) | MBA, PGDM, B.Tech |
| Photo Identity Proof | B.Com |
Admission Process
Register and Apply: Interested candidates can apply online with the required information.
Entrance Test: Eligible candidates need to appear for Alliance Management Aptitude Test (AMAT) conducted by the college which is designed on the Pattern of MAT/GMAT along with a component of Essay Writing.
Extempore Test: Eligible candidates are required to appear for an Oral Extempore Presentation before a panel, for a maximum duration of three minutes on a topic given on the spot. The candidate will be given five minutes of preparation before the presentation. The presentation will be evaluated on relevance, content, and clarity in communication.
Personal Interview: Eligible candidates are required to appear for a Personal Interview, which is an assessment of the candidate's overall aptitude for pursuing an MBA course.
Final Selection: Candidates are selected based on Alliance Management Aptitude Test (AMAT) Score and performance in essay writing, oral extempore presentation and personal interview.
Placement: "The organizations that quickly reacted to the slowdown and took decisions in favor of their employees have emerged strong and successful in the dawn after the financial crisis.
As per the 2018 Placement record of Alliance University, 93% of students placed in various domains of various companies. The highest package offered to the student in international company is 30 LPA and the highest package offered in domestic land is of 18 LPA. The student of Alliance university get 24600 average internship stipend, and over 232 companies provide internship to the students of Alliance University. There was a significant increment in the number of organizations from across the FMCG, Pharmaceuticals, Consulting, Manufacturing and Banking sectors.
Name of some Alliance University Recruiters are:
Adobe
Hp
CormSquare
Amazon
Bosch
AAyuja
Asahi India Glass Ltd.
Huawei