Topic We Cover: UPES Dehradun
1. UPES University
2. Highlights of UPES University
3. UPES University Rankings
4. UPES University Infrastructure
Campus
Classrooms
Hostel Facilities
Library
Cafeteria
Healthcare
Sports Complex
Activities
Schools in UPES University
5. Courses Offered in UPES University
School of Engineering
School of Business
School of Law
School of Design
Doctoral Programs
6. Distance Learning Programs
7. How to get Admission in UPES University
8. UPES Admission cycle
9. Admission Criteria
10. How to Apply
11. Scholarships
12. UPES University Placements
UPES University
Located in Dehradun and established in the year 2003, UPES University is one name to be reckoned with. Also called previously as Petroleum University, UPES is first of all the universities that offers a plethora of programs such as undergraduate, postgraduate and doctoral programs in the field of petroleum and energy.
With a passion to excel, UPES (University of Petroleum and Energy Studies) started with a unique approach and emerged into what we call as an innovative institution where highly specialized UG and PG courses are available in a number of fields such as in cloud computing, civil engineering, mechatronics engineering, public administration, computer science, machine design engineering, mechanical engineering and fine arts etc.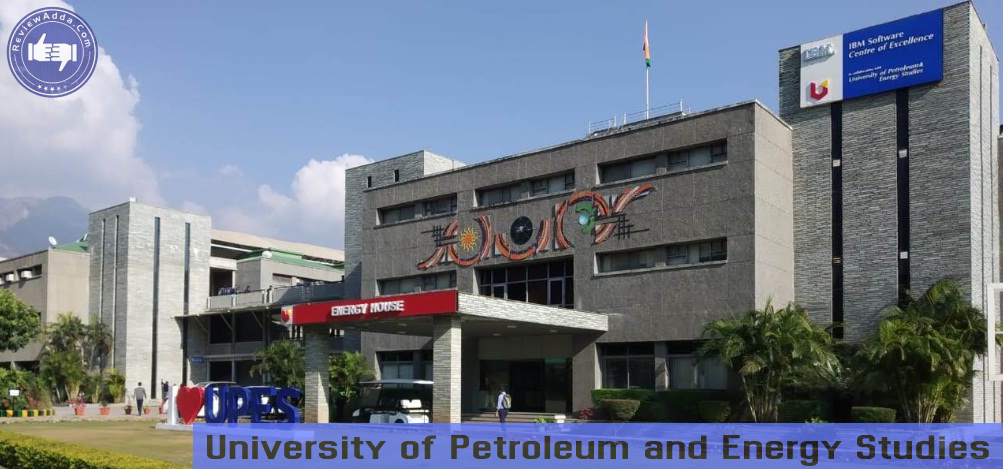 UPES University has a sole aim of enabling each and every student to achieve an exalted position in his life with the strong support of high qualified mentors. Every student is taught to pursue his dream in the most responsible manner.
UPES University lays emphasis on the all-round development of the students by encouraging them to reach to the extreme professional development. Students are taught to be a change and to contribute something special to the society as a whole.
Highlights of UPES University
Established in 2003
UPES is a state University
Affiliated by University Grants Commission & National Assessment and Accreditation Council (NAAC)
Total campus area is 42 acres
UPES University Rankings
UPES University was conferred "Best Global Education/Training Provider 2008" by UK
The University also got an award "Best Innovative University Award 2013
It also got innovation leadership award and Excellent Industry Interface 2010- Award at Suntech, Singapore.
Confered the award named "Outstanding Petroleum University "at 2012's 11th Annual World Oil Awards
UPES University Infrastructure
Campus
UPES Campus is located at Post Bidholi in Dehradun, Uttarakhand. The university is huge and is spread in 42 acres in the Himalayas.
UPES university has initiated SAP and is collaborated with FICCI to set up a National Knowledge Functional Hub.
Classrooms
All Classrooms of UPES University are spacious and equipped with the latest technology. These classrooms are multimedia enables that ensures a perfect study environment for the students. Apart from that a proper internet facility is found in every classroom that helps people to stay updated about any particular subject they like to get informed.
Hostel Facilities
UPES University is always committed to provide the best in every aspect that is directly or indirectly related to the students.
Just like other things, Hostel Facilities of UPES University are equipped with ultramodern amenities. All the hostels are truly world-class that offers a comfortable living to the students.
Not only the accommodation is top class, but also the dining facility is at par with the Best Universities. With a whole range of delectable dishes, UPES University is completely committed to offer hygienic and high-quality food to the students.
Library
UPES University Library is located in an air-conditioned multi-storeyed building that has three rooms dedicated for reading purposes.
UPES Library has a large seating capacity of almost 400 students& is well-stocked with as many as 76000 books, almost 125 journals & e-books. It uses 'LibSys' that is an integrated Library Management Software for its proper day-to-day working.
Cafeteria
UPES University has modern food courts that offers delectable dishes and cuisines for the students. Students have access to hygienic foodthat is truly helpful for the student to stay healthy all the time.
UPES University Cafeterias have ultramodern ambience and offers highly nutritious snacks, meals and beverages to the students.
Healthcare
UPES University is completely committed to provide sound health to the students. Not only basic health facilities, but also emergency care is provided to the students in the cases of emergency.
Sports Complex
UPES University has a large multipurpose playground meant for playing a number of sports such as cricket, hockey, football & other kinds of sports along with the state-of-the-art equipment and facilities.
UPES university has collaboration for shooting practice as well as for training.
Activities
UPES University is focused on overall development of their students. For this cause, the university organizes a plethora of activities in the campus. Apart from the annual youth festival, the university organizes, blood donation camps, road safety awareness programs, trekking tours, dance competition, Re-union programs, sport tournament, athletics meet etc.
Schools in UPES University
UPES University is running a plethora of courses for the students through its number of schools that are mentioned below: -
School of Computer Science
School of Engineering
School of Business
School of Design
School of Health Sciences
School of Law
Courses Offered in UPES University
UPES University offers courses in a number of streams such as petroleum, energy, management, public policy, engineering & design.
School of Engineering
Undergraduate Courses
Course Name
B.Tech. –Petroleum Engineering
B.Tech. - Computer Science and Engineering
B.Tech. –Geo Informatics Engineering
B.Tech. –Mining Engineering
B.Tech. –Mechanical Engineering
B.Tech. –Aerospace Engineering
B.Tech. –Production and industrial engineering
B.Tech. - ElectronicsEnginering
B.Tech -Mechatronics Engineering
B.Tech- Electrical Engineering
B.Tech- Material Science Engineering
B.Tech- Automotive Design Engineering
B.Tech- Geo Science Engineering
B.Tech- Civil Engineering
B. Tech- Fire and Safety Engineering
B.Tech- Electronics BCT
B.Tech Power System
B.Tech – Mining
B.Tech- Mechanical Engineering. Machine Design
B.Tech- Instrumentation & Control
B.Tech- Metallurgical and Materials Engineering
Admission for B.Tech is offered on the basis of UPSEAT Examination which is organized by the university.
Eligibility for B.Tech Admission
At least 60% marks in 10th& 12th class
60% aggregate score in Chemistry, Physics and Mathematics at intermediate level
Eligibility for Direct Admission in B.Tech
At least 80% marks in 10th& 12th class
At least 80% aggregate marks in PCM subjects at intermediate level.
M.Tech Courses
Course Name
M.Tech. –Chemical Engineering
M.Tech. –Pipeline Engineering
M.Tech. –Renewable Engineering
M.Tech. –Aerospace Engineering
M.Tech. – Nuclear Science and Technology
M.Tech. –Structural Engineering
M.Tech. –Computational Fluid Dynamics
M.Tech. - Energy Systems
M.Tech -Mechatronics Engineering
M.Tech- Robotics Engineering
M.Tech- Material Science Engineering
M.Tech- Health, Safety & Environmental Engineering
M.Tech- Petroleum Exploration
Selection in M.Tech courses of UPES University is possible by passing UPESMEET Examination.
Eligibility for M.Tech Admission
60% marks in 10th& 12th
BE/B.Tech in the particular stream in which the students want to apply for M.Tech with 60% marks.
School of Business
Course Name
BA (Hons.) Economics (with specialization in Energy Economics)
BBA Accounting and Information Systems
BBA Power Management
BBA Digital Marketing
BBA- Auto Marketing
BBA- E- Business
BBA- Aviation Operations
BBA- Foreign Trade
BBA- Media Management
BBA Oil & Gas Marketing.
BBA- Logistics Management
BBA- Financial Analysis & Services
MBA Courses
Course Name
MBA- Oil and Gas Management
MBA- Power Management
MBA- Infrastructure Management
MBA- Energy Trading
MBA- Aviation Management
MBA- Business Analytics
MBA- International Business
MBA- Port and Shipping Management
MBA- Logistics and Supply Chain Management
UPES University conductsits own entrance exam named UPESMET Exam for providing MBA Admission to MBA aspirants.
UPES university offers its management courses under the school named school of Business. Students need to have following requirements to take Admission in MBA
At least 50% marks in 10th and 12th class
Graduation with at least 50% marks from a legally recognized university
Get Updated Review ( Voice Based Alumni Feeback)
School of Law
Undergraduate Courses
Course Name
B.A. LLB (Hons.) with specialization in Energy laws
B.Com.LL.B. (Hons.)
B.Tech Computer Science and Engineering LL.B. (Hons.) in Cyber Laws
BBA. LLB (Hons.)
B.Tech Energy Technology LL.B. (Hons.) in Intellectual Property Rights
B.Com. LLB (Hons.) with specialization in Taxation law
BBA. LLB (Hons.) with specialization in International trade and Investment
Students who want to enrol into integrated LLB courses need to pass UL-SAT/CLAT Examination.
The LLB Courses of UPES University are offered under the School of Law department.
Student should score minimum 50% marks in 10th and 12th.
PG Law Courses
Eligibility for LLM Admission
Students who want to enrol into LLM course are required to get the minimum score of 50% in the class 10th and 12th.
LLB Degree
School of Design
Undergraduate Courses
Course Name
Industrial and Product Design
Gaming Design
Interior and Retail Space Design
Interaction Design
Graphics Design
Animation & VFX
Transportation & Mobility Design
Post Graduate Courses
Course Name
Industrial Design
Interaction Design
Transportation Design
Doctoral Programs
Distance Learning Programs
UPES University provides distance education in a variety of domains like IT, infrastructure and transportation.
Distance education centre at UPES university provides valuable education to the students via its numerous courses.
The flexible learning provided at UPES university let the students learn at their own time and pace which is just in sync with their learning requirements. Students get live classroom session on weekends with the help of its expert faculties.
How to get Admission in UPES University
UPES University has state the application forms for its plethora of programs for the academic session of 2019-20. The ones who are looking for getting enrolled in any program of the university need to fill the university's application form by visiting the university website.
The aspirants need to qualify the entrance exam specified by the university for any particular course. Some of the entrance exams conducted by UPES university are UPESEEE, UPES DAT, ULSAT, UPSEAT, UIPESMAT ETC.
UPES University also takes admission on the basis of entrance exams of national level, interviews & direct admission on the basis of the marks of qualifying exams.
UPES University let the students enrol in its various programs through 4 different modes- through its entrance exam, through the direct admission, through interviews or through the marks scored in the national level of entrance examination.
UPES Admission cycle
| | | |
| --- | --- | --- |
| Course Name | Last Date to Apply | Entrance Exam Name |
| LLB | 25 April 2019 | ULSAT |
| B.Tech | 8 May 2019 | UPESEAT |
| B.Des | 25 Apr 2019 | UPES DAT |
| MBA | 25 Mar 2019 | UPES MET |
| M.Des | April 2019 | Interview |
| BBA | - | GD and interview |
| B. Plan | - | Counselling and Interview |
| BCA | - | GD and Interview |
| BA | - | Counselling and Interview |
| LLM | - | ULSAT |
Admission Criteria
UPES University Courses require a candidate to appear in the university's entrance exam are as follows: -
Tech&M.Tech
Des&M.Des
LLB & LLM
MA Economics
MBA
There are many courses in UPES University that offers admission to the students through the qualifying exam scores. Here the candidates can take direct admission and they need not have to take the UPES entrance exams. These exams are: -
How to Apply
UPES University releases its application forms in a number of undergraduate as well as postgraduate courses in online & offline mode. The UPES application form is for both- entrance exam & direct entry in the university.
The application form for every course of UPES university is released at its website i.e. upes.ac.in. All candidates are required to go through the information carefully before filling the UPES Application Form.
UPES University Application form 2019
Students who are looking for getting enrolment in one of the Courses of UPES University can fill the recently released application forms for 2019 session. The students who will fill their application form and then submit it along with the fees will get admit card for appearing in the entrance test.
UPES University Application Fee
UPES University Application Form 2019 fees is the same for nearly all the courses. The candidates are required to pay the fees after filling the application form. The fees for the application form are as following: -
Fees for the Indian National Candidates- Rs. 1850
Fees to be paid by Foreign Candidates- S $75
Payment Mode
If the candidates know about the available payment mode prescribed by the UPES University, then they can get their documents ready and easily pay their fees.
Demand Drafts
UIP
E-Wallets
Debit/Credit Card
Net Banking
Documents required for UPES University application form
The candidates need to be cautious of submitting all the necessary details at the time of filling the UPES application form. So, they need to keep the following documents with them while they start filling their form:
Matriculation marksheet
Intermediate marksheet
Graduation marksheet if a student is desirous of getting admission in any PG course
Admission Process for International Students
UPES University also invites applications for international students to enrol into its various courses. There is a particular admission process for the ones who hold passport of other countries and they are known as International students.
Non- Resident Indians
Non-Resident Indians have studied the qualifying exams from the schools as well as colleges of other countries except India are known to be the International students and they are required to enrol into this category.
Eligibility Criteria for International Students
UPES University requires the candidates applying to undergraduate programs to obtain a certificate of higher secondary schooland also to fulfil the eligibility criteria set for enrolling into the admission.
The admission to PG programs at UPES University requires a candidate to obtain an undergraduate degree in his own country from AIU i.e. Association of Indian Universities. In some of the cases, the students are asked to obtain a specific certification from Association of Indian Universities in this context.
The students are required to have the following: -
School of Business, MBA program, score of 600 in GMAT
School of Engineering: UG programs: 1500 score of SAT/PG programs: score of 1700 in GRE
Students who come from other foreign countries to India to enrol into any program of UPES University must assure the university that they have sufficient knowledge of English language to enrol into a specific program of their choice.
UPES university can also take an undertaking from the students to go through the English language training for a particular time-period. Qualifying IELTS/TOEFL is not mandatory but is very much advised.
It is also required for the students to possess a valid passport as well as visa for the time he has to study in India.
UPES University
Scholarships
Scholarships at UPES Dehradun:
UPES University offers many scholarships for the students who qualify for these scholarships. There are many courses in which these scholarships are provided.
UPES University Scholarships are available for the toppers of Uttarakhand state board.
Some of the scholarships offered by the UPES University are :-
Scholarships for the students of B,Tech
Scholarships in B.Tech programs are offered on the academic merit. The total scholarship awarded is 25% of the all the tuition fees and 35% of the tuition fees for the boys and girls of first year respectively.
Students who obtain SGPA of 8/10 will continue to get scholarship in the next semester.
Eligibility for B.Tech Scholarships
All India Category
Students who aspire to get scholarships for B.Tech program must obtain 80% marks in 10th and 85% in PCM in class 12th.
Uttarakhand Domicile
Students of Uttarakhand domicile need to obtain 80% marks in their 10th and 12th class in PCM subjects.
Scholarship Criteria for BBA/LLB
Students who score 75% or above than that in 10th and 12th class will be provided a 50% tuition fee waiver in the first semester. This scholarship is limited to the 20% seats.
The Uttarkhand state 150 toppers who scores 80% in 10th and 12th will be entitled to get Uttarakhand Domicile special scholarhips.
Boys and girls of Uttarkhand Domicile Special Scholarships will get 25% and 35% tuition fee respectively.
Scholarships for MBA
This scholarship is for 5% seats in each program for 25% tuition fee waiver in the 1st semester.
There is a scholarship for 5% of seats in every particular program where a 25% tuition fee waiver will be given in the first semester.
This scholarship is awarded on the basis of first-come-first-served.
This is a first-come-first-served scholarship.
Candidates who require this scholarship need to fill the application form of UPES in order to apply for it.
Scholarships for M.Tech
GATE Scholarship:
Research Grant:

Students are also entitled to get Rs. 50000 through the outcome-based research.
Industry Scholarships:
UPES University offers scholarship to the meritorious students via the support of associations, corporates, individual professionals and societies in the energy & allied sectors.
UPES University Placements
Every year as many as 800 students of UPES University get highly placed with the help of its placement cell.
UPES University aims to provide best opportunities for its students and help them become the world leaders through our best placement activities. With the help of its industry-centric courses, UPES university has maintained its trust among the students who think this university to be the best university for their career.
All students at UPES university are given best facility and are widely accepted by many industries. The career services office of the university work in tandem with the industry and facilitates the students with the best internships and placements. Our students, career services office and faculty works in close co-ordination and make the placement sessions a roaring success.
Placement Record
UPES University has the highest placement record of 91% according to the website of the university. The university conducts placement weeks for every sector at regular intervals. The placement sessions conducted in the university offers highest job placements to the students in the topmost companies such as Nestle, L&T Infotech and Reliance Industries.
Industry Aligned Courses
UPES University is always aimed for bringing fresh talent to the forefront for our topmost recruiters.
The students of UPES university are always accepted by the industry as they are full of required knowhow of their field. Our learning and practical approach to our curriculum keep the students updated and help them choose their career path easily with a positive attitude. They have the required skills to make foray into their particular field as they are taught by the best faculties in the university.
Our placement agent works smartly with the industry and facilitates placements as well as summer internships of our students. We have a great pool of experienced as well as dedicated professionals from a variety of sectors at our Delhi office and Dehradun campus.
Summer Internships
All the graduate and PG students of UPES university are required to go for summer internships. The minimum time for summer internships is 8 weeks and it stretches up to 6 months.
The team & faculty members of career services play a pivotal role in ensuring great opportunity for every student and help him know the corporate life as well as culture with the help of these summer internships.
Students of UPES University go through summer internships with the renowned organizations.
One of the benefits of summer internships is that students comprehend their career interest with their future employers and secure best job offers. Topmost leaders of many sectors such as Oil and Gas, Logistics and supply chain, Design & transportation, Aviation, Business Analytics etc. have come forward to assess our students' capabilities through our summer-internship programs.
Our Recruiters
UPES University students always get placed in top-notch companies. Every year many MNCs and topmost companies partake in our placement sessions and bring with them the best talent to work in their companies. Some of the top recruiters who take part in our placement sessions are: -
Xebia
Hilti
Dell R & D
Tata Technologies
Jubilant
Accenture
Prism Cements
Reliance Industries
Tetra Pak
Ambuja Cement