Topic We Cover: Sandeep University vs KK University
1. The Factors
Placements
Student perception of a college/university
Infrastructure
Affordability
2. Sandip University, Sijoul
Sandip University Academics
Sandip University Course Details
Sandip University Placements
3. KK University, Nalanda
KK University Academics
KK University Course Details
KK University Placements
4. The Comparison
Bihar is only seldom considered when Top universities in India are discussed. Though the state has a sizable population, the number of quality government and private educational institutions is fairly less.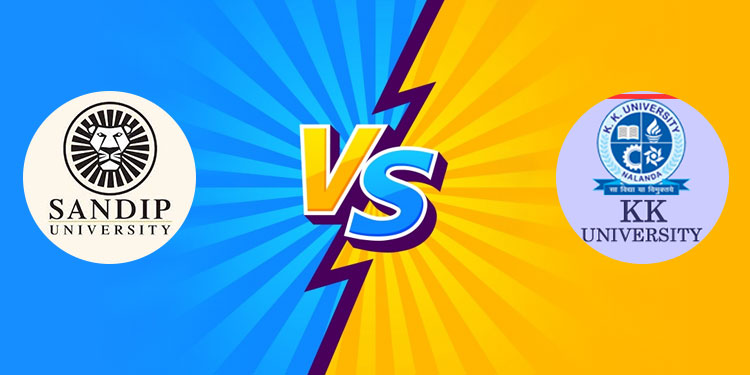 Sandeep University and KK University are two recently established institutions in Bihar
The lack of quality universities and colleges in Bihar puts students from the state at a disadvantage. While students from other states such as UP, Punjab, Gujarat, and many more have a number of options, such a luxury is not afforded to Bihar students.
Though there is a dearth of quality universities in Bihar, there isn't a complete absence of the same. Sandeep and KK University are two amongst a handful of well-known universities in the state. This article strives to shed further light on each of these institutions and provide a wholesome analysis based on a group of pre-determined factors.
The Factors
The factors which we will use to analyze Sandeep and KK University are listed below:
1. Placements
Compared to a government college degree, a private college/university is often considered a more risky prospect. This is because a private college/university generally has a less lucrative placement record. Despite being private in their ownership structure, private institutions fail to attract as much attention from recruiters as government colleges as the latter tend to have a better alumni network than the former.
Alumni networks play a key role in shaping placements at a given college. Most government colleges have an extensive alumni network due to their relative age compared to the newer private institutions.
2. Student perception of a college/university
In India, education is considered by most families as a matter of great importance. No family wants to send their children to a college which is perceived poorly in the general public. There have been many examples when a college's reputation has been destroyed simply on the basis of a slight negative perception
3. Infrastructure
Since the number of colleges in Bihar is already significantly less, it becomes imperative to focus on the quality of infrastructure in the existing universities. The impact of infrastructure can be best understood by comparing infrastructure between some of the best colleges and universities of the world and India.
For instance, compare IIT Bombay to MIT Massachusetts. While IIT Bombay is arguably India's best offering in terms of student quality and infrastructure, it is no match for MIT. This is not just down to academic and student quality, but also the presence of the best infrastructural facilities in the world.
4. Affordability
Stumping up money for higher education in India is increasingly becoming a big problem as the number of aspirants applying to colleges in rising every year. For this reasons, more and more private colleges and universities are increasing tuition fees in hope of a massive windfall.
These strands put together result in affordability becoming a major factor for most students getting into the swamp of college admissions.
Sandip University, Sijoul
Spread across 60 acres, Sandip University is a private institution located in Sijoul, Bihar. After achieving remarkable success in Nashik, Sandip University spread its wing eastwards, namely to Bihar where there is a pronounced absence of prominent universities and colleges.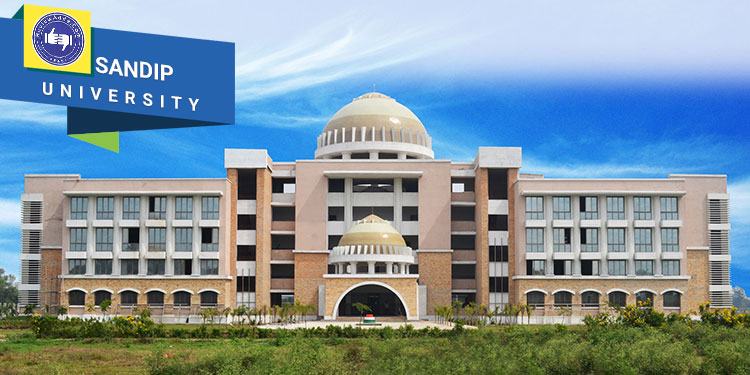 Sandip University Sijoul is the second campus of the Sandip Foundation
Established last year in 2017, Sandip University Sijoul is starting to make its presence at the new campus. It is already recognized by UGC, clearing the way for the institution to retain the 'university' status.
While the university conducts its own entrance exam as well, admissions are also offered on the basis of performance in standard evaluation exams such as JEE, UPSEE, CAT, MAT, SAT, GMAT, ENAT & EMAT.
Sandip University Academics
Sandip University academics program is structured as most universities in India. Each department has a different constituent school. These schools are listed below:
School of Agriculture
School of Management
School of Computer Applications
School of Engineering and Technology
School of Education
Sandip University Course Details
Sandip University courses are listed below along with details such as duration and tuition fee per annum.
| | | |
| --- | --- | --- |
| Course | Duration | Fee per annum (INR) |
| Bachelor of Technology (B.Tech) | 4 | 1,30,000/- |
| Bachelor of Computer Applications (BCA) | 3 | 46,000/- |
| Bachelor of Science (B.Sc) | 3 | 34,000/- |
| Bachelor of Commerce (B.Com) | 3 | 18,000/- |
| Bachelor of Business Administration (BBA) | 3 | 46,000/- |
| Bachelor of Arts + Bachelor of Law (BA+LLB) | 5 | 80,000/- |
| Master of Technology (M.Tech) | 2 | 1,30,000/- |
| Master of Business Administration (MBA) | 2 | 2,10,000/- |
| Master of Science (M.Sc) | 2 | 48,000/- |
Get Updated Review ( Voice Based Alumni Feeback)
Sandip University Placements
Since the Sijoul campus was established last year, there is no discernable way of finding how its placement program is going to be. However, we can analyze the placement performance of the Nashik campus to get an estimate of future campus recruitment at Sandip University.
| | | | |
| --- | --- | --- | --- |
| Statistic | 2015 | 2016 | 2017 |
| Number of students placed | 80 | 190 | 211 |
| Number of students graduating in the same year | 242 | 406 | 388 |
| Percentage of students placed | 33.05% | 46.79% | 54.38% |
| Average Package | 3.60 LPA | 4.00 LPA | 1.56 LPA |
KK University, Nalanda
KK University is the only private institution in Bihar, besides Sandip University, which was also established last year when ruled regarding private university formation were relaxed by the Bihar state assembly through the passing of Private Universities Bill 2017.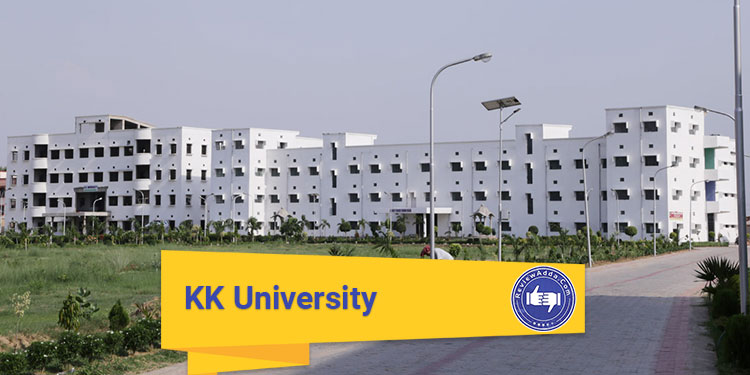 KK University is a recently established institution located in Nalanda
The campus is located in Nalanda, a premier city in Bihar. The University is also recognized by UGC removing any ambiguity regarding the 'university' status.
KK University admissions are stringent upon performance in the entrance exam. For each course, the entrance/qualifying exam differs.
KK University Academics
Like Sandip University, KK University's academic structure is based dividing of each department according to their respective discipline. These departments have been listed below:
Engineering and Technology
Commerce and Management
Arts, Science and Culture
Education, Training, and Research
Law and Legal Science
Library and Informational Science
Mass Communication and Journalism
Pharmacy
Paramedical Science and Research
Vocational Studies and Skill Development
Medicine and Health
KK University Course Details
KK University B.Tech fee structure is given in detail below:
| | | | | | |
| --- | --- | --- | --- | --- | --- |
| Fee | Year 1 | Year 2 | Year 3 | Year 4 | Total |
| Tuition Fee (INR) | 30,000/- | 30,000/- | 30,000/- | 30,000/- | 120,000/- |
| Admission Fee(INR) | 10,000/- | - | - | - | 10,000/- |
| Hostel Fee(INR) | 27,000/- | 22,000/- | 22,000/- | 22,000/- | 93,000/- |
| Other Fee(INR) | 5,000/- | - | - | - | 5,000/- |
| Total(INR) | 72,000/- | 52,000/- | 52,000/- | 52,000/- | 2,28,000/- |
For other information regarding engineering colleges in Bihar, click on the link here
KK University Placements
KK University placements are still to commence as the first batch was admitted last year. Thus, it is not wise to say anything about their campus recruitment just yet.
The Comparison
After discussing each university individually, we finally come to the final stage, the comparison. The college comparison for both universities is done below: