As there are numerous management and technology institute in the nation. Some has attractive infrastructure, some has great placement history, few of them have cost-effective fees-structure, and few have courses matched to your requirement. But there is one name which is perfect in every aspect name Accurate Institute of Management and Technology.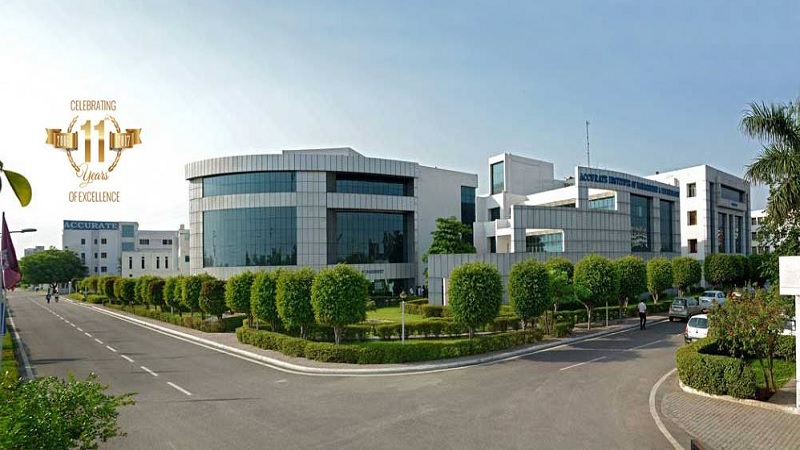 But the question is what is special in this institute which make it different from others. To understands it clearly, we demonstrates through this write-up that Why do Students consider the Accurate Institute of Management and Technology, Greater Noida?
About the Accurate Inst. of Mgmt. and Tech. (AIMT), Greater Noida
In 2006, Accurate Institute of Management and Technology (AIMT) is located in Greater Noida, Uttar Pradesh. It is the part of Accurate Group of Institutions one of the leading group in the field of education. The institute is affiliated with Dr APJ Abdul Kalam Tech. Univ., Lucknow.
AIMT offers several PG level, Diploma course, B.Tech and other UG courses in the fields of Engineering, management, Computer Application, Architecture, Pharmacy. The institute focuses on teaching, with the help of the modernized classrooms, internet, computing and seminar facilities. Institute has the team of highly experienced team of faculty members.
In the association of BMW Group of India, Accurate Group build up an Advance Automobile Lab, which aid in providing the practical knowledge of Mechanical Engg's students.
Campus – AIMT is an independent School of Mgmt. spread over in a dense green campus of 16 acres in Greater Noida. It comprising high-tech environment of modern times, which helps to set an perfect environment for higher academic pursuits.
The institute believes in a healty faculty-student relationship, which fosters mutual growth. Some of the facilities of AIMT include Amphi-Theatre, AC classrooms, library & information service, language lab, cafeteria, seminar & conference hall, auditorium and an amphitheatre. There is also an on-campus hostel accommodation provided to the students.
Faculty – The faculty of AIMT is highly qualified and most of the faculty members are from world's renowned institutions like IIMs and other remarkable B-Schools of India.
There is a frequent Visits of Speakers from Industry & Academia in the institute. The AIMT teaching method includes – Seminars, Lectures, Case Studies, Group Discussions, Assignments, Live Projects, Role Plays, Structured and Unstructured Group Work, Business Games, Outbound Based Experiential Learning Activities, Educational Excursion, Simulation Exercises, and Field Visits.
The institute also conducts numerous certification programs. Have a glimpse on the list of the General and Optional Certifications provided by the institute is explained further.
General Certification:
Quality Management and Six Sigma
Business Analytics
Startup and Entrepreneurship
Advance Excel
Project Management
E-Commerce
Corporate Etiquette and Business Protocol
Personal Branding
Banking and Insurance Fundamentals
Optional Certification:
Digital Marketing
Advance Sales Management
Financial Modelling
Stock Marketing by BSE/NSE
HR Analytics
Talent Management
Export and Import Procedures
Forex Management
Among these eight optional certifications, the students can opt any four certification programs.
Besides, there have been several visits made by the well-known professors of International Universities.
Given below is the list of international universities from where the professors have visited the institute:
Greensboro College, USA
Arizona State University, USA
Milano University, Italy
MDIS, Singapore
University of North California, USA
Southern New Hampshire University, USA
The institute has collaborated with numerous renowned organizations. Over the past few years, a decent increase in the placement trend of the institute can be seen and AIMT Placements can be seen increasing.
The institute well-mentor the students so that they face the challenges of the industry easily. The Center for Corporate Relations Team (CRT) works as the placement and training cell for the institute. The team is the core strength that gives students their dream job and helps them become responsible citizens.
AIMT Greater Noida Rankings
In 2019, Times B-school honoured the AIMT with rank No. 1 in Noida/Greater Noida.
In 2019, Times B-school gives Ranked No. 10 in Delhi/NCR.
In 2019, Times B-school honoured the AIMT with Top 75- Private Institute Ranking.
In 2019, Times B-school gives ranked 3 in Delhi/NCR (100 B-School India)
In 2019, Times B-school gives ranked 20 in North India (100 B-school India)
In 2019, AIMT awarded as Top Institution of India, Excellence in Education and Eminent Director.
Jagran Josh awarded the AIMT with Top Private Institute in North India (Under Engineering Category)
By ASSOCHAM & The Education Post – 2019 institute awarded as 100% Placement Campus
In 2019, ASSOCHAM & EP awarded the AIMT with Best Management Institute for Corporate Exposure in North India
Jagran Josh", TNS Global" in 2018 awarded the AIMT with "Most Promising Private Institute in India".
CSR – GHRDC – 2018 awarded the AIMT with Excellence in Education.
Jagran Josh in association with TNS Global- 2018 awarded the institute with most Promising Institute in India.
BW & The Educationpost – 2018 awarded the institute with Excellence in Management Education.
Aspire, India Today- 2018 gives ranked Top- 50 in B- School in India
Times B School Survey – 2018 gives ranked Top 20- B School in North India
The Education Post" 2017 awarded the institute with the best B-School in Entrepreneurship Development.
By CSR – 2017 awarded the institute with Top Institute of India for Excellence
RMA – 2017 awarded the institute with Best Green Campus of the Year
The Education Post" 2017 awarded the institute with Best Engineering Institute in Delhi-NCR (Overall)
ASSOCHAM awarded the AIMT with Best Engineering College for Advanced Learning.
The Education Post" 2017 awarded the AIMT with the Best Engineering College in Employability Skills Development.
In 2017 AIMT awarded with "Pride of Noida" for an excellent contribution towards the development of Gautam Budha Nagar in the field of Education.
Why Choose AIMT Greater Noida?
The inst. has a membership of Noida Management Association, NHRD, All India Management Association, DMA, CII, and other professional bodies.
To equip the students with today's work environment the institute holds industrial visits for them.
With several foreign universities the institute has signed MOUs for giving them global exposure.
To every PGDM student a laptop has been provided by the institute.
To give practical experience the institute has excellent infrastructure and advanced equipment.
In academic and professional aspects the institute has employed a dedicated team to mentor students.
To avail bank loan facility for studies the institute encourages students.
AIMT Greater Noida Courses
MBA Program
To take Admission in MBA Program a student needs to go through given criteria:
Bachelor's degree is must for the applicant in any discipline with min. 50% marks.
Based on AKTU-SEE conducted by AKTU, Noida the final selection will be made.
MCA Program
To equip students with advanced technology the institute offers MCA program at AIMT. In order to apply to the MCA program, the candidate is needed to fulfil the given eligibility criteria:
The applicant must be a graduate in any discipline and should have Mathematics as one of the subjects in 12th or Graduation level.
The candidate has to qualify AKTU-SEE held by U.P Technical University to secure a seat in the program.
PGDM Program
The educational requirements to get admission to the PGDM, are the following:
The applicant must have done bachelor's with 50% marks.
Based on CAT/MAT/CMAT/GMAT/XAT/ATMA score, group discussion, and personal interview the final selection will be made.
B.Tech Program
The inst. offers B.Tech program in numerous specializations of Engg. To get admission to the program, the candidate must fulfill:
Passed 12th exam. of U.P. Board or 12th exam with Chemistry, Physics, and Mathematics or its equivalent from any recognized Board / Univ. with min. agg.e marks of 45% for General & OBC and 40% for SC/ST category in the subject groups, without grace marks.
For B.Tech (Lateral), 3 or 4 years' Diploma (with min. 60% marks) from inst. recognized by the U.P. Board of Tech. Edu. in any branch of Engg./Tech. Those who have B.Sc. degree are also eligible to apply.
Note:
Scholarship Up to 50K (min 70% in 10+2).
Through an entrance held by AKTU the seats has been filled.
B.Arch Program
By the approval of the Council of Architecture the inst. offers B.Arch program. To get admission to the program following are the educational requirements needed:
From any recognized Board the candidate should have obtained min. 50% marks in 12th or its equivalent.
To apply for the program the candidate securing 50% marks in Dip. also eligible
AIMT Fee structure
The following table mentions a few popular courses of Accurate Group of Institutionsa along with their min. eligibility criteria and total fee structure:
| | |
| --- | --- |
| Course Name | Total Fee (in Rs lakh) |
| BTech | 4.56 |
| BBA | 1.95 |
| BCA | 1.65 |
| PGDM | 5.6 |
| MCA | 1 |
AIMT Greater Noida Placements
Through rigorous training The AIMT develops student's overall personality and providing them industry exposure. The institute has the Centre for Corporate Relations (CCR), its role is to mediate between industries and students.
Placement PGDM Highlights:
Over 70% of our students are placed above 5 LPA
Highest salary package: 11 LPA (National)
Average salary package: 5.5 LPA
80% of our students have multiple job offers.
Over 256 no. of recruiters on board
After completing PGDM, many students would have recovered fees of one year and also carrying 6 months of work exp..
The last term of all the AIMT students spends in Corporate.
The placement process starts every year in the month of October.
AIMT prepared students as per corporate needs.
The placement cell of institute give personal focus on each student.
As per the interest/specializations of the students the paid internships are offered to all the students.
Accurate gives the grooming sessions to the students which makes them to earn between 25-85 LPA within 3-4 years.
For all students the institute conducts the grooming session as below: Mock Aptitude Test Sessions and Mock GD/PI Sessions
To enhance students careers AIMT also supports its Alumni
AIMT Placement Companies
The top recruiters visiting AIMT, Noida are given below:
| | |
| --- | --- |
| Redington India Ltd. | MSL Learning Pvt. Ltd. |
| Jaro Education | Yes bank |
| Capital Via | American Express |
| Daffodil | Paytm |
| XL Dynamics | Google |
| Vishal Mega Mart | Springwell Matresses |
| Bose Corporation | Meritnation.com |
| Croissant Technology | Justdial |
| HMS Agro Products Limited | Besure Healthcare Pvt. Ltd. |
International Placements:
| | |
| --- | --- |
| Recruitment Company | International Placement Package |
| QUIQUP.Com (London) | 85 LPA |
| ABU DHABI Commercial Bank (UAE) | 30 LPA |
| Royal Bank of Scotland (RBS) | 25 LPA |