The Indian citizens those are living overseas can be classified into three major types — Non-Resident Indians (NRI), Overseas Citizen of India (OCI), and Persons of Indian Origin (PIO).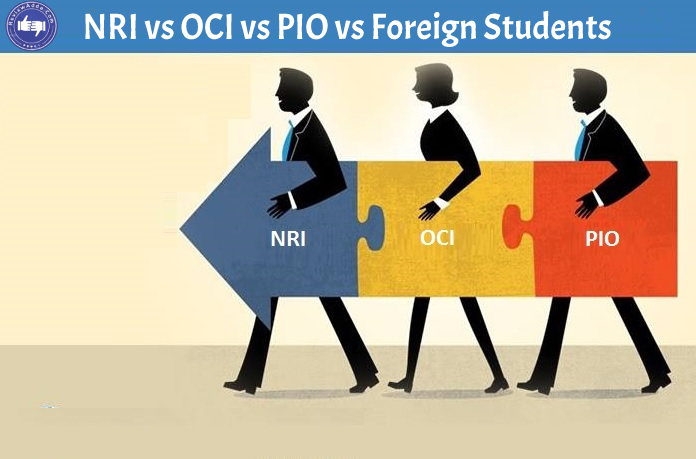 To understand in detail the difference between NRI vs OCI vs PIO vs Foreign Students, lets have a look-
Non-Resident Indians (NRIs):
In common lingo, any individual who is Indian citizen but not a resident of India is known as an NRI. This is more of a tax categorization rather than a Visa status. Under the Income Tax Act 1961 the NRI term is not defined, but Section 6 of the Act includes detailed criteria of who can be deemed as a Resident of India, and affirms that anyone who does not match the touchstone is a Non-Resident.
In the previous financial year, if an individual has been in India for min. 182 days or has exist in India for 60 days in a particular year and has lived in India for a min. of one year in the last four years is considered to be a Resident of India. Anyone who does not fulfill at least two of the conditions will be considered as an NRI for the previous financial year.
In simple terms, an Indian citizen who lives outside India for a linked total of at least 183 days in a financial year is deliberated to be an NRI.
NRIs are eligible to pay the tax only on the income that they have earned in India, and they are eligible to vote. That means, the income earned by NRI outside India is not taxable in India, provided it is properly taxed in the nation where the NRI lives.
Eligibility for NRI Quota Students
For NRI status the eligibility criteria is that the person should be a citizen of India with a valid passport of Republic of India and should reside outside of India for min. 183 days or more in a FY (April 1st – March 31st).
Here are the Eligibility criteria for NRI Quota students set by the Supreme Court of India in the guidelines:
One of the parents of the aspiring student must be an NRI residing abroad
The sponsor of the education has a first-degree relation with the student and must be an NRI residing outside India.
In case the willing candidate has no parents/relatives, then in that case the guardian must be an NRI residing abroad. The university must treat the student like a ward backed up by an affidavit displaying interest in the affairs and relationship with the student.
The relative who is nearest to the candidate can be defined as the real brother/sister of the parents, paternal or maternal grandparents, or first degree paternal and maternal cousins.
NRI Medical College Quota
In India, MBBS is one of the most desired after courses and students from all over the globe try to get admission in the distinguished institutions in India using the NRI Quota in Medical College. The The MCI (Medical Council of India) governed the admissions and in order to secure admissions every candidate must clear the NEET exam.
By the MCI for NRIs, PIOs and OCIs, the 15% All India Quota (AIQ) and 85% State Quota, universities in India offer a 15% NRI Medical College Quota reserved. However, to secure admission in these universities the candidates need to qualify the NEET Exam.
NRI Quota in Engineering Colleges
Both government and Private Engineering Colleges in India offers NRI Quota. Under the NRI Quota, in private universities, generally NRIs end up paying extra fees for the seat. However, the government colleges have some rigid schemes that provide reservation for NRI students such as DASA and its subset CIWG scheme. (To take admissions in renowned Technical Institutes of India these schemes allow NRI/PIO/OCI & foreign nationals. The prestigious colleges includes in this scheme are NITs, IIITs, CFIs & SPAs)
DASA Scheme: It is a MHRD scheme, India, stands for Direct Admission for Students Abroad (DASA).
CIWG Scheme: CIWG stands for Children of Indian Workers in Gulf. The students from Iran, Iraq, Kuwait, Oman, Qatar, Saudi Arabia and United Arab Emirates are eligible for this scheme.
Quota for NRI students in IIITs, NITs, CFTIs & SPAs
Students of NRI/PIO/OCI quota can take Admission in IIITs, NITs, CFTIs (Centrally Funded Technical Institutes), and SPAs under CIWG and DASA. Let's check out the colleges state-wise providing NRI students Quota in NITs under DASA and under the scheme the available no. of seats:
State

Colleges

NRI Quota Seats (DASA)

Andhra Pradesh

School of Planning & Arch., Vijayawada

17

Arunachal Pradesh

NIT, Arunachal Pradesh

35

Assam

– NIT, Silchar
– Tezpur Univ., Assam

12
12

Bihar

NIT, Patna

89

Chattisgarh

NIT, Raipur, Chattisgarh

28

Delhi

– NIT, Delhi
– School of Planning & Architecture, Delhi
– Delhi Technological Univ., Delhi
– Indraprastha Inst. of IT, Delhi
– Netaji Subhash Inst. of Tech., Delhi

27
12
88
21
29

Goa

NIT, Goa

14

Gujarat

– Sardar Vallabhbhai National Inst. of Tech., Surat
– Indian Inst. of IT, Vadodara
– Pandit Deendayal Petroleum Univ., Gandhinagar

873
14
108

Haryana

– NIT, Kurukshetra
– The Univ. Inst. of Engg. of Tech. (UIET), Chandigarh
– The Univ. Inst. of Chemical Engg. & Tech. (UICET), Chandigarh

35
58
19

Himachal Pradesh

NIT, Hamirpur

34

Jammu and Kashmir

– NIT, Srinagar
– Shri Mata Vaishno Devi, Katra, Jammu & Kashmir

53
20

Jharkhand

– NIT, Jamshedpur
– National Inst. of Foundry & Forge Tech., Ranchi

25
39

Karnataka

NIT, Surathkal

111

Kerala

NIT, Calicut

94

Madhya Pradesh

– Maulana Azad National Inst.e of Tech., Bhopal
– School of Planning & Architecture, Bhopal
– Indian Institute of IT, Jabalpur

94
15
12

Maharashtra

– Visvesvaraya National Inst. of Tech., Nagpur
– National Inst. of Electronics and IT., Aurangabad

62
9

Manipur

NIT, Manipur

27

Meghalaya

NIT, Meghalaya

5

Mizoram

NIT, Mizoram

23

Odisha

NIT, Rourkela

110

Punjab

– NIT, Jalandhar, Punjab
– PEC Univ. of Tech., Chandigarh (deemed to be univ.)
– Sant Longowal Inst. of Engg. & Tech., Longowal
– UIET Punjab Univ. Swami Sarvanand Giri Regional Centre (UIET PUSSRC), Hoshiarpur

77
75
72
20

Rajasthan

NIT, Jaipur

55

Sikkim

NIT, Sikkim

111

Tamil Nadu

– NIT, Puducherry, Karaikkal
– NIT, Tiruchirappalli, Tamil Nadu
– Indian Inst. of IT, Design and Manufacturing, Kancheepuram
– Indian Maritime Univ. (IMU)

72
116
9
80

Telangana

NIT, Warangal

111

Tripura

NIT, Agartala

121

Uttar Pradesh

– Motilal Nehru National Inst. of Tech., Allahabad, UP
– Indian Institute of IT, Allahabad, UP

123
10

Uttarakhand

NIT, Uttarakhand

25

West Bengal

NIT, Durgapur

32
Persons of Indian Origin (PIO):
PIO is an individual who is a citizen of India by birth or by descent, but who lives outside India. PIOs are the individuals who held a passport of a country other than China, Bangladesh, Afghanistan, Nepal, Bhutan, Pakistan and Sri Lanka were formerly issued an identification card. However, in January 15, 2015, the Govt. of India withdrew the PIO card scheme and it was blend with the OCI card scheme.
As already noted, on 09.01.2015 the Gazette of India published, says that all existing PIO cardholders are considered to be OCI cardholders. The declaring of the handwritten PIO cards has disrupted by the govt. of India and asked the existing holders of PIO cards to take the place of them with the new OCI card.
a) Eligibility for PIO card
To apply for a PIO card the eligibility criteria that had been set is that you should be,
A individual, who or whose parents, grandparents, great grandparents were born in India and were/are a citizen or eligible to become Indian citizen at any time on or after initiation of the Constitution i.e. 26th Jan, 1950; or belong to territories that became part of India after 15th Aug 1947, is eligible for holding a PIO card.
But, in case something is no more available then in that case you cannot be eligible. Since the MHA has halted issuing new PIO cards from 2015 you don't have to worry about the eligibility criteria to apply for a PIO card. In that case, to apply for an OCI card you only have to understand about the eligibility criteria.
The Ministry of Home Affairs (MHA) has taken out the eligibility criteria for PIO and added the validity/expiry of PIO cards. So, if you have an old PIO or desire a new PIO card then your concerned issue should be the validity of your PIO card.
b) The PIO card validity
The validity of your PIO card is only until 30th Sep 2019 as a substitute for a visa when offered along with a valid foreign passport. After 30th Sep 2019 the deadline date, handwritten PIO cards will not be acknowledged as a valid document to travel to India as per the ICAO guidelines.
c) Benefits of being a PIO cardholder
You can avail the following benefits, if you already hold PIO card-
Your PIO card is an substitute for a visa to travel to and from India. It accepts various entries for different purposes.
Without any special visa you can work and study in India.
iii. At all international airports special counters for fast immigration clearance
180 days of regular stay without any registration to FRRO (Foreigner Regional Registration Office) local police authorities.
Economic/ Financial/educational advantages at par with NRIs.
d) Disadvantages of being a PIO cardholder
The disadvantages of PIO card broadens beyond its upcoming expiration.
The validity of PIO card is only for 15 years. In case, your PIO card expired before 30th Sep, 2015, then in such condition you must need to apply for an OCI card in lieu of PIO card.
You may not possess a govt. job.
iii. You cannot vote or hold for govt. jobs.
If your purpose of the visit is not completed in 180 days, then you require registering to FRRO or local police authorities within 30 days.
You require special permission to do research work in India from the Indian Mission/FRRO/Post.
You are not suppose to buy an agricultural land in India.
Overseas Citizen of India (OCI):
Due to rising demand for dual citizenship, the Indian Govt. brought in authorized OCI card that a foreign citizen of Indian origin to reside and work in India for an undefined time. This includes a person who was formerly a citizen of India or whose parent, grandparent, or great grandparent is/ was a citizen of India or one who is married to an Indian citizen or an existing OCI for minimum two continuous years.
A citizen who has ever been a citizen of Bangladesh or Pakistan or who has worked in foreign military cannot be deliberated as an OCI. The OCI card gives permission to visit India numerous times for a lifelong period. OCIs enjoy identical financial, economic, and education advantages as NRIs. For Indian citizenship, OCIs holding a card for over five years and those who have been living in India for min. one year are eligible.
Eligibility Criteria for OCI MBBS Admission 2021
For Admissions to MBBS Course meeting the entry needs under the category of OCI is necessary for the selection. Here are the touchstone that you are needed to meet if you are willing in getting admission.
You must be holding a valid OCI card.
You must possess a valid passport.
You must have participated in and qualified the latest NEET-UG, i.e., NEET 2021.
Seats under NRI Quota are only allocated to those who have met the cut-off criteria for NEET.
If you are applying under NRI sponsorship then you are required to have a real blood relation to your financial supporter/ investor, be it the father, mother, aunt, sister, brother or uncle.
OCI MBBS Admission Process 2021
Here are the steps for admission to MBBS course under OCI Quota that you would need to follow:
Your journey to the admissions will begin with appearing in the NEET Entrance Exam.
In the exam, you will have to meet the min. qualifying scores or cut-off marks.
Once the NEET results are announced, you need to participate in the counselling process to register yourself with the official website of MCI (Medical Council of India).
You will be allocated a seat at a Medical college in India based on your NEET rank, scores and state rules.
In India every state has its own separate MBBS admission process and rules regarding the OCI Quota admissions.
Documents Required for OCI Quota Admissions
Here is a list of essential documents that you will be needed to possess at the time of admissions.
A valid OCI card
A valid passport
Domicile
Class XII mark sheets
Class X mark sheets
Valid address proof
NEET 2021 scorecard
Along with passport size photographs a hard copy of the online application form also required
A NOC (Non-Objection Certificate) is required which is issued by the Ministry of External Affairs, Govt of India, New Delhi
To grant permission for your study and stay in India, NOC issued by the competent authority or Ambassador of your country
Certificate of Migration
Certificate of Health