Topic We Cover: BBA vs. B.Com vs. B.A Economics
1. What is BBA?
2. What is B.Com?
3. What is B.A. Economics?
4. Why Study BBA vs B.Com vs B.A. Economics
BBA
BBA Promotes Entrepreneurship
BBA is a Gateway to the Corporate Career
To Pursue Higher Management Studies like MBA, BBA Paves a Way
BBA Placement Trends
B.Com
B.A. Economics
5. Eligibility criteria for BBA vs B.Com vs B.A. Economics
6. Syllabus of BBA vs B.Com vs B.A. Economics
7. Top Colleges of BBA vs B.Com vs B.A. in India
8. Job Profiles and Career Prospects of BBA vs B.Com vs B.A Economics
9. For B. Com Students employment opportunities
10. Scope of BBA vs B.Com vs B.A. Economics
11. B.Com Specialisations
Students from the commerce stream face a major dilemma after class 12th – "Which course should I pursue?" The great fight remains in opting between the three Most Common Courses – BBA, B.Com & B.A Economics.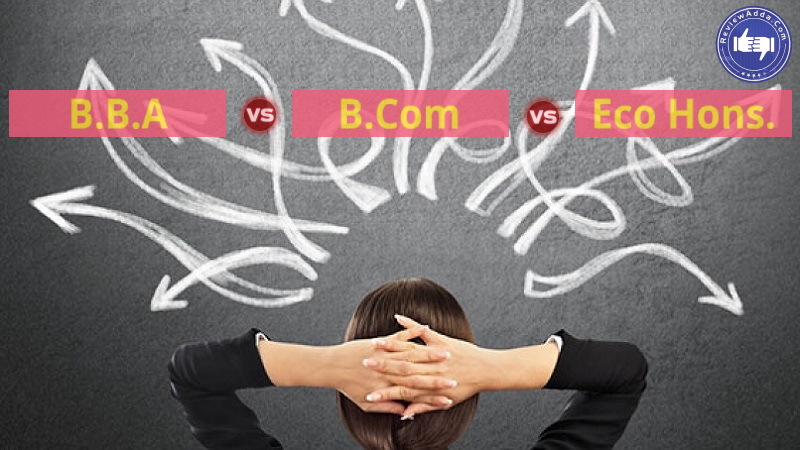 The confusion arises because a lot of students are not able to point out the exact differences between them, and thus are not able to decide which one would suit them the best. Although all the three courses are approximately related to each other, there are many crucial differences that distinguish them. These are differences in course structure, Career Opportunities , admission process, etc.
If you're unsure about which one to choose, don't worry; I'll help you take the right decision by making the differences between them as clear as possible. So, let's begin!
What is BBA?
The BBA Course focuses highly on developing business skills, it is a three-year undergraduate degree. Theoretical education is backed by practical exp. which may involve industry visits, summer internships, case studies, and presentations. The Syllabus of the BBA Course combines the theory of finance, Management Information Systems, human resources, and marketing with an aim to entrepreneurial ability and foster future leadership.
To know more about BBA course details check the mentioned below points:
Bachelor of Business Administration comprises as one of the most sought professional degrees after class 12

th

. It consists subjects to improve leadership and management skills.

BBA can be pursued either part-time or full time i.e. through Distance Education or Correspondence, depending on preference of student. For regular enrolment the min. duration of this course is 3 years and the max. is 6 years for those who wish to pursue it through correspondence or

Distance learning from Amity University

, IGNOU, etc.

BBA course acknowledge candidates to get in management fields and teaches them various visible features and helps develop strategies essential for effective business management. The course is designed to train students effectively in communication skills and management education which further foster entrepreneurship skills.

For pursuing courses like MBA, PGDM and other

Postgraduate Management Courses

it also provides you a platform.

To pursue BBA the major skills needed are decision making skills, leadership qualities, and good communication skills.

Through practical experience the course methodology involves training in the form of projects, case studies, industrial visits, presentations, and interaction with experts from the industry. Hence, as compared to other graduates

BBA Graduates

have better industrial career opportunities.
What is B.Com?
A three-year Undergraduate Degree Course, the Bachelor of Commerce or B.Com is a traditional post-class XII option in India, similar to B.Sc. or B.A. available at most universities. The highly theoretical B.Com syllabus provides an intense look into the fundamental subjects of commerce like Administration, Accounts, Finance, Industrial Policy, and Economics.
B.Com course imparted in regular as well as distance education mode. In the Commerce branch B. Com is the second most popular undergraduate course. Under B. Com, there are three Most Popular Courses, namely B. Com or B. Com-General, B. Com LLB, and B. Com (Honours). By many universities the B. Com is also referred to as B.Com-Pass.
Candidates are taught core subjects related to finance and commerce in the B. Com Course. In the course duration, to choose from a few elective subjects the candidates are given options too. Over six semesters the programme is usually spread during which the student is taught topics like company law, corporate tax, financial accounting, auditing, economics, business mgmt., etc.
B.Com is also perfect for those who wish to pursue Cost Accounting, Chartered Accountancy and Company Secretary-ship.
Students can also pursue Career in Teaching, management, journalism, advertising, design, mass communication, law, etc after completing B.Com. The avg. starting salary of a B.Com graduate is Rs 3 lakh and upwards.
What is B.A. Economics?
Economics in Bachelor of Arts gives students a broad Liberal Arts Education, and its approach to the study of economics is more theoretical than the one offered by the BBA. A bachelor's degree provides the student with a comprehensive view of economics and is appropriate for students who want to pursue a master's or a doctoral degree in economics. A bachelor's degree is also appropriate for students who want to pursue other types of graduate work in law or government.
The course not only focuses on the contemporary issues that an economy faces but also traces the historical contexts in the shaping of the economy.

The students are made familiar with the economic situations prevalent in the present day India as well as foreign trade policies which affect the economy of our country with the well-designed BA Economics subjects.

This course is not limited just to microeconomics, macroeconomics, econometrics etc.

After

Completion of the Course

, students are generally employed in the finance and banking sectors. They can find work as an economist, researcher, sales representative etc.

The BA Economics jobs can help graduates earn an average entry-level salary ranging from 10,000 INR to 20,000 INR.
Why Study BBA vs B.Com vs B.A. Economics
BBA
Nowadays, in graduation a majority of the students are Pursuing BBA Course because of the following reasons:
BBA Promotes Entrepreneurship
BBA is all about aspects of teaching of running a business, thereby among students it promotes and improves entrepreneurship skills. In students it helps to develop tactical skills which are needed for being an entrepreneur.
BBA is a Gateway to the Corporate Career
After going through a 3 year BBA or 6 years integrated Course of BBA+MBA from one of the top institutes, a student is capable of getting a managerial level job in top corporate companies, regionally and internationally as well.
To Pursue Higher Management Studies like MBA, BBA Paves a Way
After BBA Students who want to pursue MBA can easily do so after BBA. This is due to the students who have a management background can easily excel in MBA Entrances and personal interview sessions because for advanced management subjects they already have the needed skill set, and for career excellence they can easily make their way for higher education in the subject.
BBA Placement Trends
In leading BBA Institutes Placement Opportunities are enormous. In various corporate companies and private sectors there are vast job opportunities in which a student can be placed after doing BBA like marketing companies, financial firms, business analysis companies, etc. At this stage as compared to other graduates students are capable of earning higher pay packages.
B.Com
Nowadays, most of the students are going for B.0Com because of the reasons mentioned below:
Job Opportunities are numerous in the Market:

There are several job areas and job profiles where after completing a B.Com degree a person can work. You can work in sectors like auditing, accounting, financial services, tax advisory services, commercial banking and many more. And there you can work as an operations manager, accountant, account executive, financial analyst, etc.

Huge Scope for Career Advancements:

If a person is persistent and capable enough, he/she will easily get various opportunities and the progress in the career will be certain after pursuing B.Com.

Various Career Options:

There are a variety of career options a person can opt for after the completion of B.Com. He/She can either go for a

Professional Course

like CA and CS or If you willing to make a career in the field of business management, then you can go for higher education options such as MBA or PGDM.

Variety of Industries:

There are plenty of industries like Insurance, Banks, Audit Firms, Accounts Firm, Consultancy, Advertising Firms, Corporates, Sales and Marketing, Foreign Trade, Human Resource, etc are available for these graduates to explore.

Higher Salary:

You will be able to earn a decent salary package due to various job profiles and job areas to opt from. The salary may vary from domain to domain. If you have any previous exp. then that will definitely help you in getting a lucrative pay opportunity. The avg. sal. will be around INR 4.44 to 7 LPA.

Top Recruiters:

Students with a

B.Com Degree

get the opportunity to work with several top companies like ICICI Bank, EY, Mc Kinsey and Company, Sony, Microsoft, IBM, Nestle, HP, Genpact, Deloitte, HCL, Nokia, ITC, Wipro, etc

Entrepreneurship:

After completing the course many students to be an entrepreneur by discovering the

Field of Administration

and business management.
B.A. Economics
The degree allows students to join Indian Economic Service and Reserve Bank of India which are excellent options open to those who want to join government services after it.

The graduates are employed in the

BA Economics Jobs

like Ministry of Economic Affairs, Planning Commission, National Sample Survey, Planning Board, and other departments that need specialists in economics.

This degree course enables the students to go in various commerce and banking-related jobs.

One can go for

Higher Degree Programs

in respective subjects such as MA in Economics.
Eligibility criteria for BBA vs B.Com vs B.A. Economics
BBA
Eligibility criteria for BBA 2020, are as follows:
Class 12

th

examination must have appeared or passed by the Candidate from a recognized board.

General category student must have scored a min. of 50% marks in aggregate in the qualifying exam. Whereas, for SC/ST category candidates must score a min. of 45% marks in aggregate.

Aspirants who have appeared for 12

th

examinations and results are awaited can also apply.

To

Apply for SET BBA

, NRI aspirants are also eligible they have appeared for 10 or 10+2 exams outside India.
B.Com
Any Student with 50% in H.S.C. examinations 12

th

from a recognized Education Board with Arts or Commerce, or Science stream can opt for Bachelor of Commerce.

Over others, students who have studied Commerce in 12

th

are given preference.
B.A. Economics
Aspiring candidates should have completed their 10+2 or its equivalent exam from a recognized Board.

In many reputed colleges, there is an entrance exam or percentage of 12th class for admission
Syllabus of BBA vs B.Com vs B.A. Economics
BBA
BBA Course is composed of core, foundation, skill, elective courses needed to enter the corporate world. A detailed yearly BBA syllabus is tabulated below:
| | | |
| --- | --- | --- |
| Year 1 | Year 2 | Year 3 |
| Financial Accounting | Banking & Insurance | International Business & EXIM |
| Microeconomics and Macroeconomics | Management Accounting | Strategic Management |
| Principles of Management | Business Law | Finance Electives |
| Cost Accounting | Tax | Research Methodology |
| Principles of Marketing | Human Resource Management | Entrepreneurship & Business Plan |
| Essentials of IT | Financial Management | Financial Statement Analysis |
| Environmental Mgmt. | Consumer Behavior & Services Marketing | Operations & Supply Chain Mgmt. |
B.Com
Semester-wise BCom syllabus breakup is given below:
| | |
| --- | --- |
| Semester 1 | Semester 2 |
| Environmental Studies | Language [English/Hindi/Modern Indian Language] |
| Financial Accounting | Business Laws |
| New Venture Planning (Elective) | Business Mathematics & Statistics |
| Principles of Microeconomics (Elective) | Principles of Macroeconomics (Elective) |
| Business Organization and Management | Economics of Regulation of Domestic and Foreign Exchange Markets (Elective) |
| Semester 3 | Semester 4 |
| Income Tax Laws (Elective) | Corporate Accounting |
| Indian Economy (Elective) | Human Resource Management (Elective) |
| Financial Markets and Institutions | Industrial Laws (Elective) |
| Banking and Insurance | E-Commerce |
| Semester 5 | Semester 6 |
| Auditing and Corporate Governance | Fundamentals to Financial Management |
| Cost Accounting | Business Communication |
| Principles of Marketing (Elective) | Personal Selling and Salesmanship |
| Training and Development (Elective) | Cyber Crimes and Laws |
| Computer Applications in Business | International Business |
| Advertising | Consumer Affairs and Customer Care |
Bachelor of Arts [BA] (Economics):
BA Economics Syllabus & Subjects

Name of the Course

Topics Covered

Introductory Economics

Exploring the subject matter of Economics; Supply and Demand; Households; Firms and Perfect Market Structure; Imperfect Market Structure; Input Markets.

Statistical Methods in Economy

Introduction and Overview; Elementary Probability Theory; Random Variables and Probability Distributions; Random Sampling and Jointly Distributed Random Variables.

Mathematical Methods in Economics

Preliminaries; Single-variable optimization; Functions of one real variable; Integration of functions; Difference Equations.

Introductory Macroeconomics

Introduction to Macroeconomics and National Income Accounting; Money; Inflation; The closed economy in the Short Run.

Statistical Methods in Economics-II

Sampling; Point and Interval Estimation; Hypothesis testing; Simple Linear Regression.

Mathematical Methods in Economics-II

Differential Equations; Linear Algebra; Functions of Several Real Variables; Multi-variable Optimisation.

Intermediate Economics

Consumer Theory; Production, Cost and Perfect Competition.

Intermediate Macroeconomics

Aggregate Demand and Aggregate Supply Curves; Inflation, Unemployment, and Expectations; Open Economy Models.

Economic History of India: 1857-1947

Introduction: Colonial India: Background and Introduction; Macro Trends; Agriculture; Railways and Industry; Economy and State in the Imperial Context.

Introductory Econometrics

Nature and Scope of Econometrics; Statistical Concepts; Simple Linear Regression Model: Two-Variable Case; Multiple Linear Regression Model; Violations of Classical Assumptions: Consequences, Detection, and Remedies; Specification Analysis.

Intermediate Microeconomics-II

General Equilibrium, Efficiency, and Welfare; Market Structure and Game Theory; Market Failure.

Intermediate Macroeconomics-II

Economic Growth; Microeconomic Foundations; Fiscal and Monetary Policy; Schools of Macroeconomic Thoughts

Economy, State and Society

Analysing Social Change in Historical Perspective; Capitalism as an Evolving Economic System; The State of Capitalism.

Indian Economic Development Since 1947-I

Economic development since Independence; Population and Human Development; Growth and Distribution; International Comparisons.

Indian Economic Development Since 1947-II

Macroeconomic Policies and Their Impact; Policies and Performance in Agriculture; Policies and Performance in Industry; Trends and Performance in Services.

Development Theory and Experience-I

Conceptions of Development; Growth Models and Empirics; Poverty and Inequality: Definitions, Measures, and Mechanisms; Political Institutions and the Functioning of the State.

Public Economics

Public Economic Theory; Indian Public Finances.

Optional Papers:

Economics of Health and Education

Role of Health and Education in Human Development; Microeconomic Foundations of Health Economics; Evaluation of Health Programs; Health Sector in India: An Overview; Education: Investment in Human Capital; Education Sector in India: An Overview

Political Economy

Introduction and Historical Overview; Changing Dynamics of Capitalist Production, Organisational Form, and Labour Process; The State in the Era of Globalisation: Welfare, Development, and Autonomy; The Changing Role of Finance; The Social Dimension; New Perspectives.

Topics in Macroeconomics-I

Normal Form games; Extensive Form Games with perfect information.

Advanced Macroeconomics

Review of Aggregate Supply-Aggregate Demand Model; Rational Expectations and Implications for Economic Policy; Introduction to Dynamic Models; Economic Growth; Overlapping Generations Model.

Money and Financial Markets

Money; Financial Institutions, Markets, Instruments and Financial Innovations; Interest Rates; Banking System; Central Banking and Monetary Policy.

International Economics

Introduction; Theories of International Trade; Trade Policy; International Macroeconomic Policy.

Development Theory and Experience

Demography and Development; Land, Labor and Credit Markets; Land, Labor and Credit Markets; Environment and Sustainable Development; Globalisation.

Optional Paper:

Comparative Economic Development: 1850-1950

Introduction and Perspectives on Comparative Economic Development; An Overview of Economic Development of the countries selected for case studies; Agriculture; Industry; The Factory System and Making of the Industrial Working Class; The Role of the State in Industrial and Developmental Transition.

Applied Econometrics

Stages in Empirical Econometric Research; Regression Diagnostics and Specification; Advanced Topics in Regression Analysis; Panel Data Models; Introduction to Econometric Software Package.

Topics in Microeconomics-II

Repeated Games; Simultaneous move games with incomplete information (Bayesian games); Extensive form games with imperfect information; Information economics.

Financial Economics

Investment Theory and Portfolio Analysis: a. Deterministic cash-flow streams, b. Single-period random cash flows, c. CAPM; Options and Derivatives; Corporate Finance.

Environmental Economics

Introduction; The Theory of Externalities; The Design and Implementation of Environmental Policy; International Environmental Problems; Measuring the Benefits of Environmental Improvements; Sustainable Development.
Top Colleges of BBA vs B.Com vs B.A. in India
BBA
Top BBA College & Univ. in India

Name & (Seats) of the program

BBA Entrance Exam

5 Year-IPM -(150)

IPM Aptitude Test

Shaheed Sukhdev College of Business Studies, Delhi Univ.

BMS - (185)

DU JAT

Keshav Mahavidyalay, Delhi Univ.

(BMS) - (45)

DU JAT

DeenDayal Upadhyay College, Delhi Univ.

Bachelors of Business Studies (BMS)- (45)

DU JAT

Anil Surendra Modi School of Commerce, NMIMS Univ., Mumbai

BBA – (600)

NPAT BBA

BBA – (450)

Entrance Test (ET) + Presentation & Personal Interview + Past Academic Performance

IIM, Rohtak

5 Year-IPM – (160)

IPM Aptitude Test

HR College of Commerce and Eco., Mumbai Univ.

BBA – (120)

Admission based on candidate profile

Jai Hind College, Mumbai Univ.

BBA – (60)

Admission based on candidate profile

Mithibhai College, Mumbai University

BBA – (120)

Admission based on candidate profile

Symbiosis Centre for Management Studies, Pune, Symbiosis International Univ.

BBA – (240)

Symbiosis Entrance Test (SET)

Symbiosis Centre for Management Studies, Noida, Symbiosis International Univ.

BBA – (150)

Symbiosis Entrance Test (SET)

St. Xavier's College, Mumbai (Autonomous)

BMS – (60)

St. Xavier's College BMS Entrance Test

Maharaja Surajmal Inst., Guru Gobind Singh Indraprastha Univ., Delhi

BBA – (480)

GGSIPU CET BBA

Maharaja Agrasen Inst. of
Mgmt. Studies, Guru Gobind Singh Indraprastha Univ., Delhi

BBA – (360)

GGSIPU CET BBA

Inst. of Mgmt., Nirma Univ., Ahmedabad

5 Year Integrated BBA+MBA – (120)

IPMAT

Jain Univ. Bangalore

BBA

JET;

UPES Univ. Ddn

BBA

50% Marks in Class 10 & 12

IFIM Business Sc. – Mumbai campus

BBA – (120)

5 Year Integrated BBA+MBA – (60)

OUCET
Get Updated Review ( Voice Based Alumni Feeback)
B.Com
Top Government Colleges
For pursuing B.Com some of the top govt. inst. are described in the table below:
| | | | |
| --- | --- | --- | --- |
| Name of the College | City | Avg. Annual Fees (INR) | Avg. Placement (INR) |
| | New Delhi | 28,910 | 16 LPA |
| Hindu College | New Delhi | 17,240 | 2.5 LPA |
| Hansraj college | New Delhi | 20,315 | 13 LPA |
| | New Delhi | 12,345 | 4.4LPA |
| Atma Ram Sanatan Dharma College | New Delhi | 10,785 | 1.8 LPA |
| ICW | New Delhi | 14,000 | 15.15 LPA |
| Gargi College | New Delhi | 12,495 | 4.2 LPA |
| | New Delhi | 17,525 | 2.1 LPA |
| Stella Maris College | Chennai | 29,645 | 5 LPA |
Top Private Colleges
For pursuing B. Com some of the top private inst. are described in the table below:
| | | | |
| --- | --- | --- | --- |
| Name of the College | City | Avg. Annual Fees (INR) | Avg. Placement (INR) |
| | Bangalore | 1,85,000 | 15 Lakhs |
| MCC- Madras Christian College | Chennai | 27,919 | 10 Lakhs |
| SJCC | Bangalore | 60,000 | 2.5 Lakhs |
| SVC- Sri Venkateswara College | Bangalore | 40,000 | 10 Lakhs |
| | Mumbai | 5,545 | 19.5 Lakhs |
| NM College Of Commerce And Economics | Mumbai | INR 4,941 | INR 3.25 Lakhs |
| KJS College of Arts and Commerce | Mumbai | INR 9,995 | INR 4.5 Lakhs |
| | Chandigarh | INR 12,250 | INR 4.1 Lakhs |
| Sri GGS College of Commerce | New Delhi | INR 27,200 | INR 3.5 Lakhs |
B.A. Economics
If you are interested in pursuing an undergraduate programme in economics in India, then you can check out the list of top Economics (Hons) colleges mentioned below.
Name of College

Course Offered

Annual Course Fees

Shoolini University Solan

BA (Hons) Economics

?82,400

International Centre for Advanced Studies and Research Gurgaon

?66,700

Miranda House New Delhi

?12,000

Bhai Gurudas Group of Institutions Sangrur

?1,25,000

?60,000

Amity University Jaipur

?1,00,000

Jagannath Institute of Management Studies New Delhi

?1,15,000

The Heritage College Kolkata

?50,800
B.A. Economics: Top Institutes
The country's main universities, namely Univ. of Delhi, JLN Univ., Mumbai Univ., and Calcutta Univ. offer the course.
Some of the top inst. offering the course in the country along with the respective locations and fees charged by each are listed below.
| | | |
| --- | --- | --- |
| COLLEGE NAME | CITY | AVERAGE FEES IN INR |
| | Mumbai | 4,520 |
| AIMS Institute | Bangalore | 1.9 Lacs |
| Shri Shikshayatan College | Kolkata | 88,000 |
| Christ University | Bangalore | 1,00,000 |
| | Ahmedabad | 1,820 |
| Jadavpur University | Kolkata | 2,750 |
| Loyola College | Chennai | 4,610 |
| Symbiosis College of Arts and Commerce | Pune | 17,400 |
| | Delhi | 24,600 |
| Sacred Heart College | Kerela | 4,000 |
Job Profiles and Career Prospects of BBA vs B.Com vs B.A Economics
BBA
Graduates have diverse career options, after successful completion of the BBA Course. They can either choose seek employment in the corporate industry or for higher education. There are several industries for these candidates like Sales sector, Marketing Companies, Financial Organizations, Educational Institutes, Export Companies, Banks, etc. to explore their career with an avg. BBA salary ranging from INR 4.5 to 7 LPA, some of the top recruiters of this field are Accenture, TCS, Capgemini, Deloitte, HDFC Bank, Infosys, etc.
Along with the avg. BBA salary some of the major job profiles associated with the degree are as follows:
| | | |
| --- | --- | --- |
| Job Position | Job Description | Average Annual Salary (INR) |
| Marketing Executive | Marketing Executives are required to carry out the marketing campaign and other activities in accordance with the market plan to promote regional and/or international business. | 6 LPA |
| Financial Analyst | For an organization a Financial Analyst is needed to make business advices based on analyses they carry out on a no. of factors like market trends, the financial status of a company (or companies) and the anticipated outcomes of a certain type of deal. | 5 LPA |
| Executive Assistant | An Executive Assistant is like an administrative assistant. They perform various clerical and office tasks like setting business meeting agendas, accepting and making phone calls, accepting visitors, sending memos, reviewing incoming reports, etc. | 3.5 LPA |
| HR Generalist | For the day-to-day mgmt. of HR Operations an HR Generalist is basically responsible. They are a part of tasks involving administration of the procedures, policies, and programs of the organization. | 3 LPA |
| Business Development Executive | A BDE is responsible for helping businesses become larger. They are basically high-level sales professionals. | 4 LPA |
| Senior Business Analyst | A Sr. Business Analyst is responsible to provide strategic business analysis services to different business partners of the company or organization. They work closely with the business units to gain an detailed understanding of the services, customer's business strategy, roadmap, processes, and the context in which the business can operate in an effective manner. | 6 LPA |
Employment Areas
You can easily find jobs after pursuing BBA in these following areas:
Banks

Marketing Organizations

Educational Institutes

Business Consultancies

Multinational Companies

Financial Organizations

Export Companies
Salary
There are several companies offers a Good Salary Packages to the BBA Graduates. Salary is no issue for the candidates who have a decision-making skills, good leadership, a good academic background, and enthusiasm.
In India the initial package is around Rs. 2 to Rs. 3 lacs per annum but the max. is unlimited.
In management field you can earn beyond the limit with some good experience.
B.Com.
Jobs and Career Prospects
Candidates can either look for jobs in various departments or opt for higher education after being awarded the B. Com degree.
In the private sector there are areas that are open to a

B. Com Graduate

include Telecom industry, Consumer durable industry, Automobile industry, Banking, and Insurance Industry, BPO industry, Retail industry, Media industry, and a lot more.

Graduates of

B. Com Courses

may initiate as a accounts manager, sales officer, assistant manager, financial manager, company law assistant, as well as an accounting consultant in a company.
In government as well as private sectors students have plenty of B. Com jobs to choose from provided that they are not limited to careers in finance and accounts. Some of the outstanding B.Com jobs available to the graduates are:
| | | |
| --- | --- | --- |
| Job Profile | Job Description | Average Salary (INR) |
| Accountant | By compiling and analyzing account information an accountant prepares liability, assets, and capital account entries. | 4,00,000 |
| Tax Consultant | They prepare tax returns for their clients and also ensure that the tax liability is minimized. Tax consultants, also known as tax advisors, are experts in planning, tax law, and compliance. | 4,65,000 |
| Bank PO | A PO verifies all the work that is done in a bank. A bank probationary officer is responsible for making decisions, the supervision of clerical work, managing cash balances, etc. | 5,20,000 |
| Account Executive | An account executive acts as a substantial link between an advertising agency and its clients is also known as an account holder. To produce effective campaigns the account executive also organizes the company's creative and administrative staff. | 3,00,000 |
| Event Manager | An event manager plans and organizes business, promotional, and social events. They ensure that the target audience is engaged esides running events, and that the message is spread properly. | 5,40,000 |
| Travel & Tourism | The companies of travel and tourism provide sophisticated travel bookings to their customers. Booking reservations for travel, hotels, special events, and rental cars and are parts of their duties. | 6,50,000 |
| Commodity Trader | A commodity trader operates as a business entity or an individual and focuses on investing in physical substances like gas, oil, crops, gold, etc. Commodity traders also deal with raw materials. | 7,20,000 |
| Actuary | Actuaries use mathematical skills and statistical techniques to assess the probability of an event and the financial consequences following. In every insurance company at least one actuary is legally required. | 4,80,000 |
| Bookkeeper | A book keeper's jobs include posting information to managing invoices to customers, accounting journals, and supplier invoices. | 2,80,000 |
For B. Com Students employment opportunities
Banks

Budget Planning

Business Consultancies

Marketing

Merchant Banking

Public Accounting Firms

Working Capital Management

Policy Planning

Public Accounting Firms

Treasury and Forex Department

Educational Institutes

Foreign Trade

Industrial Houses

Inventory Control

Investment Banking
B.Com. Job Types
Auditor

Budget Analyst

Business Consultant

Certified Public Accountant

Chartered Management Accountant

Chief Financial Officer

Cost Estimator

Finance Manager

Financial Analyst

Stock Broker
Salary offered to B.com Candidates
B.Com Graduates are getting a handsome salary package. However, the candidate's salary varies from department to department. Candidates having a few years of exp. may get lucrative pay.
Salaries depend on the nature of the organization and type of job. "However, for a fresh hire it ranges from Rs. 10,000 and Rs. 25,000 per month.
In the company the avg. salary of a CA is around 5 lakh to 10 lakh per annum.
B.A. Economics
Job Profiles for Bachelor of Arts [BA] (Economics):
| | |
| --- | --- |
| Job Profile | Description |
| Budget Analyst | A Budget Analyst is responsible for preparing the annual budget compares it to actual results and then reports any variances from the budget. |
| Sales Executive | A Sales Executive is the key point of contact between an organization and its clients. They are responsible for organizing sales visit, presenting and demonstrating a product. |
| Business Writer | A Business Writer writes on business-specific topics and articles which cater to the trade and corporate world. |
| Economist | An Economist is an expert in economics. To become an economist, however, an MA/MSc. Degree in Economics is desired. |
| Market Analyst | A Market Analyst studies market trends and helps a company decide which products to produce and how to market them. |
| Bank Teller | A Bank Teller is employed with banks and directly deals with customers. In some cases, a bank teller's job is similar to that of a cashier. |
| Research Assistant | Many organizations employ BA Economics graduates as Research Assistants in roles which require studying market trends, economic policies, consumer behavior etc. |
Carrer Opportunities after Bachelor of Arts [BA] (Economics):
Financial analyst

Consultant

Cost analyst

Operations Coordinator

Forecaster

Research analyst

Regulatory affairs analyst

Customer Profit Analyst

Investment Administrator

Securities Analyst Trainee
Employment Areas for Bachelor of Arts [BA] (Economics):
Agricultural Companies

Economic Research Institutions

Analysis/Forecasting Firms

Stock Exchanges

Financial Information Firms

Banks/Credit Unions

International Trade Companies

Manufacturing Firms

Statistical Research Firms
Salary offered to B.A. Economics
| | |
| --- | --- |
| Career Profile | Average Initial Salary |
| Finance and Budget Analyst | 3,50,500 - 5,00,000 |
| Banker | 3,75,000 - 7,50,000 |
| Market Analyst | 4,00,000 - 6,50,000 |
| Economist | 3,00,000 - 7,00,000 |
| Business or Economic Writer/Journalist | 3,00,000 - 6,00,000 |
| Investment Administrator and Analyst | 4,50,000 - 6,00,000 |
| Sales Executive or Analyst | 2,50,000 - 4,50,000 |
| Human Resources | 3,50,000 - 7,50,000 |
| Operations Manager | 4,00,000 - 8,00,000 |
Scope of BBA vs B.Com vs B.A. Economics
BBA
There are plenty of BBA Scopes as these graduates can avail numerous job opportunities in various MNCs, government and private sectors after Pursuing BBA Courses.
Apart from the mentioned lucrative job opportunities, individuals can go for higher studies in India as well as abroad.
After BBA some of the PG courses that can be done are mentioned below:
MBA: It is a 2-year program in mgmt. and after BBA it is considered a most sought option. You can do an MBA in several fields like Finance, Marketing, HR, etc. In India, there are many leading inst. offer an MBA like

IIFT

, IIMs, XLRI, etc.
Some of the MBA specializations are as follows.
| | | |
| --- | --- | --- |
| MBA Finance | MBA Hospitality | MBA Actuarial Science |
| MBA Marketing | MBA Entrepreneurship | MBA Banking |
| MBA HR | MBA IT | MBA Biotechnology |
| MBA Logistics and SCM | MBA International Business | MBA Travel & Tourism |
PGDM (PG Dip. in Mgmt.): It an alternative to an MBA and it is a

Diploma Course

. This course also has a well-structured curriculum and for leadership positions, it is acknowledged by many companies. Colleges offering PGDM (Post Graduate Diploma in Management) courses are XLRI, IMT, Biotech, etc.
MMS (Masters in Management Studies): At senior levels, the MMS course is helpful to control business activities and earn management skills. It is also meant for developing entrepreneurial skills. Many students opt for this course instead of going for an MBA. Many colleges like Shivaji University, SPPU, IIT, etc. offer this course
B.Com
You can select from a wide range of professions after pursuing B. Com.
To get a decent job a

B.Com Degree

helps in getting a global perspective along with several knowledge, skills, and experience and improves a career in a particular field. At a fast pace, the scope is rising and will continue to do so in the future.

In the private as well as the public sector there are many areas where a graduate may start working. Students can go for civil services examinations and earn a respectable job.
Career Options after B.Com
After B. Com, there are a plethora of opportunities and Career Options. Students can opt according to their interests and skills. After B.Com we have described some of the career options which are a choice of many students nowadays given below.
Master of Commerce (M.Com):

After pursuing B. Com, most of the students opt for M.Com. You can go with the specialization of your choice in this course. After pursuing this course it is always advised to go for further studies, as otherwise, it won't be that beneficial.

Association of Chartered Certified Accountants (ACCA):

ACCA is a perfect match for you if you are looking forward to becoming an accounting professional. This course has an amazing global repute and it is there in over 180 nations around the world.

MBA:

In India as well as abroad, an MBA is one of the most

Popular PG Courses

. It is highly suitable and offers various job opportunities for all those who want to work in the corporate world.

MBA in Finance:

After successfully completing B. Com students interested in making a career in the world of corporate finance can go ahead with an

MBA in Finance

.

Company Secretary (CS):

It is a bit different than CA. It focuses more on the legal aspects of the business and its quantitative analysis. The person will join as an executive secretary to the CEO or MD after pursuing this course.

Chartered Accountant (CA):

The basic responsibility of CA is doing deals with financial mgmt and carrying out all the financial audits. It is challenging as well as a respectable career. This course is conducted by the ICAI (Indian Chartered Accountants Inst.).

Inst. of Cost and Works Accountants of India (ICWAI):

This is a cost accounting course. A person can go for job profiles like Cost Controller, Financial Controller, Chief Internal Auditor, Chief Accountant, and many more after completing this course.
B.Com Specialisations:
The specialization offered in the Bachelor of Commerce [B.Com] course to aspirants are listed as under:
| | |
| --- | --- |
| Sl. No. | Specializations |
| 1 | B.Com: Advertising & Sales Management |
| 2 | B.Com: Computer Application |
| 3 | B.Com: Foreign Trade |
| 4 | B.Com: E-Commerce |
| 5 | B.Com: Honours |
| 6 | B.Com: Office Management |
| 7 | B.Com: Tax Procedure |
B.A. Economics
In the graduate-level subsequent to the completion of the studies, to go for Higher Studies it is possible for students to choose from a wide range of prospects. They can do their Master's in any of the streams like:
M.A. in Economics

M.A. in Mass Communication (MMC)

M.Sc. in Advertisement & Journalism

Master of Business Administration (MBA)

Masters in Applied Economics

MBA in Economics
Students of Economics can secure Good Jobs in the Fields of Public Relations, management, teaching etc. Students can go for M. Phil or PhD in a variety of specializations in case they wish to pursue their further studies.