An introduction - Biotechnology
What is Biotechnology Course is all about – When most of the students with medical background (PCB Physics Chemistry Biology) think about their Career Course after class XII they either think of a doctor or a pharmacist. But luckily the scope of this stream is more than just medical science. The Course of Biotechnology offers very interesting and Advantageous Career Opportunities to students. It offers a various outlook of science. In India, the Sector of Biotechnology is developing at a steady pace. Presently, from all parts of the nation thousands of aspirants are opting for the Biotechnology Engineering Field as their career. There are many Courses in Biotechnology that allows the students to make a career in this field. In this article, we will try to understand you about Major Biotechnology Courses and the dept. of biotechnology which is well-known among students.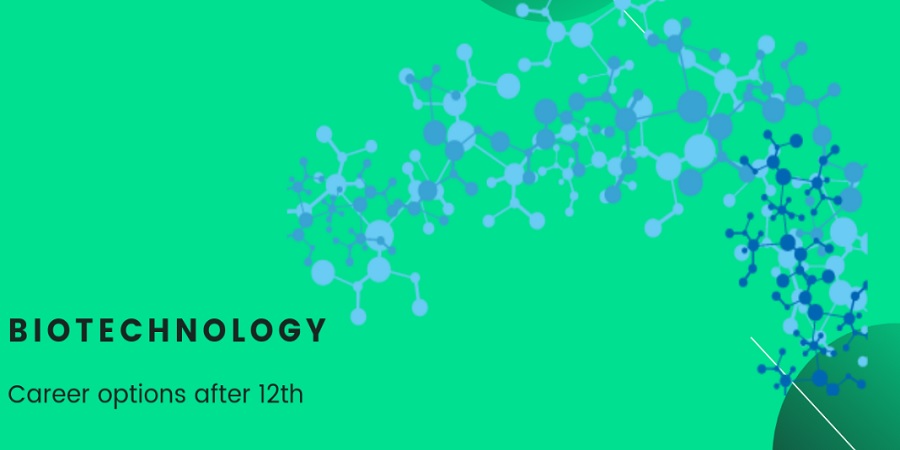 Basically, biotechnology is the amalgamation of biology and technology. Both aspects work together to aid mankind. It can be defined as the use of biomolecular processes or living organisms which help us to boost our life. Biotechnology stands on the basis of the approach that all living organisms have one thing in common i.e DNA. According to human requirements it is the modification of cell structures so that they can be used for product development and research work. It mixes together the idea of animal, human and plant genetics and cellular and molecular biology. Since ancient times we have been using biotechnology to enhance the quality of human life in various fields such as agriculture, medicine, and food production. The Applications of Biotechnology have in numerous fields like the growth of vaccines, pollution control, curing diseases, animal husbandry, energy conservation, and production, etc. Advanced Biotechnology Applications also include genetic engineering.
What does a Bio Technologist do?
A biotechnologist is a trained professional who has thorough knowledge about different living structures and uses it in various fields like agriculture, manufacturing, medical, food, etc. A biotechnologist can perform a number of duties and responsibilities. Tasks of a skilled and Trained Biotechnologist may differ rely upon the industry they are a part of. Most of the Bio Technologists may work in labs. Their job may include writing records, doing research work, assisting lab technicians, analyzing results, etc. They also set up the instruments used for different experiments and handle them.
Across various fields the Scope of Biotechnology spreads and since everyone cannot do everything, a biotechnologist chooses his/her particular area of specialization. One may indulge in the processing of food and household products. They also make many preservatives and additives which are found in preserved food items. For the production of various food items biotechnologists are responsible such as soya bean and yeast.
In the Medical field a Biotechnologist plays an essential role as well. They research to find a cure for various diseases. They also work on developing various drugs and the treatments they are used for.
In the field of Agriculture a Bio Technologist who trained may be involved in the research of plant and animal. Their job is to research various pesticides and their effect on our environment and crops and to develop their possible choices. They also use genetic engg. to make hybrid vegetables and fruits.
Biotechnologists not only work on Research and production but they can work as an investigator in numerous companies to make sure the complete process is being done safely and health standards are being maintained. To lead or manage research teams and various projects Sr. professionals can be involved.
Academic programs in Biotechnology Colleges:
B.Sc in Biotechnology
B.Sc in Biotechnology is an Undergraduate Degree Program. Its duration is 3 years which includes 6 semesters. This course consists of subjects such as Biology, Physics, Maths, and Chemistry. The course focuses on a thorough understanding of numerous biological processes at the organism and cellular level. Students are given both theory and practical sessions. Some of the subjects which are taught in this course are
Microbiology
Genetics
Cell Biology
Biomolecules
Antigens and Antibodies
Biotechnology Medical
Sterilization
Recombination
Microbiology of soil
Phosphorylation
Co enzymes
Lipid Metabolism
Genetic Mapping
Fermentation
Bioinformatics
Biofertilizer and Biopesticide
B.Tech in Biotechnology
It is a four-year bachelor's degree UG Program in biotechnology. It is an Engineering Program. Just like any other stream of engineering the course duration is 4 years, divided into 8 semesters. Each semester is about 6 months long. Along with Internship Programs both theory and practical sessions are made known to students. Subjects which comes under this course may include
Nano Biotechnology
Bioinformatics
Agricultural Biotechnology
Biochemistry
Molecular Biology
Cell Biology
Metabolic Engineering
Principles of Chemical Processes
Microbiology and Immunology
Genetics and Genetic Engineering
Genomics and Proteomics
Enzyme Engineering and Technology
Process Control
To apply for an undergraduate degree in Biotechnology (Bsc and B.Tech) the required eligibility criteria are given below:
To apply for BSc in Biotechnology and B.Tech in Biotechnology the basic eligibility criteria remain the same. A student must have passed his/her class XII examinations from a recognized national or state-level board of education with science stream. Students with both and PCM can able to Apply for the course.
Along with this it is compulsory to pass Various Entrance Exams held by different colleges who give admission strictly on the basis of merit scored in these tests.
Courses in Biotechnology after 12th
In India as well as abroad aspirants who are willing in the Field of Biotechnology can find a variety of UG courses both. Those who have passed XII class studies with science as the main subject can apply for courses like B. Sc. in Medical Biotechnology, Bachelor of Engg. in Biotechnology, and B.Tech in Biotechnology. B. Sc. in Agricultural Biotechnology, Bachelor's Degree in Resource Biotechnology, Bachelor of Biomedicine (Biotechnology), and Biochemistry, etc are some of the courses in Biotechnology available abroad. Apart from these short term courses like Diploma in Biotechnology, Certificate in Biotechnology and Plant Tissue Culture, and Certificate in Food Biotechnology is also available.
Biotechnology Courses in India after 12th
Bachelor of Engineering in Biotechnology
B.Sc. in Advanced Zoology & Biotechnology
Bachelor of Science in Applied Biotechnology
Bachelor of Science in Biotech.
Bachelor of Science (Honours) in Biotechnology
Bachelor of Science in Medical Biotechnology
B.Sc. in Zoology and Animal Biotech.
B.Sc. + M.Sc. in Biotechnology
Bachelor of Technology in Bioprocess Technology
Bachelor of Technology in Biotechnology
Bachelor of Technology in Industrial Microbiology
B.Tech. in Molecular & Cellular Engg.
B.Tech. + M.Tech. (Biotechnology)
Bachelor of Technology in Biotechnology
Advanced Diploma Course in Biotechnology
Diploma in Biotechnology Engineering
Certificate Course in Biotechnology
Certificate Course in Advanced Biotechnology
Certificate in Biotechnology and Plant Tissue Culture
Post M.D. Certificate Course in Biotechnology
Biotechnology Courses Abroad after 12th
B.Sc. (Hons) in Biotech. (Applied Molecular Biology)
Bachelor of Science (Hons) in Medical Biotechnology
Bachelor of Biotechnology
Bachelor of Applied Science (Biotechnology)
Bachelor Degree in Resource Biotechnology
Bachelor of Biotechnology and Innovation
BAppSc. Majoring in Molecular Biotech.
B.Sc. Majoring in Plant Biotech.
B.Sc. in Chemical Engg. with Biotech. Specialization
Bachelor of Biomedicine (Biotechnology)
B.Sc. in Biological Engg. – Biotech. Engg. Concentration
Bachelor of Medical Science (Biotechnology)
Bachelor of Biomolecular Science - Environmental Biotechnology
Bachelor of Technology in Biotechnology
B.Sc. in Agricultural Biotech. and Biochem.
Bappa and Sc. in Biotech.
B. App. Sc. with Islamic Studies (Biotech.)
Diploma of Laboratory Technology (Biotechnology)
Graduate Diploma in Technology
Diploma in Biotechnology
Diploma in Molecular Biotechnology
Certificate in Food Biotechnology
Dip. of Health Sc. in Molecular Genetics and Biotech.
In most of the courses admission will be based on the marks get in XII class examination. Details related to the admission can be collected from the web portal of the Univ. that offers a particular course.
How to become a Biotechnologist
STEP 1– Need to take science stream in high school.
The willing one needs to choose the science stream in their IX class because students with a science stream can only apply for this course. Students can select either PCM or PCB as their subjects.
STEP 2– Give entrance exams.
One must give national and state level entrance exams held for admission in various Biotechnology courses in order to get yourself eligible for admission in various colleges.
STEP 3– Earn a Bachelor's degree whether it is B.Sc. or B.Tech in Biotechnology or any other course in this field from a reputed college.
STEP 4– Earn internships through college.
STEP 5– Get a job.
Entrance exams for admission in Biotechnology courses
A.I.I.M.S Biotechnology Entrance Exam
J.A.M Biotech. Entrance Exam of I.I.T, Chennai
Goa University Biotechnology Entrance Examination
J.N.U Combined Biotechnology Entrance Exam
Combined Biotechnology Entrance Examination (CBEEE)
All India Biotechnology Entrance Examination
GGS Indraprastha Univ. Common Entrance Test
Kurukshetra University Biotechnology Entrance Exam
Jawaharlal Nehru Technological University Biotechnology Entrance Exam
M.K.U (Madurai Kamaraj University) Biotechnology Entrance Examination
Central University Biotechnology Entrance Examination
Anna University Biotechnology Entrance Examination
Alagappa University M. Sc Biotechnology Entrance Examination
B.H.U M.Sc Biotechnology Entrance Exam
H.P.U M.Sc Biotechnology Entrance Exam
O.U (Osmania University) M.Sc Biotechnology Entrance Examination
University of Mysore M.Sc Biotechnology Entrance Examination
University of Madras M.Sc Biotechnology Entrance Examination
Top Biotechnology Colleges in India
Sc Biotechnology
A.V.C. College – Bachelor of Science in Bio-Technology
Bangalore City Coll.– B.Sc. in Biotechnology
Amity Institute of Biotechnology – Bachelor of Science in Biotechnology
Fergusson College, Pune – Bachelors of Science in Biotechnology
Dayanand Coll. – B.Sc. In Biotechnology
I.P. College – Bachelor of Science in Biotechnology
Jodhpur National University – Bachelor of Science in Biotechnology
Dasmesh Girls Coll. of Edu. – B.Sc. in Biotechnology
Khalsa College Amritsar – Bachelor Of Science in Biotechnology
St. Mary's Coll. for Women – B.Sc. In Bio-Technology
Kishan Institute Of Information Technology, Meerut
Vivekanand Edu. Society's Coll. of Arts, Sc. and Comm. – B.Sc. in Biotechnology
St. George Coll. of Mgmt., Sc. & Nursing – B.Sc. in Biotechnology
Shyamlal Saraswati Mahavidyalaya – Bachelor of Science in Biotechnology
T John Coll. (TJC), Bangalore – B.Sc. in Biotechnology
Manonmaniam Sundaranar Univ., Tirunelveli – B.Sc. In Bio-Technology
Madina Degree Coll. – B.Sc. in Biotechnology
MVP Samaj's K.T.H.M Coll. – B.Sc. in Biotechnology
B.Tech in Biotechnology
GGS Indraprastha University, Delhi
Indian Institute of Technology, Guwahati (IITG)
Indian Institute Of Technology, Madras
AIIMS, New Delhi
Indian Institute of Technology, Roorkee (IITR)
Shri Mata Vaishno Devi University
VIT University (VIT)
PSG College of Technology (PSGTECH)
Jaypee Institute of Information Technology
National Institute of Technology, Durgapur (NIT D)
Dr. B R Ambedkar National Inst. of Tech. Jalandhar (NITJ)
Mepco Schlenk Engineering College
B.S. Abdur Rahman University (BSAU)
National Institute of Technology, Warangal (NIT, Warangal)
Thapar University (TU Patiala)
Gandhi Inst. of Tech. and Mgmt. Univ. (GITAM University)
Indian Institute of Technology, (IIT Madras)
Andhra University (AU, Visakhapatnam)
National Institute of Technology (NITC)
BMS College of Engineering (BMSCE)
Maulana Azad National Institute of Technology (MANIT)
Netaji Subhas Institute of Technology (NSIT)
Indian Institute of Technology, Delhi (IITD)
Career Prospects in Biotechnology
Biotechnology is one of the most demanding field which has plenty of scope for growth and development of an individual. It is a pace developing sector and after doing this course it is not difficult to find a job. A professionals from Biotech can look job in numerous sectors such as manufacturing industries, agriculture, chemical industries, textile industry, pharmaceutical companies, food and drug industry, healthcare sector, genetic research, clinical research, etc. To Biotechnology graduates both govt. and private sector offers opportunities.
Biotechnology has various application areas. Due to this very fact, biotechnology professionals have access to a wide range of jobs from various domains! Here are few of the main recruiters –
Research firms
Pharmaceutical firms
Hospitals
Laboratories
Food production firms
Clinical research firms
Consultation agencies
Chemical manufacturers
Fertilizer manufacturers
Educational institutes
In the already entioned firms, biotechnology professionals may deal with the following roles –
Biotechnology engineer
Lab technician
Scientist
Teacher/Instructor
Project manager
JOB PROFILES
Research scientist
Senior Research Associate
Quality Control Officer
Bioinformatics Analyst/Programmer
Biotechnologist
Manufacturing Supervisor
Facilities Technician
Lab Technician
Bioinformatics Scientist/Engineer
Quality Control (QC) Technician
Sales Representative
Molecular Modeler
Director of Product/Process Development
Environmental Health & Safety Specialist
Director of Quality
Director/Manager of Regulatory Affairs
Director of Project Management
Top Recruiters
Hindustan Antibiotics
Thapar Group
IDPL
Himalaya Drug Company
Bharat Biotech
Biocon India Ltd.
Hindustan Lever Ltd
Nestle
SRL Ranbaxy
NCL
Praj Industries
NFL
Wockhardt
Panacea Biotech
Yashraj Biotechnology
Asterazeneca
Salary Packages
On the basis of the post and sector, one working in the salary may depend. Biotechnology is a highly advantageous career with no salary limits. A fresher can be looking for a salary slab between Rs. 10,000-Rs 15000 per month. Once you have acquired enough experience you can earn high salary packages up to Rs. 20,00,000 annually and even more. If one has passed a degree from one of the reputed colleges then one can start to earn in lakhs right from the beginning of their career.
In abroad for best scope and biotechnology jobs you should join these companies as they are highly renowned and have done much research in this field. The companies along with their respective location and ranking order provided by a website are as given below:
Amgen - USA
Genentech - USA
Serono - Switzerland
Biogen Idec - USA
Genzyme - USA
Chiron Corp. - USA
Gilead Sciences - USA
CSL - Australia
MedImmune - USA
Cephalon - USA
Millennium Pharmaceuticals - USA
Genencor International - USA
ImClone Systems - USA
Actelion - Switzerland
Celgene - USA
MGI Pharma - USA
QLT - Canada
Nabi Biopharmaceuticals - USA
AEterna Zentaris - Canada
Regeneron Pharmaceuticals - USA
Enzon Pharmaceuticals - USA
Ligand Pharmaceuticals - USA
Berna Biotech - Switzerland
Acambis - UK
InterMune - USA
Cangene - Canada
Vertex Pharmaceuticals - USA
Protein Design Labs - USA
Innogenetics - Belgium
Neurocrine Biosciences - USA
Transkaryotic Therapies - USA
Icos - USA
United Therapeutics - USA
LifeCell - USA
Myriad Genetics - USA
OSI Pharmaceuticals - USA
Isis Pharmaceuticals - USA
Bioniche Life Sciences - Canada
Enzo Biochem - USA
ID Biomedical - Canada
Protherics - UK
ViroLogic - USA
ZymoGenetics - USA
Peptech - Australia
Antisoma - UK
Carrington Laboratories - USA
Cell Therapeutics - USA
Cambridge Antibody Technology - UK
Crucell - The Netherlands
Vernalis - UK
Bavarian Nordic - Denmark
MorphoSys - Germany
Anika Therapeutics - USA
ImmunoGen - USA
Corixa - USA
AnGes MG - Japan
SciClone Pharmaceuticals - USA
Kosan Biosciences - USA
ViroPharma - USA
Agenix - Australia
Tanox - USA
CV Therapeutics - USA
NeuroSearch - Denmark
Indevus Pharmaceuticals - USA
BioMarin Pharmaceutical - USA
Dyax - USA
MediGene - Germany
Maxygen - USA
Abgenix - USA
GPC Biotech - Germany
Cytogen - USA
Genta - USA
Vical - USA
NPS Pharmaceuticals - USA
ML Laboratories - UK
Vitrolife - Sweden
Cerus - USA
Encysive Pharmaceuticals - USA
Arena Pharmaceuticals - USA
Medarex - USA
Amrad - Australia
Life Therapeutics - Australia
GenVec - USA
Medivir - Sweden
Cell Genesys - USA
Inex Pharmaceuticals - Canada
Inspire Pharmaceuticals - USA
Myogen - USA
Targeted Genetics - USA
Epimmune - USA
Progenics Pharmaceuticals - USA
Active Biotech - Sweden
GroPep - Australia
Novogen - Australia
Unigene Laboratories - USA
Vicuron Pharmaceuticals - USA
Xenova - UK
Dusa Pharmaceuticals - USA
Senetek – USA
Valentis - USA