Topic We Cover: CHITKARA UNIVERSITY
1. INSTITUTIONS OF CHITKARA UNIVERSITY
CHITKARA BUSINESS SCHOOL
CHITKARA COLLEGE OF SALES & MARKETING
CHITKARA UNIVERSITY INSTITUTE OF ENGINEERING & TECHNOLOGY
CHITKARA COLLEGE OF APPLIED ENGINEERING
CHITKARA SCHOOL OF PLANNING AND ARCHITECTURE
CHITKARA SCHOOL OF ART & DESIGN
CHITKARA SCHOOL OF MASS COMMUNICATION
CHITKARA COLLEGE OF HOSPITALITY MANAGEMENT
CHITKARA SCHOOL OF HOSPITALITY (WITH NCHMCT)
CHITKARA COLLEGE OF PHARMACY
CHITKARA SCHOOL OF HEALTH SCIENCES
CHITKARA COLLEGE OF EDUCATION
3. CAMPUS
4. PLACEMENTS
CHITKARA UNIVERSITY
Chitkara University was founded under "The Chitkara University Act" by the Punjab State Legislature. Dr. Ashok Chitkara and Dr. Madhu Chitkara are the founders of Chitkara University, Punjab. The university runs under the Chitkara Educational Trust. Chitkara University has been recognized by The University Grants Commission Act, 1956.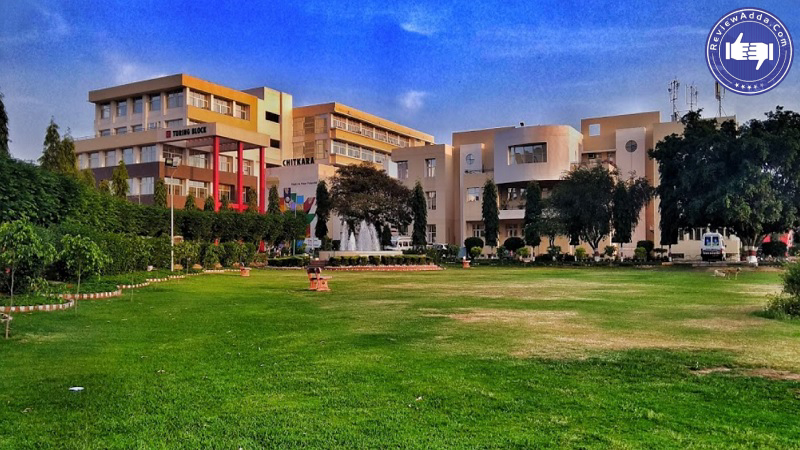 Chitkara University is recognized globally for its academic excellence and Interdisciplinary Courses and research. The university has around 12 schools that are in fields such as Engineering, Management, Architecture, Nursing, Healthcare, Pharmacy, Media, Arts & Design, Education, Hospitality, Applied Science, and Applied Engineering. Chitkara University is one of the Best Universities in North India and has around 13,000 students and 900 faculty members.
The University has a student-centric approach and so it attracts students from all over the country. Being one of the Reputed Universities of Punjab, Chitkara University, offers multi-disciplinary programs such as programs in business management, nursing, medical laboratory technologies, computer science, electronics, mechanical engineering programs, etc.
INSTITUTIONS OF CHITKARA UNIVERSITY
CHITKARA BUSINESS SCHOOL
Chitkara Business School is one of the emerging Business Schools of India. It has a focused academic approach, strong industry partnerships, and extremely good campus placements. The size of the classes is small and personal attention is given to students. The faculty of the college is outstanding and the school offers the following courses to its students:
Two year MBA program in:
Marketing
Finance & Banking
Health Management/ Health Information Technology/Public Health
Supply Chain & Logistics with Safeducate
Rural Management
Business Analytics
Human Resource Management
The event, Media and Entertainment with wizcraft
Undergraduate Course:
The Chitkara Business school offers a three-year duration BBA course with specialization in:
Business Analytics in collaboration with EY
Banking and Finance
Event Management
Entrepreneurship & Innovation
Healthcare Management in Collaboration with Fortis
Supply Chain & Logistics in Collaboration with Safexpress
Retail Marketing
Rural Marketing
Digital Marketing
The school also offers the following undergraduate courses:
Three-year duration BBA in Fintech in collaboration with IMAGINXP
Three-year duration B.Com (Hons.) program with a specialization in:
Business Analytics in collaboration in EY
Banking and Finance
International Finance and Accounting (IFA)
Strategic Finance in collaboration with IMA (USA)
Applied Finance (KCAP) in collaboration with KPMG
Capital Markets Practice
Three-year B.A. (Hons.) in Economics
Integrated MBA with the specialization in Marketing, Finance & Banking, Business Analytics, Rural Management, Supply Chain Management, and Healthcare.
CHITKARA COLLEGE OF SALES & MARKETING
Chitkara College of Sales and Marketing is an initiative by Chitkara Education to provide an opportunity for students to make a career in sales and marketing. It is well known that through sales students can make the best career in the world and through this college excellent sales and marketing education are provided to students. All the courses offered by the college ensure 100% success in a career. The courses offered by the College are:
Two Year MBA Programs in:
Retail Management
Pharmaceutical Management
Banking, Financial Services, and Insurance
Waste Management & Social Entrepreneurship with MGNCRE
Department of Banking & Financial Services
Two-year duration MBA (Insurance & Financial Planning)
Five-year duration Integrated MBA (Insurance & Financial Planning)
Certificate in Insurance & Financial Planning
CHITKARA UNIVERSITY INSTITUTE OF ENGINEERING & TECHNOLOGY
The Institute of Engineering & Technology came into existence in the year 2002. The college has been rated as the best engineering college in Punjab. It is known for providing academic excellence, latest and innovative teaching methods, and tie-ups with industry. Following courses are offered by the institution:
Bachelor of Engineering (B.E)
Computer Science & Engineering with specialization in the field of Artificial Intelligence, Fullstack, Data Analytics, Cyber Security, Blockchain Technology, UI/UX Design, Game Design & Augmented Reality, PEGA University Academic Program, Mobile Computing, DevOps, Robotics Process Automation, Cloud Computing, Digital Marketing, Dual Degree B.E. & M.E.
Electronics & Computer Engineering
Electronics & Communication Engineering with specialization in Embedded Systems IoT/VLSI Design
Mechanical Engineering with specialization in Automotive Engineering with an Introduction to Hybrid & Electric Vehicles
Mechatronic Engineering
Electrical Engineering with specialization in Hybrid & Electric Vehicles/ Industrial Automation
Civil engineering with specialization in Public Health Engineering/ Construction engineering Management/ Structural Engineering
Computer Applications Program in
BCA
Integrated BCA-MCA
MCA (Lateral Entry)
Lateral Entry B.E. Programs in
Civil
Electrical
Mechanical
Fire & Safety
Polytechnic Diploma Programs in
Civil
Electrical
Mechanical
Fire & Safety
E. Programs in
CSE
ECE
Mechanical
Tech. Program in CSE
Doctoral Program in
Computer Science Engineering
Electronics & Communication Engineering
Mechanical Engineering
Applied Sciences
CHITKARA COLLEGE OF APPLIED ENGINEERING
Chitkara College of Applied Engineering was formulated to crystallize the "Make in India" mission of the Honourable Prime Minister Narender Modi. The College provides ample opportunities for students to grow in career path vertically & horizontally in specializations like Civil, Electrical, Mechanical, and Safety & Fire. The courses offered by the college come with a compulsory industry internship and 100% placement assistance from its partner organization.
All the Engineering degrees & the diploma programs which are offered by the Chitkara College of Applied Engineering have on-the-job training as an integral part of the curriculum and this helps students in getting the real-life exposure of the realities and difficulties of the industry. Courses offered by the college are:
Tech in
Information Technology
Electrical Engineering
Mechanic al Engineering
Civil Engineering
Fire Safety Engineering
Three Year Diploma Engineering program in:
Civil Engineering
Electrical Engineering
Mechanical Engineering
Automotive Engineering
Get Updated Review ( Voice Based Alumni Feeback)
CHITKARA SCHOOL OF PLANNING AND ARCHITECTURE
Chitkara School of Planning and Architecture was commenced in the year 2004 and it offers a 5 year Bachelor program in Architecture which is recognized by the Council of Architecture. The college is well known for its infrastructure which includes facilities like art design studios, multimedia laboratories, audio-visual laboratories, large lecture halls, materials museum, and a library.
The courses offered by the school are such which are a perfect blend of theoretical and practical knowledge and gives in-depth knowledge in subjects like history, design, and technology. The students who pass from this college have been offered profiles such as Architect, Architectural Technologist, Interior, and Spatial Designer, Educationist, Conservation Officer, Landscape Architect, Planning and Development Surveyor, Building Surveyor, Historic Building Inspector, etc.
The courses which are offered by the college are:
Bachelor of Architecture – 5 Year duration
Des in Interior Design – 4 Year duration
Des in Interior Design – 2 Year duration
CHITKARA SCHOOL OF ART & DESIGN
Chitkara School of Art & Design provides such resources, professional art equipment, wide curriculum and experienced faculty which would produce professional and budding artists and designers. The following courses are offered by the School:
Undergraduate Course
Bachelor of Fine Arts – 4 Year
A. in Photography & Visual Arts – 3 Year
Sc in Animation – 3 Year
Sc. in Fashion Design – 3 Year
Des in Animation/B.Des in Game Design – 4 Year
Des in Visual Communication – 4 Year
Des in User Experience – 4 Year (UX/UI)
Postgraduate Programs
Des in User Experience – 2 Year (UX/UI)
Master of Fine Arts (MFA) – 2 Year
CHITKARA SCHOOL OF MASS COMMUNICATION
Chitkara School of Mass Communication has been known as one of the best institutes for Mass Communication in Punjab. The School offers a proper setting for learning, development, and growth in the media and communication field. The programs which are offered at Chitkara School of Mass Communication focus on Newspaper and Magazine Print Journalism, Television & Radio Broadcast Journalism, Online & Convergence Multimedia Journalism.
Courses offered:
A. in Journalism and Mass Communication – 3 Year
A. in Journalism and Mass Communication – 2 Year
Doctoral Program in Mass Communication
CHITKARA COLLEGE OF HOSPITALITY MANAGEMENT
If a student wants to make a career in the Hospitality and Culinary field then Chitkara College is one of the best places. Through the programs offered by the college, aspirants can fulfill the dream of being professionals in this particular field.
The following courses are offered by Chitkara College of Hospitality Management:
Sc in Hospitality Administration – 3 Year
Sc in Culinary Arts
Sc (Culinary Arts) – Specialisation in Bakery & Pastry Art Management
CHITKARA SCHOOL OF HOSPITALITY (WITH NCHMCT)
Chitkara School of Hospitality was established in the year 2005 and got affiliated to National Council for Hotel Management and Catering Technology (NCHMCT) in 2008. The School has been awarded as a "Certificate of Excellence" by the Tourism Ministry, Government of India. The programs offered are designed in such a way which provide knowledge to students from basic fundamentals to expertise in this Hospitality Industry.
Following courses are being offered by the college:
Sc in Hospitality & Hotel Administration with NCHMCT
CHITKARA COLLEGE OF PHARMACY
The college was established in the year 2005. Chitkara College of Pharmacy has been approved by the All India Council of Technical Education (AICTE) and also by the Pharmacy Council of India. It is a center of excellent Pharmaceutical Science Education and the following courses are offered by it:
4 Year B.Pharma with specialization in Pharmaceutics, Pharmacology, Pharmaceutical Chemistry, Pharmacognosy.
Bachelor of Pharmacy (Practice). It is a 2-year duration course. The topics that will be covered during the program will be Pathophysiology and Pharmacotherapeutics, Pharmacy Practice, Applied Pharmaceutics, and Social Pharmacy.
2 Year M.Pharma (Pharmaceutics/Pharmacology/Clinical Research & Clinical Pharmacology)
Pharma plus M.Pharma – 6 Year Integrated Program
Sc. Pharmacovigilance – 2 Year M.Sc. Program
Pharma – 2 Year Diploma Program
Pharm D – 6 Year Doctoral Program
Pharm D – 3 Year Program which is Post Baccalaureate
Pharma Plus Ph.D. – Integrated Doctoral Program which is a combination of PG and Research
CHITKARA SCHOOL OF HEALTH SCIENCES
Healthcare Industry has become one of the largest growing industries in recent times and so to fulfill the need for demand and supply the Chitkara School of Health Sciences was formulated in 2011 exclusively for Healthcare Education. The School offers the following courses:
B.Sc. Nursing – 4 Year
Post Basic B.Sc. Nursing – 2 Year
M.Sc. Nursing – 2 Years
Allied Healthcare Programs in
B.Sc. Medical Laboratory Technology – 3 Year
B.Sc. Medical Imaging Technology – 3 Year
B.Sc. in Dialysis Therapy – 3 Year
B.Sc. Operation Theatre Techniques – 3 Year
B.Optometry – 4 Year
M. Optometry – 2 Year
Physiotherapy Programs in
Bachelor of Physiotherapy (B.Pt.) – 4.5 Year
Bachelor of Occupational Therapy (B .O. Th or B.O.T) – 4.5 Year
Master of Physiotherapy (M.Pt.) – 2 Year
Doctoral Programs in Health Sciences in the following disciplines
Allied Health Sciences
Optometry
Physiotherapy
Health Literacy
Public Health
Health & Society
Healthcare Management
Innovations in Health Products and Services
Health Systems Research
Health Services Research
Clinical Research areas
Healthcare IT
Social Medicine & Community Health
Life Sciences (Bio-Chemistry and Bio-Informatics)
CHITKARA COLLEGE OF EDUCATION
Chitkara School of Education was formed in the year 2003 and since it has been providing ample opportunities to students to make a successful career in the field of teaching. The courses offered by the college are:
Bachelor of Education (B.Ed) - 2 Year
Master of Education (M.Ed) – 2 Year
CAMPUS
The University is spread in an area of 64 acres which is a mixture of modern infrastructure and lush greenery. The classrooms are in an amphitheater-style and very spacious and are also equipped with modern equipment. The students are encouraged to participate in various co-curricular and extra-curricular activities that the university offers through its clubs and societies available at the campus.
The University has a state-of-art Auditorium where events like conferences and other events take place. Well equipped seminar halls with advanced equipment for smaller-scale events are also present at the campus. There are modern high-tech laboratories to meet the academic requirements of students. For example, MATLAB and Simulation & Computational Labs in Electrical Engineering, Microprocessor & Micro Controller Lab with Keil Software, and Microelectronics Lab with Cadence software are some of the labs.
All the campuses of Chitkara University are interconnected through a high security virtual private network. All the campuses of the university have the latest computer centers for computing facilities. The library of Chitakara University has a wide range of study materials in a variety of formats which range from traditional books to multimedia, serial and films and information which is from around the globe. There are big reading halls, periodical centers, rooms for group discussions and browsing areas. Banks, ATMs, Medical facilities, cafeteria are other facilities that are available at the campus.
Also, separate residential accommodation is available for boys and girls. The security arrangements for such hostels are very tight and wardens are very caring. Internet access is available there. A common room with TV, indoor games and other recreational facilities` is also present at the hostel.
INTERNATIONAL COLLABORATIONS OF CHITKARA UNIVERSITY
University of Florida, U.S.A.
Purdue University, San Diego
Chonbuk University, South Korea
Central Michigan University, U.S.A.
Concordia University, Canada
Glasgow Caledonian University, U.K
Deakin University, Australia
PLACEMENTS
Students of Chitkara University are placed in some of the top companies. Some of such companies are as:
Infosys
Cybage
ITC Infotech
Wipro
Hitachi
Honda
Panasonic
Sterling and Wilson
Future Group
Kotak Mahindra and many more.