Topic We Cover: Executive MBA Admission Process from IIMs
1. Top Executive MBA Programmes and Admission Process
2. Language Test
3. The need for Executive MBA Program
4. Benefits of Executive MBA
5. Subject
6. Top 10 Advantages of an executive MBA program
7. Executive Education at IIM Bangalore
8. Career Opportunities after EMBA from IIM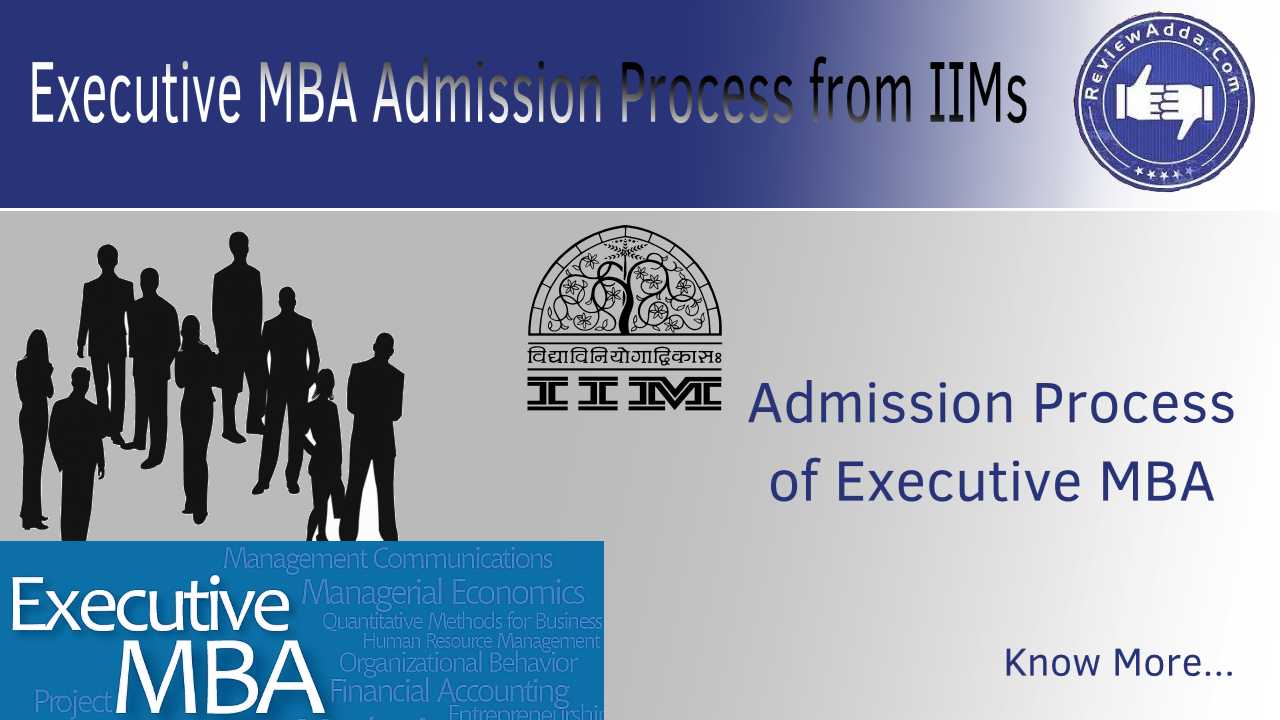 The decision to opt for Executive MBA is tenacious for any working professionals due to the competitive path of the admission process organized by the leading B-schools of the country. The admission process of Executive MBA is go through multiple stages and ensure that this 2 year programme is upto the mark of their merit and quality of experience they possess. This should be more valuable when we are talking about the Executive MBA Admission Process from IIMs.
Although for Executive MBA admission process from IIMs the major eligibility criteria of the candidate can be measure in terms of work experience, entrance exams act as the bridge between the working executives and the application to the coveted programmes. The constitutional part of Executive MBA Admission Process from IIMs is the entrance exam after which the other criteria such as SOP, Essay, GD or Interview are considered.
So, If you are willing to apply to one of the top B-schools in India offering Executive MBA programmes or management programmes especially for working executives, the foremost task for you is to zero down on the B-schools you want to apply for and take the entrance exam whose scores are accepted by them.
In this article from the Executive MBA Admission Process from IIMs, we will bring your notice to the top Executive MBA entrance exams and the other selection processes and criteria followed by the top B-school of the nation i.e. IIMs.
But before moving further let's have a look to the top B-schools offering Executive MBA programmes and the entrance test and admission process.
Top Executive MBA Programmes and Admission Process
B-School

Programme

Mode

Entrance Exam

Criteria & Final Selection Process

IIM Ahmedabad

PGPX

Full Time

Personal Interview

Essay Writing (2)

IIM Bangalore

EPGP

Full Time

GMAT or GRE

Statement of Purpose (SOP)

Two Reference letter

Written Ability Test and Interview

IIM Calcutta

PGPEX

Full Time

GMAT

Statement of Purpose

Letters of Recommendation from 2 senior managers

Personal Interview

IIM Lucknow

IPMX

Full Time

GMAT

Statement of Purpose

2 Letters of Recommendation

Personal Interview

WMP

Part Time

Written Test conducted by IIM Lucknow

Group Discussion

Personal Interview

IIM Indore

EPGP

FT

CAT /GMAT

PI

IIM Kozhikode

PT

EMAT/ CAT/ GMAT

IIM Shillong

PGPEx

Full Time

CAT or GMAT

NA

IIM Trichy

PGPBM

Full Time

CAT or GMAT or Written Test

Personal Interview

IIM Ranchi

PGEXP

Part Time

Written Test

Personal Interview

IIM Rohtak

ePGP

Part Time

IIM R-MAT or CAT or GMAT or GRE

Personal Interview

IIM Udaipur

PGPX

Part Time

TOEFL or IELTS or PTE and GMAT

Personal Interview

ISB

PGP

Full Time

GMAT and TOEFL or IELTS or PTE

Video application

Personal Interview

Essay Writing

Case Discussion

IIM Raipur

PGPWE

PT

GMAT or CAT or BAT

PI, Aca.Qual. and Relevant Working Experience

Great Lakes Institute of Management, Chennai

PGPM

Full Time

CAT or XAT or GMAT

Essay Writing

Group Discussion

Personal Interview

MDI Gurgaon

PGPEM

NMP

Full Time

MDI or CAT

PI

PGDM

FT

XAT or GMAT or CAT

PAD

MBA Executive (Health Care Administration)

Part Time

NA

WAT

PI

NMIMS Mumbai

Executive MBA

Full Time

Written Test

Personal Interview

SPJIMR Mumbai

PGEMP

Part Time

NA

Group Discussion

Personal Interview

IQ and Psychometric Test

PGDM – GM

PGDM – BM

Full Time

Part Time

GMAT or XAT

Group Discussion

Personal Interview
As it is clear from the above mentioned table that GMAT is one of the highly accepted exams for the B-Schools especially by IIMs. But, that doesn't mean no other exam do not accepted for Executive MBA. In fact, Executive MBA Admission Process from IIMs taken the CAT scores.
There are few B-schools also which conducts their own entrance exam such as IIM Ranchi, IIM Lucknow (for WMP), IIM Raipur, IIM Kozhikode, IIM Rohtak, MDI Gurgaon, and IIM Trichy. Apart from IIM Ranchi, rest of the mentioned institutes accepts the scores of other test apart from GMAT or CAT. Admission process of IIM Trichy mentioned that the one who have obtained a valid scores of either CAT or GMAT will be exempted from taking the entrance exam conducted by the institute.
Language Test
The Executive MBA Admission Process from IIMs also reflects the programme design or curriculum. As many as three programmes mentioned in the above table accept scores of language aptitude tests like GRE or IELTS or PTE. ISB's flagship programme PGP, IIM Udaipur's PGPX, and IIM Bangalore's EPGP curriculum includes international immersion.
In third term of IIM Bangalore's EPGP, students get the opportunity to visit emerging economies like China, Russia, Brazil and South Africa or a developed one in the Asian region like Singapore or South Korea. "The module provides insights into the country's economic, social, political and cultural life," mentions IIM Bangalore. The international immersion programme carries 3 credits.
IIM Udaipur's PGPX is a Dual Degree programme in Supply Chain Management in association with Purdue University, USA. According to the institute, the students spend the Fall module of the programme in Purdue University.
Get Updated Review ( Voice Based Alumni Feeback)
Indian School of Business or ISB's flagship programme, PGP offers inbound and outbound exchange programmes The institute has partnered with 42 B-schools across countries like the USA, France, South Africa, Israel, Germany, China, Pakistan, South Korea, Singapore and the U.K, Canada, Italy, Australia, Spain, Switzerland, Chile, Netherlands, Germany and Taiwan.
Although there are other Executive MBA programmes which offer international exposure such as IIM Ahmedabad, IIM Calcutta, IIM Shillong and IMT Ghaziabad, the admission criteria do not include language tests like GRE or IELTS or PLT.
Apart from entrance exam scores what are the other factors which are in deliberation, Let's have a look:
For a working professional, taking admission and going through the Executive MBA Admission Process from IIMs not a cakewalk. The candidates not only have to come up with the requisite cutoff scores or percentiles of the above stated entrance exams but also need to focus on their profile to stand out from the crowd and convince the admission panel why they deserve a seat in the coveted programme.
Profile of candidate and Work Experience – The fundamental eligibility criteria for the Executive MBA Admission Process from IIMs is the work experience. The admission committee not only checks the number of years of work experience but the quality of the experience as well, in terms of the contributions made towards the company and its people at large. Nishant Goyal, PGPM 2017 student of Great Lakes Institute of Management says, "Work experience and your nature of work, accolades or recognitions, external certifications and references are considered at the time of admission."
Statement of Purpose - To start with, let us talk about Statement of Purpose, commonly known as SOP. Along with the application, the candidates have to submit the SOP to state their goals and objective behind pursuing the programme. Prakula Uniyal, ISB PGP student of 2017 batch shares her experience on preparing for the application process at the B-School, "ISB application was an important milestone for me not just professionally, but also personally, as it helped me introspect and understand myself and my life goals better."
Letters of Reference/Recommendation - B-schools like IIM Bangalore, Calcutta and Lucknow asks for at least two Letters of Recommendation from the previous employers for the Executive MBA Admission Process from IIMs. So that the admission committee understands better about the applicants' contribution to the company and how much they are valuable for the programme.
WAT or Essay Writing – This is another important criterion for the selection of the Executive MBA students. Along with the SOP, the applicants have to submit essays on the given topics. IIM Bangalore, Ahmedabad, Great Lakes Inst. of Mgmt., ISB and FMS Delhi are some of the institutes where Essay or Writing Ability Test (WAT) form an integral part of the application and admission process.
Personal Interview – The final round of the selection procedure followed at the B-schools is the Personal Interview round. This is one of the most crucial rounds and the admission panel looks for the distinct personality traits of the candidates and decide whether he/she would add value to the programme or not. Nishant Goyal mentions, "The interview is a rigorous process. They probe you to understand whether you will fit into this one year program. Also, Great Lakes Institute of Management looks at the personality traits and attitude of the candidates apart from their credentials."
The need for Executive MBA Program
In today's world, global economy has expanded manifold and is constantly throwing up both challenges and opportunities. Presently, the business organizations require the productive and persuasive executives who have the amalgamation of both the theoretical knowledge with practical problem-solving skills. They need proficient and accomplished people who have adequate corporate experience, excellent cross-cultural skills and an awareness of the emerging global business scenario.
The Executive MBA Admission Process from IIMs was created in response to these needs. It aims to develop executive who can meet the emerging and, in some cases, unforeseen challenges of global business. The syllabus or we can say curriculum for various programs is designed by various colleges and universities emphasize practical problem-solving and the development of cross-cultural skills. Courses and course modules aim to improve communication, team-building and leadership skills.
Executive MBA Programme is specifically designed to enhance the careers of working business professionals, managers and executives.
It is mainly joined by the professionals from various public or private sector companies.
One of the best teachers of management gives the valuable lectures to the students of EMBA. The exhaustive theoretical and practical knowledge help them to develop with greater potential in business management. The atmosphere surrounded with ingenious ideas changes them into worthy professional executives to face the real challenges of the present world.
Categories
The Executive MBA Admission process from IIMs is depends on the course and the requirement of the professional. The duration of course is minimum of 12 months and extends upto 30 months. Have a look to the detailed break-up of the four broad categories are of Executive MBA program offered in India:
One-year EMBA program: As we know, one year is a very less time to explain everything to the professionals. So this programme is offer concise and tailored programme especially designed for the remarkably skilled management professionals who show potential for excellent managerial capacity. This is a full-time course. Some of the top institutes that offer this program are SP Jain, ISB, and Great Lakes.
Two-year Executive MBA program: This course can be a full-time or a part-time MBA program.
Correspondence EMBA program: This is for one who can't afford to leave their jobs for pursuing the full-time MBA. In such cases, IGNOU is one of the best universities in India offering this kind of course.
Online EMBA program: The trend of Virtual learning is increasing day by day in India. XLRI has evolved a 12 months consolidated program in 'Business Management'. The main aim of this programme to provide an opportunity to study and get a PG certificate in Business Management (PGCBM) while working. This kind of program is offered by XLRI.
Subject
The EMBA courses are also divided subject wise :
HR
Marketing
IT System
Finance
Hospitality Mgmt. etc.
The students, who go for a course of two or three years, go through general management in the first two semesters. They cover HR/finance/market etc as specialization papers during the rest of the semesters.
Eligibility Criteria for applying to an Executive MBA program are:
Sound knowledge of English
At least 3-5 years of professional experience
Should be at managerial level while applying
A degree in any stream or equivalent
It is a must to obtain approval from the respective companies for securing an EMBA degree. A student not allows quitting the job till he/she completes their EMBA course.
Top 10 Advantages of an executive MBA program
Enhance your leadership potential –Improve your knowledge in the areas such as Finance, Marketing, Business Policy, Accounting to name a few.
Move up the corporate ladder – It gives you the chance to lift in your professional career with your brushed up and advanced skills and knowledge.
Gateway to change career path – It will help you to raise your career path from executive to managerial profile.
Networking – It gives you the opportunity of networking, interaction and learning with people from diverse countries.
Convenient admission process and programme timeline –The admission taken by accepting GMAT score, some institutes also accepts CAT or XAT score.
Flexible mode of study –The duration and mode can be classified as Full Time and Part Time varies from 1 to 3 years.
Saves a year – It will saves a year from 2 year full time to one year full time along with your job.
Advanced curriculum and specializations – The specializations offered to professional and experienced students also have advanced and industry oriented studies.
Exposure –These programmes offer exposure in various aspects to augment the learning and add value to the course.
Company sponsorship eases burden – There are many companies who sponsor their employees a complete EMBA programme.
Executive Education at IIM Bangalore
Program

Duration (Approx.)

Management Level

EGMP

12 months

Mid-Senior

GMP for IT Executives (GMITE) -13

GMP for Aerospace and Aviation Executives (GMAE)-5

GMP for Healthcare Executives (GMHE)-3

9 months

Advanced Mgmt. Programme (AMP)-13

12 months

Senior C-Suite

Business Analytics and Intelligence (BAI)-9

Mid-Senior

Big Data Analytics (BDA) -3

9 months

Finance for Executives (For non- Finance Manager) – 5 weekend prog.

6 months

Next Generation CHROs -2

7 months

Senior C-Suite

Mgmt. Programme for Entrepreneurs and Family Businesses (MPEFB)-12

Mid-Senior

Accelerated AMP-1

Senior

GMP for Young Leaders (YLP)-2

12 months

Frontline-Mid

Aerospace MBA

Mid-Senior

Certificate of Excellence in Global Business

International Mgmt. Programme (IMP)-2

18 months

Senior

Leading Digital Transformation (LDT)-2

6 months

Mid-Senior
Career Opportunities after EMBA from IIM
There is no doubt about the credentials of an IIM (Indian Institute of Management). No wonder, a degree in management proves to be an appendage to higher career growth. Once you achieve the degree, you will find its immediate impact on your career. Through the course you absorb a deeper understanding of business and management that will create new avenues for you.
If you are aiming higher then you should get your leadership qualities right and perfect. You have to be in the constant cycle of development and learning and for that nothing proves to be a better option than an EMBA. You will be recognized by best brand in India, and your degree will be accepted stupendously in addition to the work experience that you have. Together it will be a wonderful and boosted combination for career rise.
You can acquire the top-notch positions in the corporate world only if you can prove your uniqueness in thinking and how it can bring dynamic change to the world around. A management professional needs to manifest innovative thinking abilities to influence the business analytic mind for adding impetus to business growth. Thus, if you are already working in an illustrious MNC and do not have a prior MBA degree, then an executive management degree from IIM will prove its value in the course of time.
Talk to professionals who have already achieved the degree from IIM and learn about their experience which will give you some idea. The course is designed to bring transformational change to motivate your career by introducing live classes hosting two-way videos, making it an intensive and interactive course and ensuring standard education for the professionals. Also, the faculty is responsible for monitoring students and their personalities so as to guide them on the specialization that they must follow.
EMBA from an IIM can modify your career than any other executive MBA programs from other institutions. Whether it is IIM Calcutta or IIM Lucknow or IIM Kozhikode; you are assured of the best training, management skills and course designs that will add to every aspect of your profession. Most importantly, the courses will be available online so that you can talk to management experts, intimate them about the kind of profession you are in and about your job profile; and why you want to do any particular course. Ask them how the course can bring more benefits and augment career opportunities.