Topic We Cover: Mass Communication Vs. Journalism
1. What is in a mass communication degree?
Types of Mass Communication
Mass communication courses in India
2. What is in a journalism degree?
Journalism courses in India
3. Mass communication v/s Journalism
4. Mass communication vs Journalism: Syllabus, Scope, Payscale
5. Where to study and what to expect?
Colleges that offer mass communication/journalism courses
Some Top Colleges in India for Journalism
Some Top Colleges in India for Mass Communication
6. Differences in Course Structure and Career Opportunities
Career Opportunities in Journalism
Career Opportunities in Mass Communication
Top Recruiters for Mass Communication
7. Conclusion
Would you like to start by doing a short mind activity? Take a while and think about your daily routine. You wake up in the morning, do the housework, for messages check your mobile phone, scrolls down through social media news feeds, and some of us still stick on to the habit of reading a newspaper. On the way to your institute, you might listen to the radio or music on your phone. Some might tune in to TV channels for news and entertainment. We cross multitudinous posters, billboards, and videos of ads. Every day, in various forms we interact with content. I guess this recollection is more than enough to comprehend how much the glorious world of media has succeeded in taking over our lives.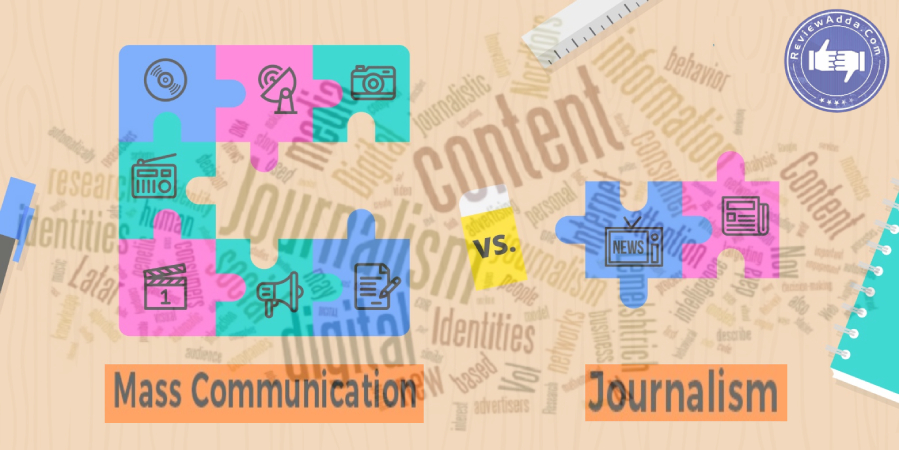 Then comes the significant question – How to Build a Successful Career with the media and become a part of this magnificent circle? Most of the career advice you receive for this question would be to do a course in 'mass communication and journalism'. How does this course help? Are 'mass communication' and 'journalism' two interchangeable terms or are they only used in combination? It is time to bust some myths.
Whether to choose Journalism or Mass Communication! Most of the times Journalism and Mass Communication are mistaken to be the same topics. Also, the various courses available with similar titles students are confused in selecting the right course and career. Gradually, the students aspiring to take up media as a career are increasing but the abundant courses that are offered under the title media are confusing students. Though all the subjects are interlinked the subjects and career differs in every course. Mass Communication can be termed as a complete dish in which Journalism can be counted as one of the ingredients of that dish.
What is in a mass communication degree?
Before we dive in to the Academic prospects of Mass Communication, it is substantial to know what the term means. Mass Communication, as the name suggests, impacts masses. Mass communication, in the simplest terms, is the process of communicating with the masses. Anything and everything that involves reaching out to a large number of people comes under the umbrella term of mass communication. It is an expansive field could be through public relations, advertising, film making, media practices, photography, journalism, entertainment industry or Social Media Management.
Hence, mass communication students are trained to interact with various media platforms to create and manage the content that goes out to the masses. As a bachelors or masters course students who study mass communication gets to experiment with news and entertainment content in print media, TV, radio, and digital media. They also earn a chance to practice advertising and public relations campaigns, and can thus identify their genuine interest and stronghold.
Here, for Different Purposes the Communication can be such as:
Conveying a message

Spreading awareness

Passing information

Entertaining audiences
Types of Mass Communication
Advertising

Journalism

Public relations

Social media

Audio media

Convergence

Film and television

Photography

EBooks
Mass communication courses in India
Many colleges and universities provide Bachelor's and Master's degrees in Mass Communication. Some courses are purely practice-based, and some involve a theory-oriented curriculum as well. When some of these course providers allow the students to choose a stream of specialisation, some instructs to complete an inclusive package of all streams.
Following are some courses that can be opted by students who have a keen interest in mass communication:
BA in Mass Communication

BA in Media Studies

BA in Mass Communication and Film making

Bachelors in Mass Communication (BMC)

Bachelors in Multimedia and Mass Communication (BMMC)

BSc in Mass Communication

MA in Mass Communication

Post Graduate and Undergraduate diploma courses in Mass Communication
What is in a journalism degree?
Journalism as a term is indeed familiar. It is the practice of pooling in news, verifying it, editing it, crafting it in a way that can be consumed by the people, and then disseminating it in the most appropriate way. This practice can be accomplish on multiple platforms including magazines, newspapers, television, social media, radio, websites and many more. Needless to say, journalism is still considered as one of the mightiest and fanciest professions, since it has the power to influence public opinion and reaction.
On the other hand, Journalism revolves mainly around communicating news to people, be it any economics, strata – politics, business, sports, science, or entertainment news.
So, the Working of Journalism in three simple steps: Gathering data or news; Editing it and validating it with facts and pictures; Broadcasting it to the masses through both print and electronic media.
When a bachelor's or master's degree is offered in journalism, it means that the college acts as a prep-school for future journalists. They train students in basic journalistic practices and ethics. Students learn how to work on the field and behind the desk for a news media house. Right from identifying what could become the news, up to its publication and follow-up, students are tutored in various streams.
Most importantly, Journalism Courses provide insight into the change in news format according to the media type. That is, placing of news stories in traditional media like TV and newspaper can be studied along with those in new media platforms. Each media requires distinct specialisation. The course and college have to be chosen wisely, since this is one of the most responsible careers one can enter.
In simple words, news reporting is journalism. On the basis of the medium, journalism has three categories:
Electronic media which use radio, television, etc.

Online journalism, which uses online blogs, newswires, etc.

Print media which use printed material like newspapers, magazines, etc.
Journalism courses in India
Following are a few courses available in India to study Journalism:
BA in Journalism

BA in Convergent Journalism

BA in Development Journalism

BA in Journalism and Communication Studies

Bachelor of Journalism

MA in Journalism

MA in Convergent Journalism

Post graduate and Undergraduate diploma courses in Journalism
Mass communication v/s Journalism
India is one of the top educational destinations with the 700 universities, 35500 colleges and around 20 million students enrolled for higher education courses. In which every year about 70-80 lakh students enrol for Mass Communication and Journalism courses across the country. Also, Media is the Fourth Pillar of our Democracy.
So, how do you differentiate between two major courses that are Journalism and Mass Communication? Here are some of the points explaining the differences between Journalism and Mass Communication.
Apart from the courses that we discussed, there are some other courses offered by some of the leading prime institutes and universities. These courses, that are undoubtedly the most opted and best offered in India, are the following:
BA in Mass Communication and Journalism

Bachelor of Communication and Journalism (BCJ)

MA in Mass Communication and Journalism

Master of Communication and Journalism (MCJ)
Since these are the Popular Courses, there is a widespread misconception that mass communication and journalism are more or less the same. However, as you would have realised by now, this is not true. The course structure, career prospects, and job profiles associated with these two streams are vastly different. Even when these courses are provided together in BCJ and MCJ degrees, they act similar to a dual-degree program. Students often prefer these courses out of indecision and doubling of opportunities.
It is also not right to say that journalism is one of the many sub-streams that come under mass communication. By definition, this argument might hold. However, journalism needs a wide canvas and intense practice. Hence, it can be developed into a complete course of two or three years. If you have already realised that you want to become a journalist and are sure about it, then it is feasible to go for a Degree in Journalism alone. On the other hand, if you haven't really decided what shall be your specialisation in the media, then a degree course in mass communication would help.
Get Updated Review ( Voice Based Alumni Feeback)
Mass communication vs Journalism: Syllabus, Scope, Payscale
Well, if you still do not know where you fit in, it is important to learn about the curriculum and career options associated with both the streams before the final decision is made.
Mass Communication Courses and journalism courses syllabus can be totally different. Many topics and subjects shall overlap, but the pedagogy and core content differ to a great extent. Also, the syllabus can vary according to colleges and universities. However, the broad topics listed below are common for almost all the institutions.
Mass Communication (Bachelor's)

Journalism (Bachelor's)

Communication Theories

Print Media, Electronic Media, Digital Media

Development Communication

Advertising

Radio and TV Production




Reporting and Editing

Media Management

Media Laws and Ethics

Intercultural and International Communication

Public Relations/ Corporate Communication

Media Research/ Communication Research

Film Studies

Photography

Fundamentals of Journalism

Reporting

Editing Methods

Print Media

Audio-Visual Media

Radio Broadcasting

Television Broadcasting

Internet and New Media

Magazine Journalism

Media Laws and Indian Constitution

Ethics

Writing for Me
Career options available after the course also varies. Students of Mass Communication can move into many different modes of profession ranging from teaching to advertising. According to the area of interest identified during the course, they can become PR professionals, filmmakers, photojournalists, Radio/Video Jockeys, content writers, copywriters, social media managers and many more. Most of the reputed news media organizations now hire reporters and Multimedia Journalists from the pool of mass communication graduates, mostly due to the normalcy gained by combined BCJ and MCJ courses.
Dedicated Journalism courses, on the other hand, can promise a successful career for those who have realized their nose for news. There are many news media groups who prefer aspirants with a bare minimum experience on the field as reporters. Graduates in Journalism would definitely have the on-field experience because they have studied journalism full-time, not as an allied course. Studying Journalism can help students identify the kind of media they'd like to work with. Journalism graduates can move into reporting, editing, news presentation, news program producer, etc.
Another decisive factor that might help students in choosing between Mass Communication and journalism is the pay scale. For journalists, the experience is key. A fresher with zero experience on field might be paid as low as 2,40,000 to 3,60,000 rupees per annum. However, with the increase in experience over the years, journalists can gain around 12,00,000-18,00,000 rupees per annum and even higher. Rather than the payment, the social acceptability and respect promised by this career is found attractive by many.
Mass Communication Graduates can make an initial earning ranging from 1,50,000 to 6,00,000 since the course is a gateway to many different kinds of jobs. Basic content writing and translation jobs that can promise basic sums, and copywriting jobs that might pay you according to your command over the wordplay are all part of this spectrum. Pay-scale also largely depends on job providers and individual skills.
Where to study and what to expect?
Both Mass Communication and Journalism courses, may it be bachelors or master's, are mostly practical courses. On-field experience is necessary to learn interaction with media. None of the topics offered in both the curriculums can be taught within the four walls of a classroom. So, it becomes important to select the appropriate college or university which offers more practical sessions and has more advanced equipment.
Since both these courses are highly preferred by the students, many institutions try to provide them even without adept equipment such as studios, editing suits, video cameras, and microphones. Leading institutions that provide journalism and mass communication courses as a master's degree include central universities like University of Hyderabad, Pondicherry University, Jawaharlal Nehru University, Tezpur University, and Jamia Millia Islamia.
Indian Institute of Mass Communication under the central government is also an important institution. All these universities conduct separate entrance exams, and aspirants have to qualify to secure their seats. The fee is considerably low in these institutions.
Colleges that offer mass communication/journalism courses
There are ample number of courses that give you the knowledge and the platform to get into Mass Communication and Journalism.
Many of these degrees are common to both Mass Communication and Journalism, and will allow you to branch out into any field you choose. There are many other degrees that focus on one or the other, i.e. pure Mass Communication or pure Journalism.
A few most common courses for Mass Communication and Journalism given below:
Some Top Colleges in India for Journalism are:
Indian Inst. of Mass Communication, Multiple Locations

Symbiosis Centre for Media and Communication, Pune

Indian Inst. of Journalism and New Media, Bangalore

Christ University, Bangalore

Lady Sri Ram College, Delhi University

DCAC, Delhi University

Madras Christian College, Chennai

Jamia Milia Islamia, New Delhi

Mithibai College, Mumbai University

Times School of Journalism, New Delhi
Some Top Colleges in India for Mass Communication are:
Whistling Woods International

P College for Women, Delhi University

Symbiosis Institute of Media and Communication, Pune

Wilson College, Mumbai University

Jai Hind College, Mumbai University

Symbiosis Centre for Media and Communication, Pune

Mudra Institute of Communication, Ahmedabad

Indian Inst. of Mass Communication, Multiple Locations

Jamia Milia Islamia, New Delhi

Guru Gobind Singh Indraprastha University, New Delhi

K.J Somaiya College, Mumbai University
The names of the degrees vary depending upon the college/university in question.
Besides these, there is also an upcoming concept of Liberal Arts Education, where one can pursue Mass Communication and/or Journalism with a mix of electives like Psychology, Sociology, English, Legal Studies, International Relations, History, etc.
However, if you wish to do a bachelor's degree course in mass communication or journalism, the following are the best options. Most of these institutes provide both these courses, and they fall under the same school or department. Fee per semester can range between 40,000 and 1,00,000 here.
Indian Inst. of Journalism and New Media, Bangalore

Xavier Institute of Communication, Mumbai

Manipal Institute of Communication, Manipal

Asian School of Journalism, Chennai

Mudra Institute of Communication, Ahmedabad

Madras Christian College, Chennai
PG Diploma Courses in journalism provided by press clubs can also be opted since the necessary field-reporting skills are a significant part of their training. Many of these institutes have campus recruiting, and leading media houses like Times group participates in those. Media houses hire both mass communication and journalism graduates since most organisations now run multiple media platforms.
There are more options available for graduates in mass communications and journalism. You just have to send in your resume clearly stating all the experience you have, and if your institution is a widely recognised one, then you stand high chances of getting an interview call!
There are some characteristics which make one different from another:
Content
Both fields use content which gets conveyed to the masses, but there is a significant difference in content in journalism and Mass Communication:
In mass communication, content can be of any type such as:
Facts based

History-based

Political

Fictional

And more
It means there is no limitation on the type of content in this field. On the other hand, in journalism, content always has to be based on facts and stats. The news story has to have evidence to support the coverage.
Creativity
Mass Communication gives an open sky to its professionals to be creative. They can choose the zone, mode of communication, story, etc. to take advantage of their creativity.
On the contrary, journalism has no real connection with creativity. The news coverage has to be professional and formal. The creativity of a writer or journalist would make the story ridiculous and make facts fuzzy which is not acceptable.
Curriculum
Now, we will talk about the courses and what is covered in the courses of each.
When you join the best journalism college in India, you will learn about the following subjects:
Journalism history

Communication

Political science

Research methods

Economics
When you join the Best College of Mass Communication in India, you are will learn about the vast diversity of subjects.
Differences in Course Structure and Career Opportunities
A substantial point of diff. between Mass Comm. and Journalism deceive in their course structure, as well as the respective career opportunities that lead to them.
Even though the course structure would vary from college to college, yet I will discuss the most prevalent and common aspects of these courses here.
Courses in Journalism typically cover topics like history of journalism, introduction to journalism, various mediums of communicating news (like magazine, newspapers, internet, radio, etc.), writing and editing, news reporting, news collection, circulation of news keeping in mind the daily trends and updates.
Career Opportunities in Journalism
After pursuing a degree in Journalism various types of job opportunities and kind of profiles that one can get into include:
TV News Reporter

Newspaper Reporter News Editor

Proofreader

Content Developer

Digital Media Journalist

News Presenter

Photojournalist

Translator

News Presenter

Camera Manager

Creative Designer

Researcher

Producer

Set Manager
For Journalism some top recruiters in the market are:
News channels

like NDTV, Aaj Tak, CNN, BBC, etc.

Newspapers

like The Hindustan Times, Times of India, Indian Express, The Hindu, etc.

Magazines

like Outlook, India Today, Frontline magazine, etc.

Journals

like The Free Press Journals, The Wall Street Journal, etc.

Media Houses

like PVR Cinemas, Zee Entertainment, Big Cinemas, Balaji Entertainment, etc.

Radio Stations

like Radio Mirchi, Red FM, Big FM, etc.

Broadcast Companies

like News Broadcasting House, Lehman Brothers collection, Viacom, etc.
Mass Communication Courses, cover an exapnsive list of domains, like media history, public relations, advertising, journalism, filmmaking, content writing, research methodology, photography, medium of communication, basics of TV and Radio; event management, history, politics and socio-economic status of the country, etc.
Career Opportunities in Mass Communication
Mass communication is followed by a plethora of Career Opportunities in areas and profiles like:
Advertisement and Branding

Film Making

Video Editing

Photography

Public Relations

Radio Jockey, Video Jockey

Journalism

Content Writing and Development

Event Management

Wedding Planning

Creative Direction

Sound Mixing and Recording
For Mass Communication some Top Recruiters in the Market are:
PR Agencies

like Edelman India, Adfactor, Value 360, Text100India, etc.

Digital Marketing Agencies

like WAT Consultant, iProspect India, Pin Storm

Advertisement Agencies

like JWT India, Madison Communications, Ogilvy and Mather, etc.

Media houses, Newspapers, TV and Radio (Same as Journalism)

Event Management Companies

like Team Orange, 70EMG, Wizcraft, etc.
Conclusion
To summarize this, journalism is all about collecting, editing and publishing or broadcasting news and information using mediums such as Newspapers, News channels and Radio. Whereas, Mass Communication comprises a wide range of fields like television, radio, animations, advertising, corporate communications, event management, public relations and so on. Both the courses are tough and students find them interesting because they can get mixed core subjects such as Psychology, Literature, History, Politics, Economics, and many more.
One thing common to both mass communication and Journalism Courses is that your professional experience is the key to a successful career. Software expertise and ability to handle the equipment would also add to your employability along with subject knowledge. Hence, make sure you choose your course and college wisely after ample research and homework. Also, do not forget that Mass Communication is not the same as journalism.
You can choose the right course depending upon your strengths, capabilities and interests. Hope this article helps you in choosing right course and career. So have you decided which one to choose yet?