Topic We Cover: How to Improve Communication Skills for Students
1. Types of Communication Skills
Listening
Verbal Communication
Emotional Awareness
2. Importance of Communication Skills for the students
Getting the First Job
Future Career Growth
Personal Development
3. Watching Films Just to Model Communication Skills
4. Reinforce Active Listening
5. Use of Technology
6. Use Activities to Grab better communication
7. Find Best Way to Enhance Communication
8. Reflective Learning
9. Group Presentations & Group Assignments
10. Through open-ended Questions
11. How to Improve English Communication Skills
Do students need effective communication skills?
Well, yes, they do!
Modern education concept lays much emphasis on preparing a student for being a better professional in a particular field and effective communication is, no doubt, an integral part of a professional life no matter in what field you are. Increasing advancement in changing career landscapes, fierce competition in workplace and college demands a great communication skill from today's students.
Cramming is the thing of the past and every student, today, needs to have a great deal of knowledge which he is required at the time of interviews. If a student does not know how to communicate in a better way, he certainly feels low-key as today's age is all about presenting yourself perfectly in front of everyone.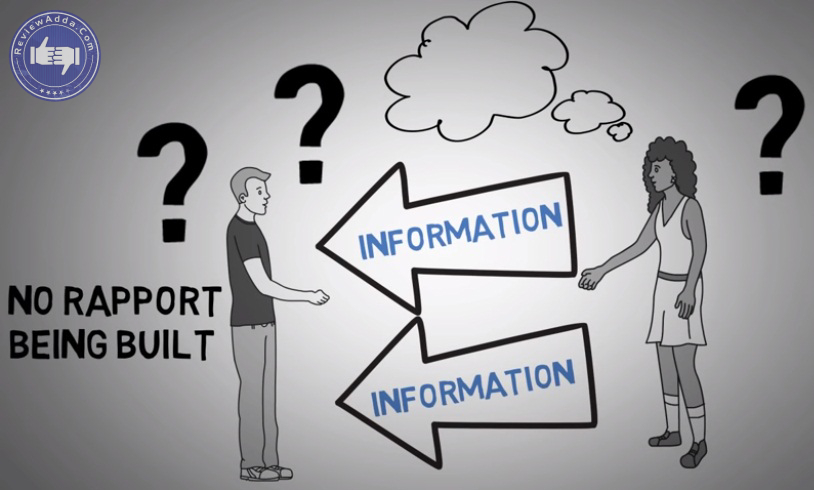 A job interview demands Good Communication Skills on the part of the students which can straightaway lend them a job. Indispensable communication skill can provide modern students with a better stage to open up their ideology in front of the world.
Types of Communication Skills
Communication is a two-way path which means that there is a communicator and also the one whom something is being communicated. Communication exists only when information is shared between 2 or more people.
Students of today's generation must know as to How to Develop Communication Skills so as to make a great impact on others.
They must be on the lookout for the Right Ways to Improve Communications Skills that will change their personality for sure.
Students must acquire the right speaking skills so that they can let others understand their ideas about a certain topic.
However, let's first know how many types of communication are there: -
1. Listening
Listening is undoubtedly the most vital part of communication. But listening is not just hearing something. What it actually means is that whatever is spoken in front of you, you are totally involved in that and are grabbing the things in the best manner.
When listening doesn't take place in the right way, the Communication Process fails. So, if you want to know as to how to increase communication skills, then just be a good listener first.
2. Verbal Communication
Verbal communication can be said as the most important Key Element of Better Communication. The reason is that when anything is not communicated properly it may lead to misunderstandings and confusion that will make people listen to the things which have not actually been communicated. Poor verbal communication skills will never become fruitful to anybody.
3. Emotional Awareness
Emotional awareness too plays a vital role in communication skills development that let you grab the speaker's tone in the right way. Emotional ability to understand the feeling of the speaker makes communication more meaningful by letting the speaker know that the listeners have understood clearly what has been communicated to them.
When you come to know the feelings of the people in communication, it will make you understand them effectively. You will come to know the emotions and the feelings of the people. Sometimes not just listening but understanding the personality and the feelings of the speaker are much more important.
Importance of Communication Skills for the students
Most of the students today are surrounded with one common question "How to improve my communication skills"?
That shows that they are more inclined to learn communication skills that may help them in their overall career.
Today, all students must know as to How to Improve Speaking Skills so that they can make others understand their opinions, have better communication with their friends or take part in some discussions conducted in school.
So, the importance of students' communication skills can never be underestimated. The earlier the students get these skills, the more successful they will become in their life.
Let's see exactly what is the importance of communication skills in a student's life: -
1) Getting the First Job
Students really need to be better communicators. Given the fact that it is an attractive personality that wins others over, communication is said to be the primary element in enhancing an individual's personality.
If a student is already a better communicator, he will get great help in cracking job interviews thereby getting a good job than others who lack Good Communication Skills.
Get Updated Review ( Voice Based Alumni Feeback)
2) Future Career Growth
Excellent communicators often progress more than the ones who lack communication skills! Well, yes! This is true! In the jobs, the ones who have excellent communication can progress more in their field and get managerial positions fast.
It is their communication which helps them get this position as they have a great ability to manage the people. The students who have Good Communication Skills can see themselves soaring high in their field for sure as many jobs require Business Communication Skills that can help the working of a company go seamless thereby getting growth in the industry.
3) Personal Development
Communication skills are not only considered great for a successful professional life but they are also an important element to get success in personal life.
People should understand the feelings, thoughts & opinions of others. As a student too, you will be able to meet a number of people with whom you will have to communicate. And if you are not a good communicator you won't be able to impress them. So, communication is really important to develop your personality as a whole.
As a student, you must concentrate on how to improve your communication skills as that will pay you more in terms of recognition and a better job.
Not all students have better communication! So, what should be done to improve communication skills in them?
Well, refer to some proven activities to improve communication skills in the students: -
1. Watching Films Just to Model Communication Skills
Communication is one basic thing that let you share your opinions, ideas, thoughts and receive better ideas in return. Although it always looks easy to grab simple communication skills, yet effective communication power takes much time and requires a lot of other elements including eye contact, paraphrasing, body language, summarizing and responding.
Watching films can really help the students out in developing the mandatory communication skills due to the interaction taking place in the scenes of a movie. The best part of learning Effective Communication through a movie is that you can easily pause a video as well as rewind it so as to take in the required communication.
For example, if a character in the movie is speaking something by opening his arms or with the help of any bodily expressions, students can grab their body language and try it while communicating anything to anybody or they themselves can innovate new ways to say a thing before others.
Doing that will surely leave a great impact on the person who is communicating to you as you can now express yourself better than before. He will understand you much more than ever as you have acquired the communication power to communicate with him in an effective manner.
2. Reinforce Active Listening
A good listener can certainly be a good speaker! Yes! Teachers can let students develop communications skill by reading aloud a text and then letting them have a discussion with each other on a particular topic.
Active listening is all about listening attentively so that you can better understand as to what you should reply if a discussion is going on and you are listening to a speaker. Teachers can encourage the students for better communication by making them understand the message given by the speaker.
3. Use of Technology
Technology is changing day by day and it has contributed effectively in enhancing the communication. Today, anyone can learn the best communication strategies through a variety of available technological resources. These technological resources can effectively be used to improve communication skills desired by any student. Audiobooks, one of the Best Communication Technological Resources can contribute effectively in making the student learn best communication skills. With the help of these audiobooks, students can know a variety of phrases or words that can really help them grabbing good communication power.
4. Use Activities to Grab better communication
Another proven method to Improve Communication Skills is with the help of critical thinking exercises. This is possible through verbal or written assignments that let the students get an opportunity to reply to the questions in a more creative manner by using their own expressions and words.
5. Find Best Way to Enhance Communication
Communication power should be enhanced by the students themselves in case they are in a classroom environment. They must ensure to search for an effective communication medium that can help in enhancing communication. The student must learn about communication methods while in the classroom environment.
6. Reflective Learning
Teachers can record the students while going through a selected text or recording group presentations which is a proven method for understanding their communication weaknesses and strengths. Students can also judge their performance while communicating in small groups. Students can also be asked to criticize others for their poor communication so that they can be accustomed to receiving constructive criticism and can improve their communication.
7. Group Presentations & Group Assignments
Group presentations such as team-building exercises also play an important role in sharpening the oral as well as the written communication skills of the students. Students, when doing group assignments get an opportunity to work in groups which not only lessen their pressure but also provides them a suitable opportunity to present their opinions and work together to fulfill a common goal.
8. Through open-ended Questions
Open-ended questions are much suitable to start a discussion and to demonstrate a number of ways through which an answer can be given. You can go for setting a stopwatch for informal conversations and ask the students to make the best use of open-ended questions in the conversation.
Open-Ended questions are generally much longer than 1 word or 2-word answers so they can greatly help the students to give their point of view on a certain topic.
How to Improve English Communication Skills
Communication in English is mandatory these days as it is a Universal Communication Language. So, every student must know how to speak English. However, the sad part is that not all possess good English-speaking skills.
Most of the students are confused to find the best ways to improve English communication.
Let's just get the things straight and know how to improve English communication in an easy and effective manner through the following points: -
1. Find an English-speaking Friend
Today many students search for the ways to develop English communication skills as they have seen the fluent English speakers to grow in their career. They join English speaking classes to improve their English but to no avail. They get to learn English grammar and sentence making exercises but all these things go kaput and do not let them grasp the English language.
However, English communication is not too hard to learn! There are some best ways through which we can hope to learn English within a short time. First of all, you should search for a friend who can speak English with you. If that friend is as enthusiastic about improving his English-speaking skills as you are then you are surely on the way to speak good English. Both of you can communicate with each other and point out your errors and make the other one correct.
2. Listening is the Key
Well, listening plays a prominent role in understanding English. The more you will listen to English, the more you will be able to speak English in a good way.
Suppose you are in a discussion and you listen to the speaker well and understand him then only you can pose a question before him and put your points before him. In that case, there will be a two-way conversation which will surely help you and let you improve your English-speaking skills.
3. Just Be Surrounded by the English language
One of the best ways to learn a language- English in this case, is that you should be always surrounded by the language. When you stick to a habit of listening, speaking and writing English all the time, you will slowly become familiar with English and its intonations & rhythms.
Just watch any show in English and try to watch it again and again till you understand every single word used in the show. Well, this will surely help you gain confidence and help you gain the best communication skills in English.
4. Read Aloud
Reading English aloud can certainly help you in enhancing your English communication skills. When you read aloud, you will be able to focus on the pacing as well as the pronunciation.
But just ensure that you will only speak aloud the material that is easily understandable to you. You can find the transcripts of the video on the internet that you can use and read them aloud.
When you read them aloud you should note the pronunciation technique used in speaking those words. Finally, you will be able to comprehend the right way to pronounce many words in English.
5. Just Talk with Yourself
You might have heard many people saying that talking to yourself can help you improve English. Well, yes! This is true!
You will always embarrass while speaking English in front of the English speakers if you do not possess good English-speaking skills. What you can do is that you can do it all alone by speaking to yourself. This is one of the strangest and amazing ways to learn English. The best part is that no one is going to listen to you whether you are speaking right or wrong.
Just stand in the front of a mirror and try speaking English all the time. When you make it a habit, gradually you will see your English-speaking skills going strong than the previous occasions when you had no idea of speaking in the English language.
6. Listen to English Music & Movies
Improving English communication skills require you to be surrounded by English stuff all the time. Listening to English music and watching English movies will really help you become a native English speaker. Listening to any music in the English language will help you learn the vocabulary and phrases in a much natural manner.
Students who prefer watching English movies as well as listening to English movies are much better at speaking English than the ones who don't prefer to watch any English movies and shows.
This technique is a proven technique and many have benefitted from it. However, watching movies is much better than listening to English songs as you would be able to learn slang, idioms, and pronunciation by doing that.
Students who are always worried as to how to develop communication skills in English can learn a lot from the above-mentioned techniques.
They will really get to know the best ways as to how to learn communication skills in English by adopting these strategies.